My Top Recommendations for Any Birthday Party Event
We are called Party in your Garden – we know the main ingredients to what we turn a good party into an OMG IT WAS THE BEST PARTY EVER – kind of party!
Whether you're looking for a bit of a lively atmosphere or perhaps you're looking to recreate a full-on nightclub theme.
There are certain things that we can bring into the marquee to give your guests that amazing experience and create that nightclub vibe you're looking for. 
 Music
The first one would be is music.  You've got really two choices here.
DJ
Speaker System & Playlist
We can bring in a speaker system with your playlist or better still we can bring in a DJ. That's really the number one priority and making sure we get the music right.  It usually all depends on budget and I've made another useful video on Speaker vDJ which you can see right here.
2. Bar Set Up
The second big important thing to think about is the bar setup.  I'd always suggest to bring in a bar and a fridge and bring that within the marquee as well to keep the atmosphere all contained within one space – people tend to congregate in kitchen in parties where there isn't a proper bar set up.  You want to keep the atmosphere lively and the best way to do that is to keep all amenities of the party in one place.   There is a separate video that I've made talking a bit more extensively about bars and how important getting that right is which you can view here.
3. Marquee Lighting
Other things that will make a massive impact to these types of events where you are wanting  that bit of a nightclub vibe, is lighting.  Lighting makes a huge impact to the look and feel of your marquee!   We don't want to make things too bright in there, but we are trying to go with that nightclub vibe.
LED Uplighting
LED uplighters sit on the floor and they shine light upwards within the structure.
They can either be static to one particular colour, or they can change colour in time with the music.
The second option works really, really well if you're having a dance floor at one end and you want a bit more of a lively atmosphere.  They're perfect for birthday parties!
Having these lights change colour  in time with the music is incredible, and it gives you that nightclub experience you're looking for.
If you're wanting a more classy finish having the uplighters set to a white works really well too.
If you're having LED uplighters we would also suggest adding side & end linings as the uplighters reflect the lighting really well.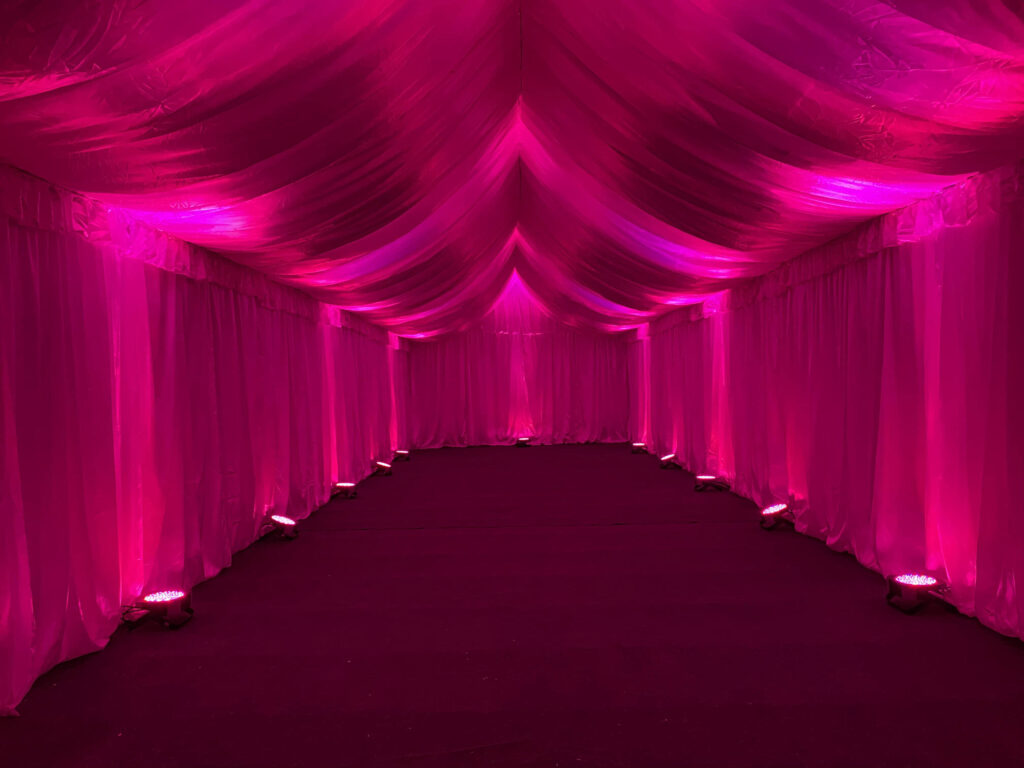 The only lights in this image are LED Uplighters – which you can choose any colour you wish.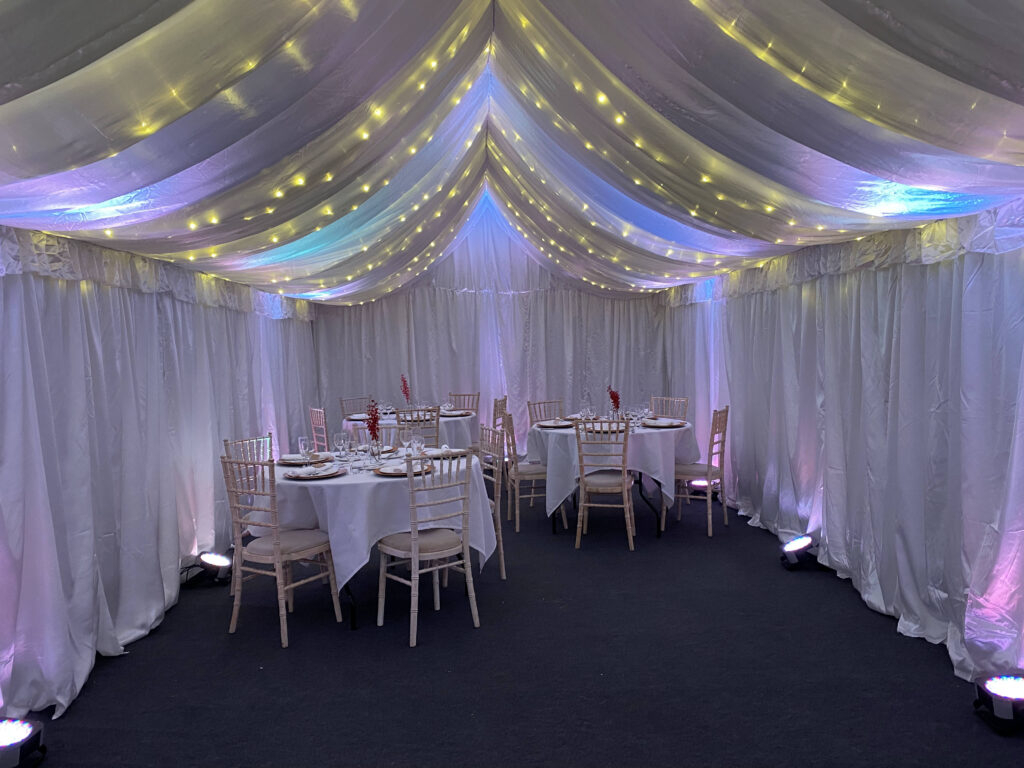 Even set to white- they give a classy finish.
LED Fairy Lighting
We've got things up in the ceiling, such as LED fairy lights, and they just go well with everything. I can't make any other recommendation than fairy lights.!
They look insane, and particularly when it's at night, they look really, really, really special.
If you event is in the daytime I would suggest fairy lighting over LED uplighters as these look better in daylight.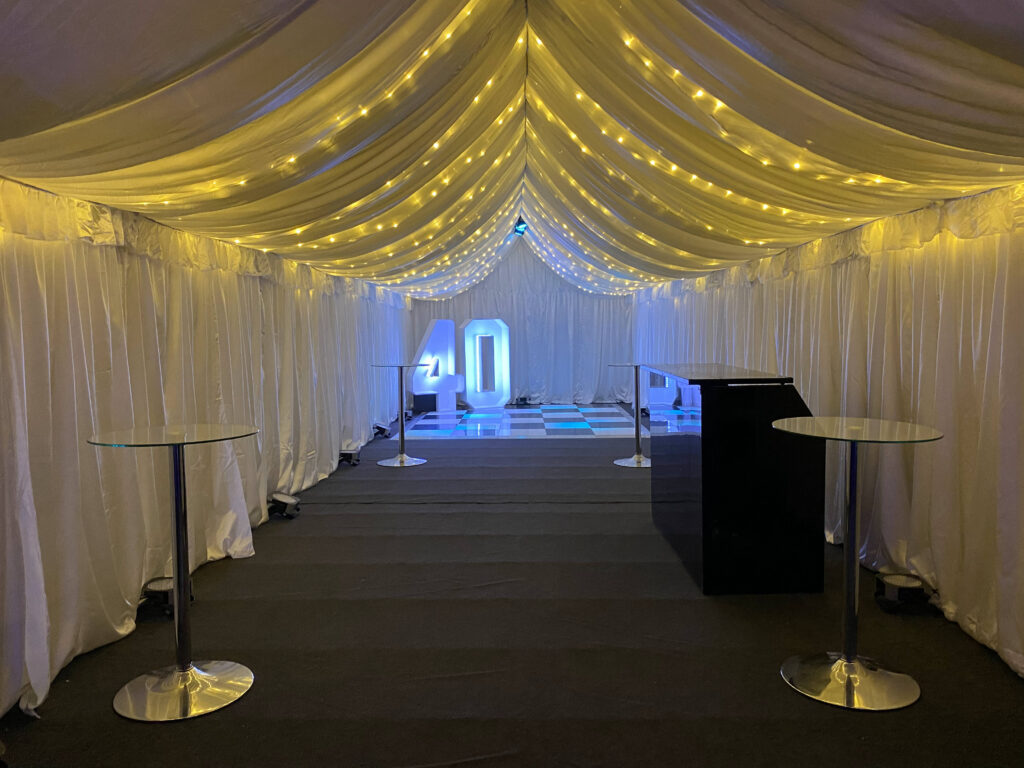 Combining LED Uplighting & LED Fairy Lights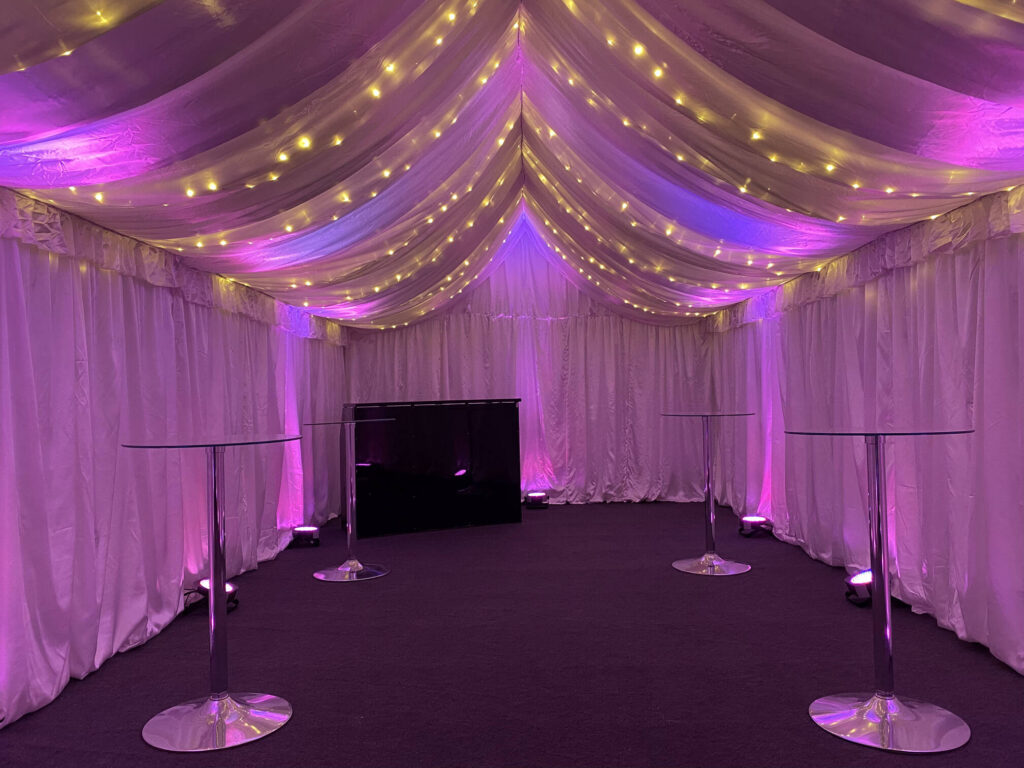 This is a very popular choice and it goes down a treat!
LED Downbars
To complete the full nightclub experience LED down bars are a great addition to your marquee.
They will also change colour in time with the music, and you combine that with something like a smoke machine to give you that sort of nightclub edge – we tend to place these LED Downbars over the dance floor.
4. Dance floor
We'll put a dance floor, they typically go right to the back of the marquee, down-bar up in the ceiling and that all change colour in time with the music – so you've got a really lively atmosphere at one end.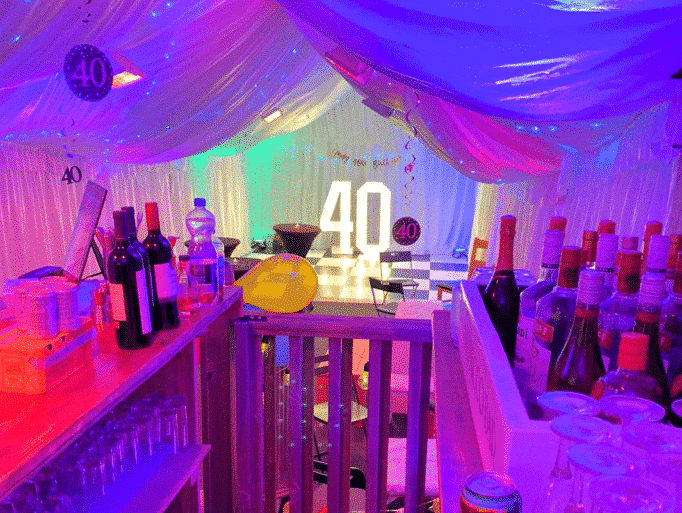 Dance floors tend to work when they are placed right at the back of the marquee like this example shown.
We can also bring in smoke machines which work really well.  Again, around the dance which are quite cool and add to the nightclub vibe.
5.  Giant Birthday Age Numbers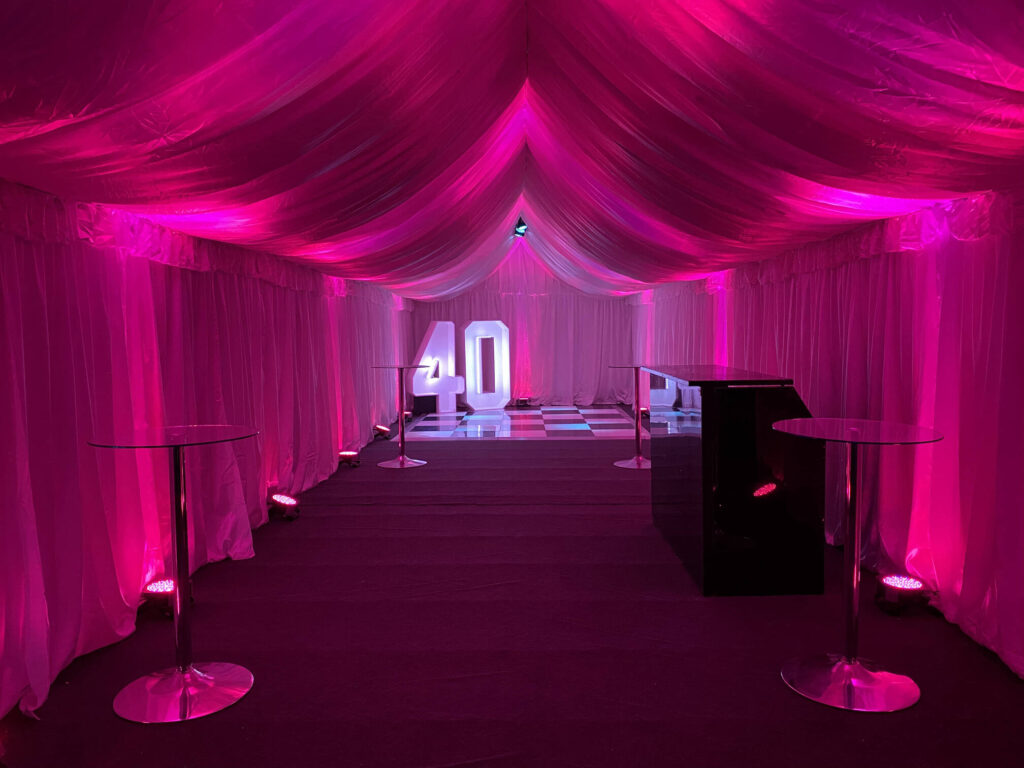 We do giant four-foot high numbers.  If it's an 18th or a 30th, 40th, 50th, we can bring in a giant 50.  You might not want to remind everyone of your age(!), but that is also really high up on my list of recommendations. 
5.  Party Furniture
And then lastly, would be small little things like adding some LED cubes with some poseur tables just for people to put their drinks down, have a bit of a rest.  If they want a couple of minutes break from the dance floor you've got a nice little chill-out area. I'd always recommend that too.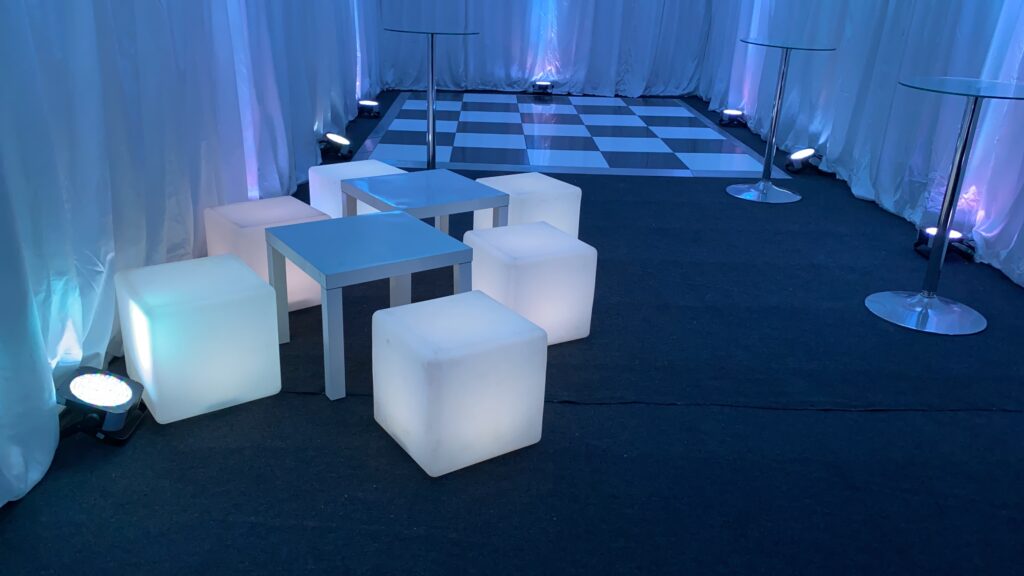 LED Cubes and Poseur tables are a great mix for any evening birthday party.
It's what we're known for, it's what we do best, and it's certainly what we love doing.So, they're my top tips for any sort of nightclub-style marquee there.
But any concerns, any questions you want to add anything else into the mix let us know!
The number's 01462-262-001.