How to Run a Bar for a Party at Home
In this article we show you how to run a bar for a party at home.  It's not as difficult as you may think so long as you get the basics right.
Some would say this is the most important aspect to any event and I'd probably agree too!
Now there's a few ways you can go about things, but the first things first in terms of sourcing the alcohol, that's best to source from a local supermarket.  My recommendation for that is just literally, simply order online and get it delivered to your door.  Super simple.
Most supermarkets do a sale and return basis, so you can over order and send at unused drinks back after the event.  
I would probably suggest to you is keep your bar really tight. Don't offer too many choices. So then you will end up with loads of half drunk bottles that aren't really much use to you after. 
So, maybe keep the spirits to two or three options. One option of beer, red wine, white wine, prosecco/champagne and then some mixers – try and keep it really concise.
Your guests know you're at a garden event at home you're not a full-time bar.  So keep it really concise and really small which will keep the half opened drinks to a minimum.
How to Run a Bar for a Party at Home
But in terms of how to deliver the bar experience you've got a couple of options. 
Self Service
Staffed Bar
You could stock some of the alcohol in the fridge in your kitchen.
It's not something we would advise, mainly for two reasons. If you're doing any catering yourself or bringing in an external caterer your fridge in the kitchen is mist likely going to be needed for the food.
So to try and squeeze that and the drink in there is probably going to cause problems.
And also for some strange reason, humans like to congregate in a kitchen and then people will start bottle-necking and trying to get a drink will be a bit of a pain.  It just doesn't work that well.
So, in terms of the best experience for your guests, it's always best to have a bar and a fridge setup ideally in the marquee.  What that does is it stops people from hanging around in the kitchen and having groups of people scattered around.  It retains the atmosphere within the marquee – which is the main secret to success of a great party at home…keep everybody in the same room!
You're going to get the best atmospheres if everyone's in the same place.  By bringing in the bar and the fridge in the marquee you're going guarantee most of your guests are going stay there as well. So definitely first things first is have a simple bar on a fridge set up in there.
Having a decent bar & fridge set up will be far better than putting it a trestle table out which is a little bit of a school disco vibe. We went to make sure we do things properly.
How to Run a Bar for a Party at Home – Do I Need Bar Staff?
But by far the biggest recommendation that I have by a mile is having the bar staffed.
The reason being is you are the host of the event and you will go into host mode
without staff and you'll be fetching people drinks as they arrive.
And before you know it it's midnight and you've been getting people drinks all night and you're the one that's been planning this event and it's your party.  It might be your celebration and you haven't really had conversations with people as you're too busy getting drinks!
If you get people behind the bar, it will work wonders for your experience, for your party, I promise you.
If you're working on a budget it doesn't have to cost an arm and a leg either.  It might involve employing a couple of your kids and getting them to work behind the bar.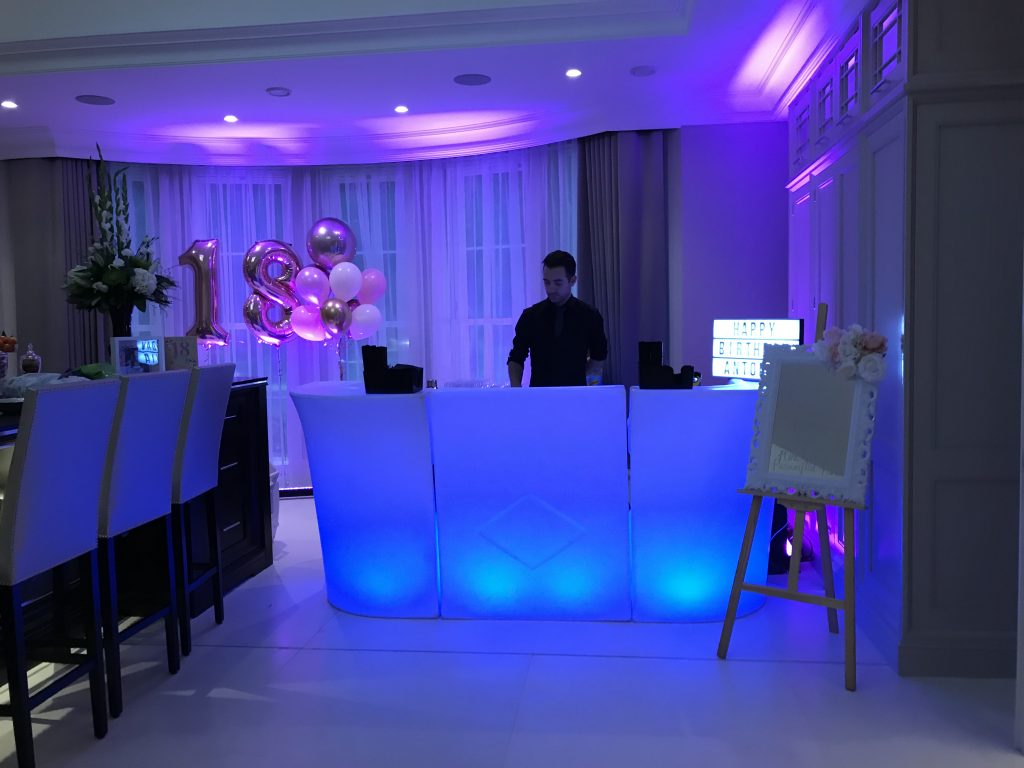 Better still, having an events company like us to bring in bar experienced staff to go in and work behind the bar.  This will totally transform the experience for you and your guests throughout the evening.
Having bar experienced staff works for two reasons:
1) For yourself, and the experience that your guests are going to have, it's going to be far better with people who do this week in week out behind the bar (especially if you're thinking of having cocktails!)
2) Every half an hour, the bar staff do the rounds and go around tidying up the glasses and any empties are everywhere.  It just means that the next day when you might be feeling a little bit worse for wear most of the cleanup operation has been done by the bar team.
So massive, massive recommendation to have bar staff and whether that is employing a couple of your kids or better still having some bar experienced staff, they're a huge recommendation or you won't regret it.
And it's definitely on my list for any sort of evening house party is the bar staff.  I cannot recommend them enough!
Sometimes it's far easier giving this sort of tasks to the people that do this every week.  We can bring in the complete infrastructure including:
Bar & cocktail trained staff
Bars & fridges
Glassware
Ice & freezers
Bar condiments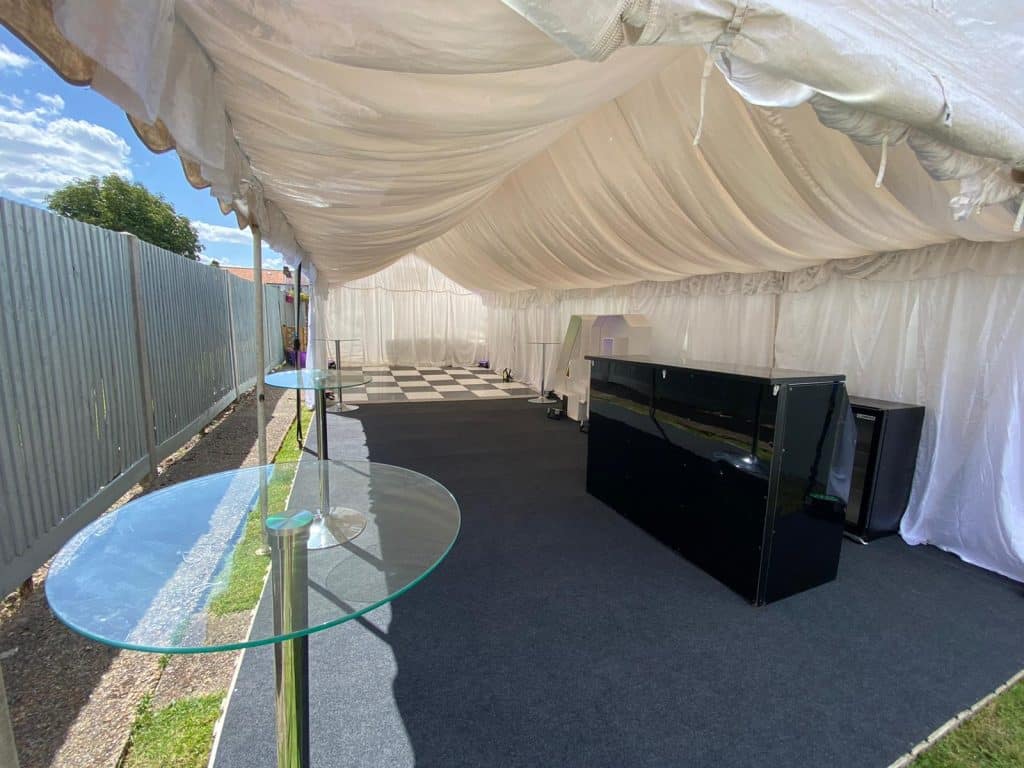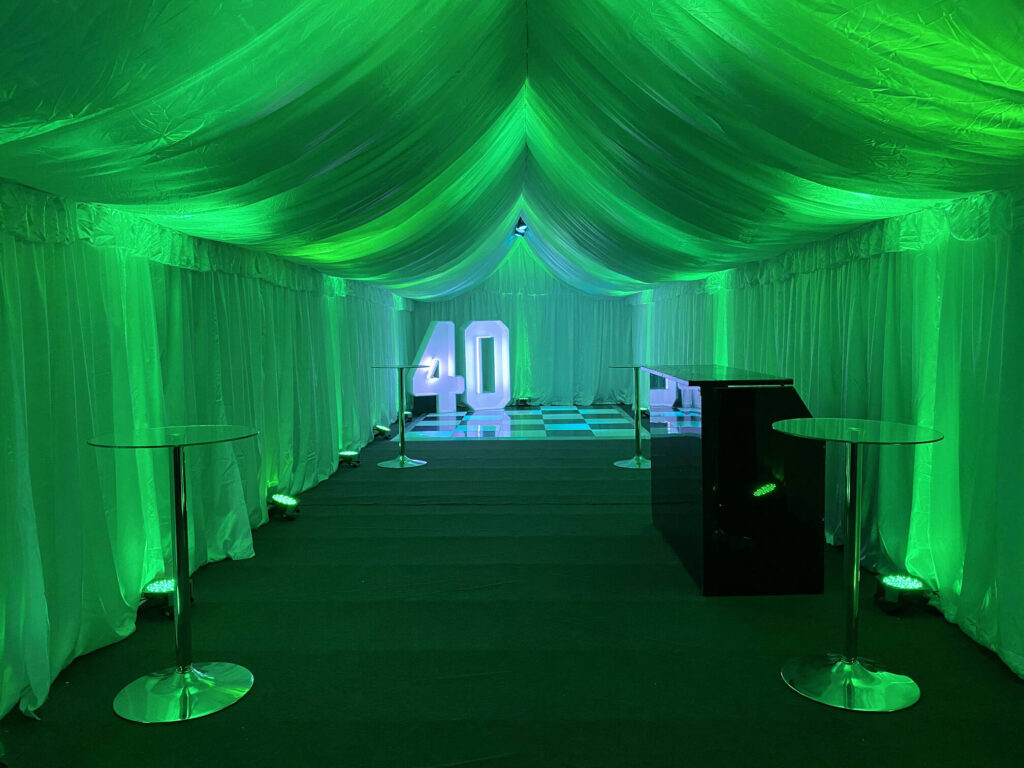 Our nimble 5ft gloss black bars are a superb choice for any evening party.
Worried about How to Run a Bar for a Party at Home? Do I need this? Do I need that?  Please give us a call –  My number's above it's 01462 262024 if you've got any concerns.  We know how to How to Run a Bar for a Party at Home!