Your Small Garden Sized Marquee Hire Experts
From the highest reviewed marquee hire Company in the UK.
Marquee Hire Essex from £650...

Looking to Hire a Small Marquee in Your Garden?
Well you've come to the right people…
We're your unforgettable marquee hire garden party experts helping people like you celebrate birthday parties, weddings & family events around the South East including London, Hertfordshire, Bedfordshire, Essex, Cambridgeshire, Buckinghamshire, Kent, Surrey, Berkshire, and East & West Sussex.
We're responsible for the success of over 650 events every year making us the most frequently used small marquee hire company in the UK.
Our garden sized marquees can be installed on to grass, patio, decking, concrete..anything!
Your marquee is installed by our professional team a day or two before your event, and then removes your marquee after your event – leaving you a stress free experience in creating amazing memories for your friends & family at home.
We're award-winning – so let's make sure your party is of an award-winning standard too.
Get your marquee hire quote from the UK's most trusted small marquee hire company today!
Your marquee hire experts in Essex & surrounding areas.
"Superb service. The perfect local event company. Some great touches. Professional, friendly and accessible at all times. We used for our daughter's wedding after-party, with a perfect-size marquee in our garden and will use again."
STUART DINSEY - WEDDING IN HITCHIN
"From the moment I met Mark, I had absolute confidence that he would be able to bring to life the vision we had for our wedding. His enthusiasm and capacity for the ideas are superb and made everything so much more that we thought possible. 
We've had so many compliments about the quality and ambience that the marquee gave to the wedding and we can't thank Abacus enough for its effort- thank you so much, guys! There's more tea waiting whenever you want to pop in"
Ash & Kay Taylor - Wedding in Aylesbury 
"We hired a marquee for a 40th birthday garden party, our house isn't that big, so we wanted to make the garden feel like you were attending a festival, the marquee did just that! It really made the party feel special and different from a house party! 
Mark and his team were so great, they came and put the marquee up nice and quickly, friendly loverly service. I would use again!"
Great Company
Mike Cooper, 40th Birthday Party in Letchworth 
"I hired a marquee from Abacus for my birthday party. Mark really helped me out of a tight spot – sorted a marquee in record time, and his team who put up and took down the tent were first class. Super helpful, nothing was too much trouble, so polite, on time and really tidy.
Great value for money – would highly recommend. A1 Service"
NICOLA MURPHY (4M X 6M MARQUEE)
"Efficient, professional & friendly service right through the process. Excellent quality of Marquee and fittings. Booked for my Daughter's 18th party in January. The marquee, dance-floor, bar & lightning made the party. 
Our younger 16-year-old Daughter has already requested another marquee for her Birthday! Very many thanks!"
John Mears, 18th Birthday Party in St Albans
"We recently used Party in your Garden to provide a marquee for my husband's 60th birthday celebration. We particularly wanted one that would attach to the back of the house in order to extend our floor space and we were very pleased with the results. Most of our guests commented on how lovely the marquee was and we really felt that it contributed to everyone's enjoyment of the party. One or two even asked for the contact details! The erection and dismantling of the marquee were all done carefully and efficiently. Thanks, guys!" "
BRIDGET & ALAN CULVERHOUSE (60TH BIURTHDAY PARTY IN LETCHWORTH)
A marquee is the perfect way to celebrate any occasion
MARQUEE BUTTED UP TO YOUR HOUSE
Butting up a marquee to the back of your house couldn't be easier!
A marquee will instantly give you that much needed space and takes the pressure off from the house (and your cream carpets!) Warm enough during the winter months thanks to clever heating systems an a neat fit to most houses. No physical drilling into the house is needed as the marquees are freestanding. Can be installed over french doors, sliding doors bi-fold doors…any doors! We are your small marquee hire experts!
PREVIOUS EXAMPLES OF MARQUEES AGAINST A HOUSE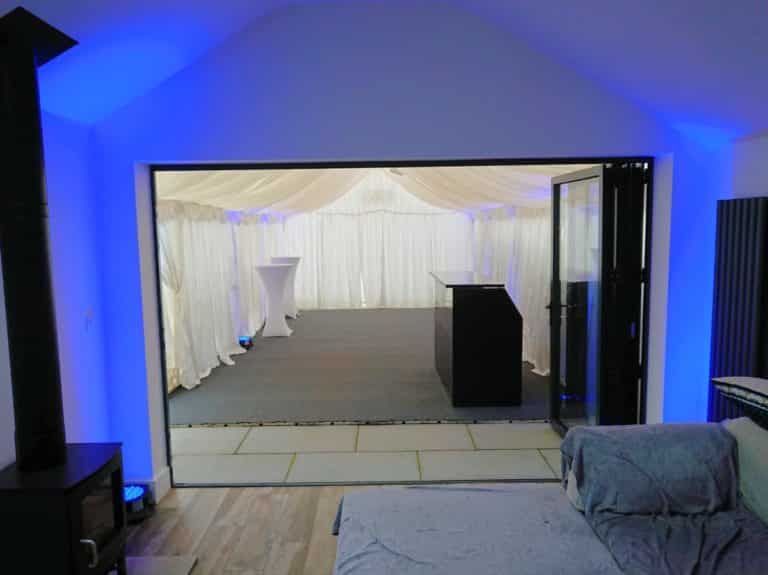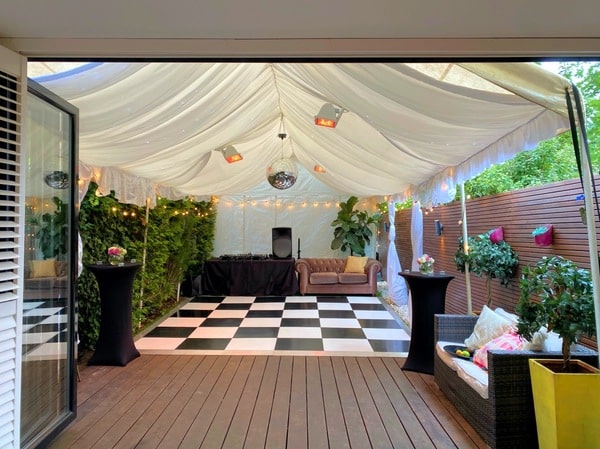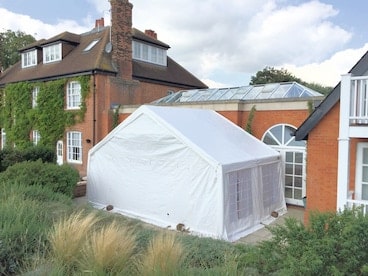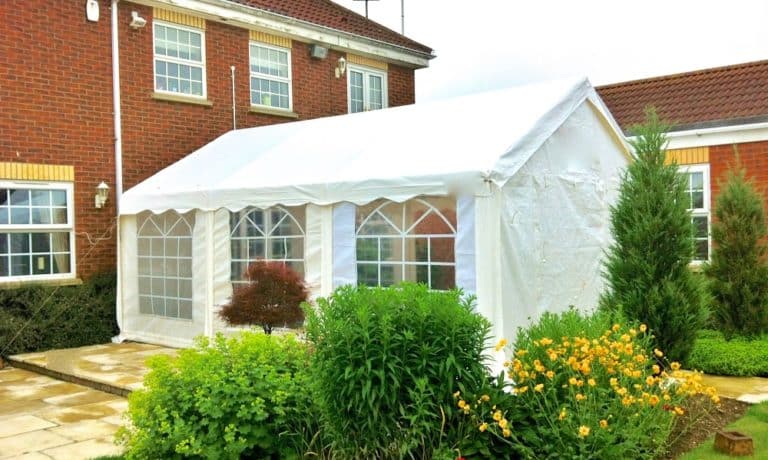 Marquee Hire Essex Made Easy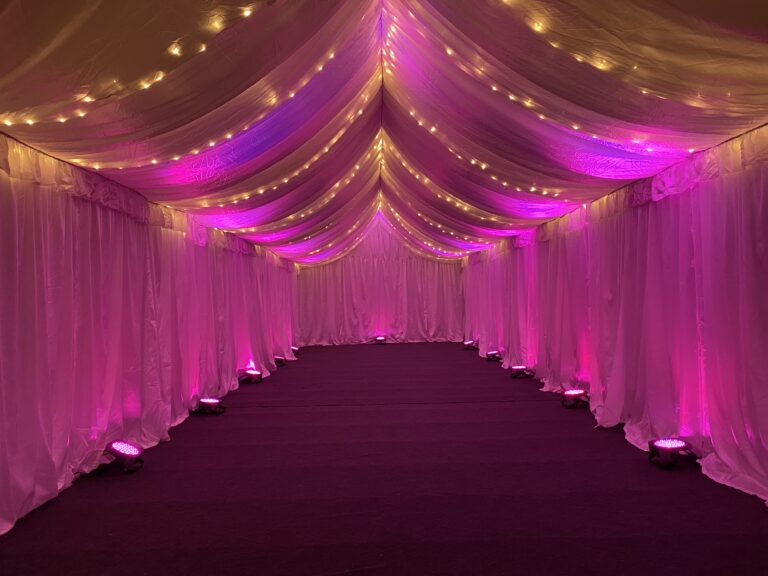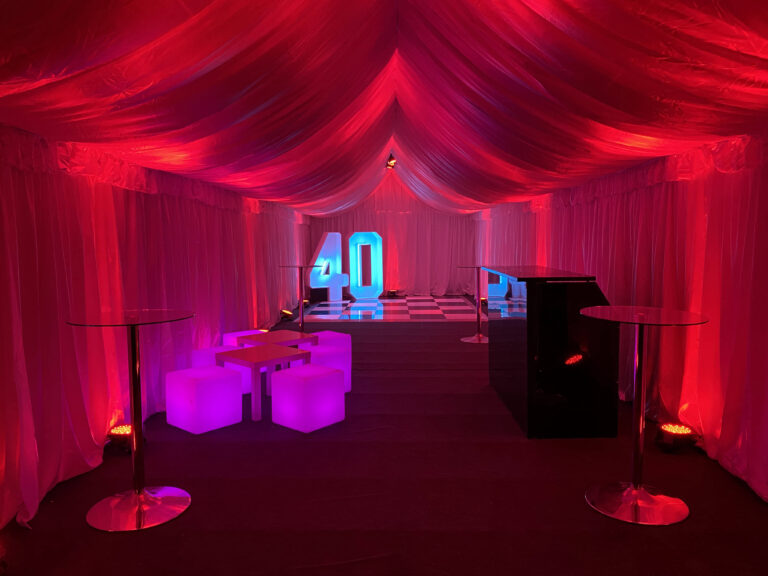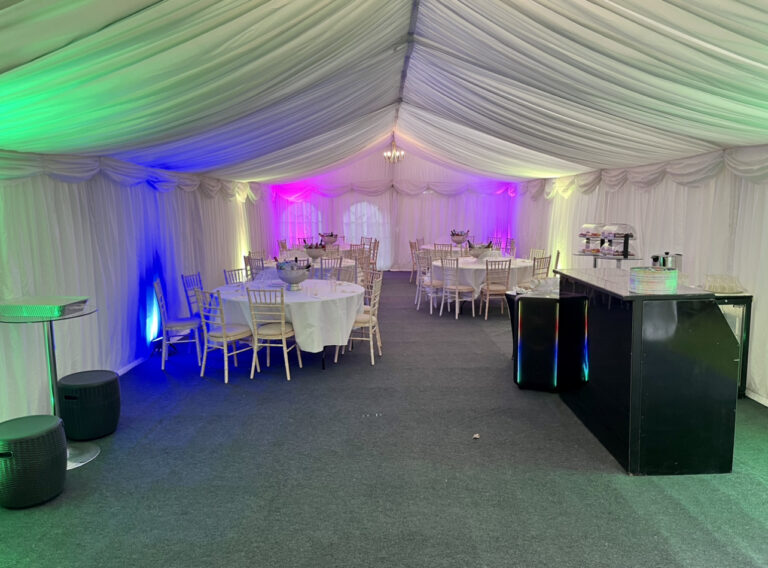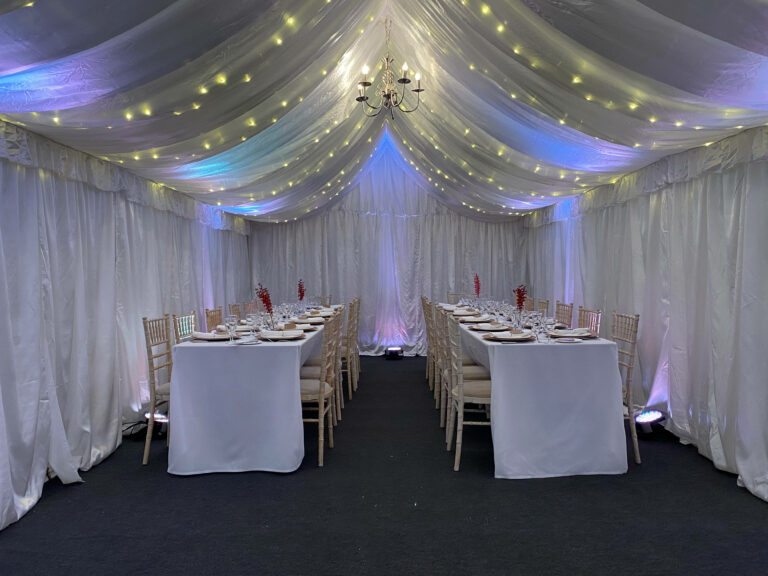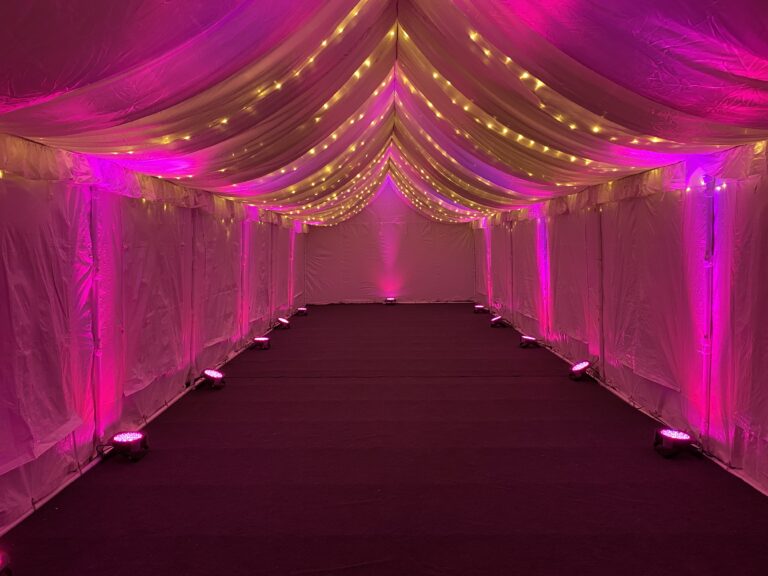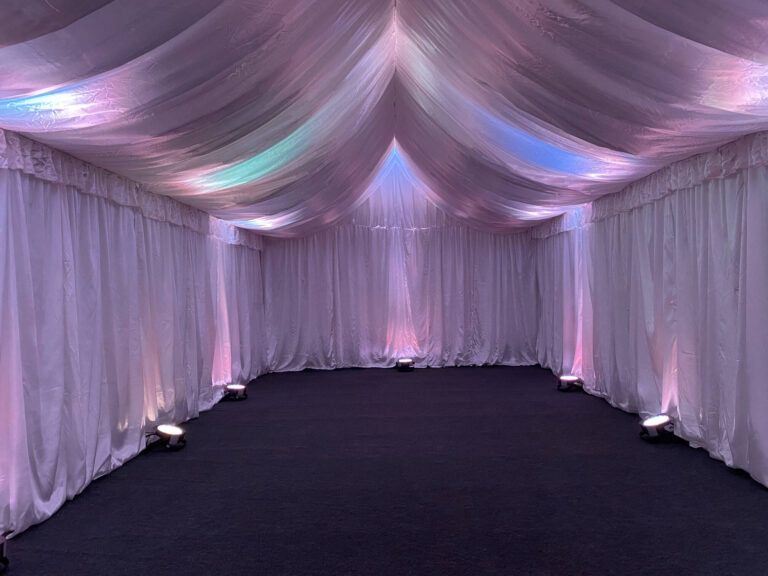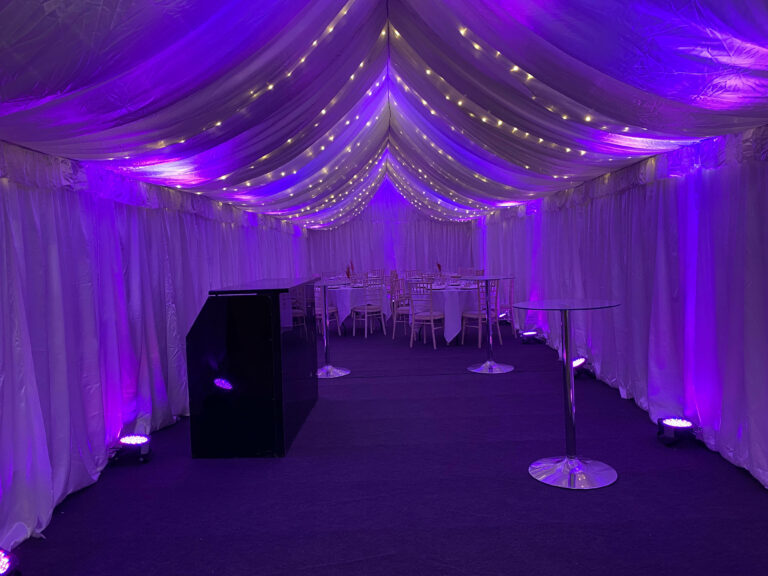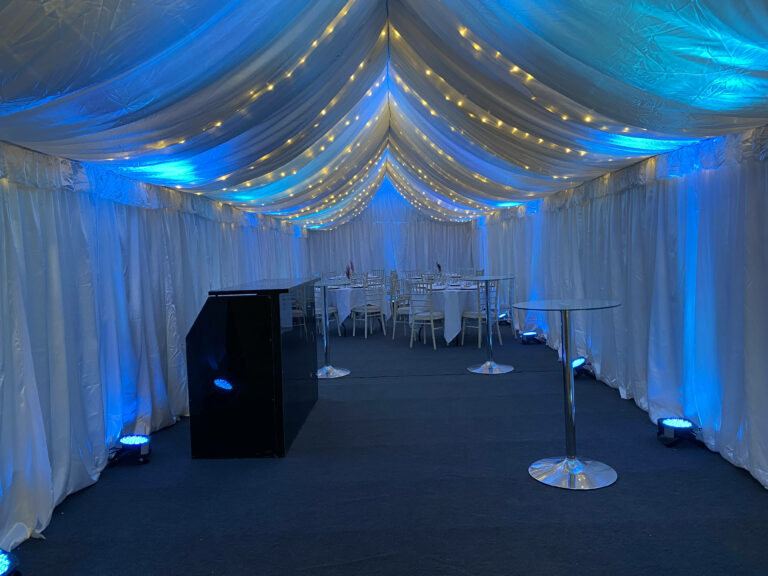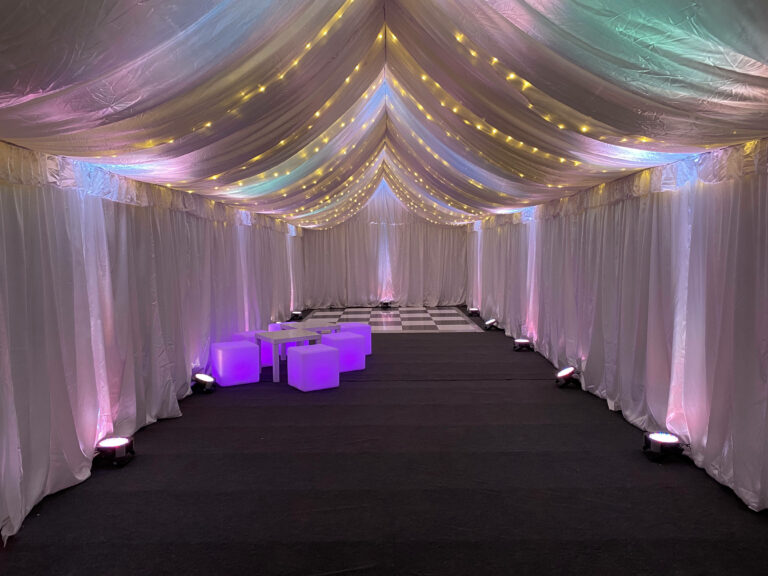 We have had great success in Hertfordshire bring residents celebrations to life! Do you fancy being next? A marquee gives you the space to host the best possible celebration from home without the mess that comes with a usual house party! Mark is on hand to discuss how he can make your special event perfect with his great personal touch that has been proven time & time again.
LARGER MARQUEE HIRE ESSEX
You need Abacus Marquee & Event Hire 
Our big brother, Abacus Marquee & Event Hire provide marquees for 40-4000 guests for much larger events than what Party in your Garden are typically famous for.
Abacus provide the complete infrastructure including:
Furniture & Dance floors
Complete Bar Infrastructure
Generators & Toilets
Heating, Lighting & AV Systems
Blackout Nightclub Style Marquees
Wedding Coordination Service
These marquees can still be installed in your back garden, but are better suited for larger scaled events.