Interior Options for your Marquee
We're all about keeping marquee hire super simple. Below is the modest list of options you have available to you. If you're looking for a little bit extra for your event, you may be best to come and say hello to our big brother, Abacus Marquee & Event Hire here!
This is our first recommendation for all events. To give you a firm base to walk on if the marquee is on grass.
The hard floor system is laid and a carpet is applied on top of it.
Standard carpet colour is dark grey.  Custom colours can be added to your order.
This also helps insulate the marquee in winter too – helping to retain heat inside the marquee.
Recommend for marquees even installed on patios
Equally if your marquee going on patio it prevents rainwater flowing back onto the patio, which your guests will be transferring back into the house.
The flooring is firm enough for guests in heels to walk and dance on too.
Recommended for Birthday parties, Weddings, Asian Weddings, Family parties.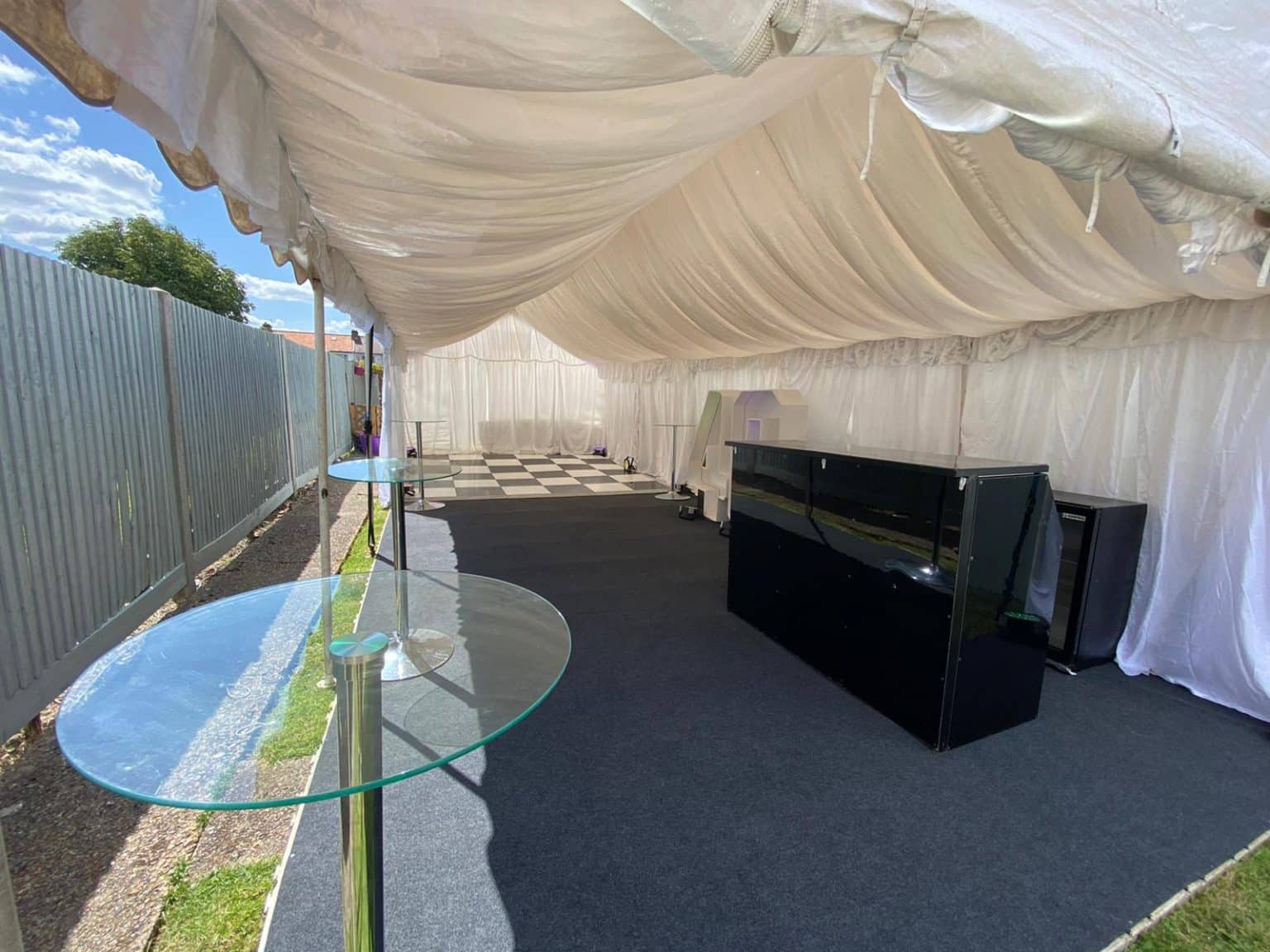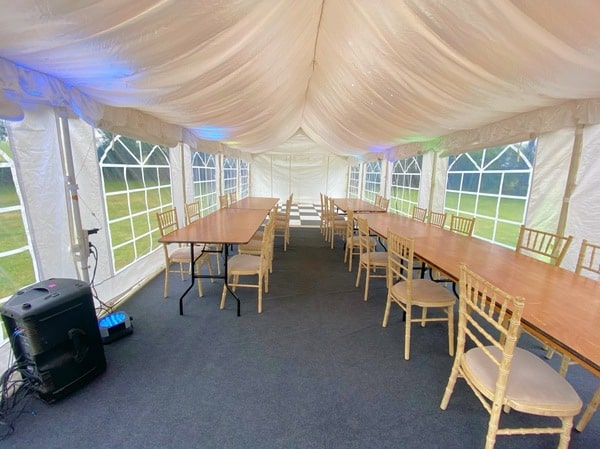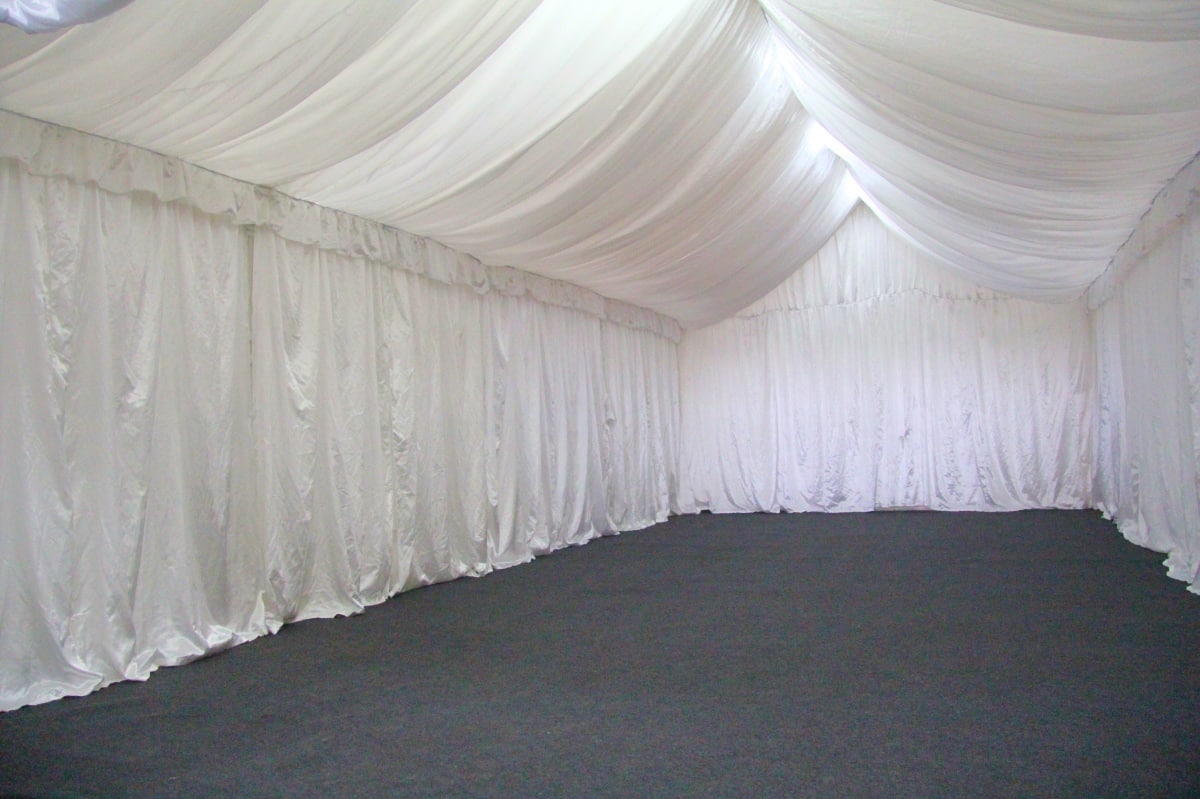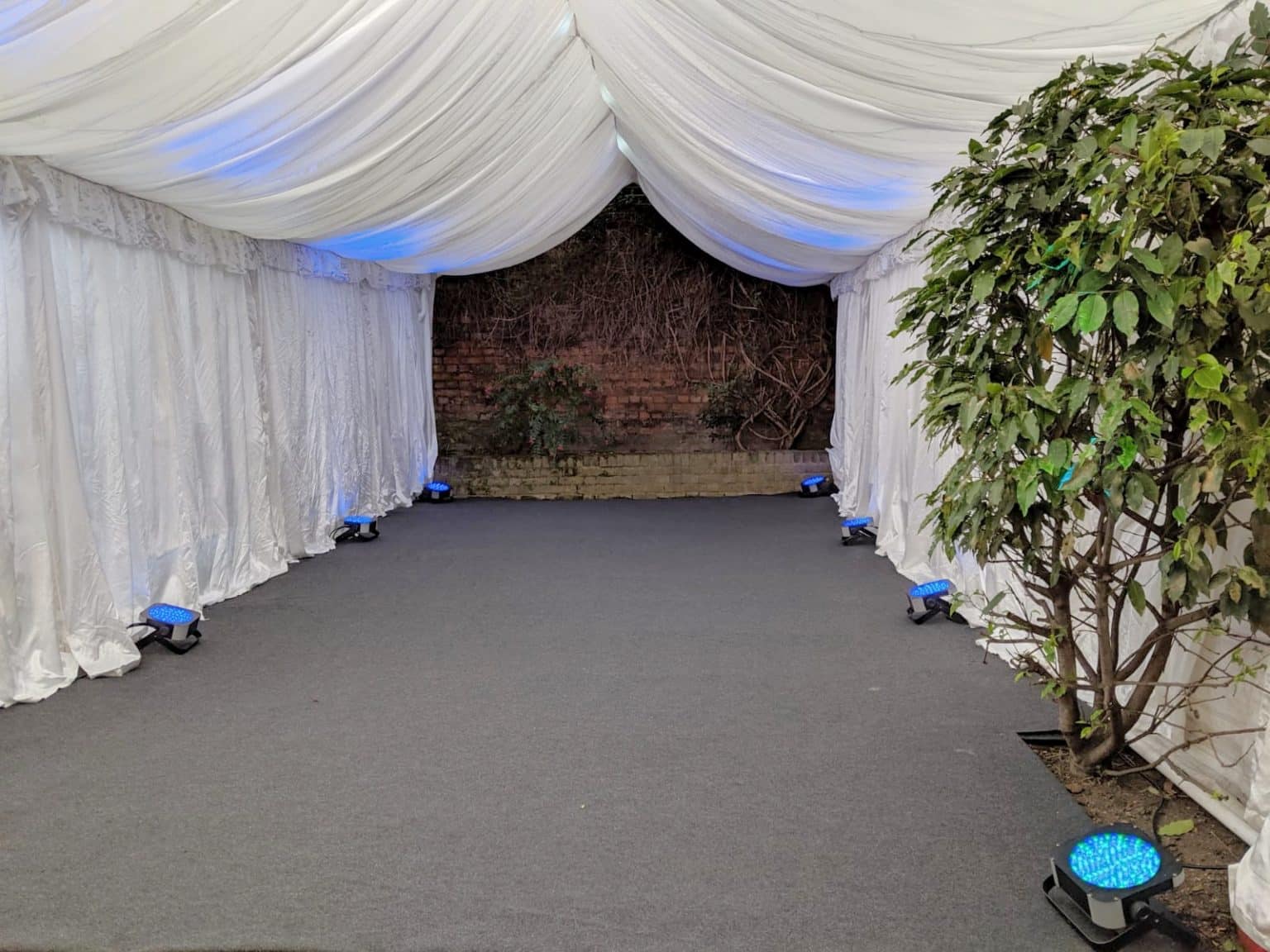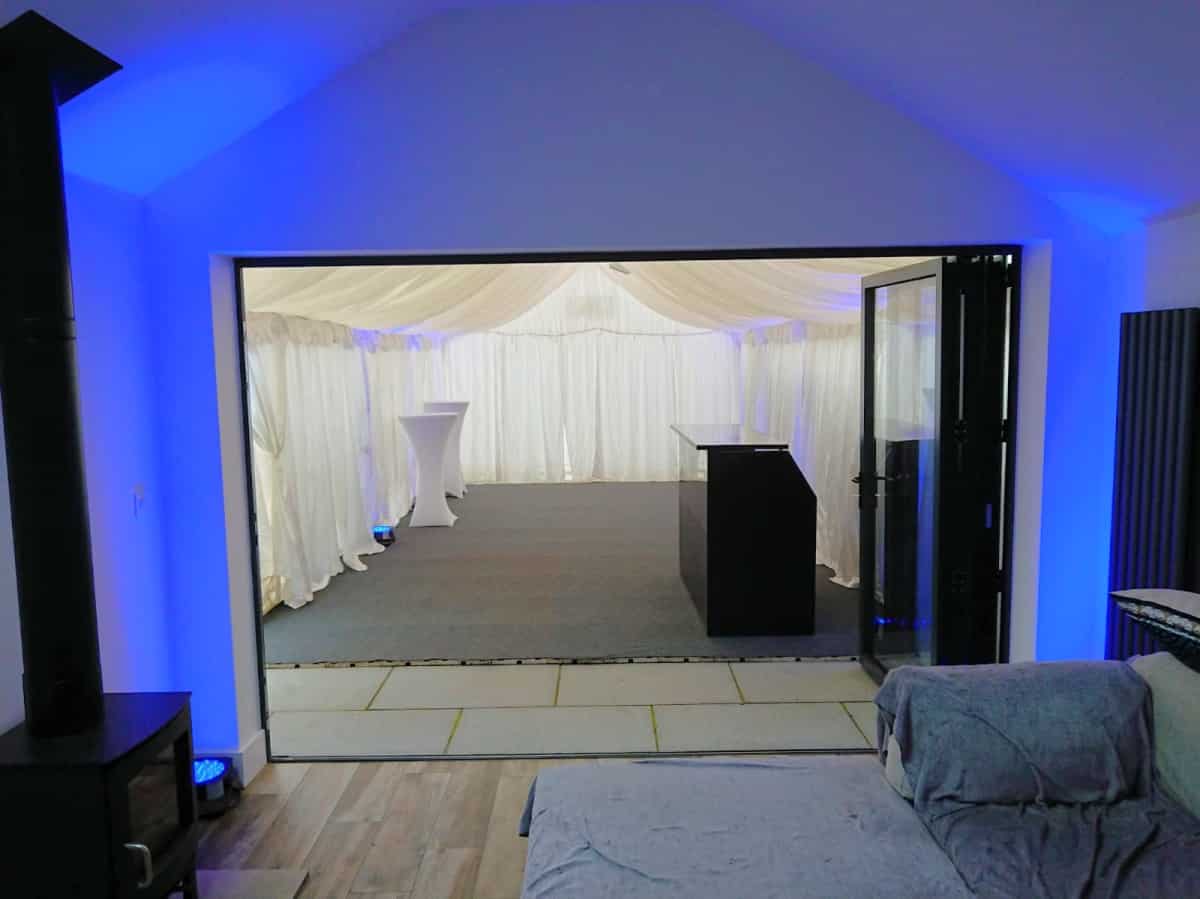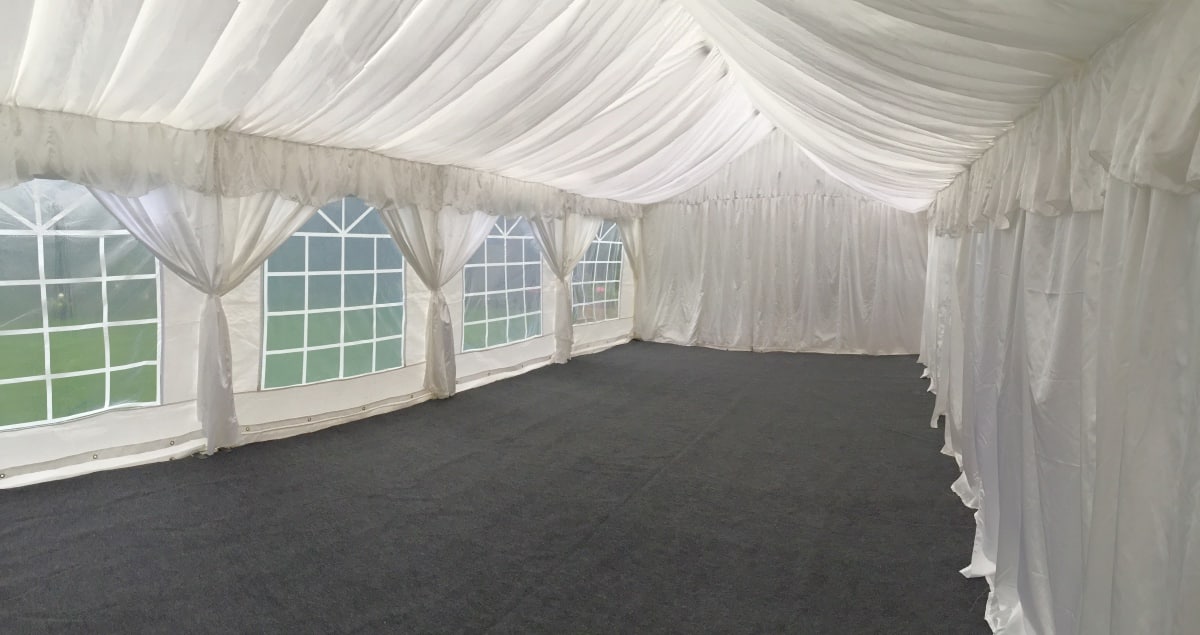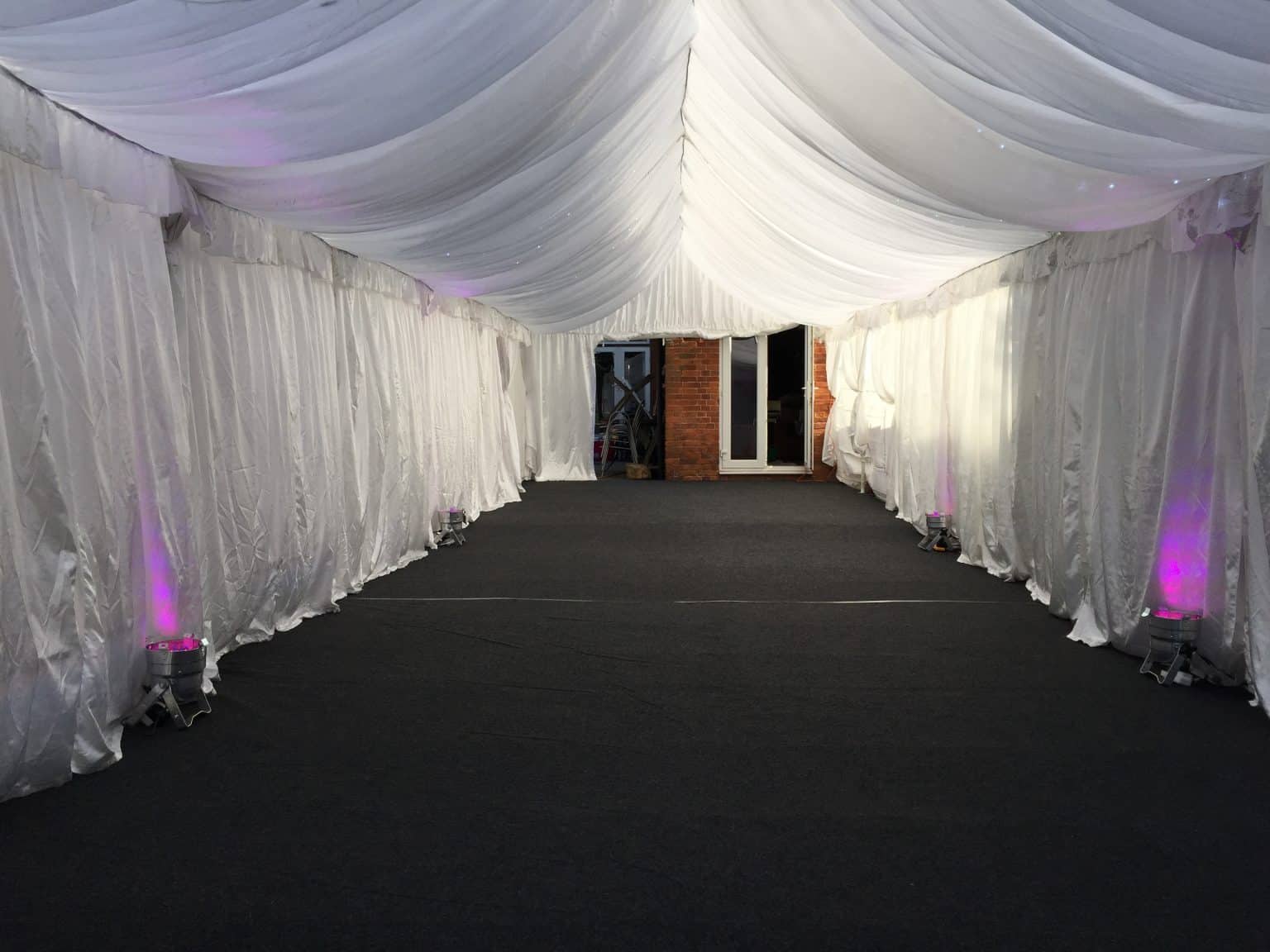 This makes a huge difference to the look of your event!
If you want to add something that makes the single biggest difference, its marquee lining!
Lining totally transforms the look and feel of your venue – taking it from a "big tent" to a wonderful looking setting for your event!  90% of our have linings installed as a minimum to give you the perfect looking blank canvass to start with.
Lining is the pleated white material that covers the roofs, ends & sides to the marquee.
This totally transforms the look of your event hiding the metalwork and material of the marquee.
It also helps insulate the marquee in the winter too as it further insulates the structure.
A "roof lining only" option is available which has no end or side wall lining to make your marquee look less formal.
Lining also reflects LED lighting very well – so adding LED uplighters with lining work really well for evening parties.
Recommended for Birthday parties, Weddings, Asian Weddings & Family Parties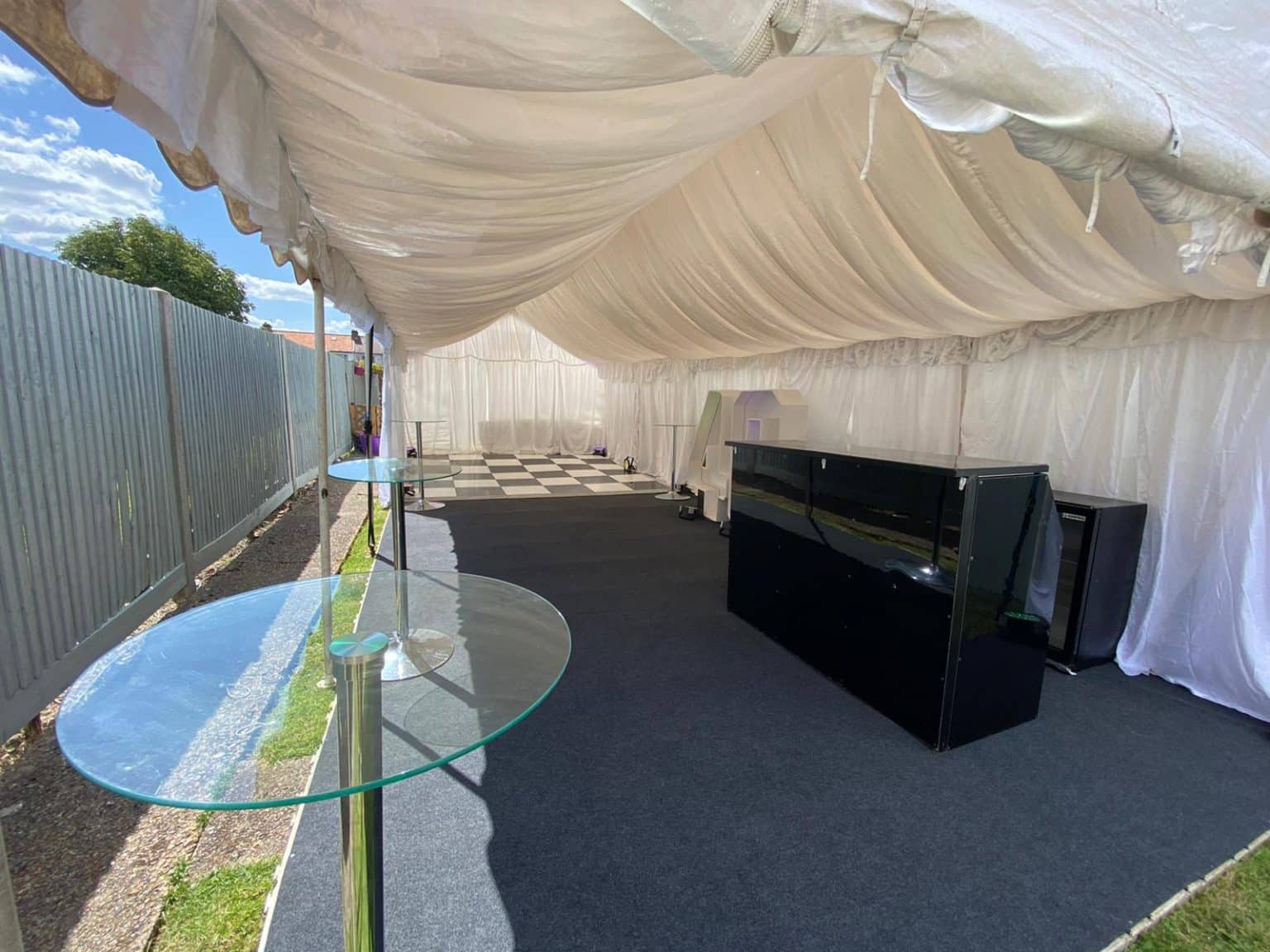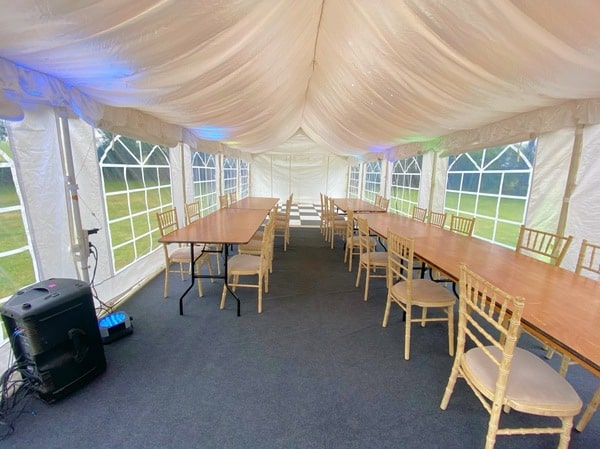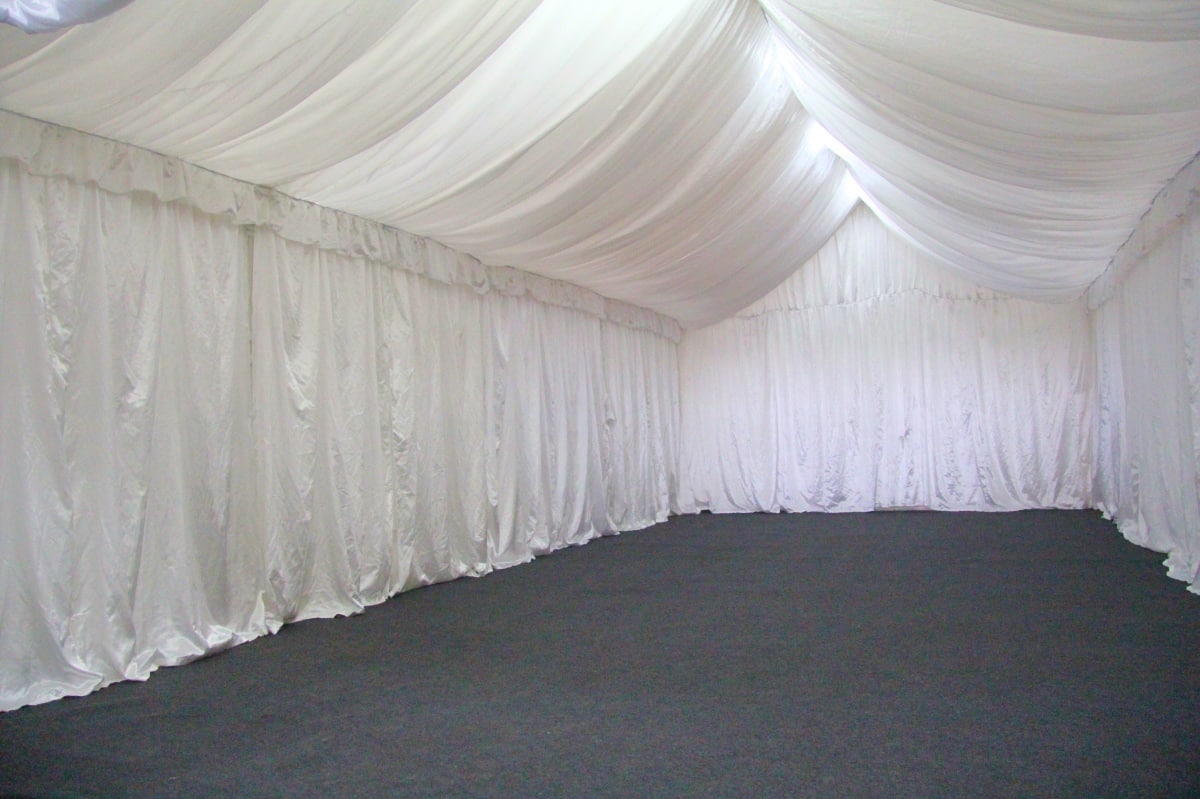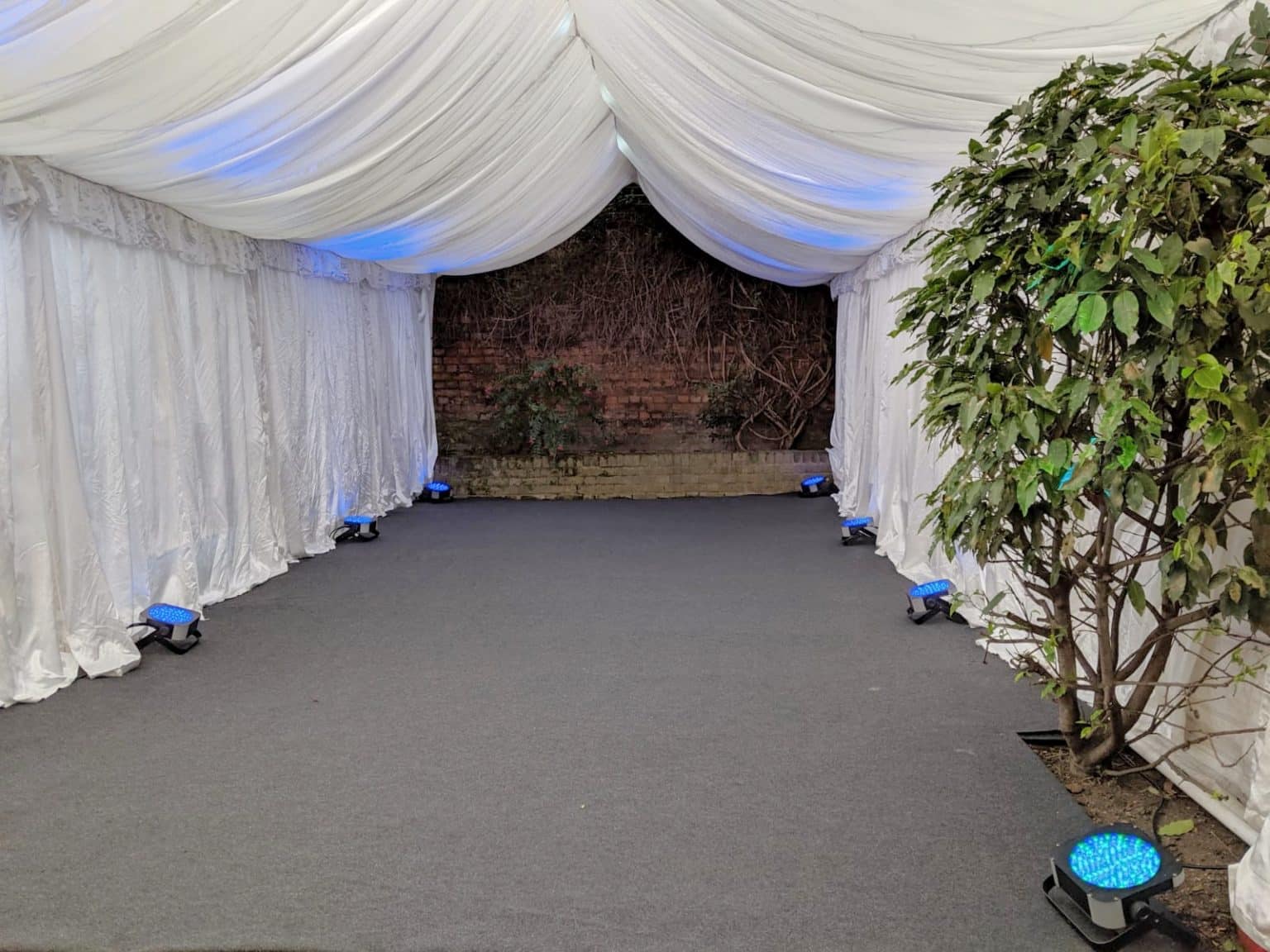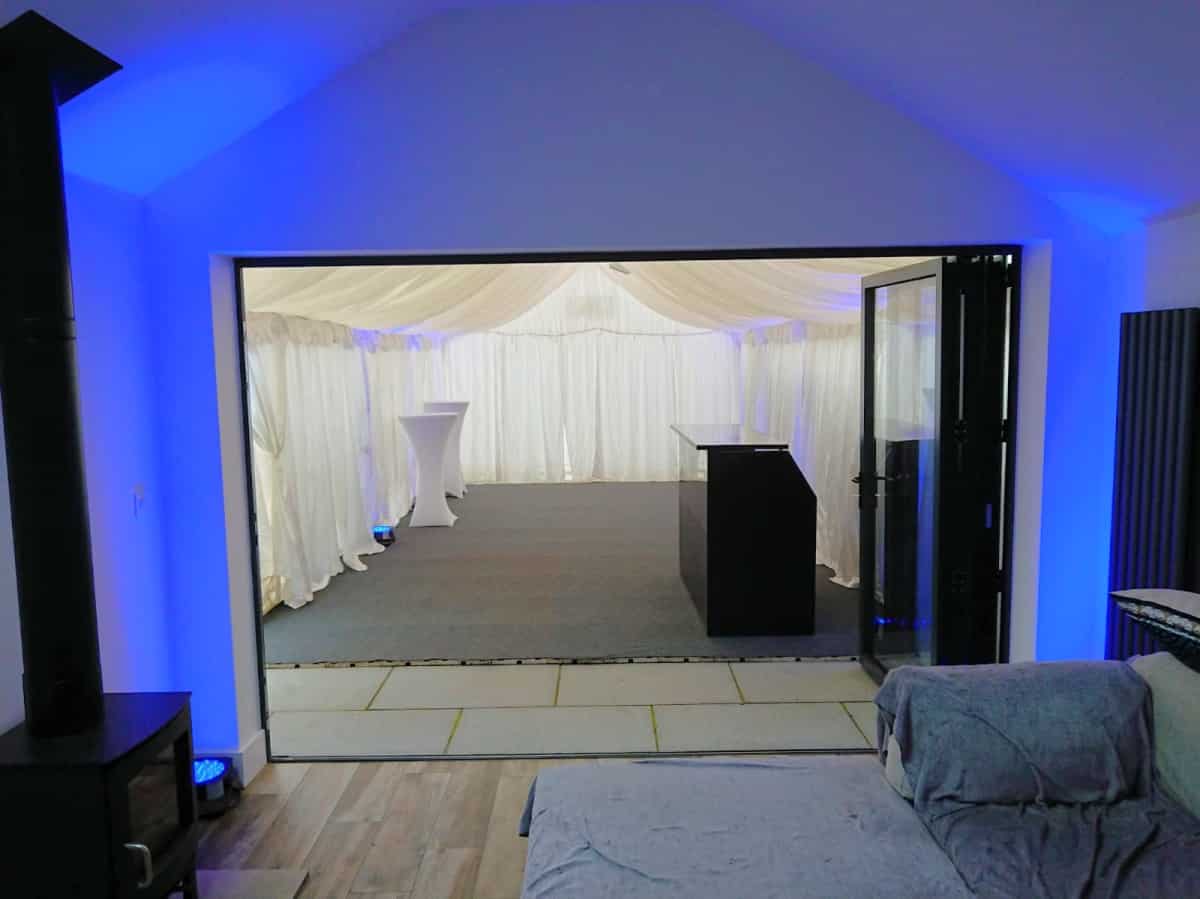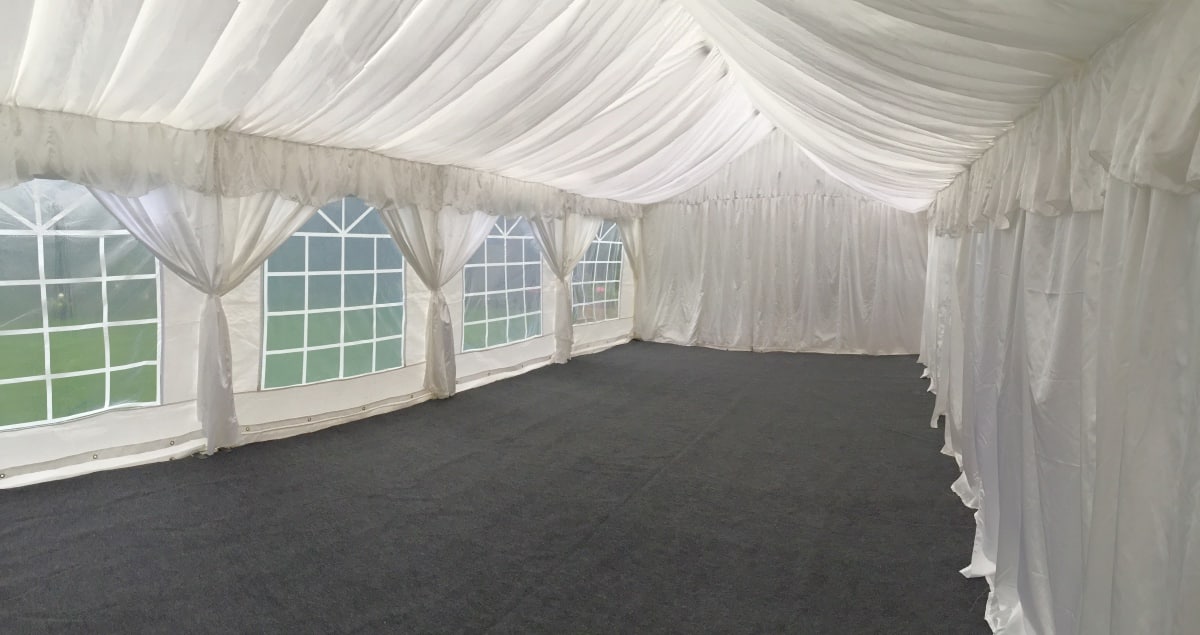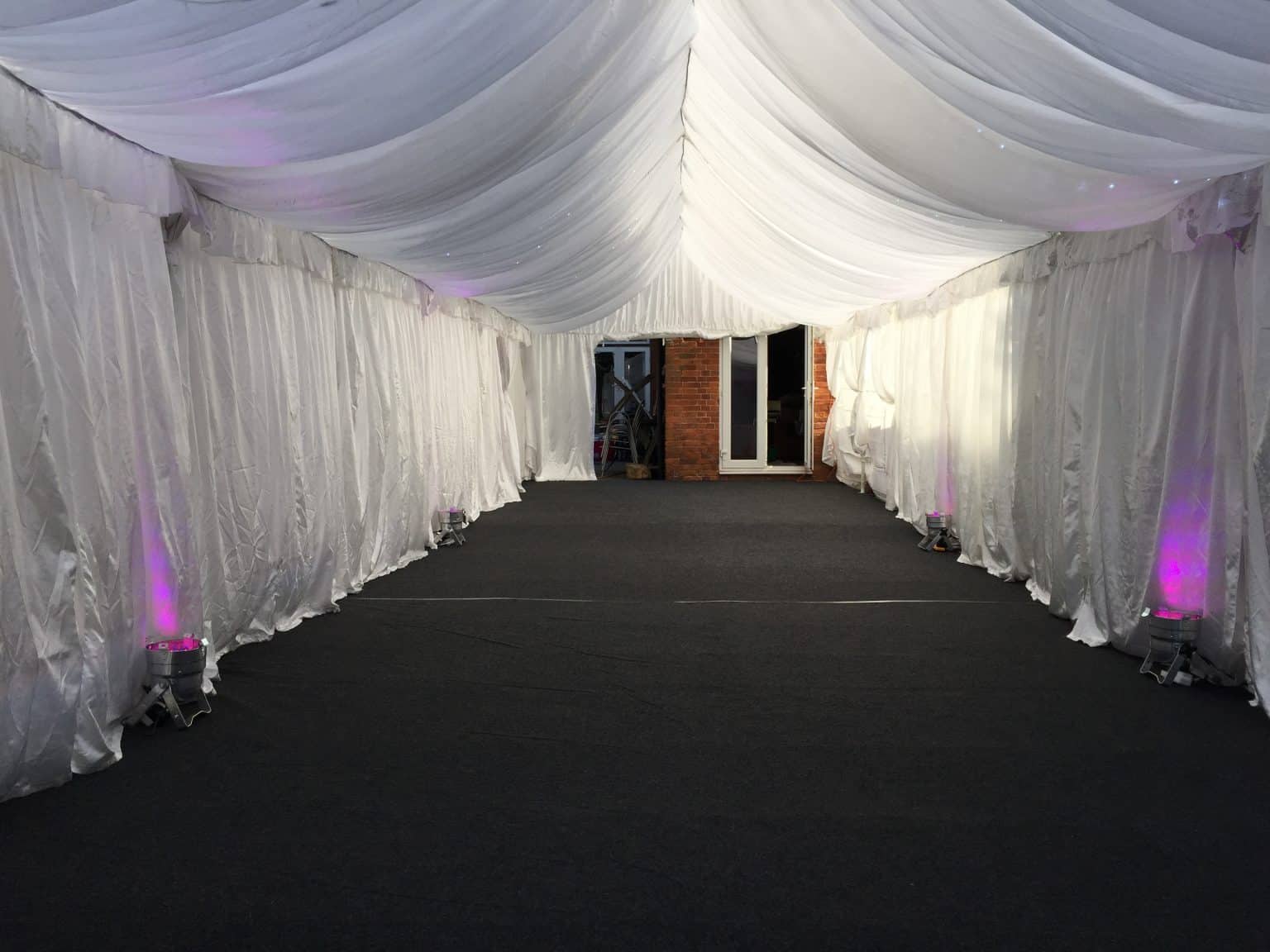 Blackout Starlight Lining
Turn your garden into a nightclub with blackout starlight LED lining!  A black lining with lots of LED white fairy lights embedding into the lining.
Perfect for lively house parties.  Our LED bar & dance floor options are a must with this specification!
Only available in our 6m wide marquee sizes.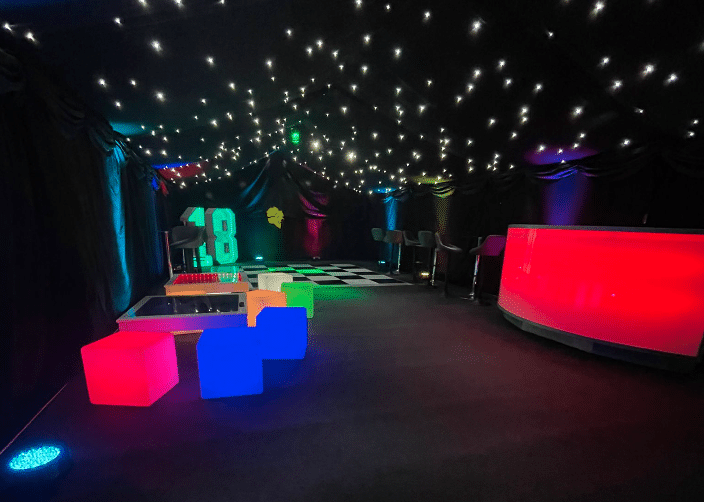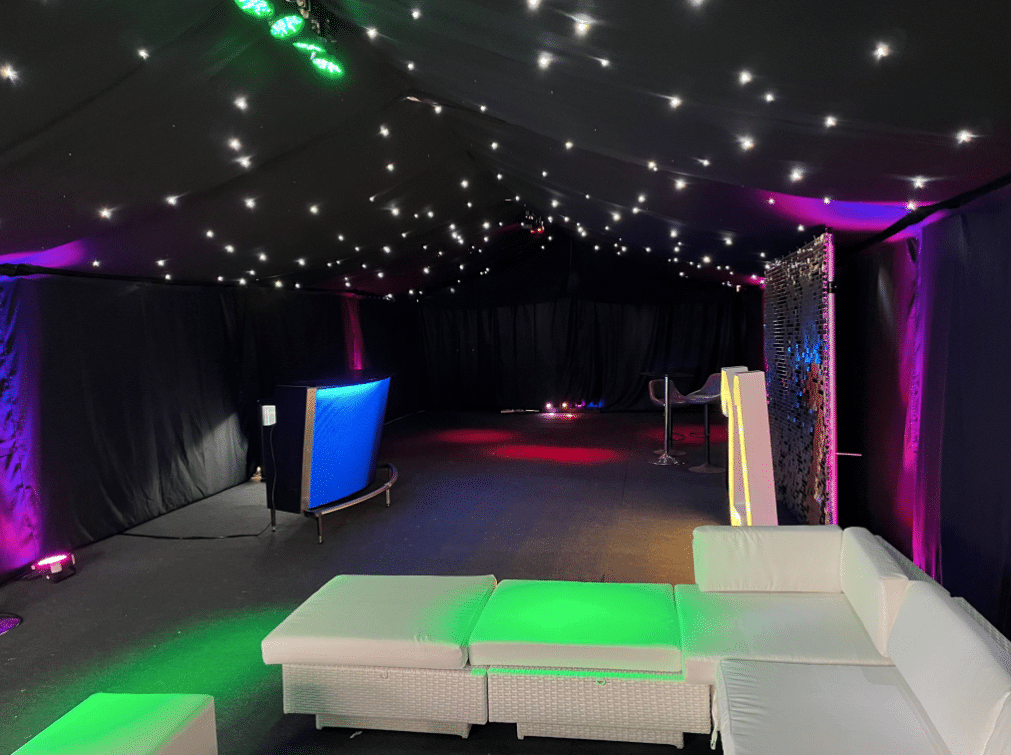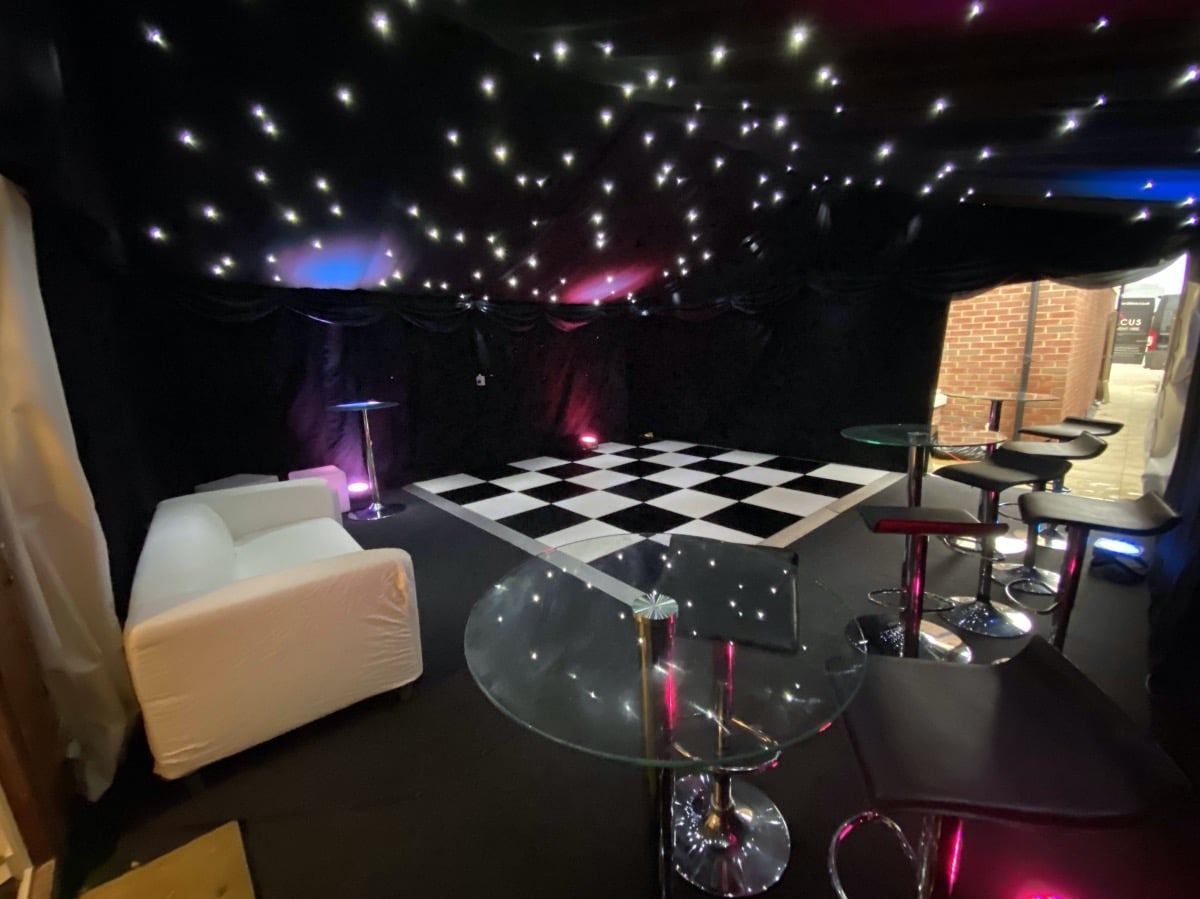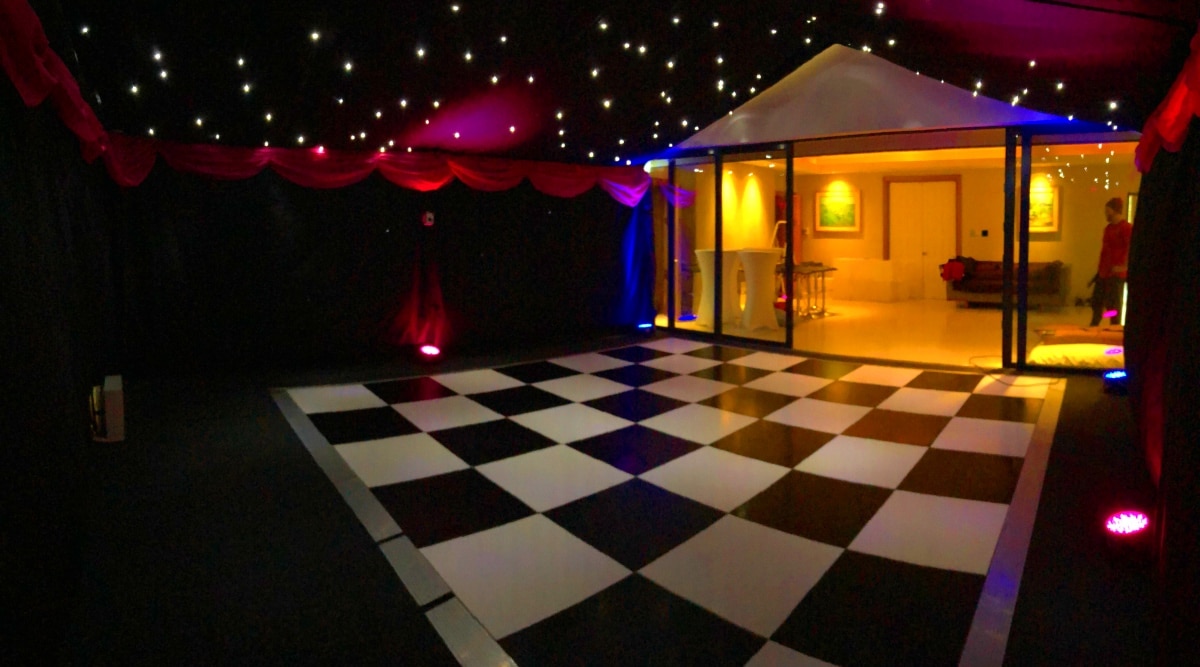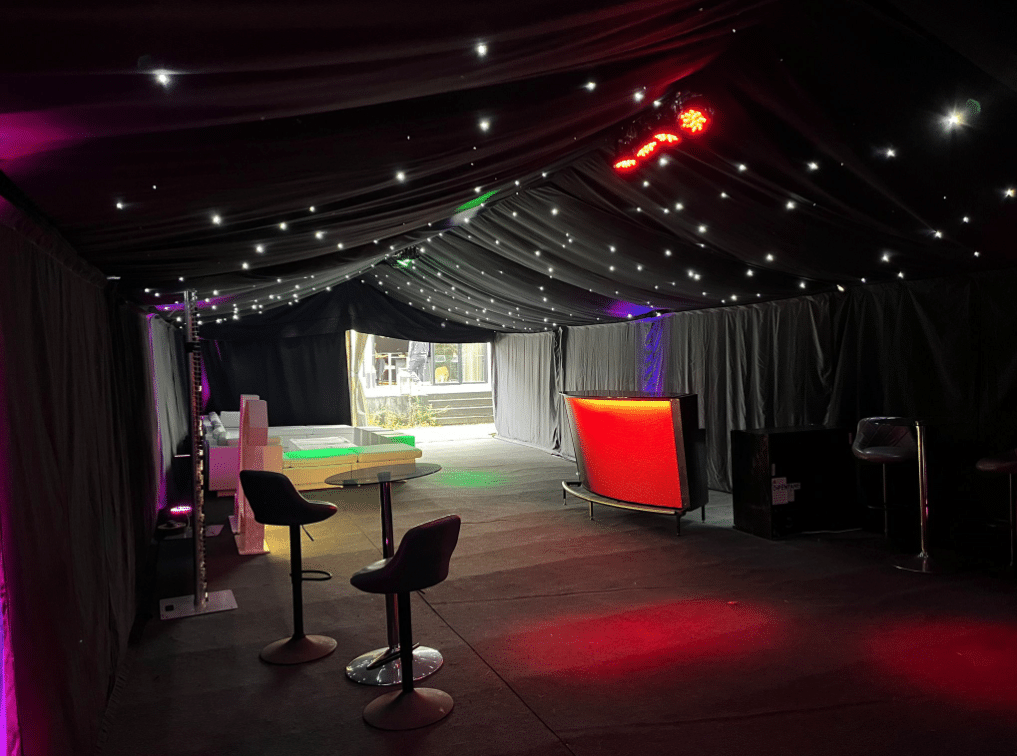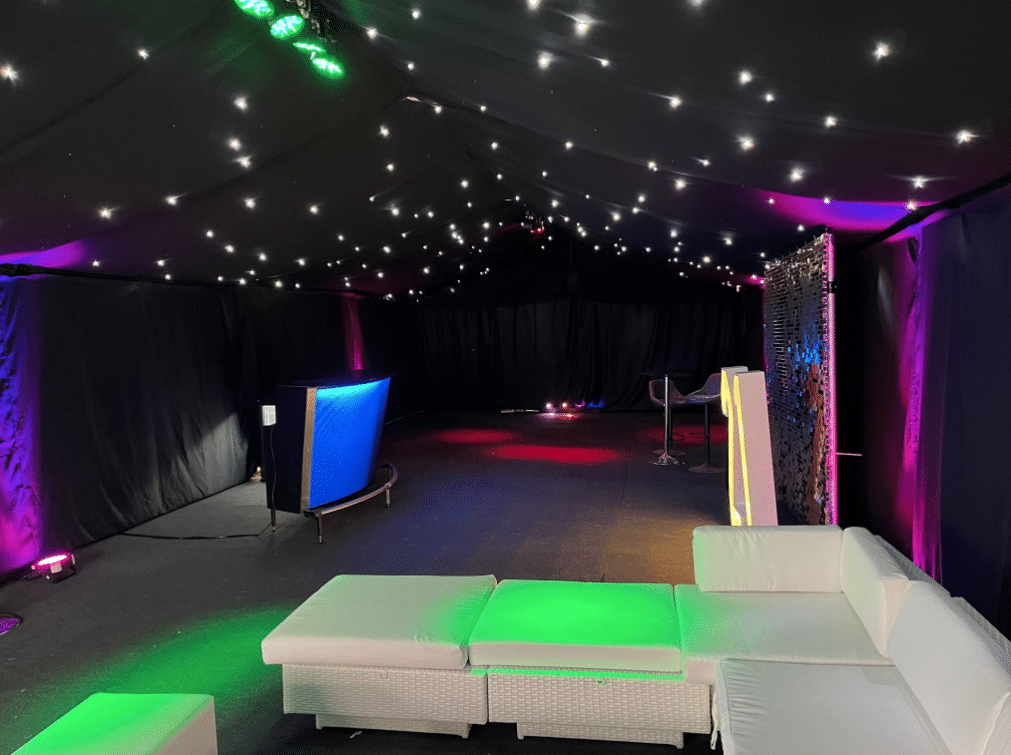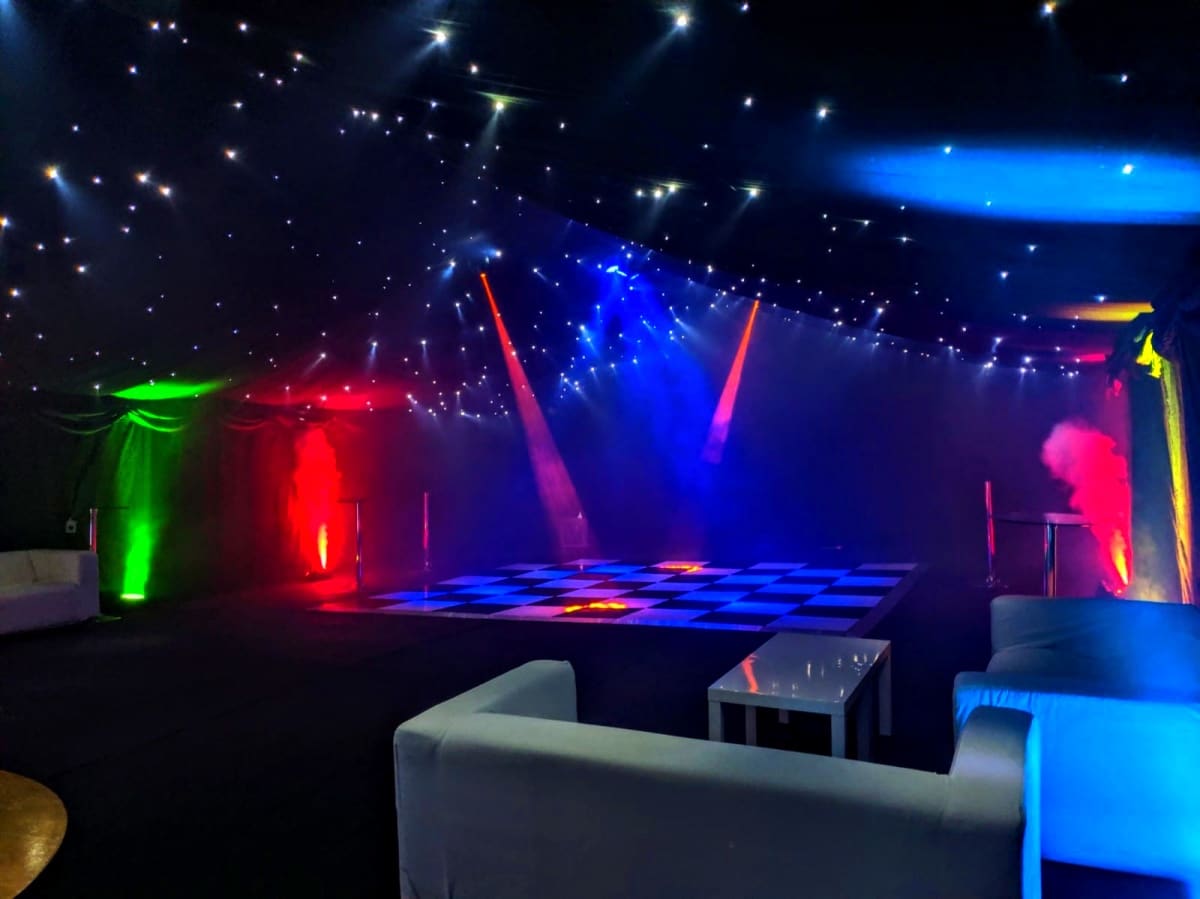 Ensuring that marquee hire is an all year round thing!
Ensure your guests are warm and comfortable no matter what time of year your event is.
We install more marquees up in December than we do in June, so we know how to keep your guests warm during the colder months
Heating the person rather than the air around it, they give you instant heat without having to wait for the hole marquee to warm up.
We tend to install between 2-6 heaters in the marquee depending on size and time of year.  
Combining heaters in your marquee alongside flooring & lining to insulate it means you can have an outside event all year round and your guests will be more than comfortable even during the coldest winter evenings!
Recommended for any events occurring in Oct – April.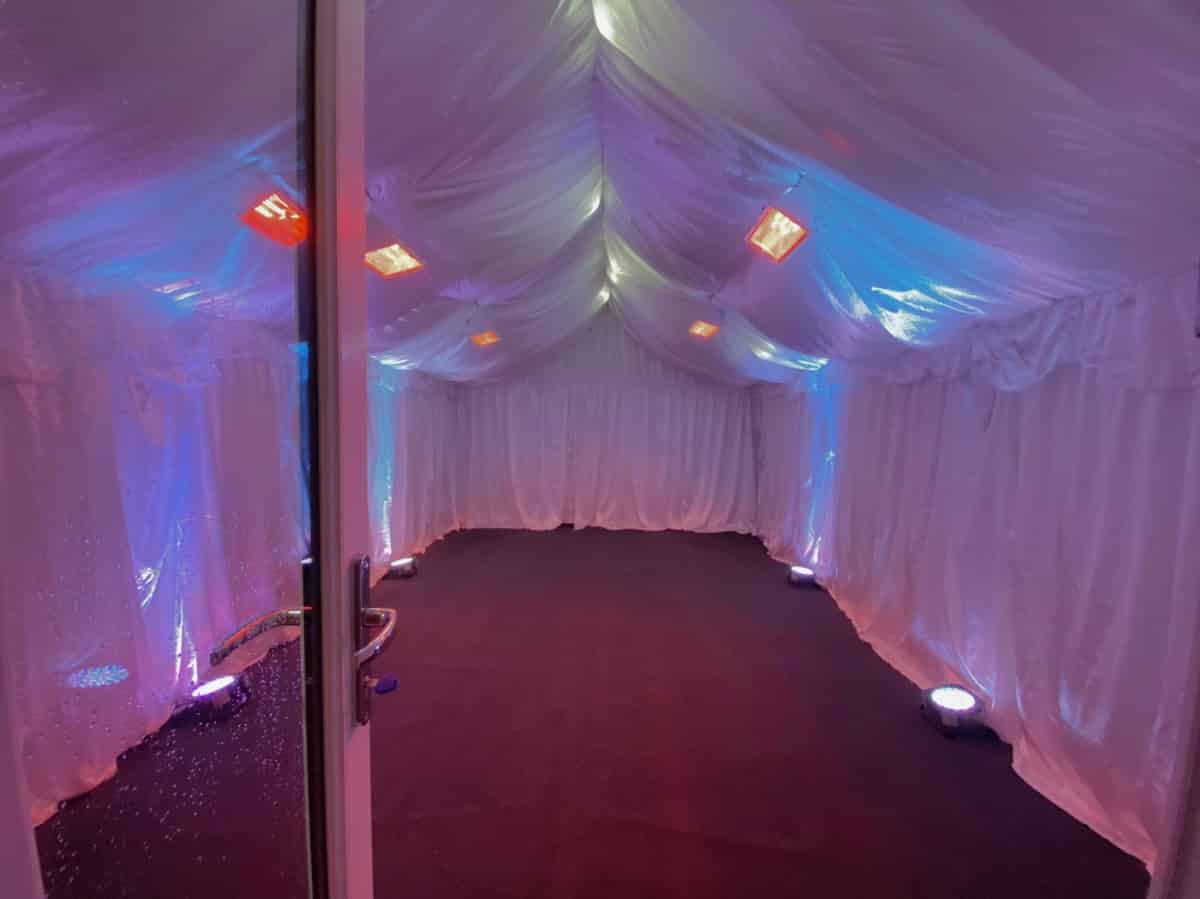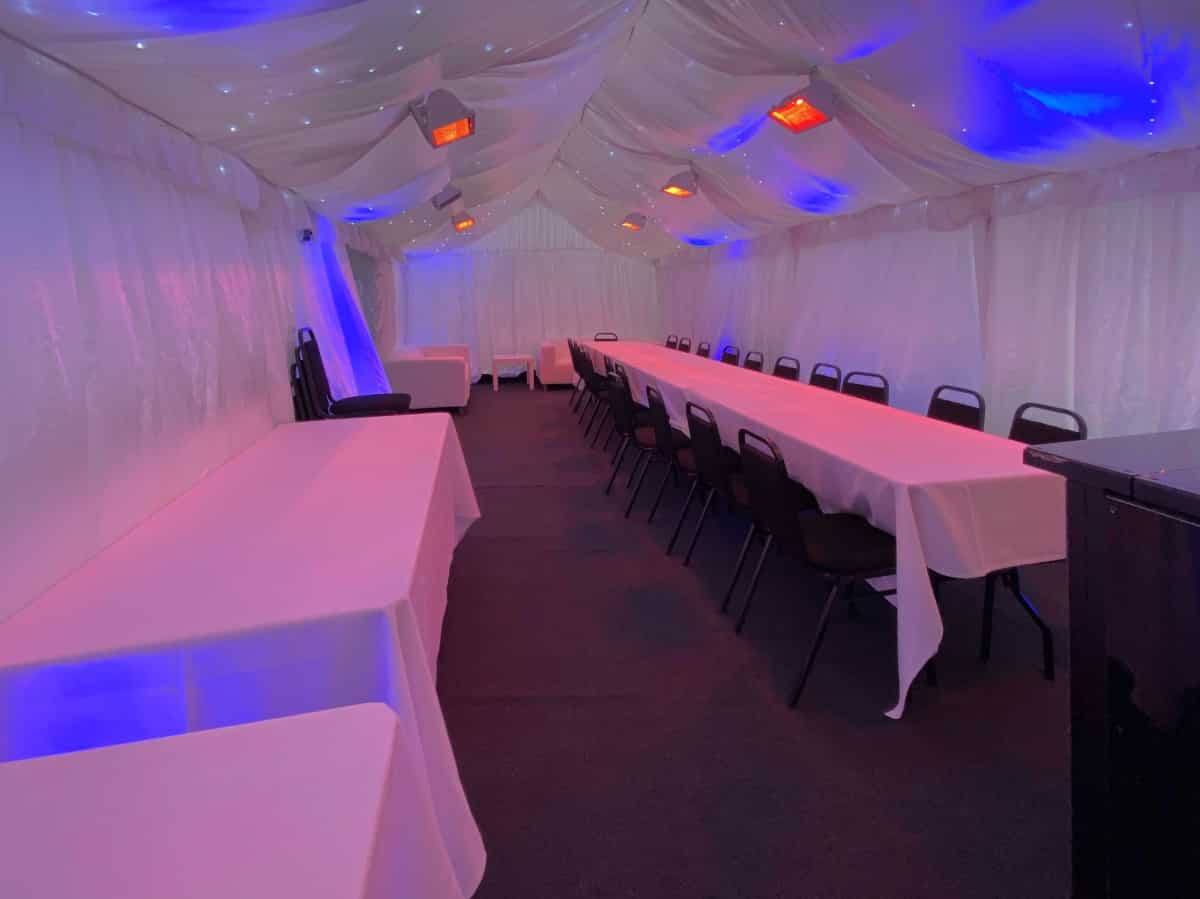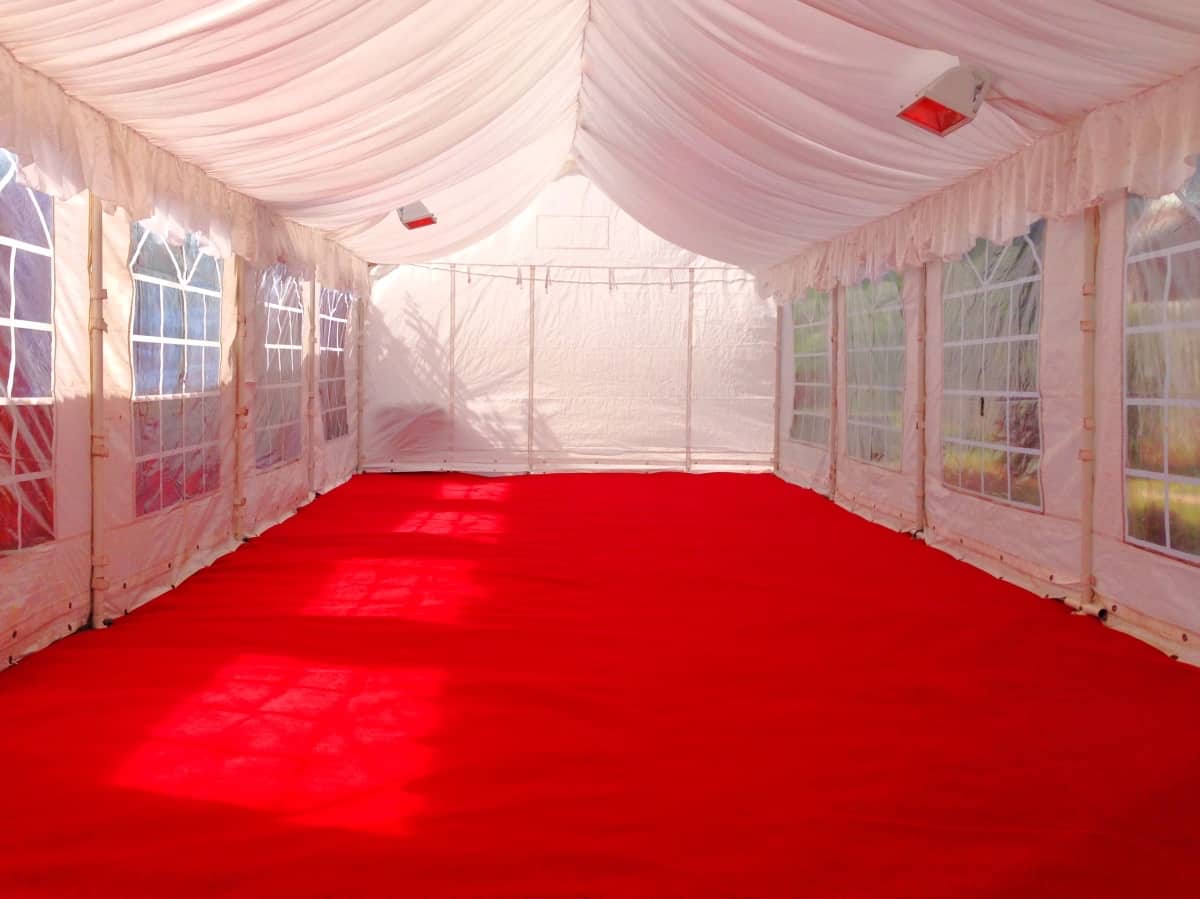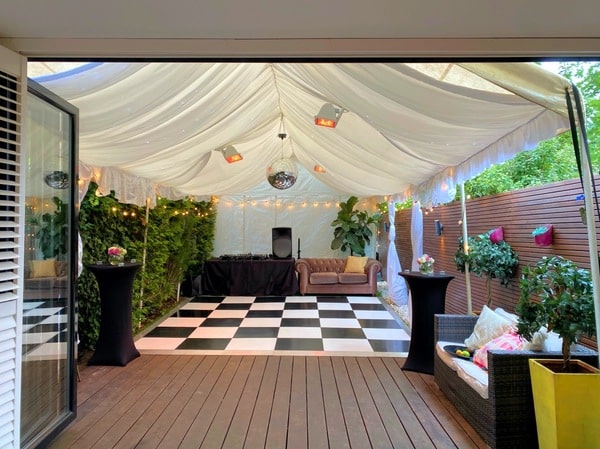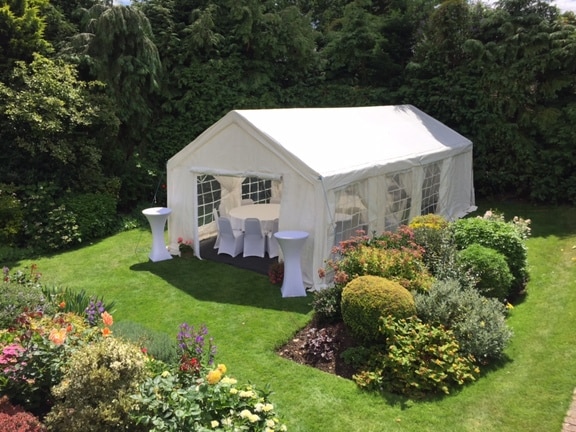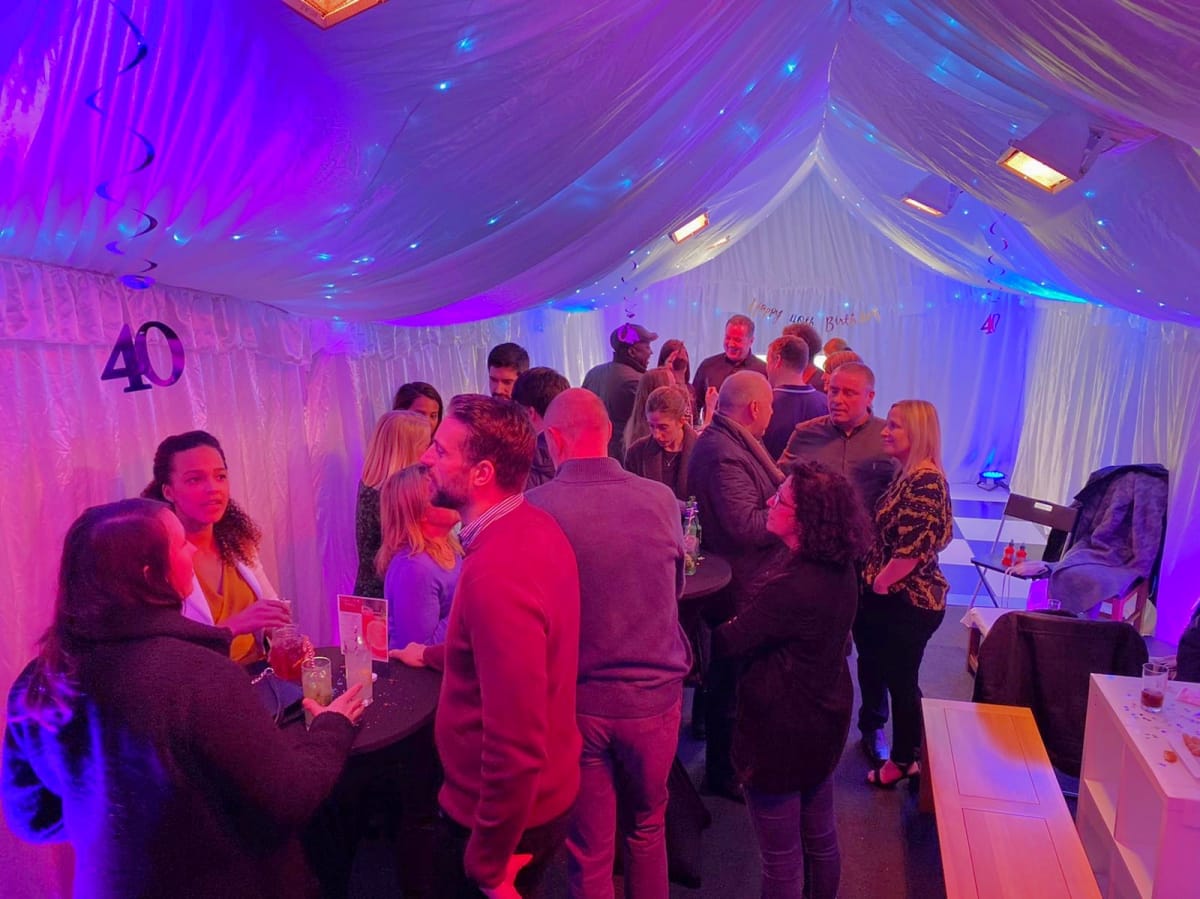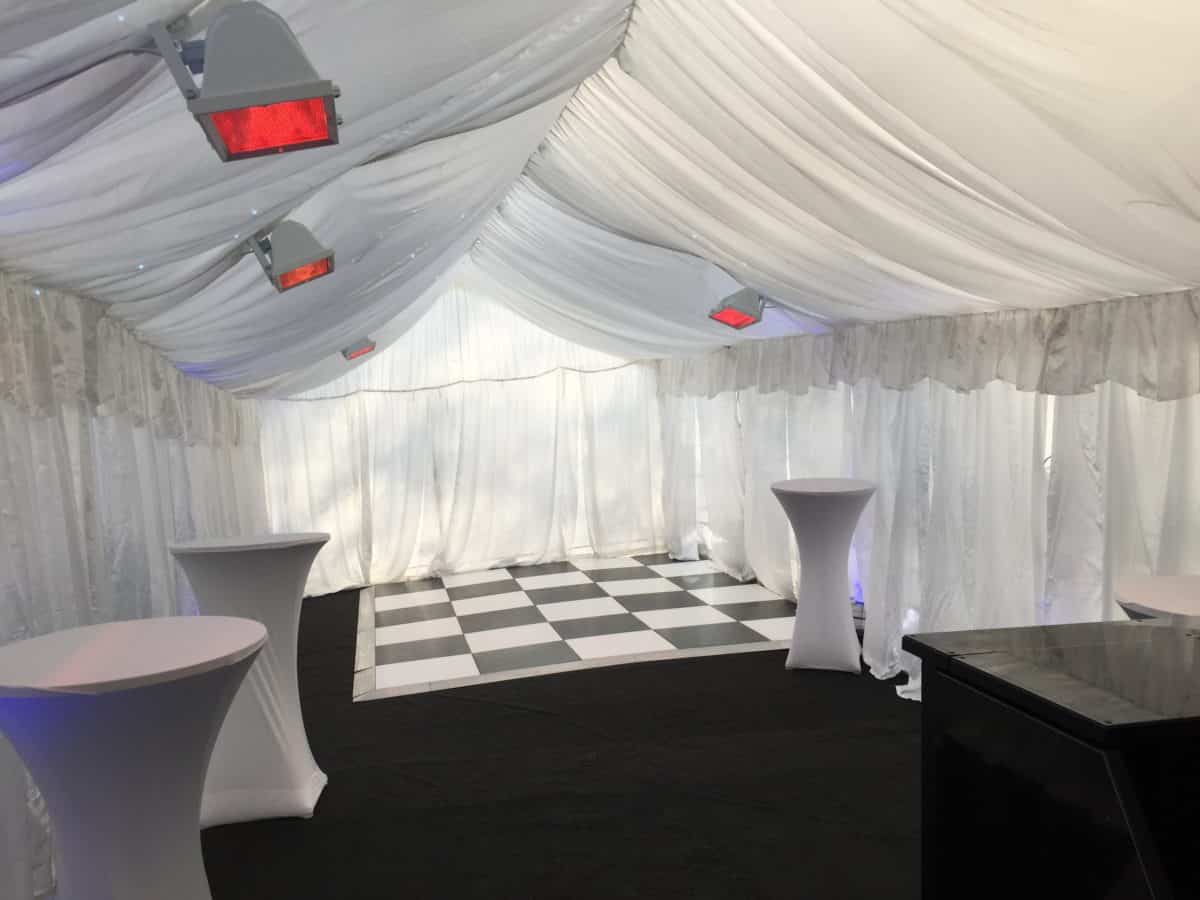 Add some colour to your marquee – perfect for all events!
Lighting makes a huge impact to the look and feel of your marquee so it's important you get it right.
LED Uplighter's are units sitting on the floor shining light upwards give the marquee install atmosphere for a real party set up.
LED Uplighting instantly transforms the look and feel of your party venue and is our first recommendation for all evening parties.
They can be set to a single colour to instantly flood your marquee in your favourite colour.
Alternatively they can change colour in time with the music for more of a nightclub vibe.
Take a look at the video to go through all of your lighting options!
Recommended for all events!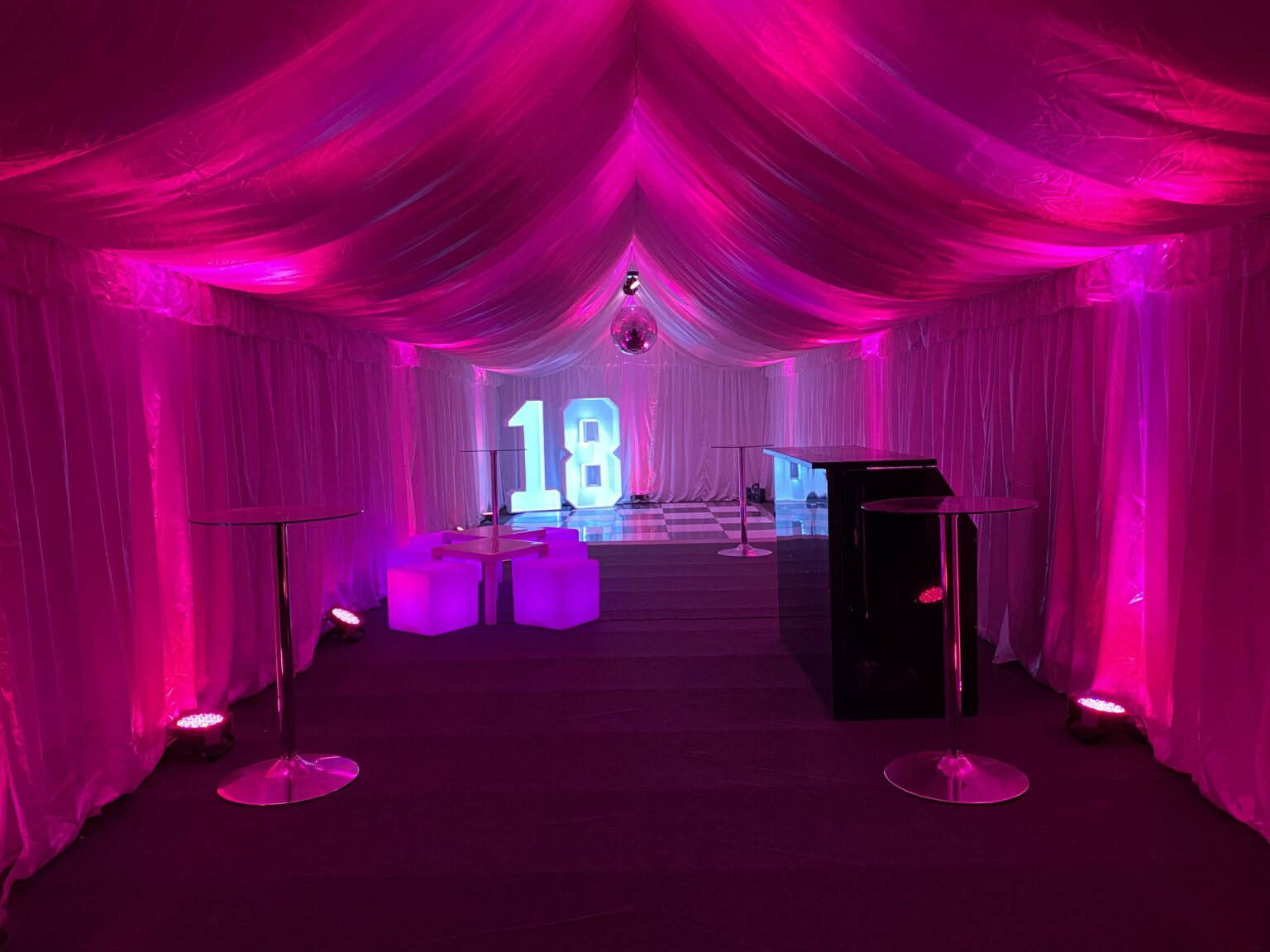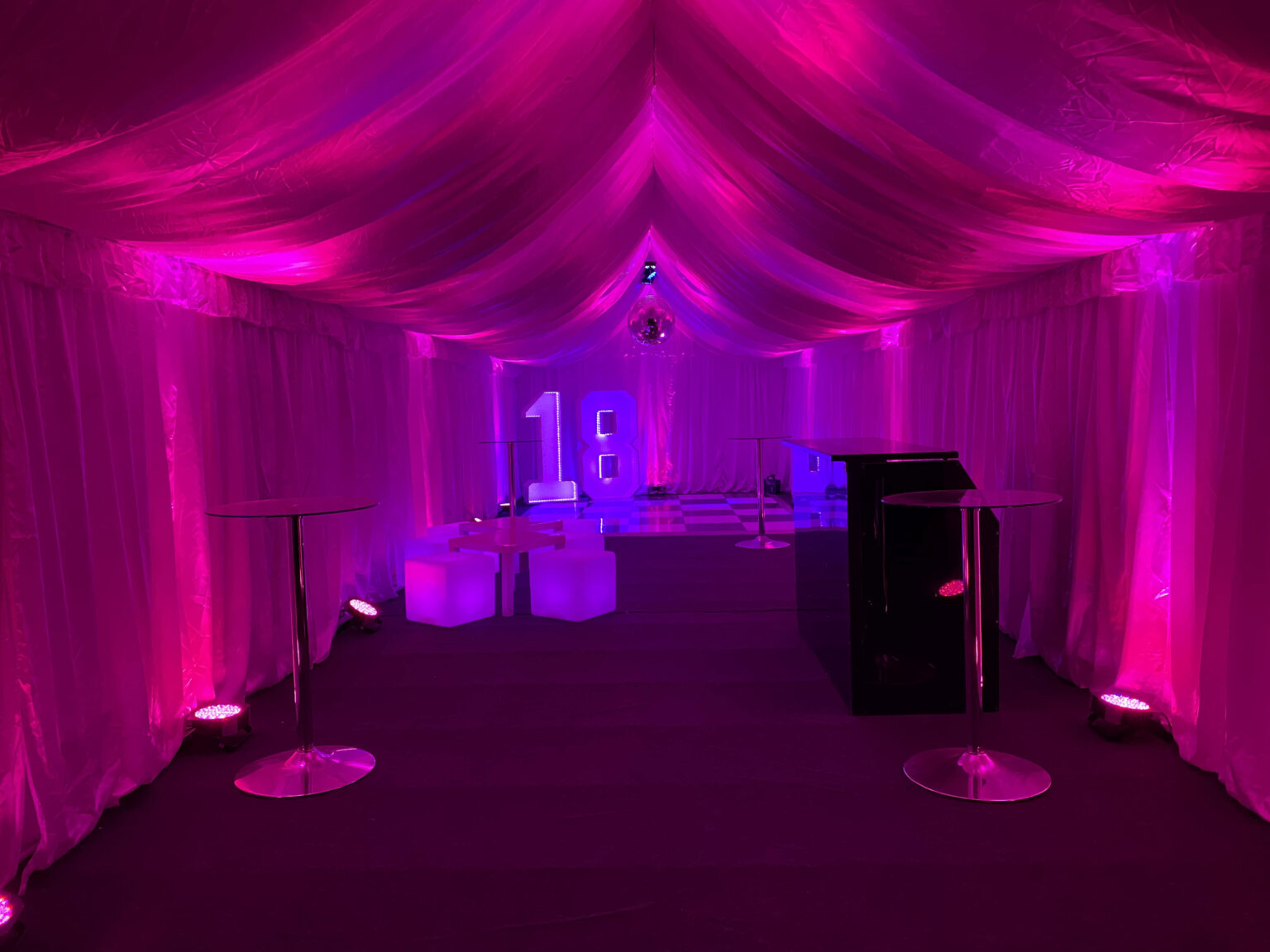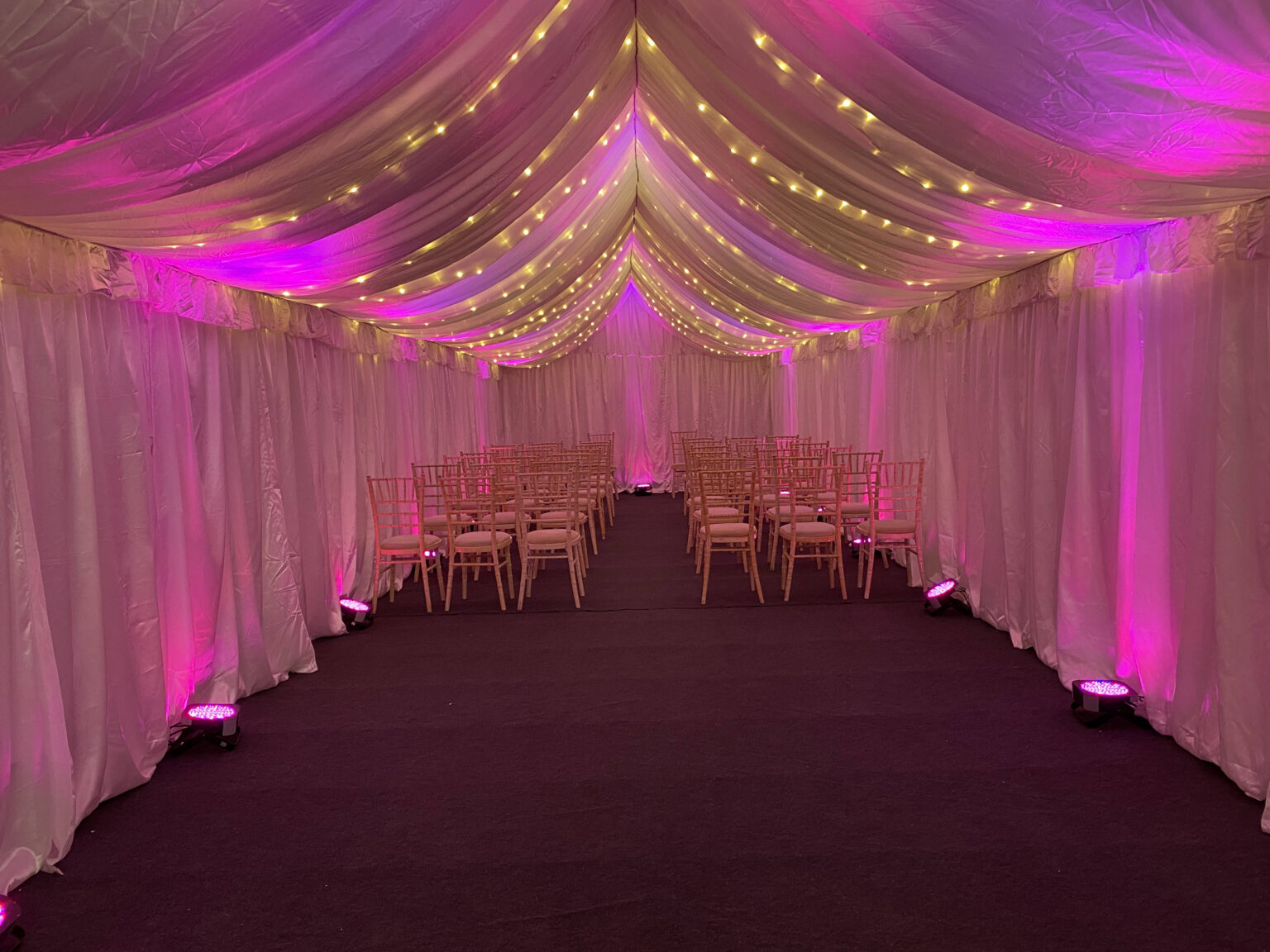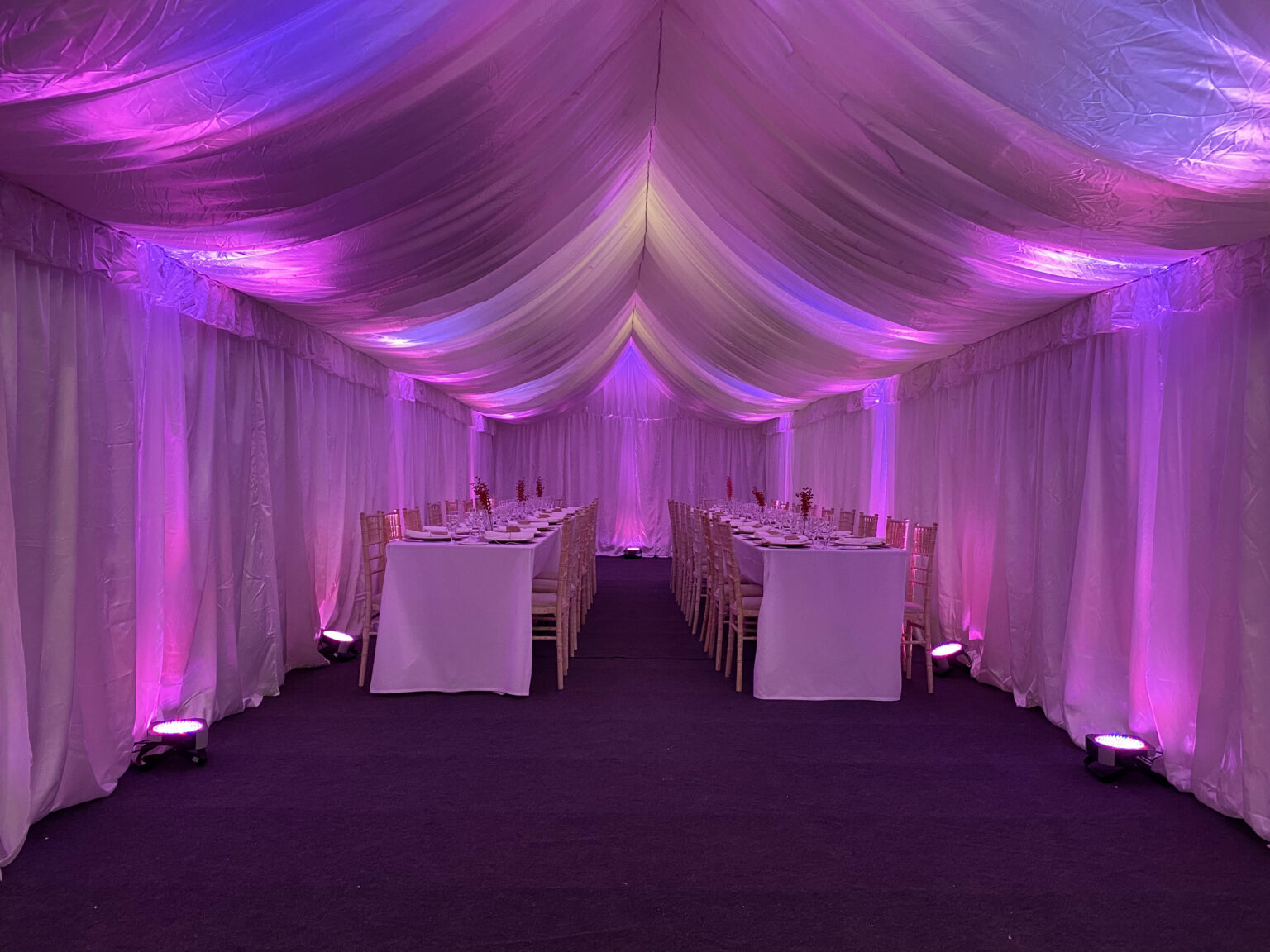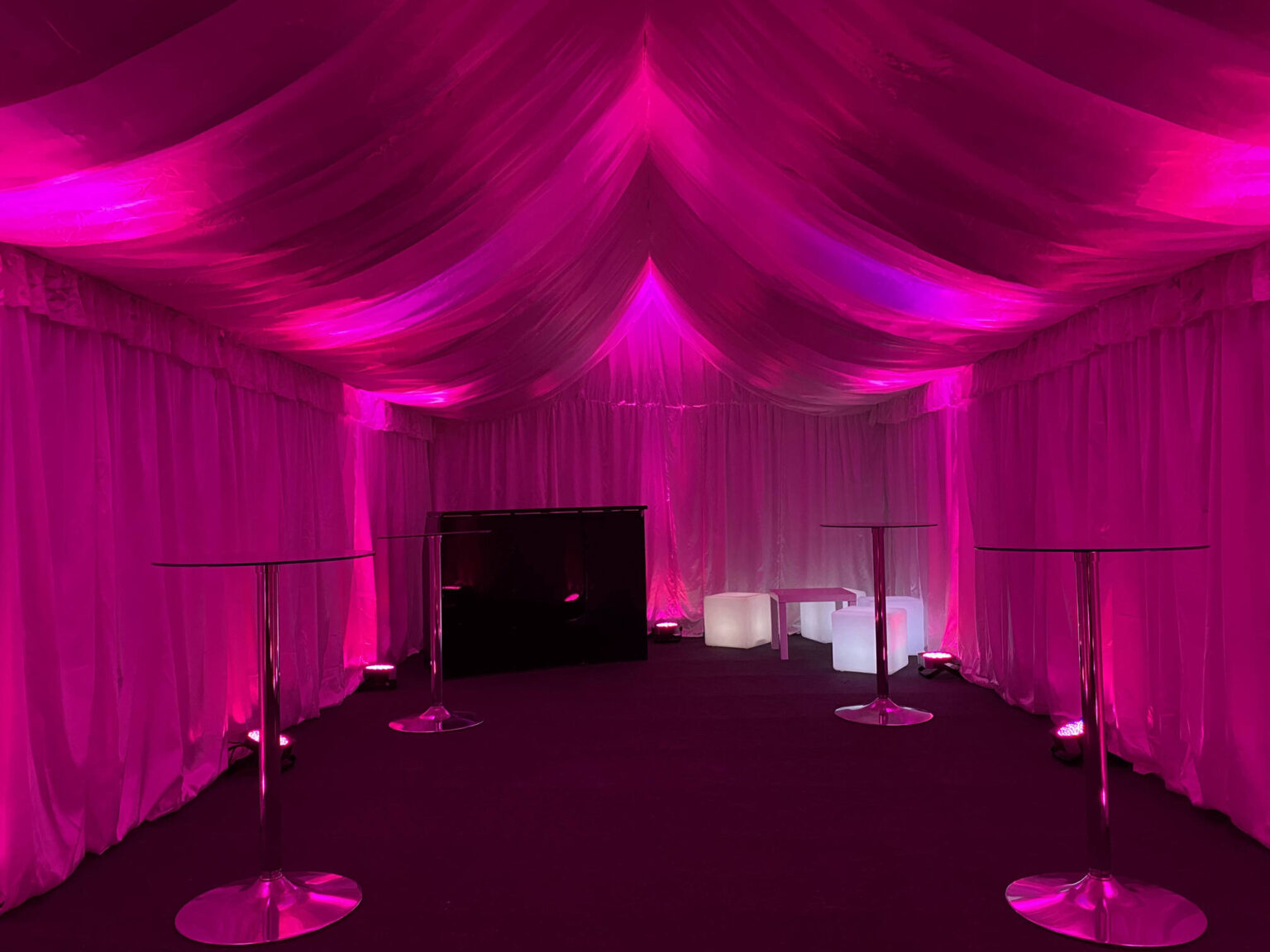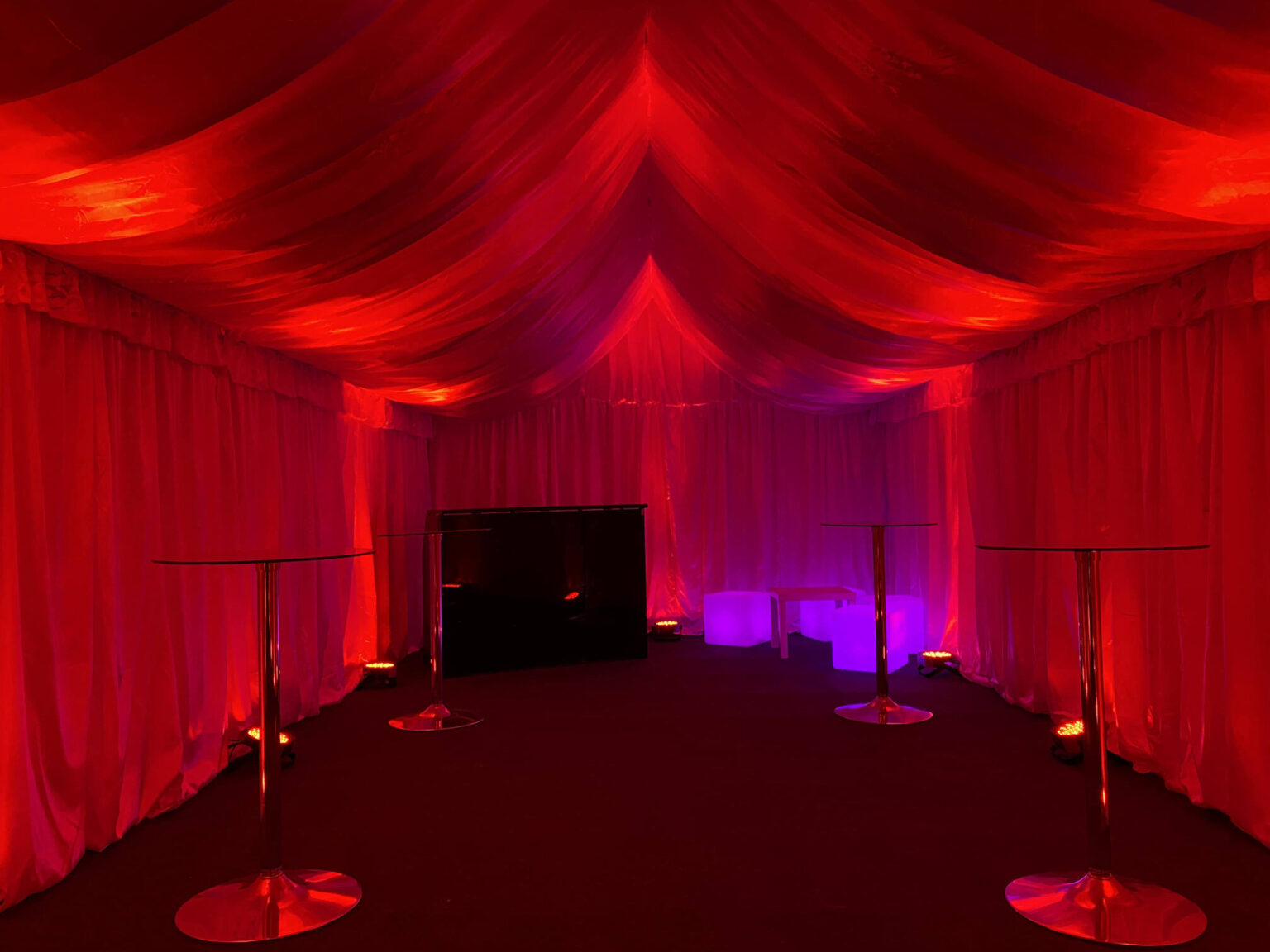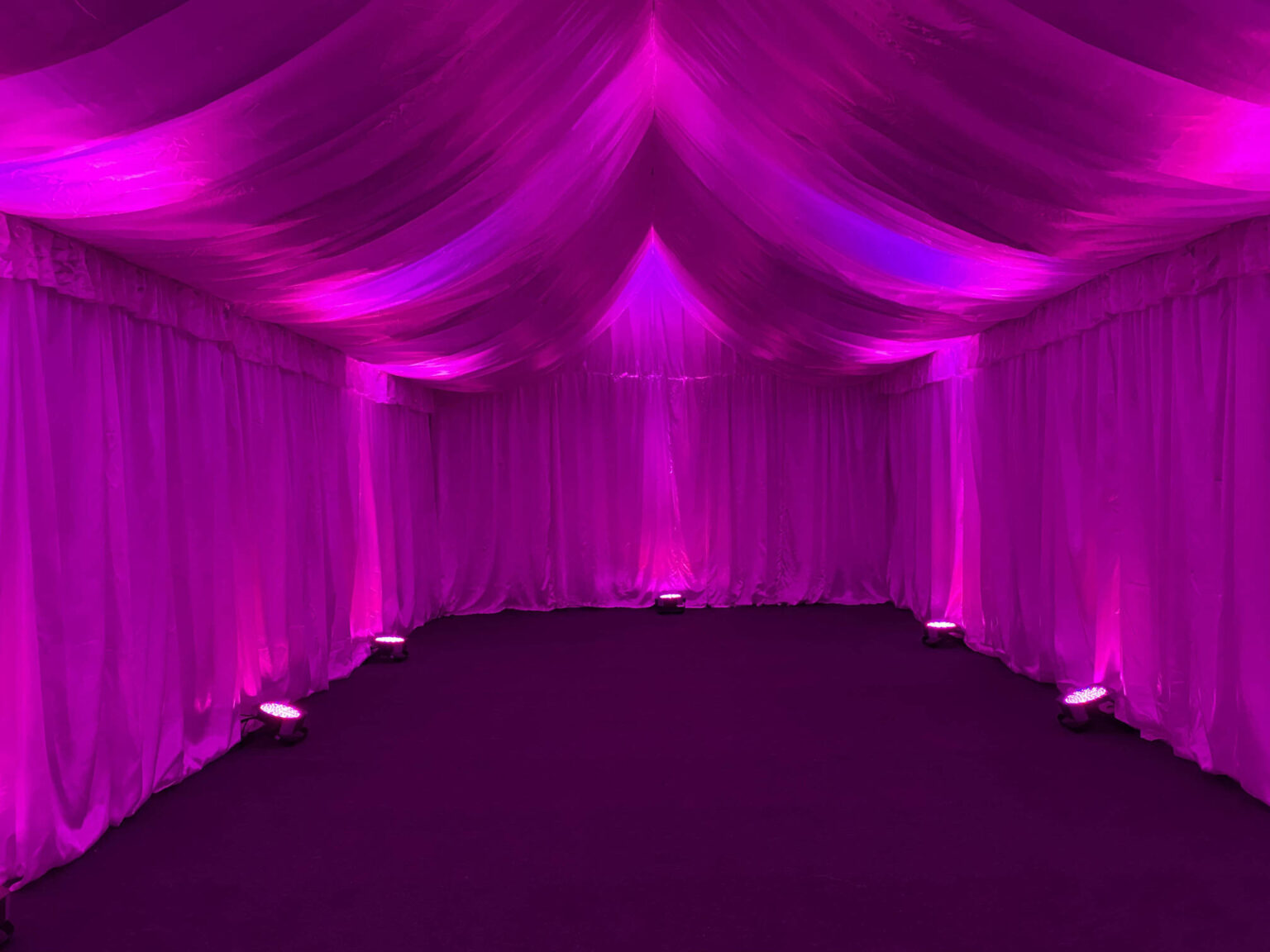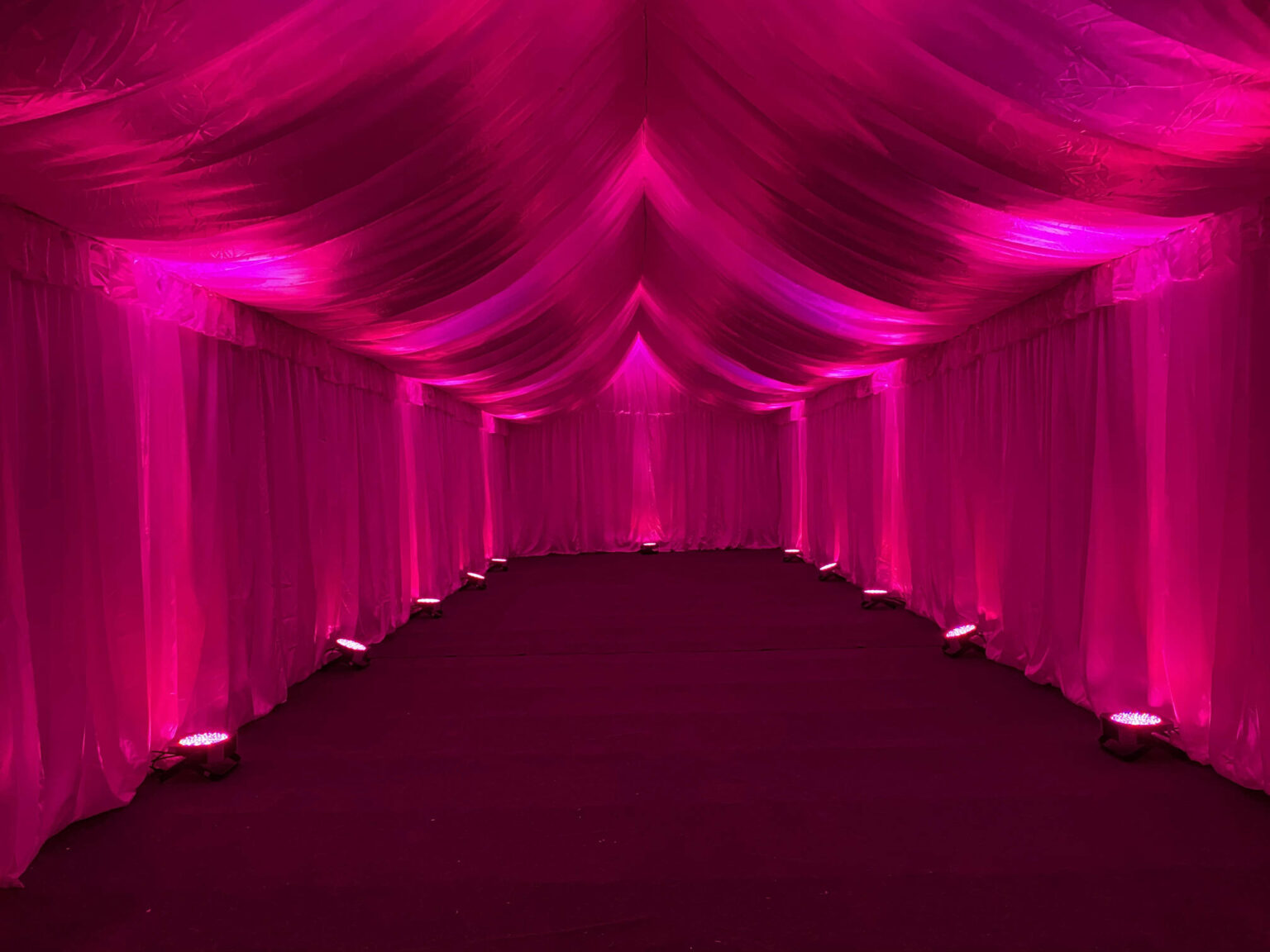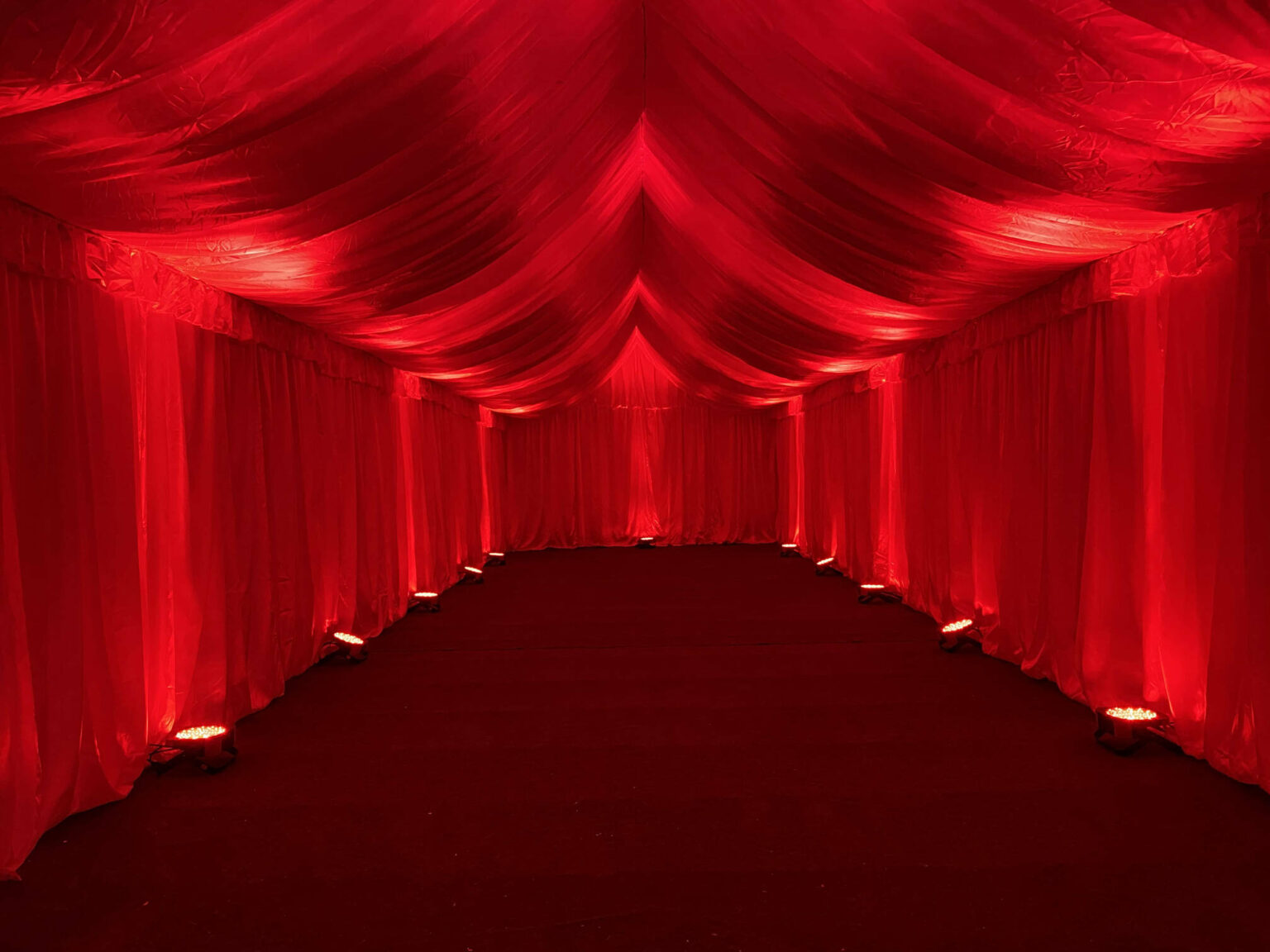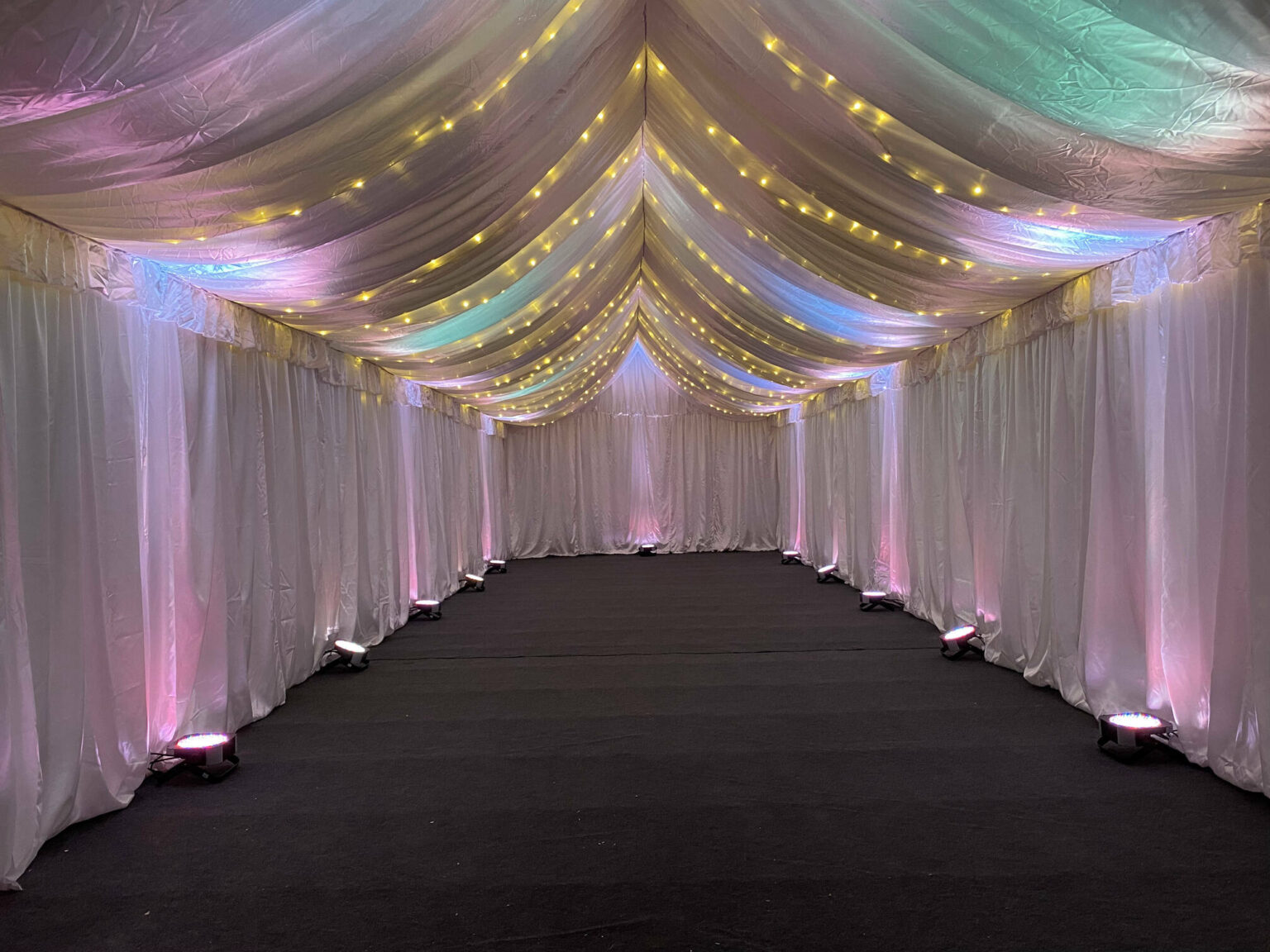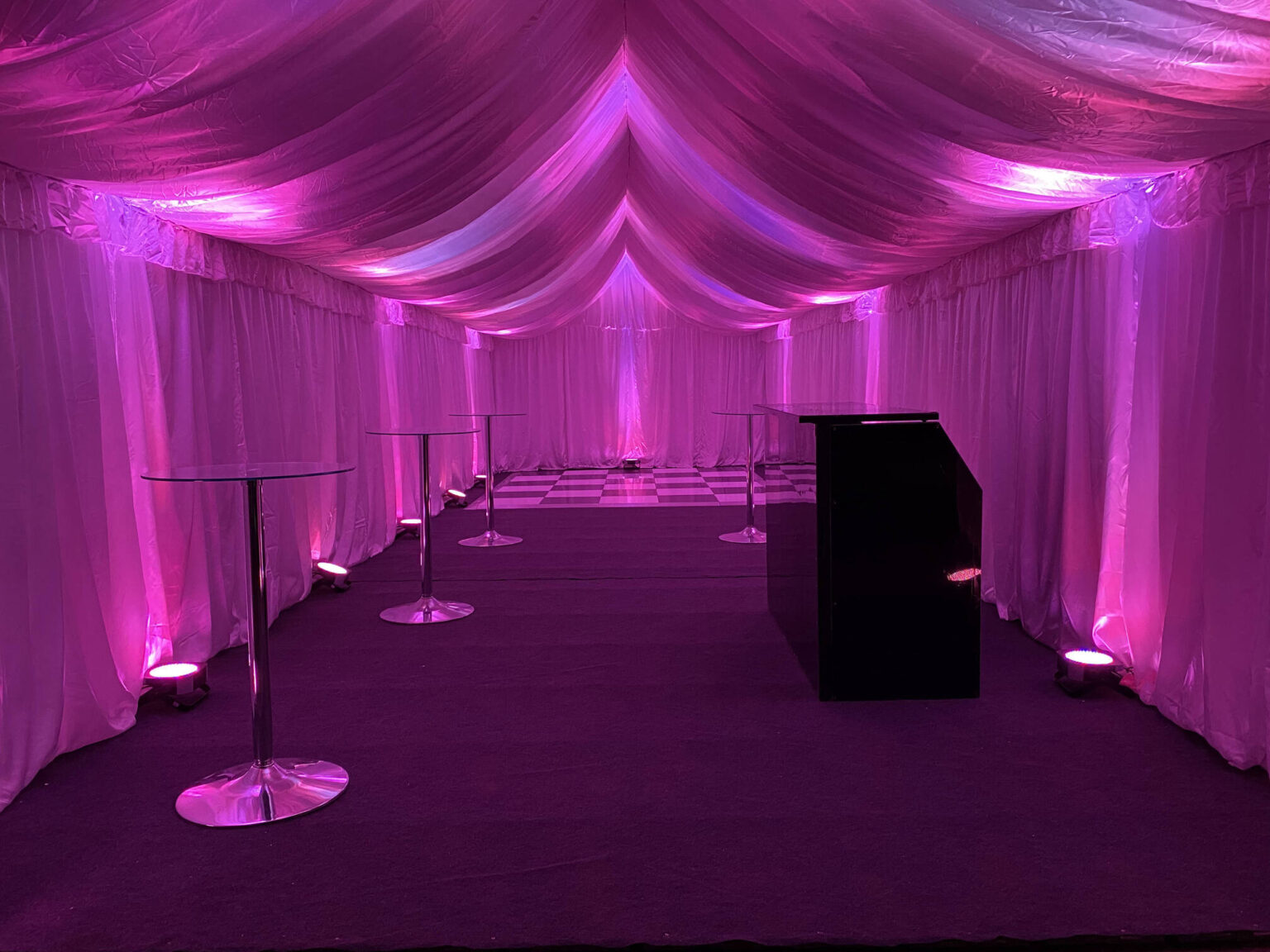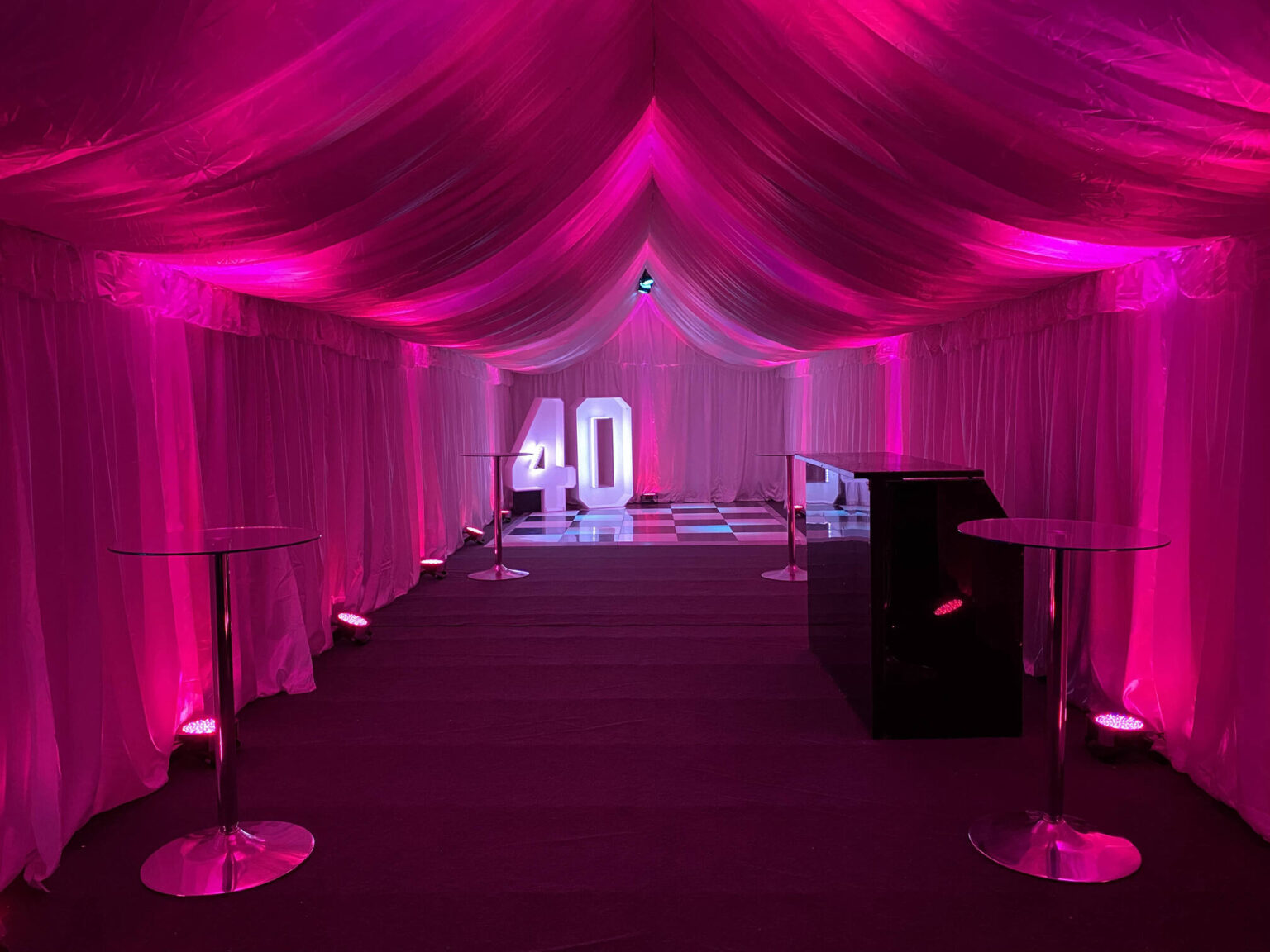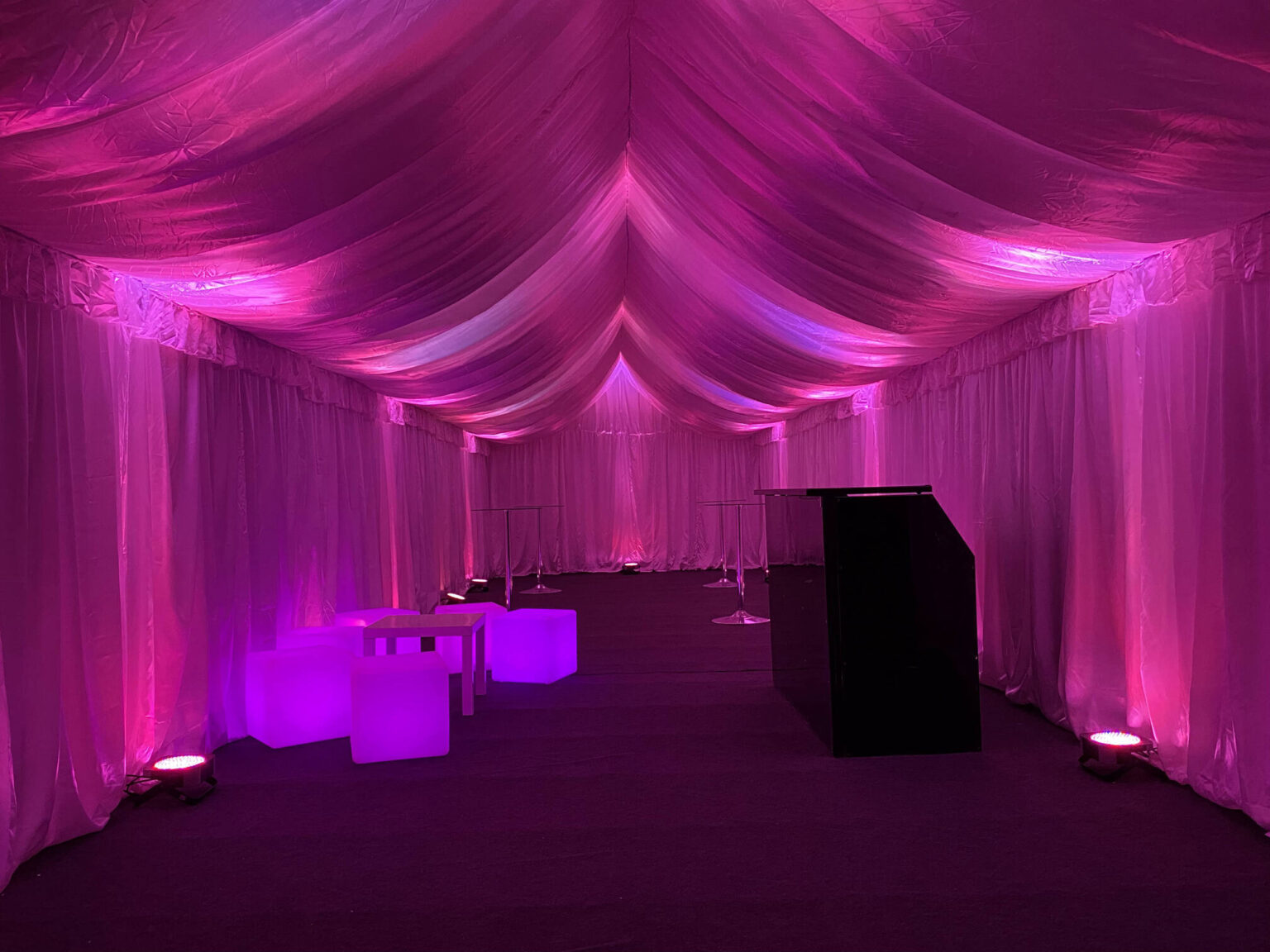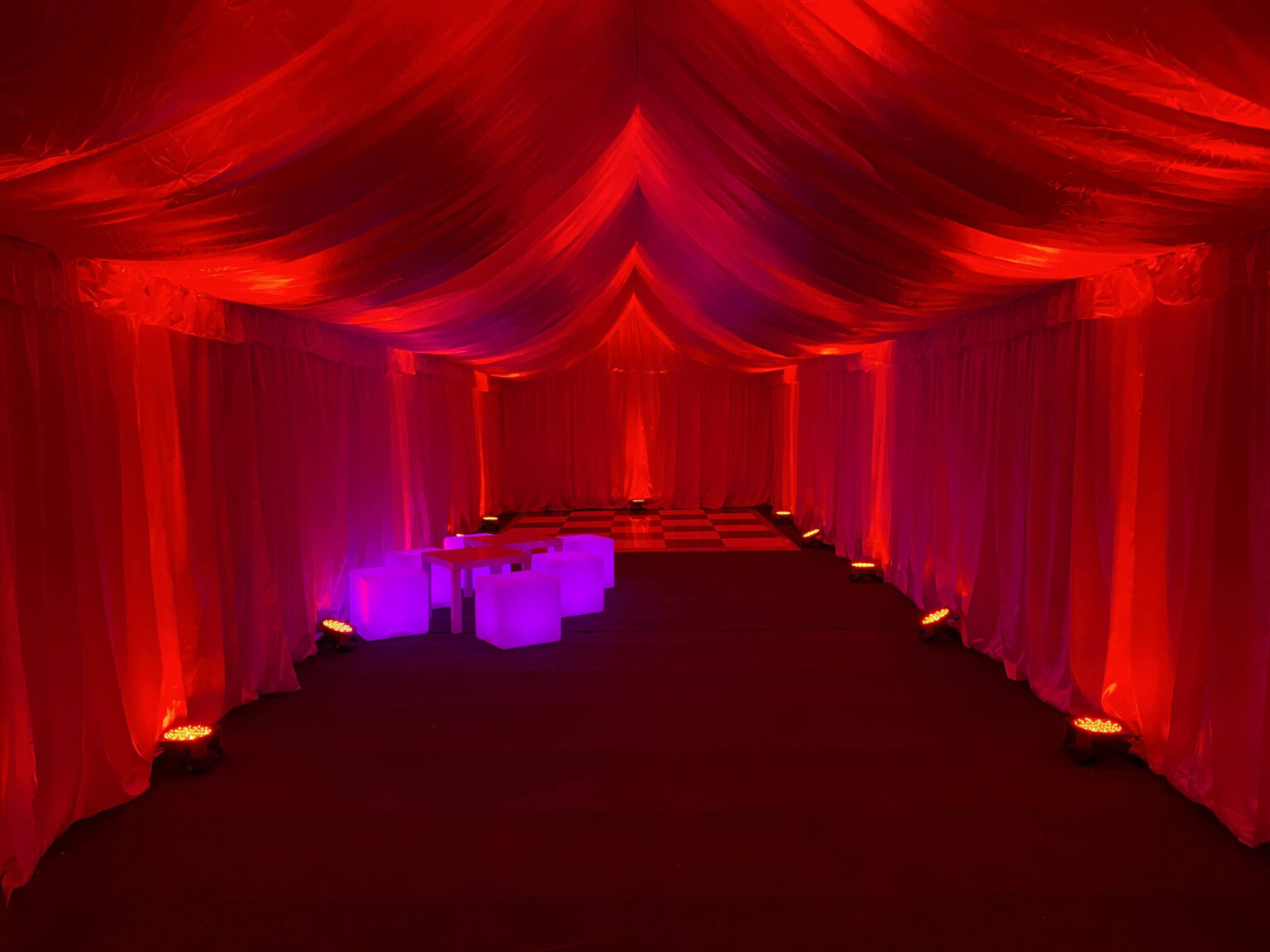 Add some Fairy Lights to add some sparkle to your party! Perfect for most events our fairy lights are arranged in the ceiling to give you a midnight sky effect all twinkling up above your guests' heads. If your marquee is lining we hide the fairy lights underneath the lining and they twinkle through! They create a really nice affect and can even be appreciated during daytime events. Recommended for Weddings, Asian Weddings & Birthday parties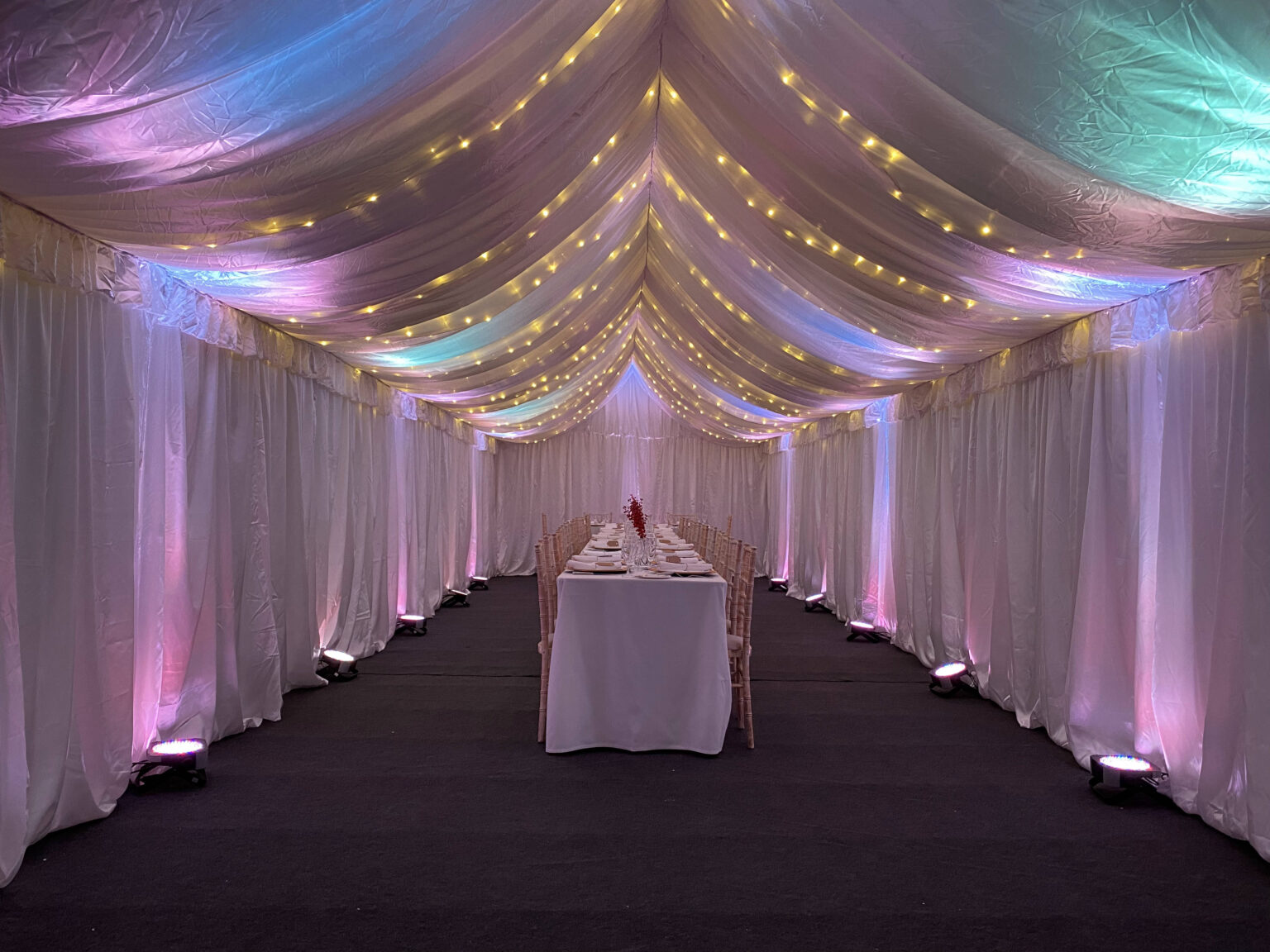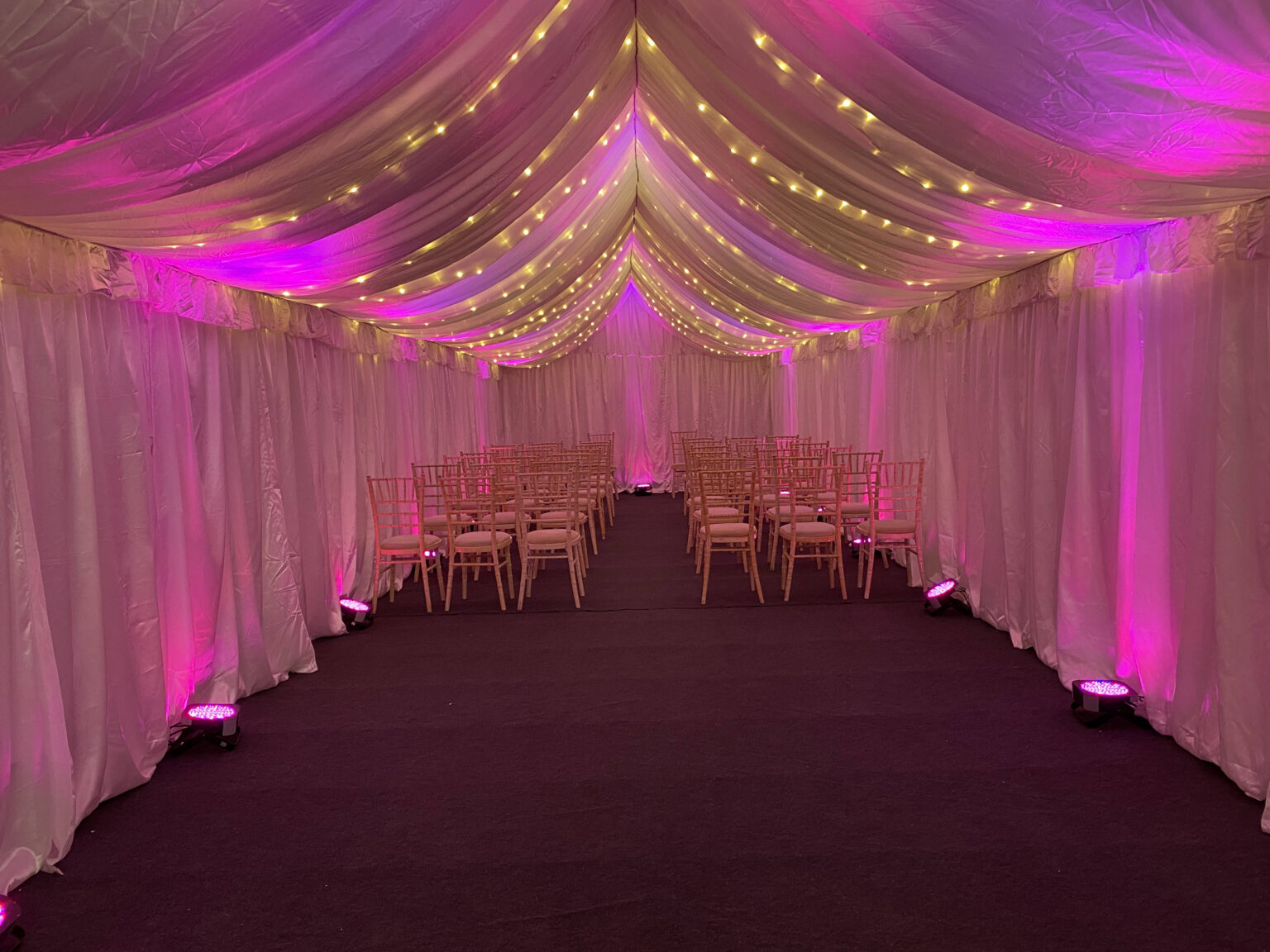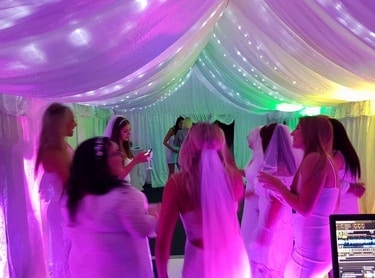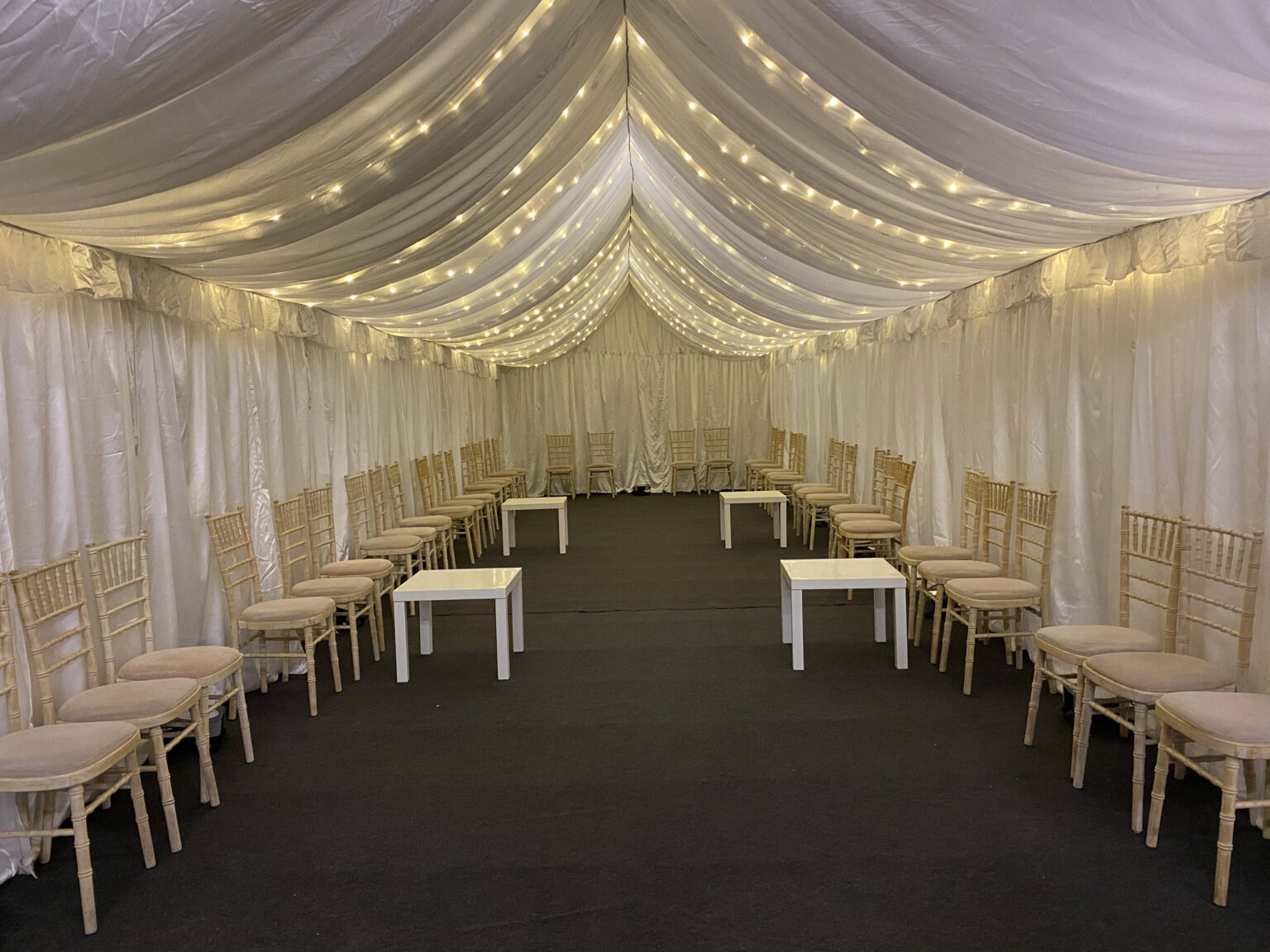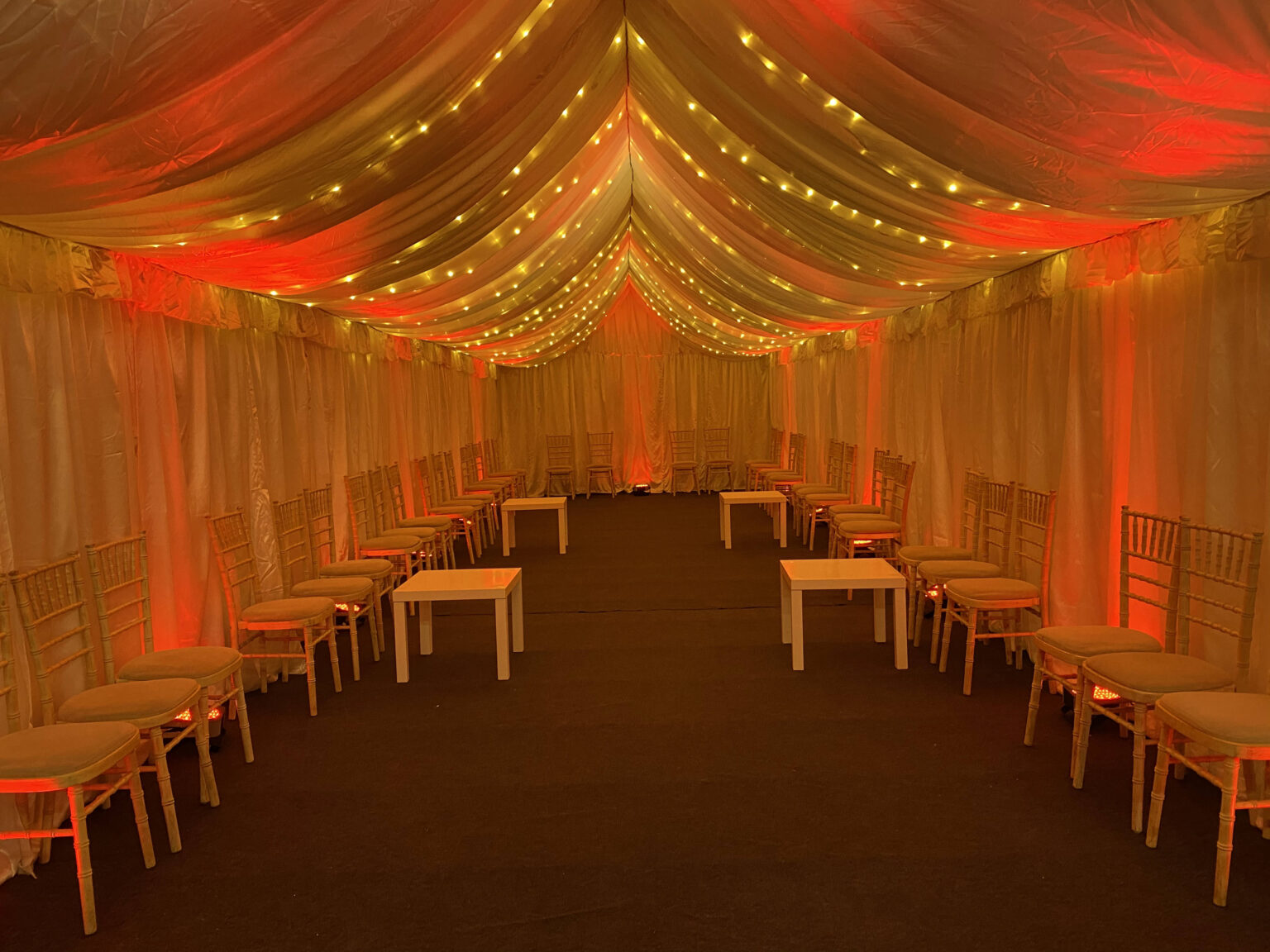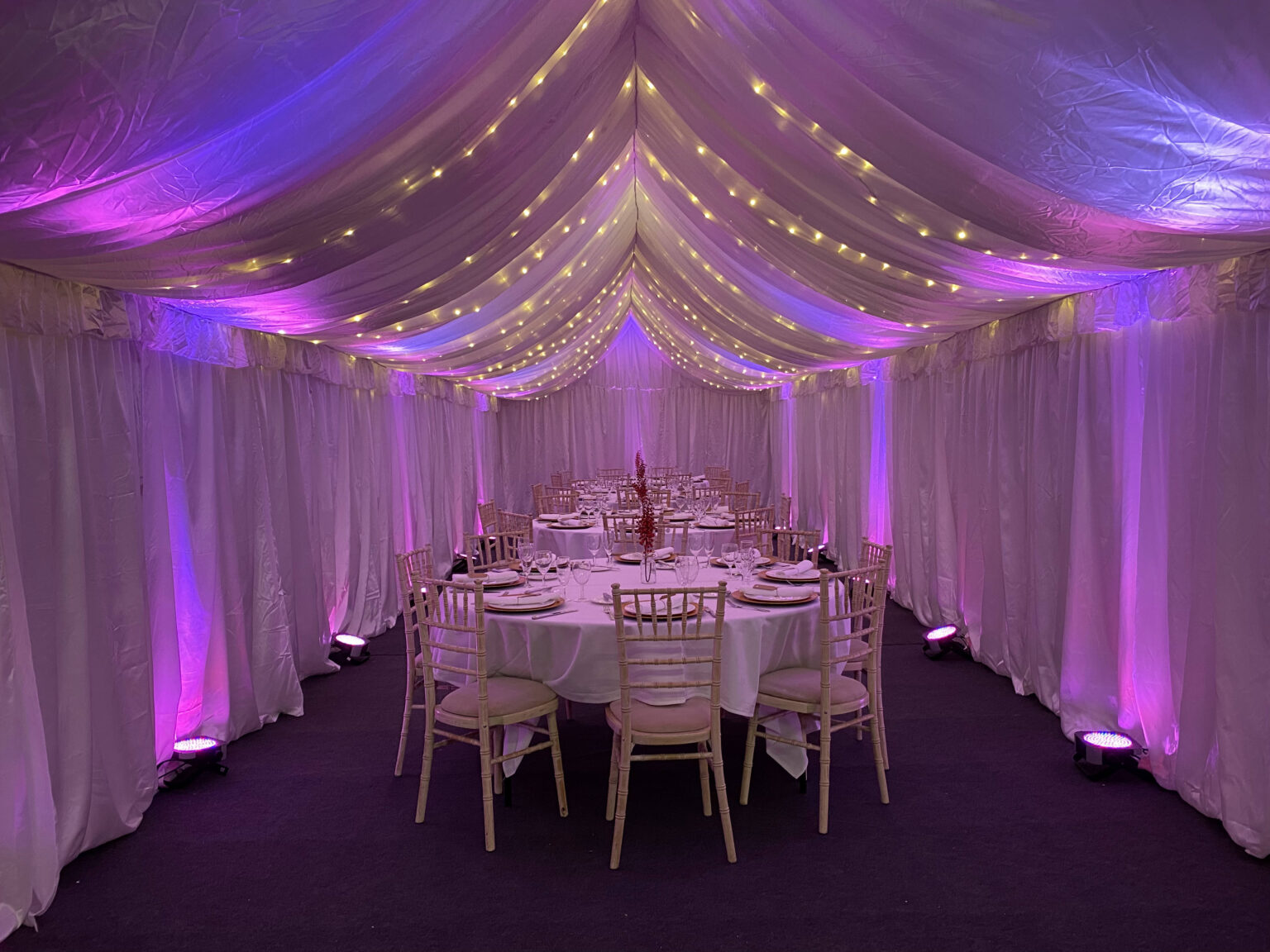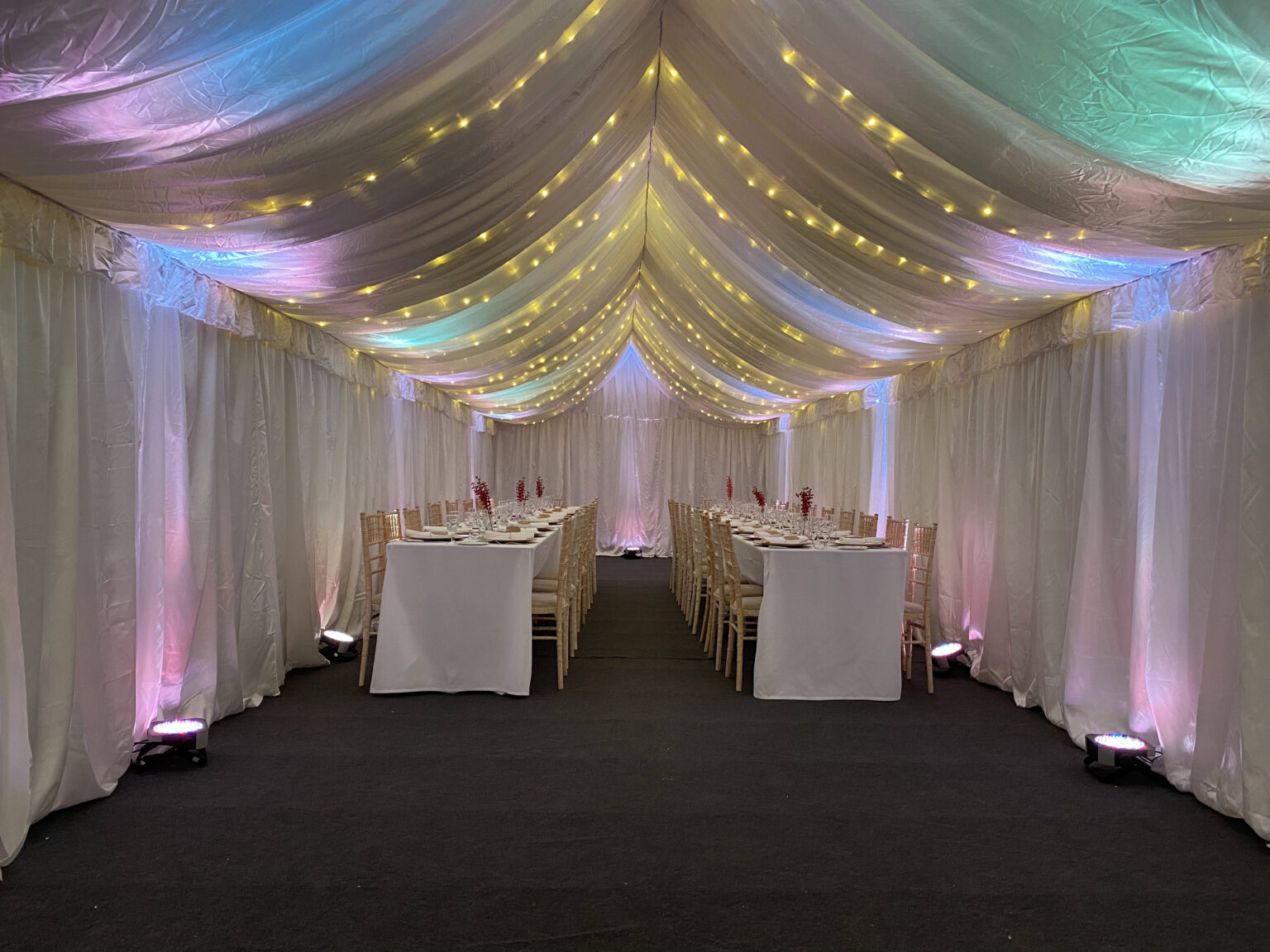 It's the UK's most popular chair for the events industry and for good reason.
It's stylish, classy and its ability to change the colour of the seat pad to suit any theme makes the Limewash Chiavari a popular choice!
Comes standard with a crème seat pad – another 14 colours are available on request.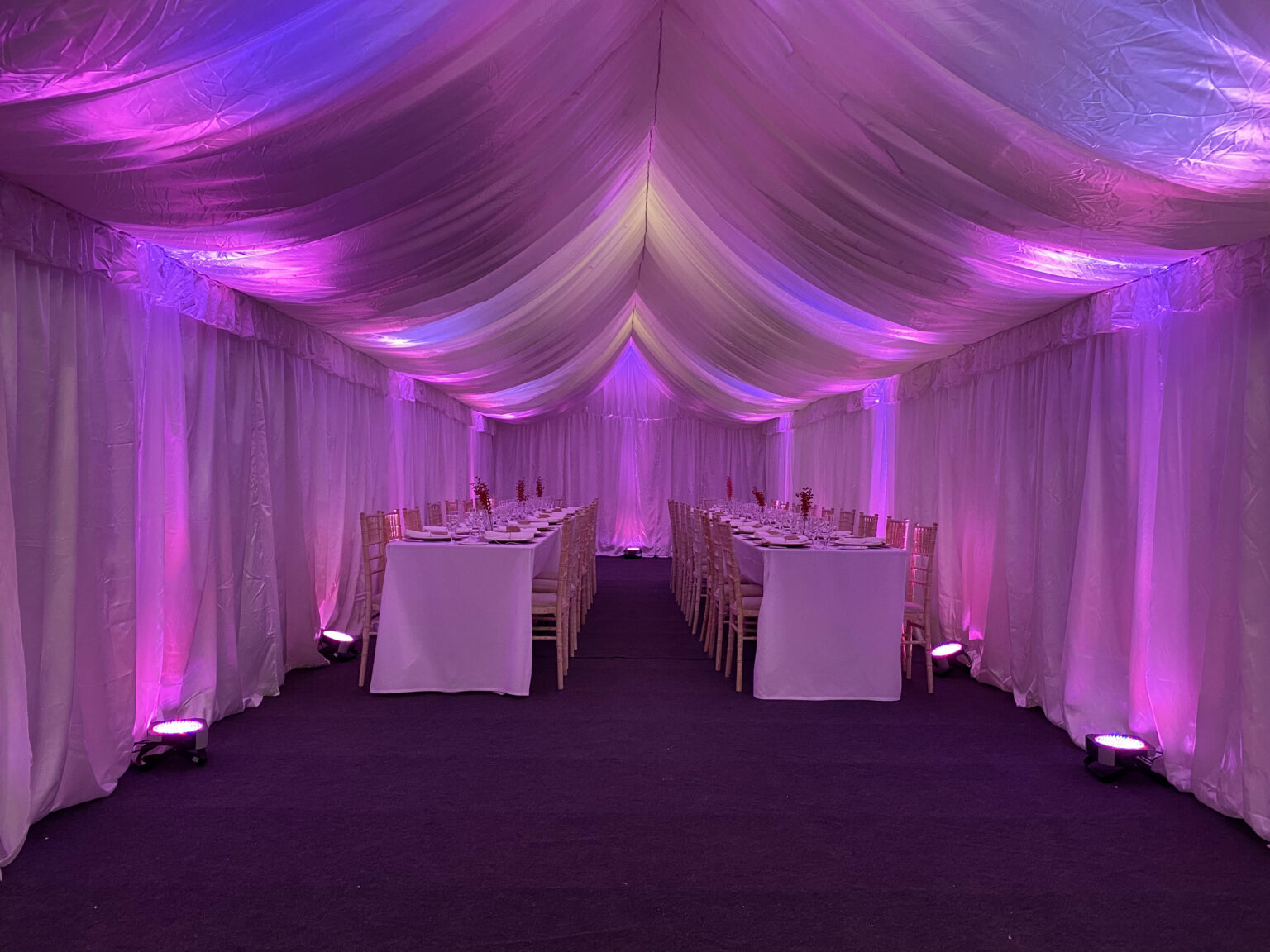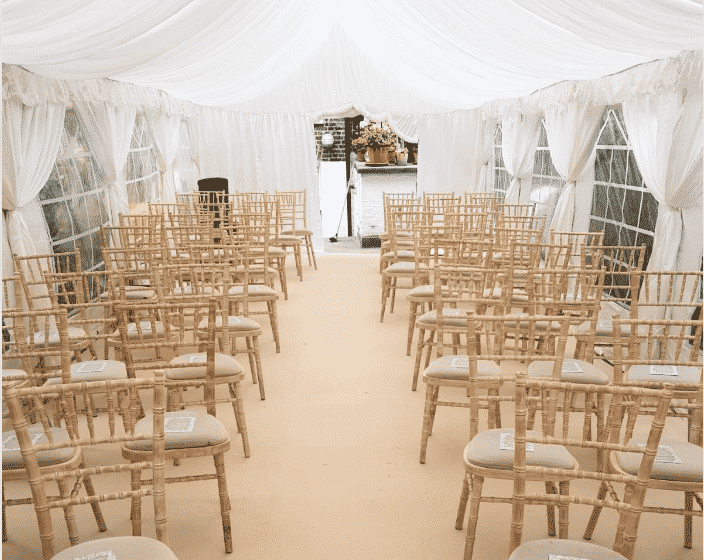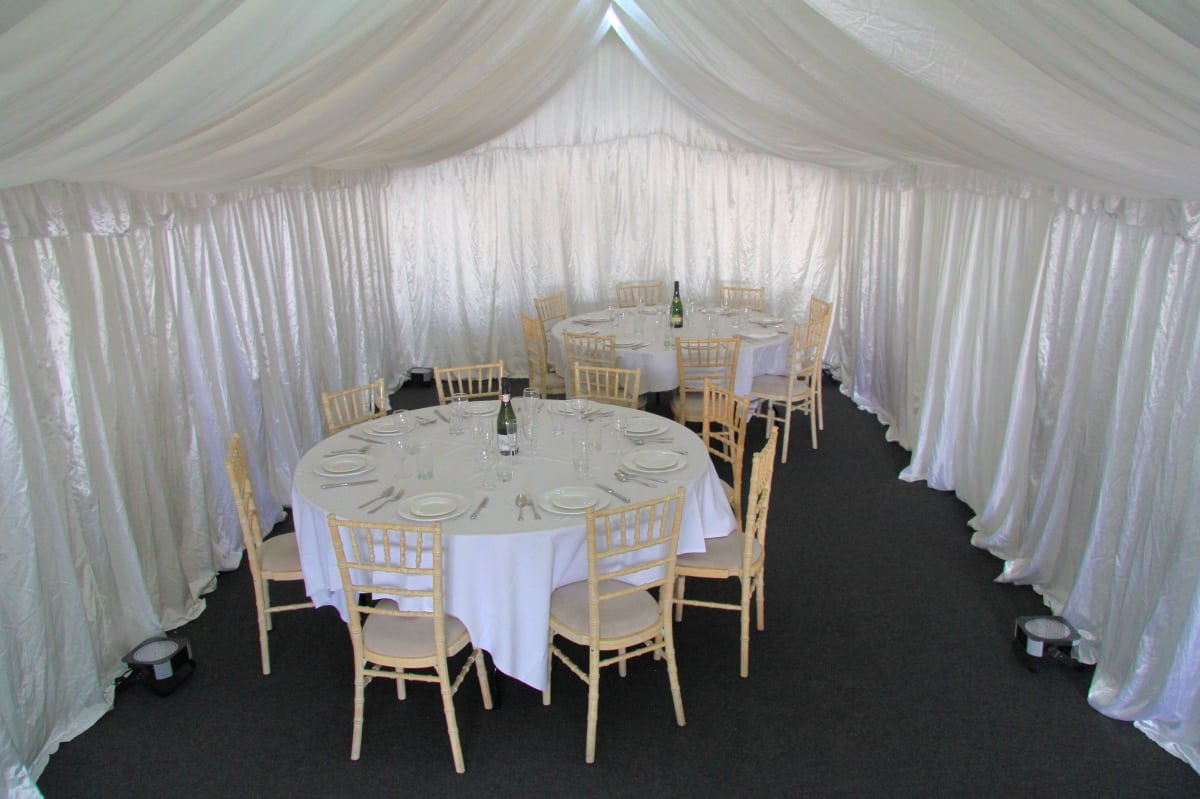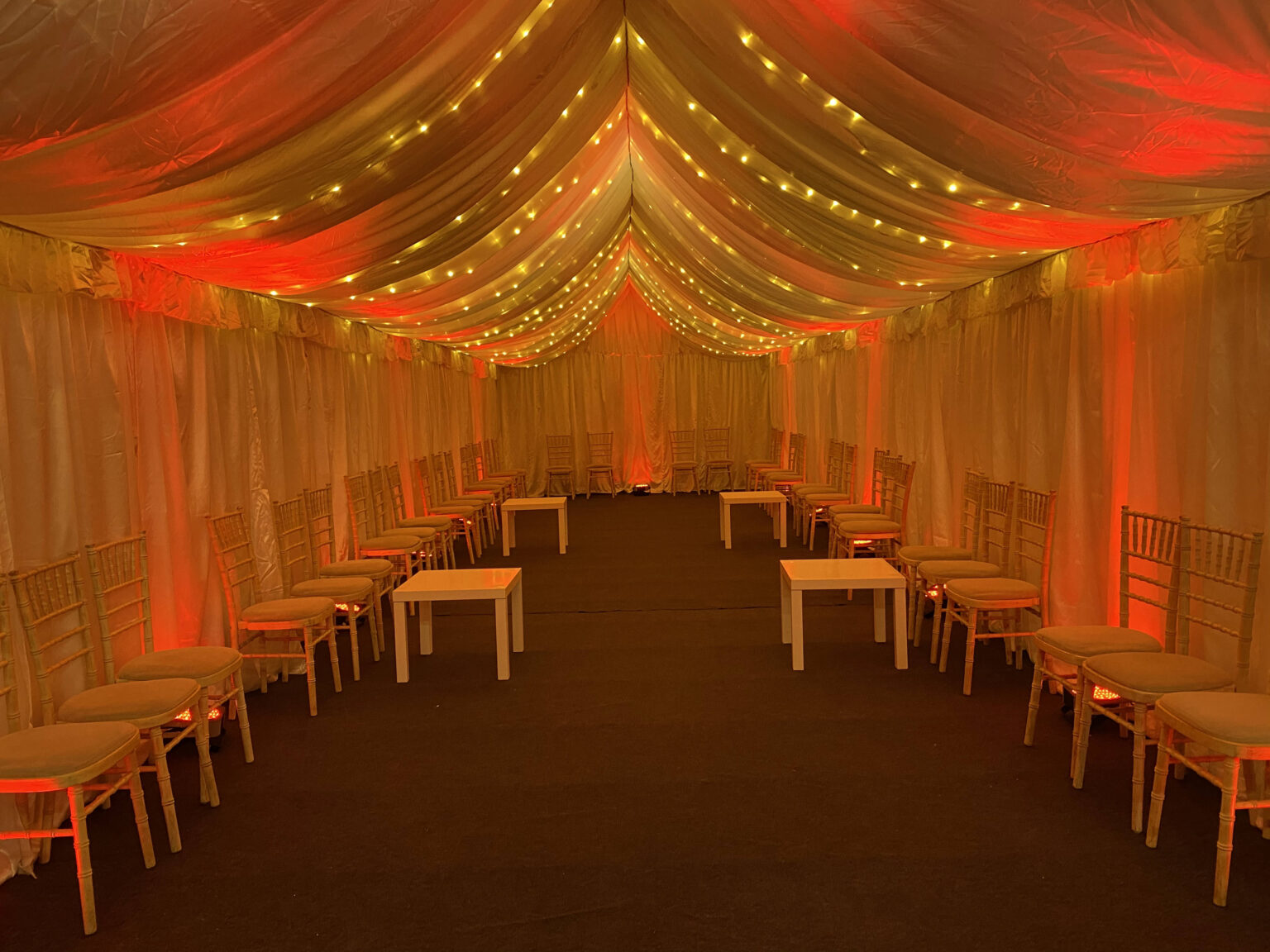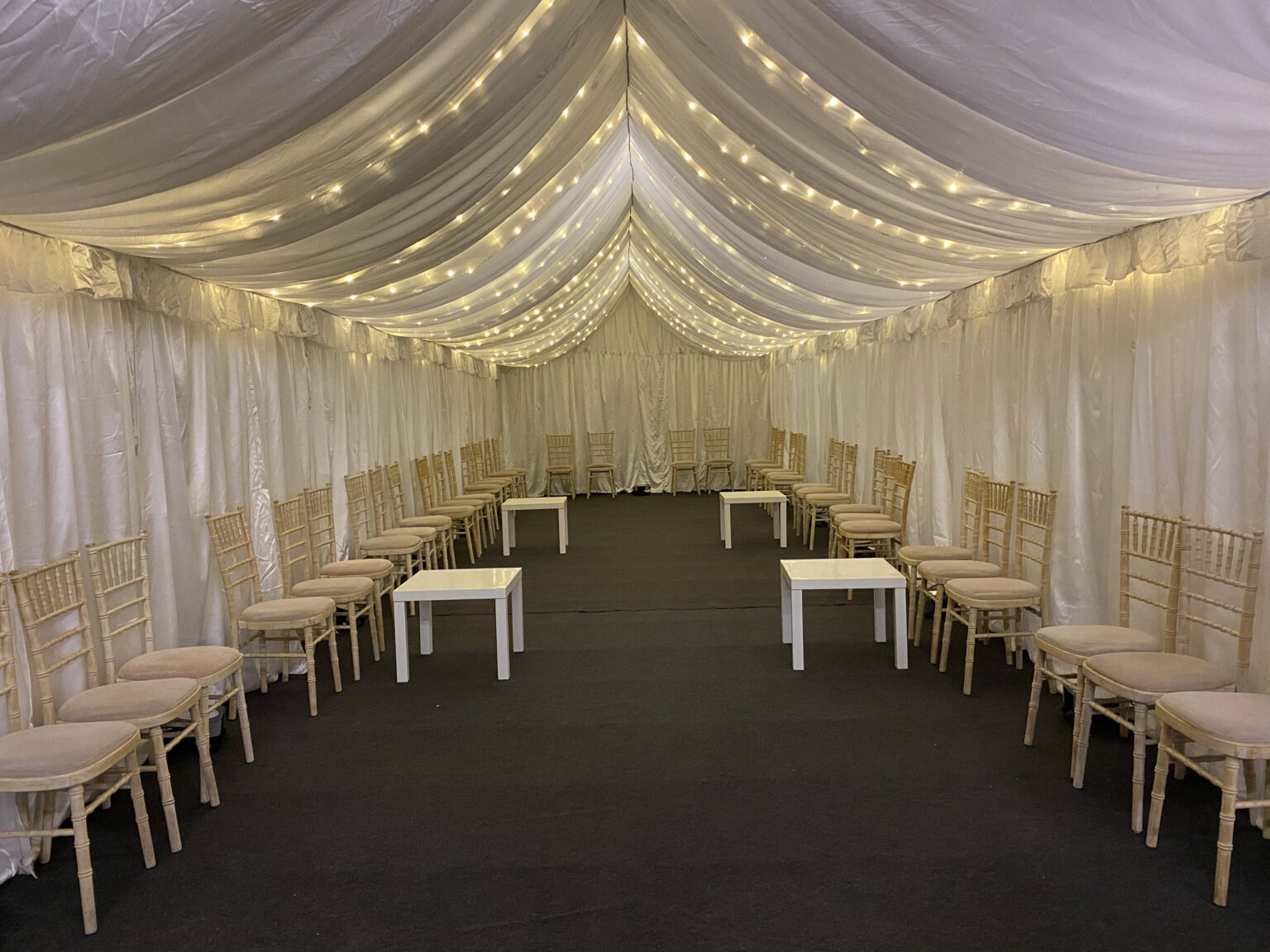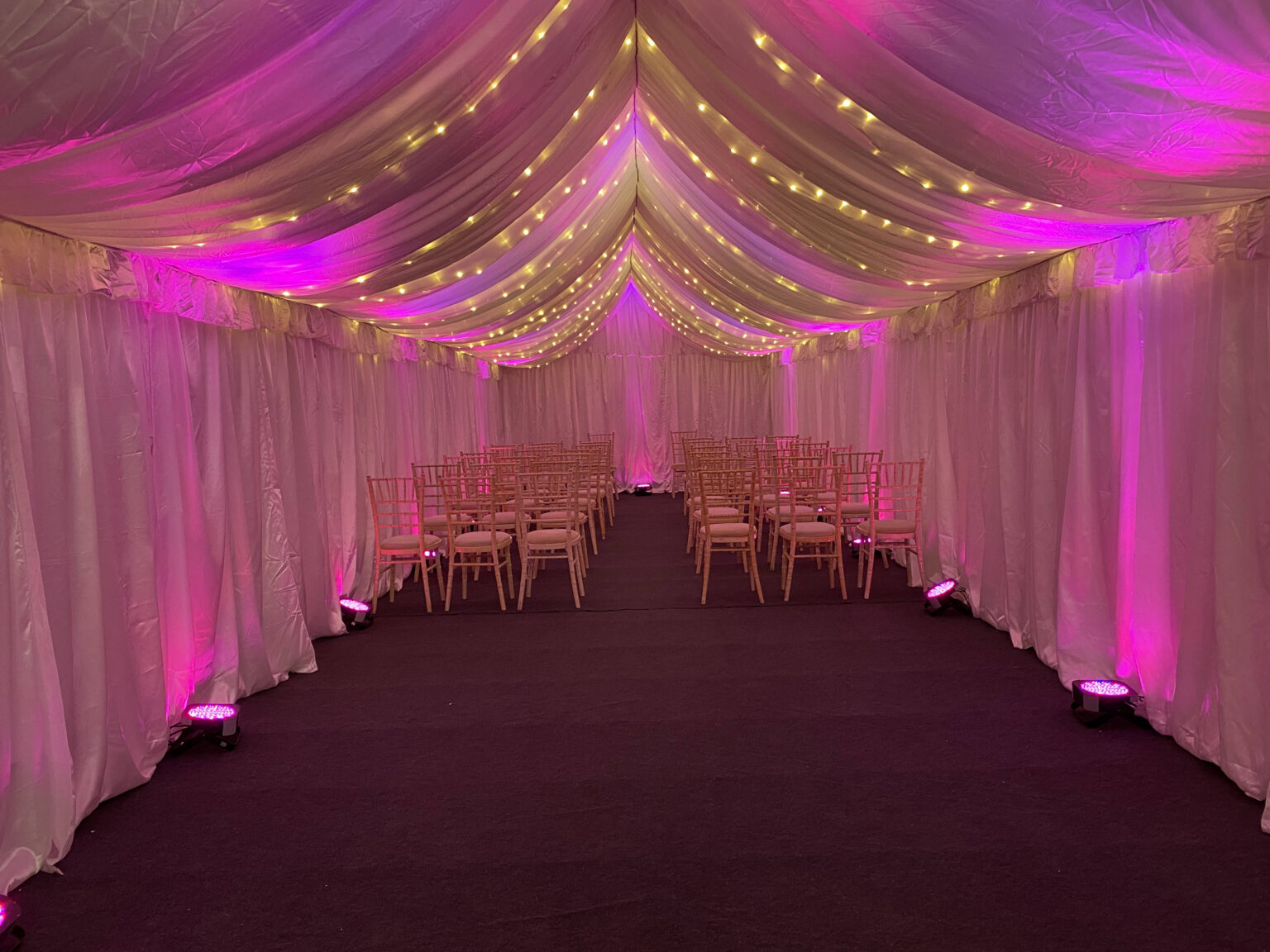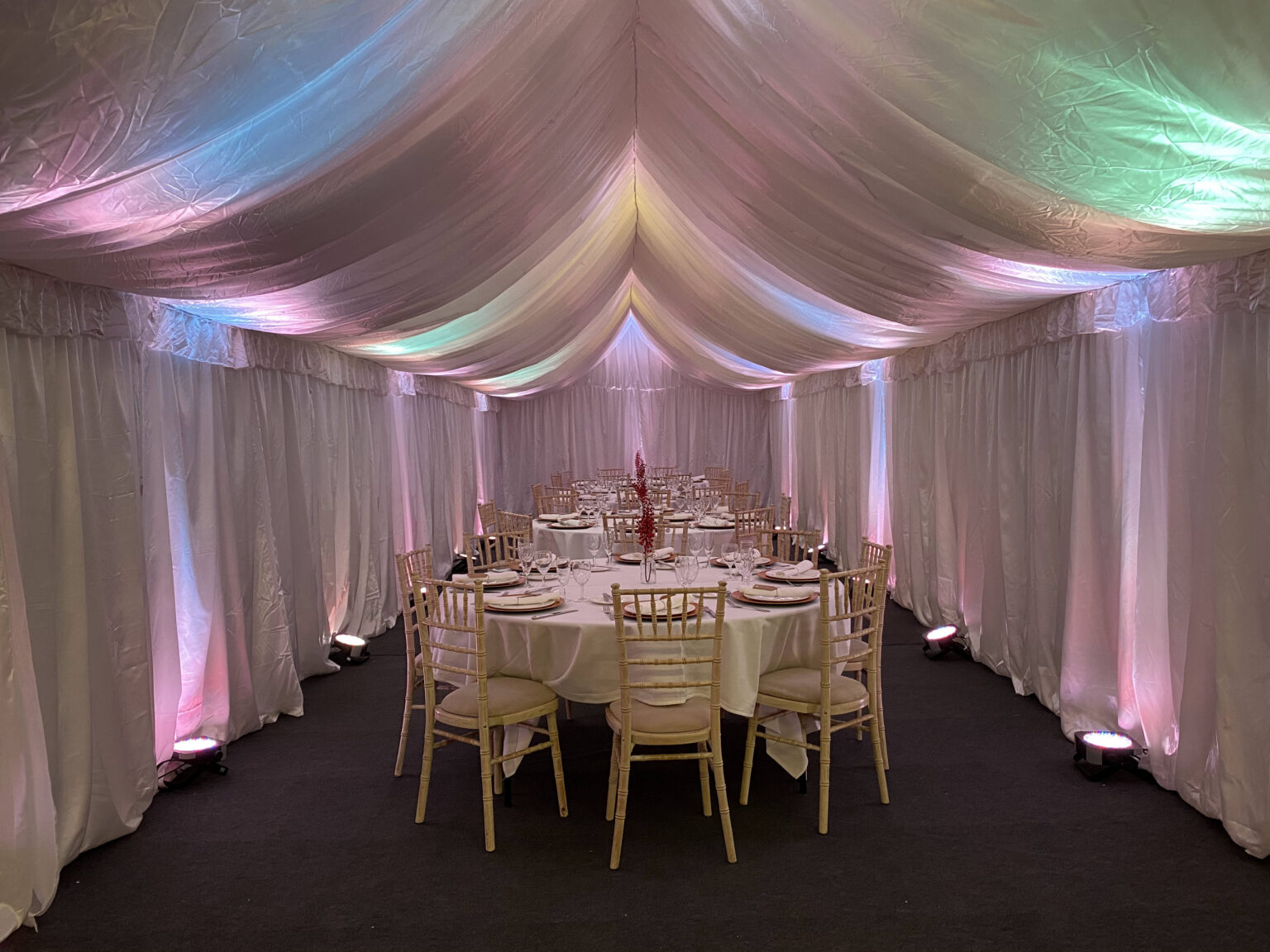 6′ Trestle Tables seats 6 persons.
Trestle tables can be arranged in two rows or, in smaller marquees, an l-shape format is best to create as much standing space as possible.
In 4m wide marquees you can fit 2 rows of trestle tables.  
In 3m wide marquees you will only have room for 1 row of tables.  If your garden can fit a 4m wide marquee in, it's always advised to go for 4m wide marquees so you can utilise the extra width for tables.
Linen cloths are also available.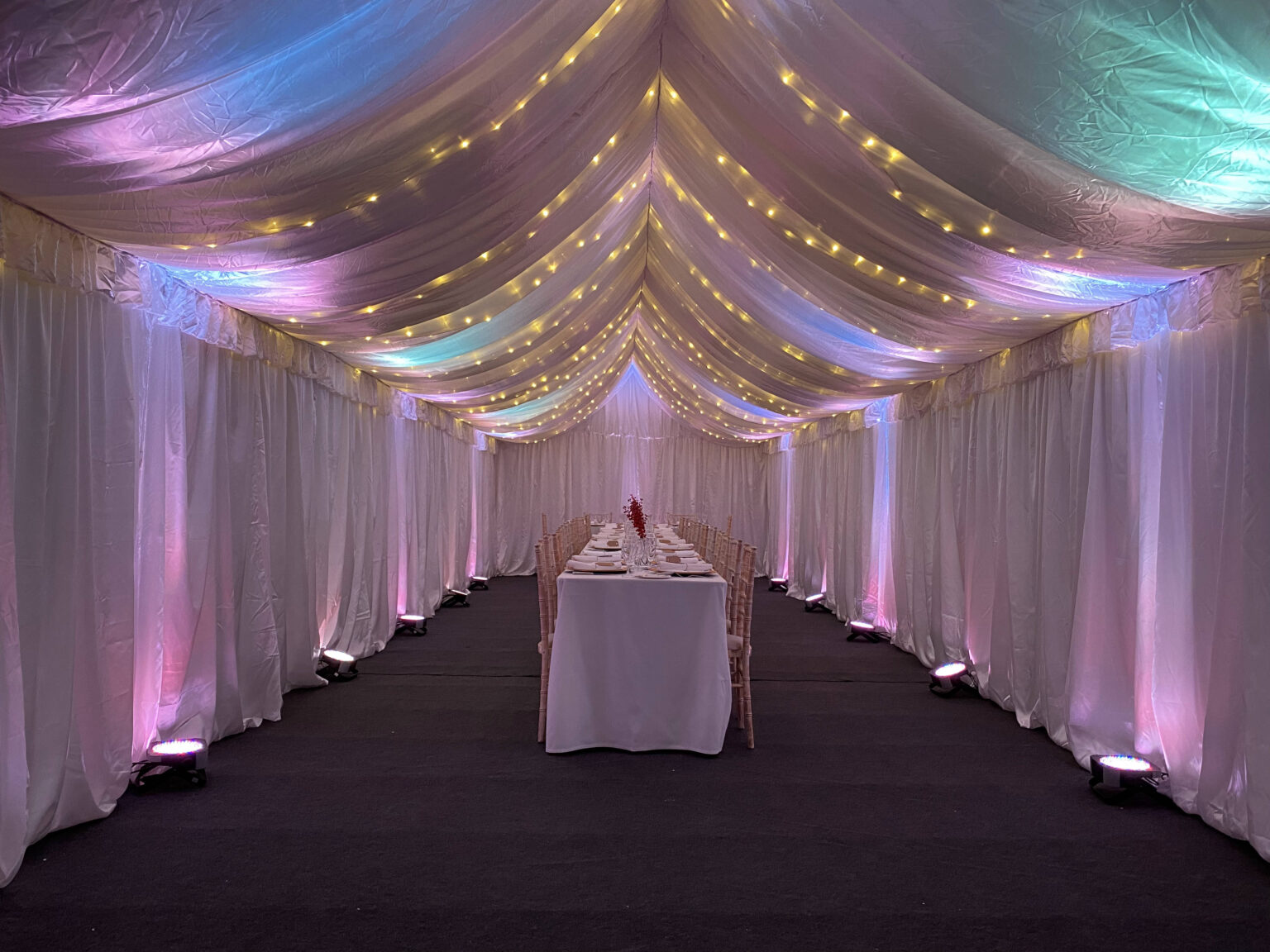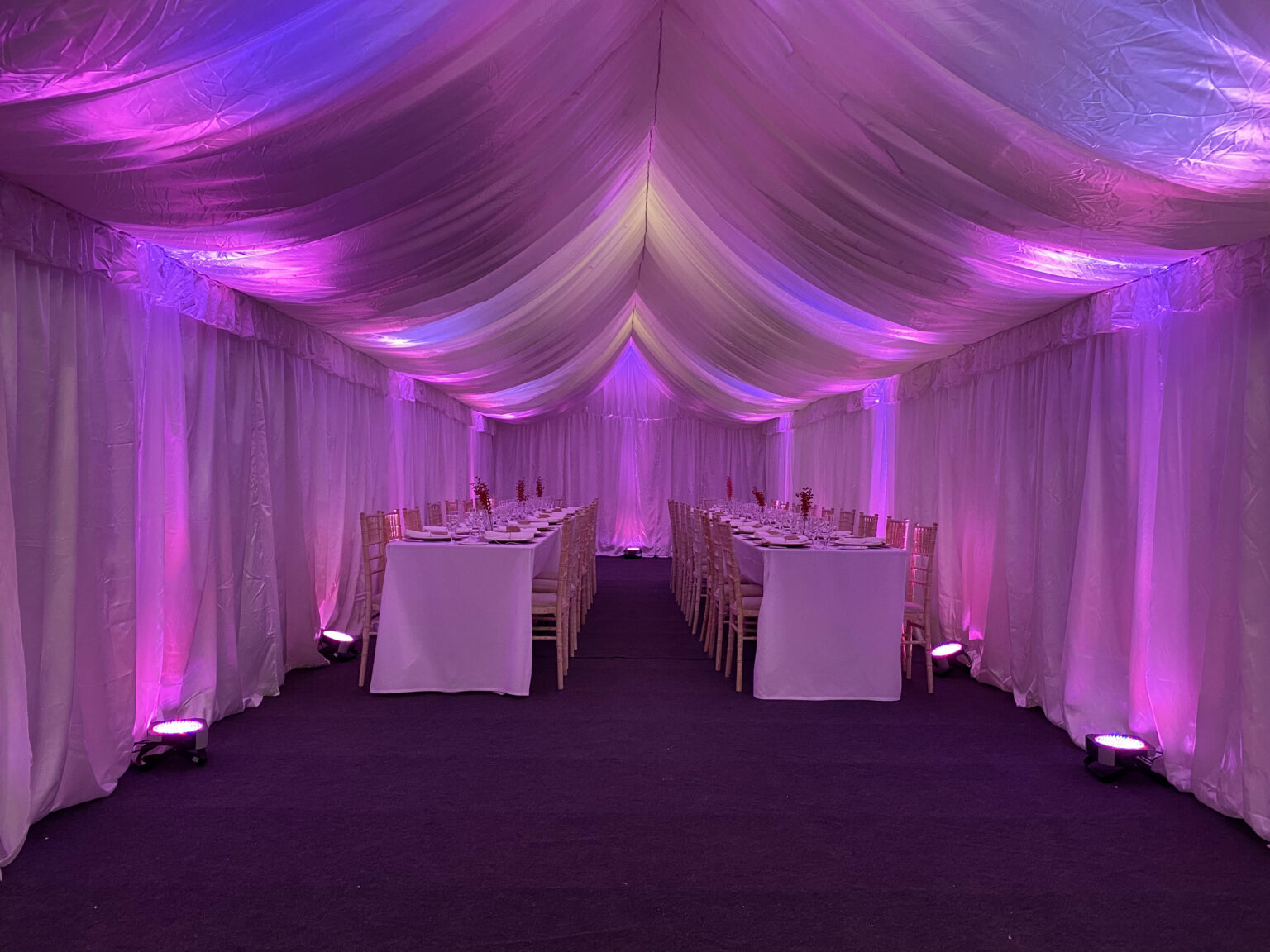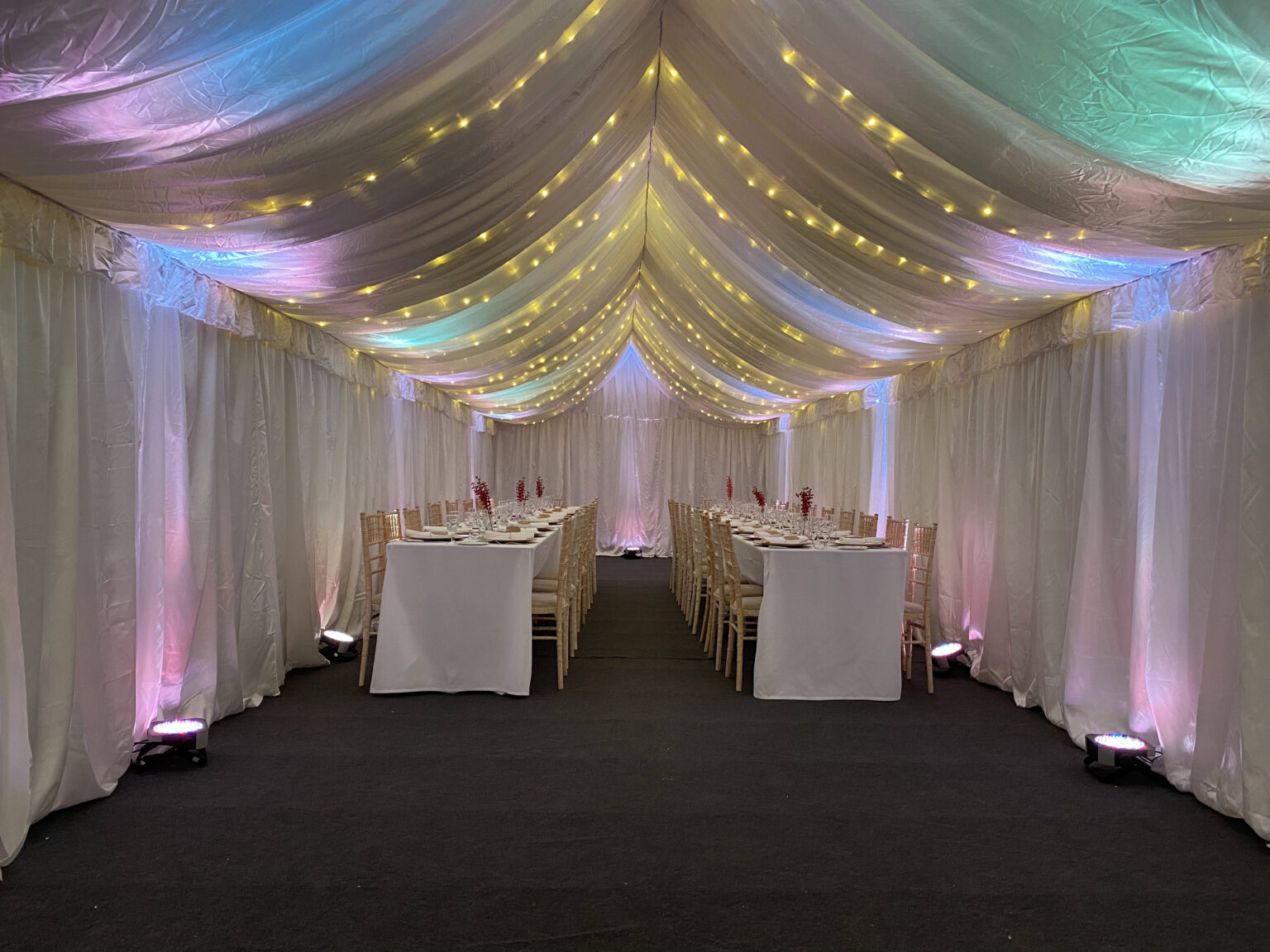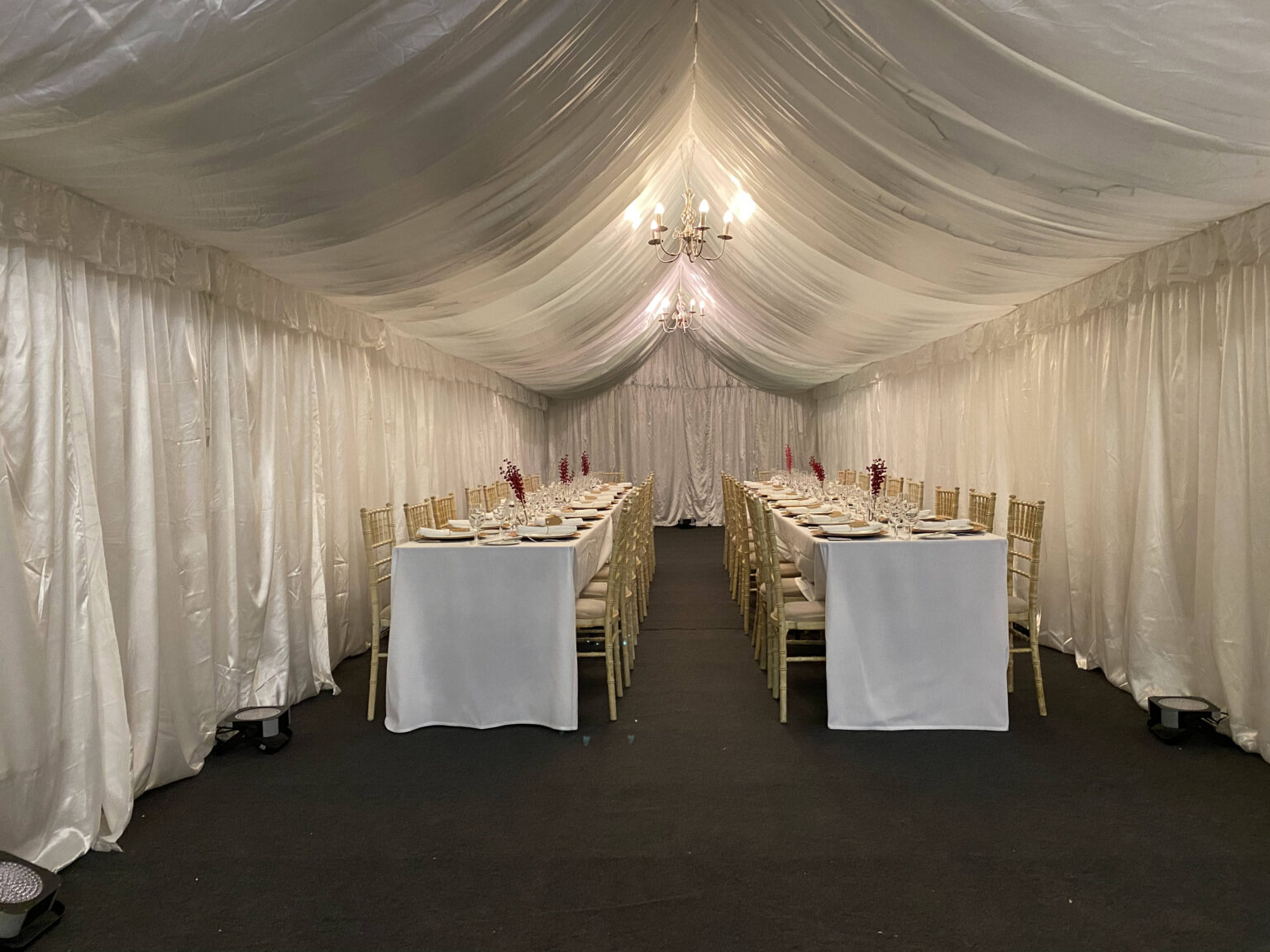 Round tables are available in 4′ round which seat 5 guests which are perfect for more informal parties.
For something more formal we would recommend 5'6′ round tables which seat 10 seat.
Linen cloths are also available.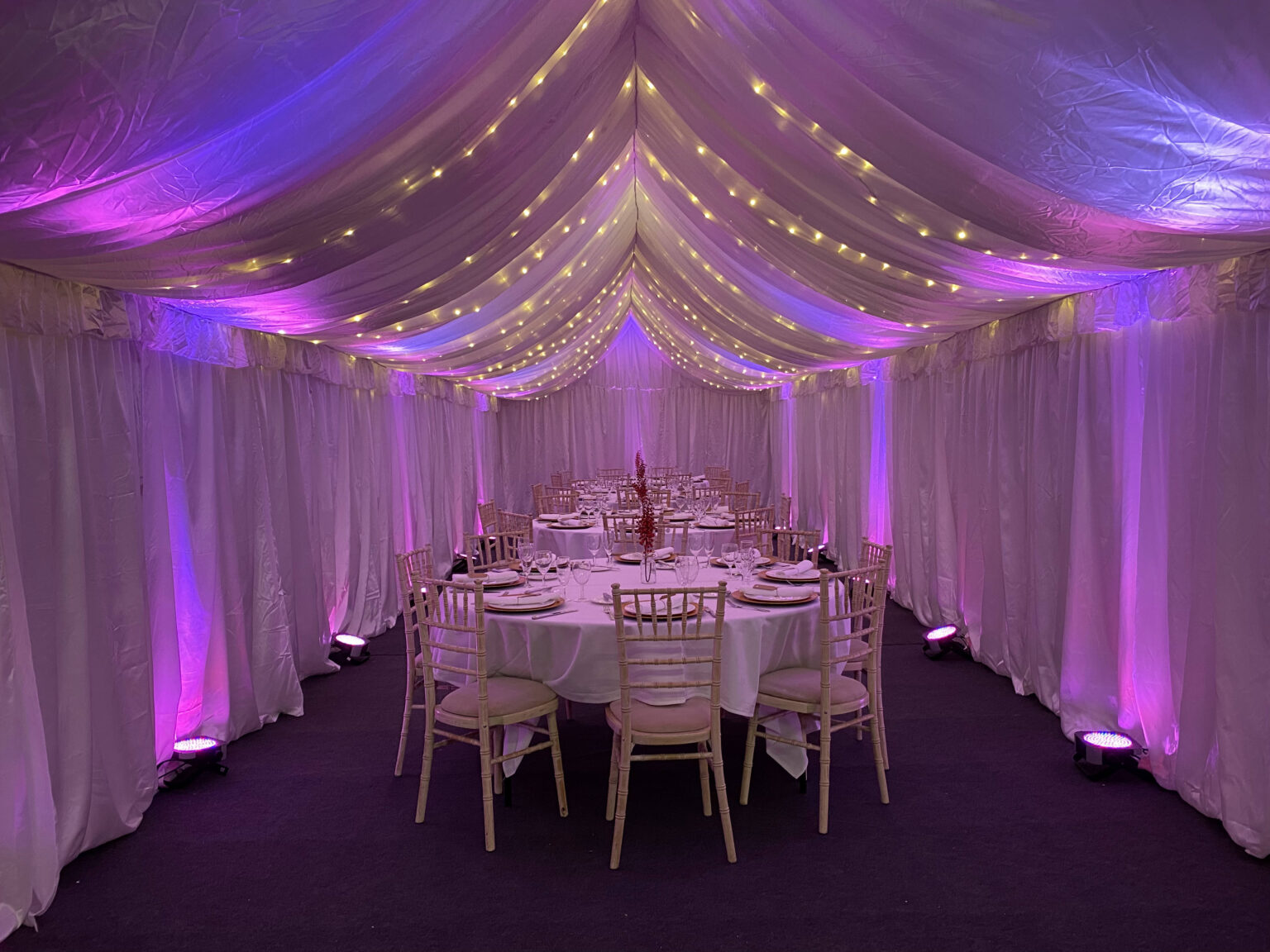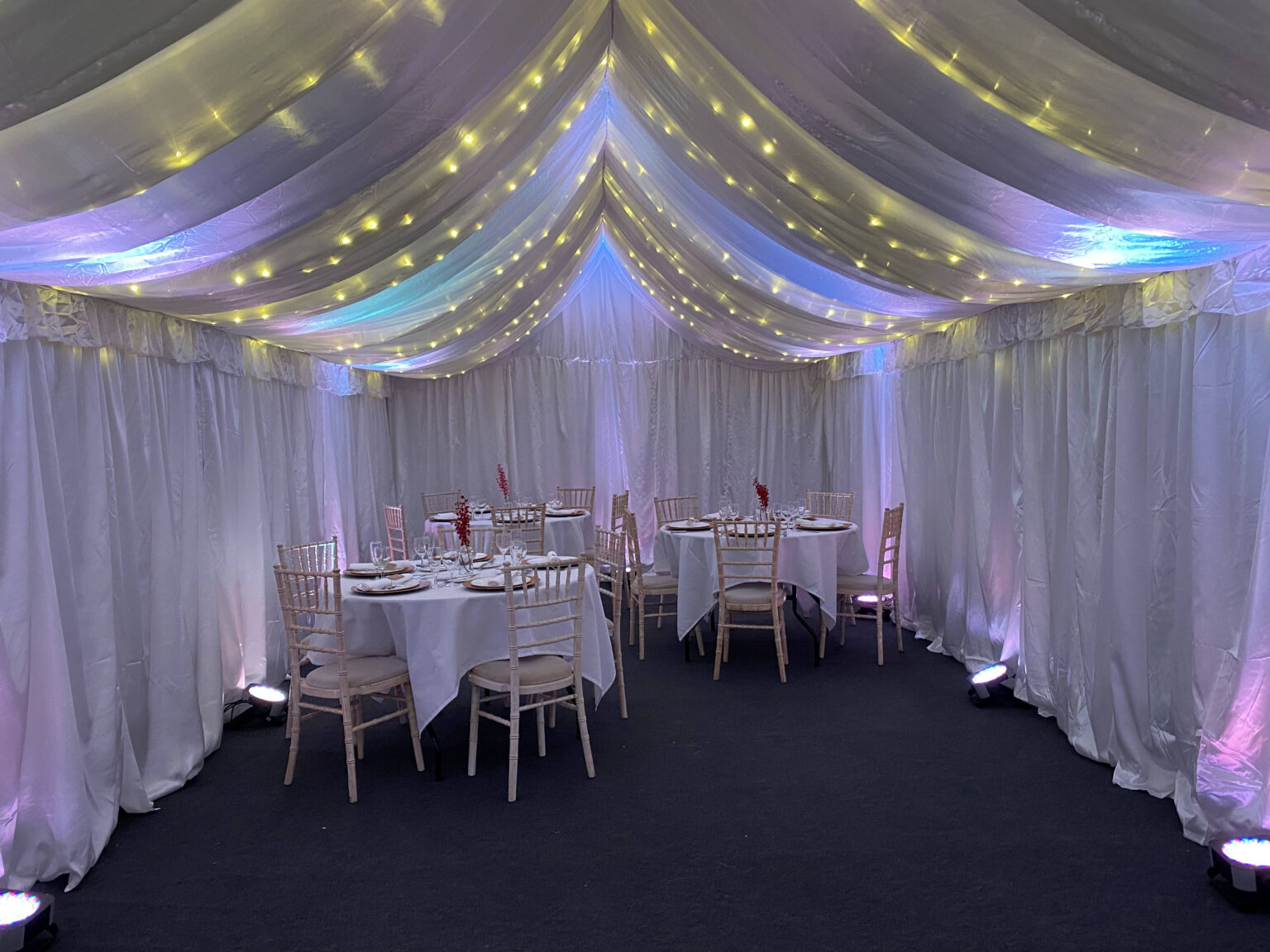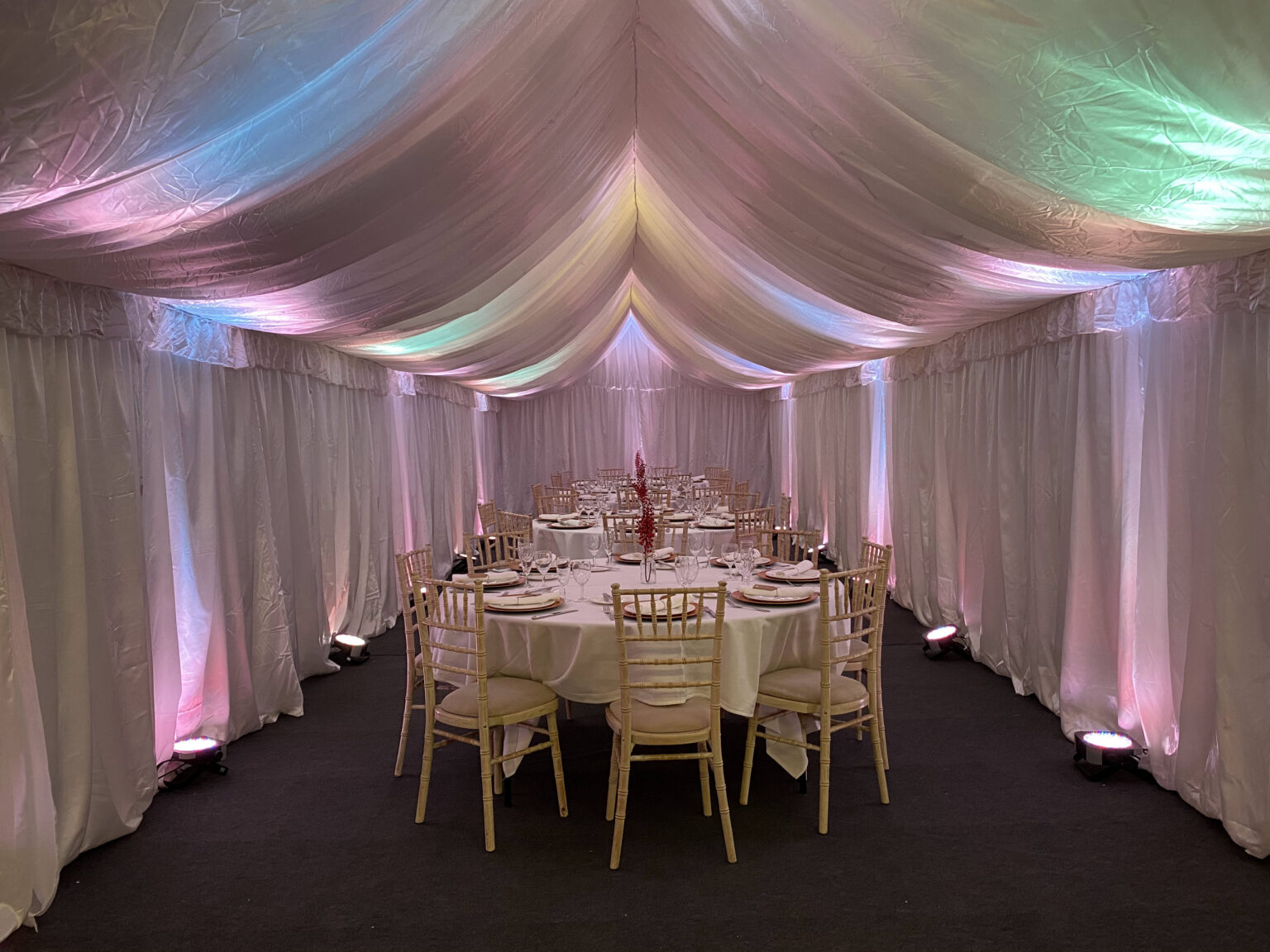 Perfect for informal events such as birthday parties & family events.
Allows guests to rest their food & drinks on while standing up.  these can be scattered in the marquee, your house or even outside during daytime events.
Your guests will love them and find them very useful – we would recommend one poseur table per 10 guests.
Glass top with chrome leg and base.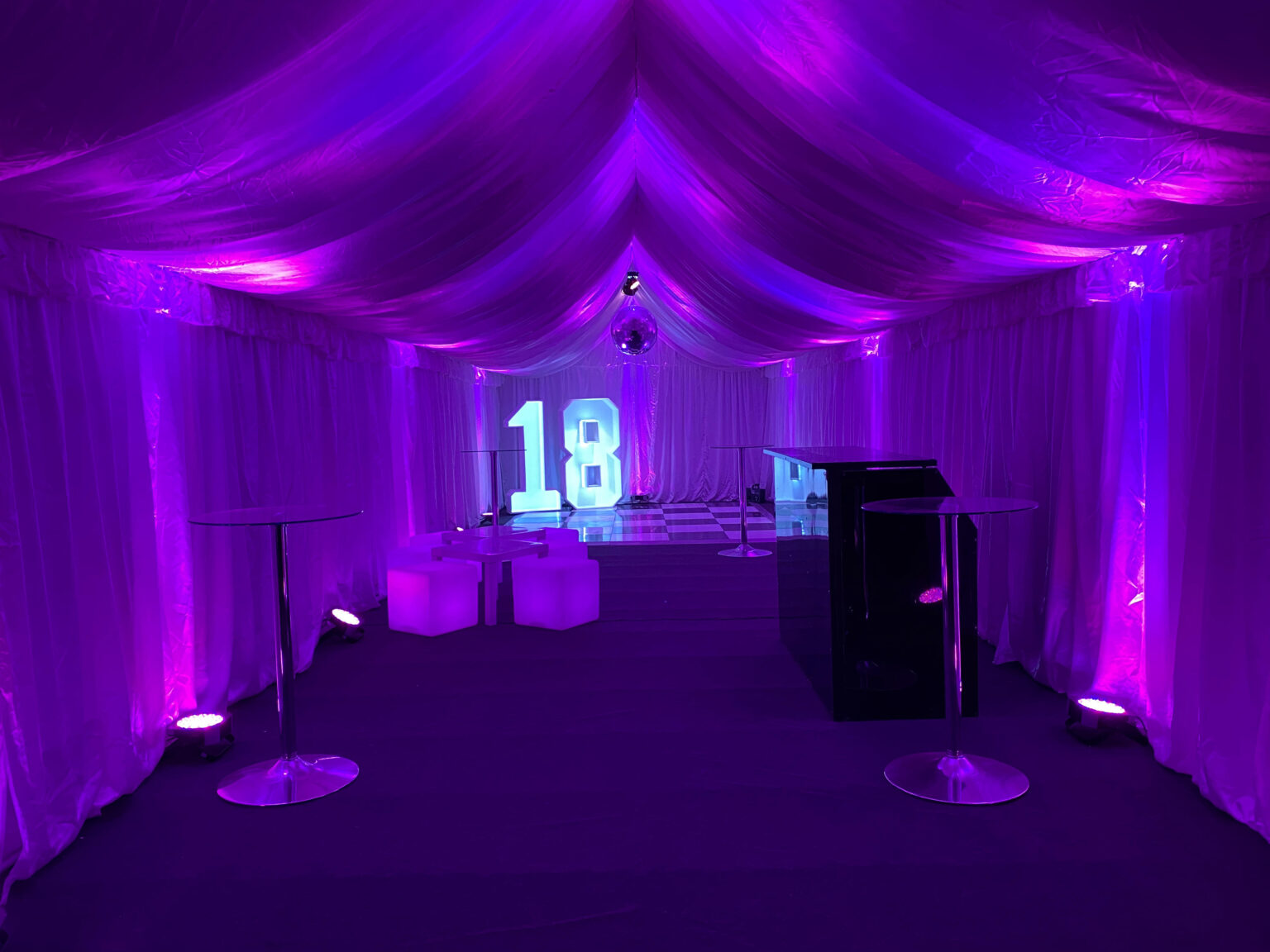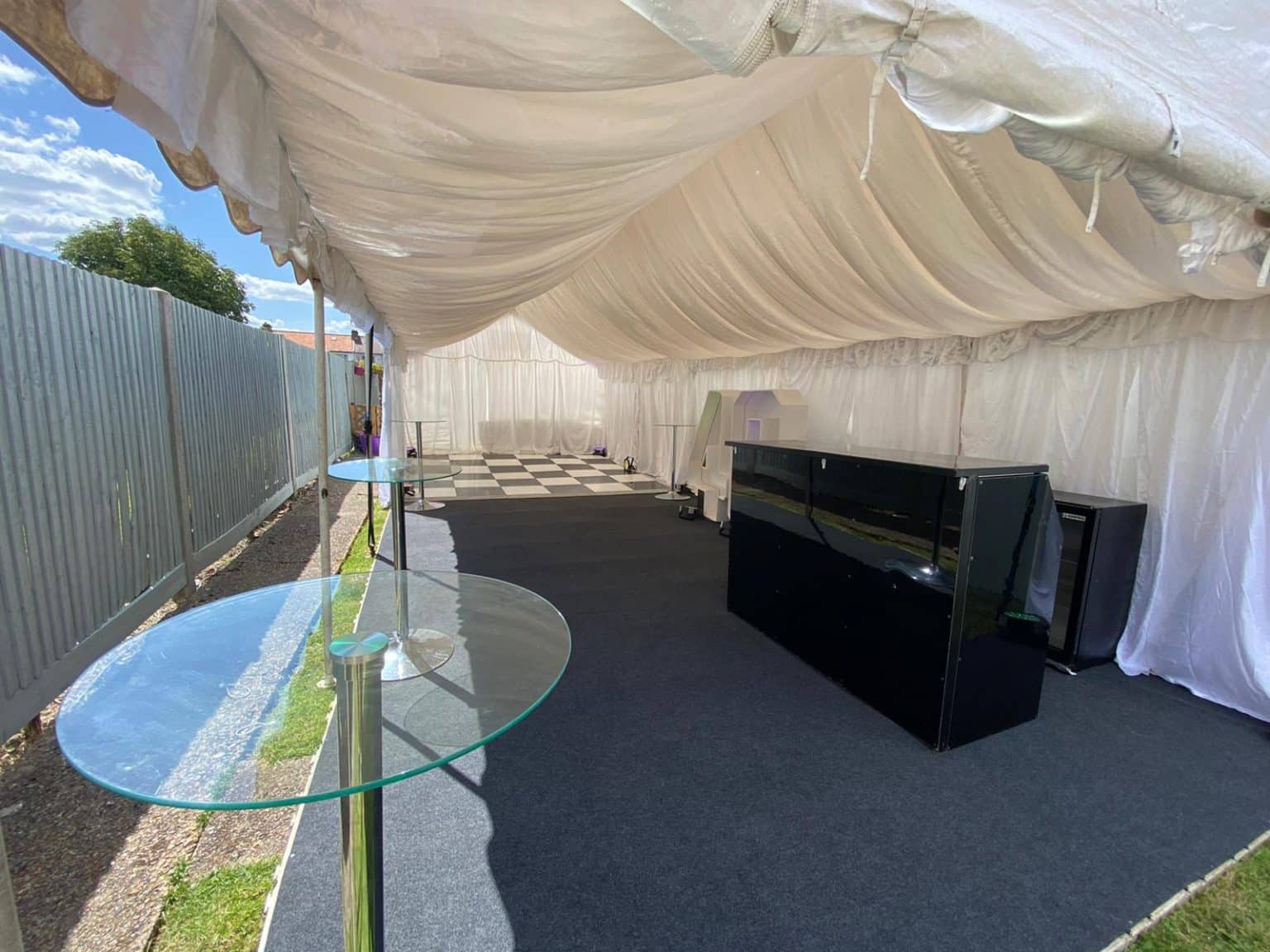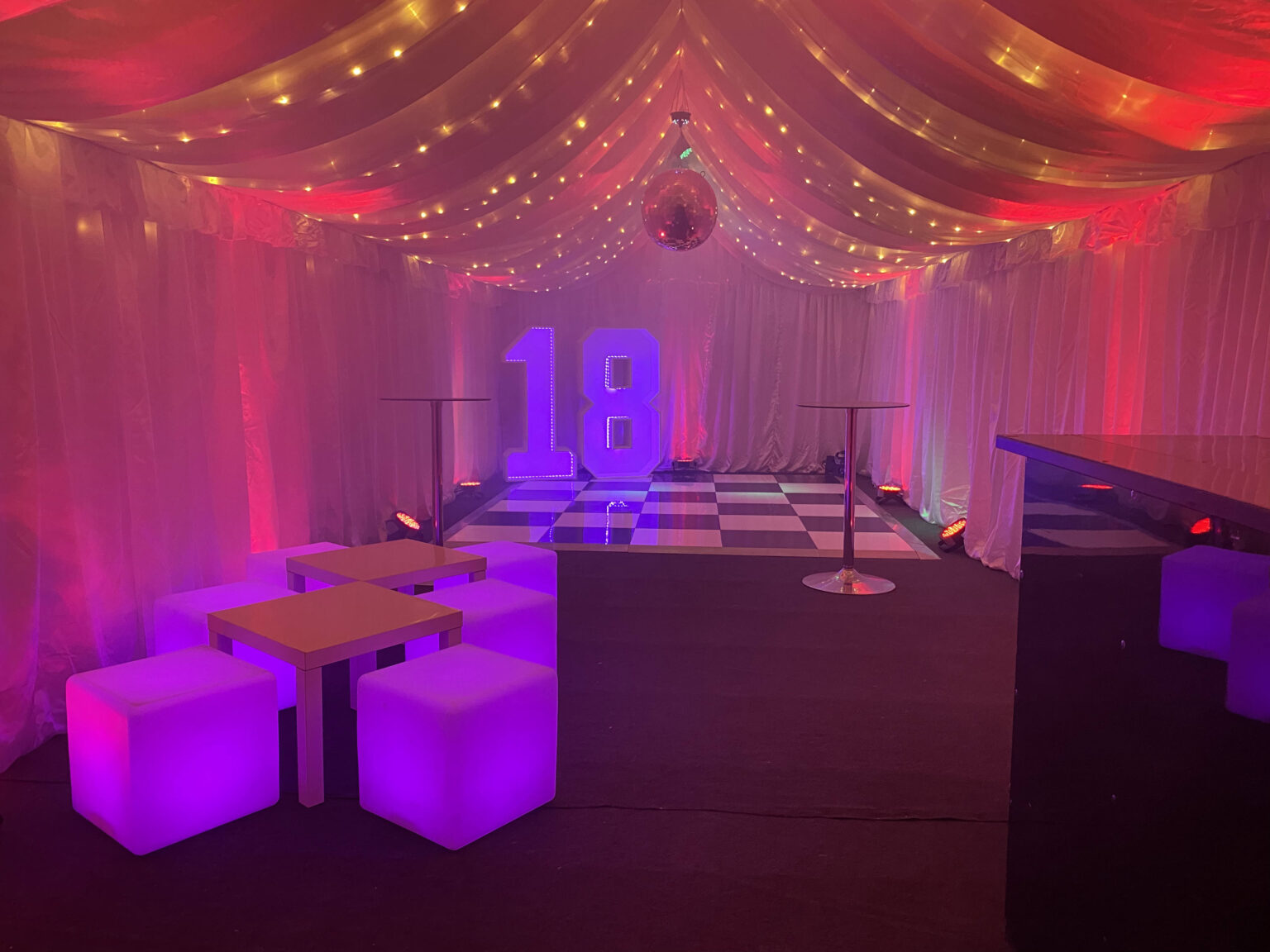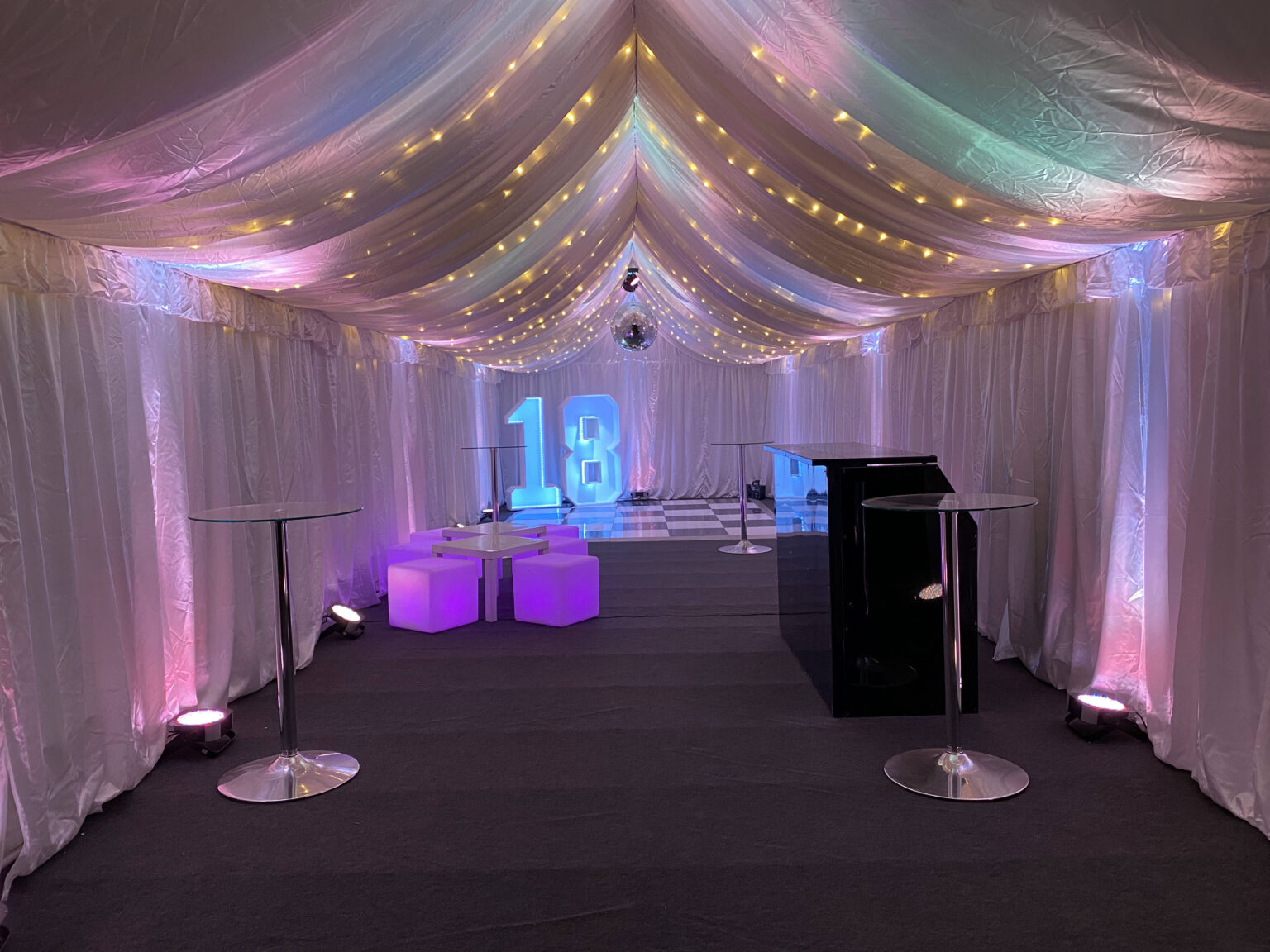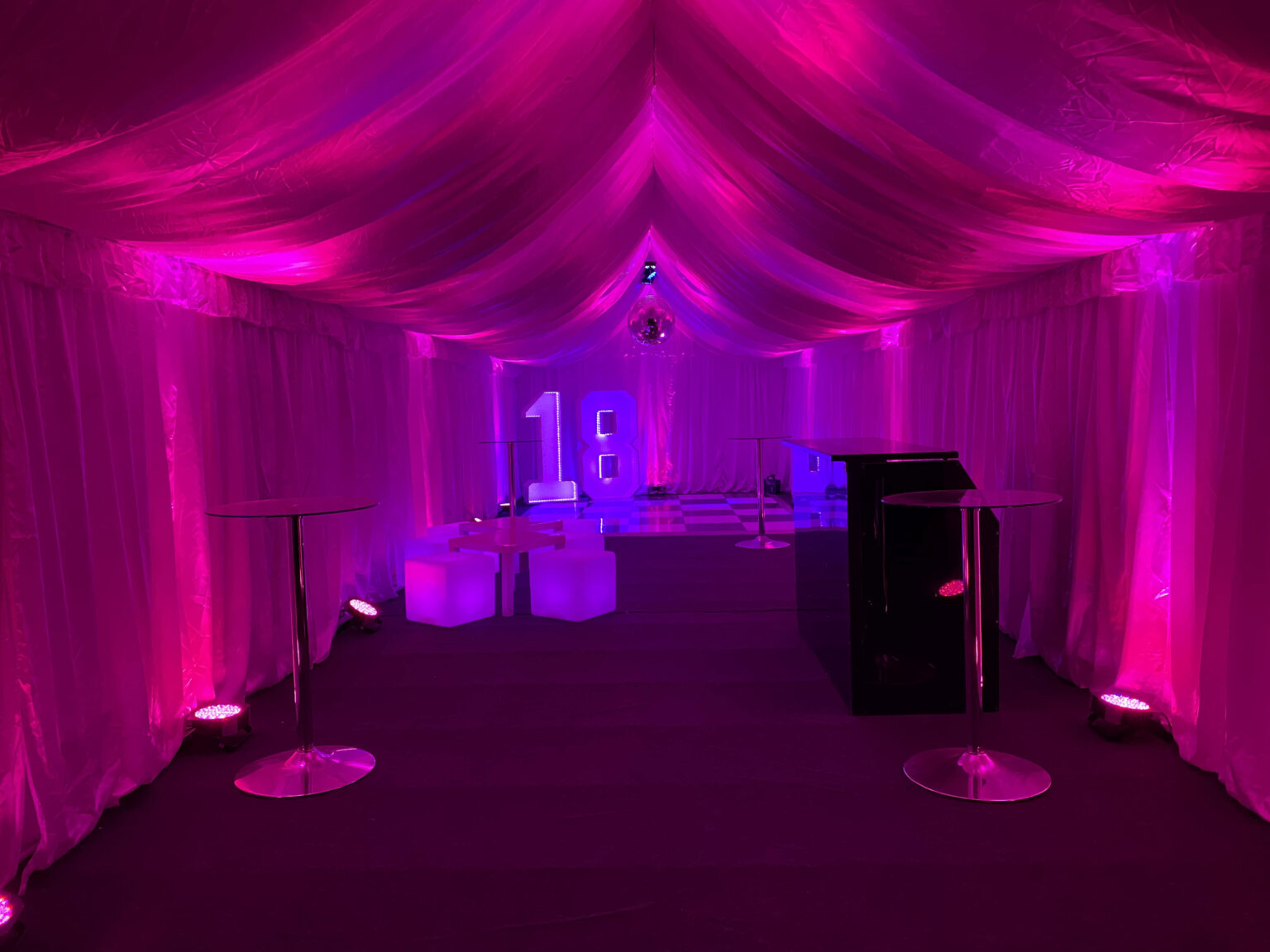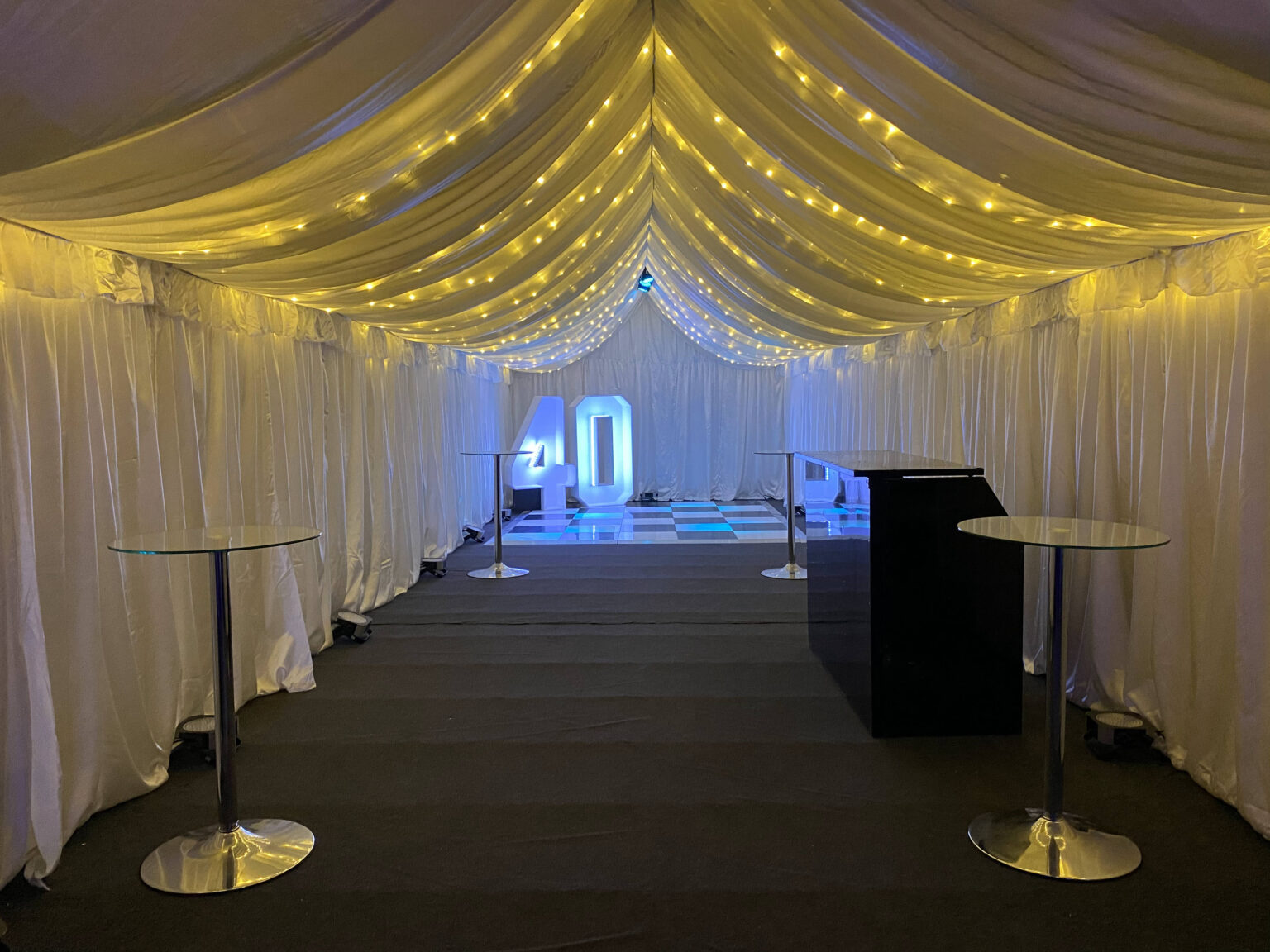 We offer two styles of cube seating
LED Cube Seating
Can be selected in any colour you wish or they can change colour in time with the music.
White Faux Leather Cube Seating
For more sophisticated events our white faux leather cube seating provides an excellent lounge style furniture where chairs & tables are too formal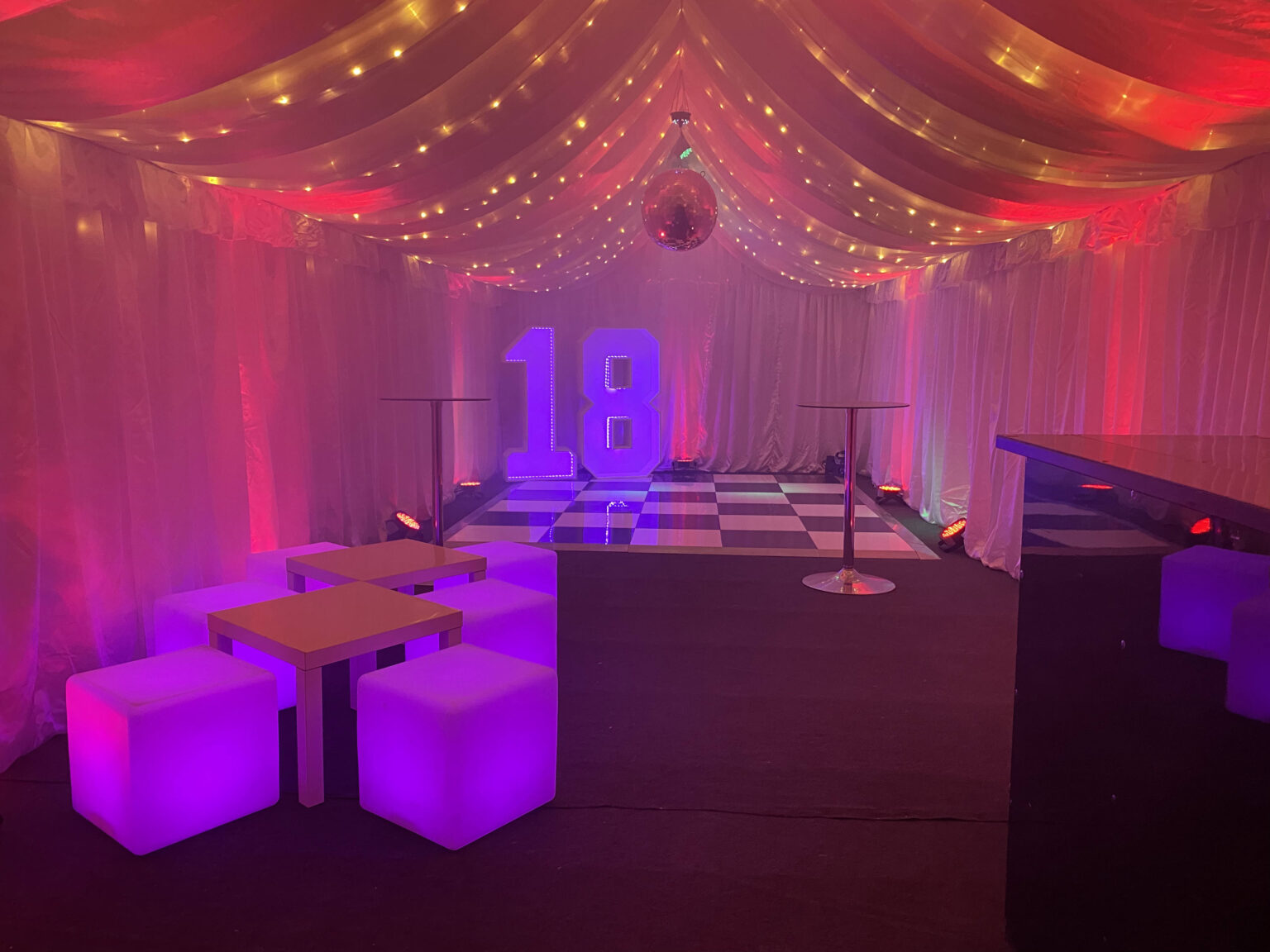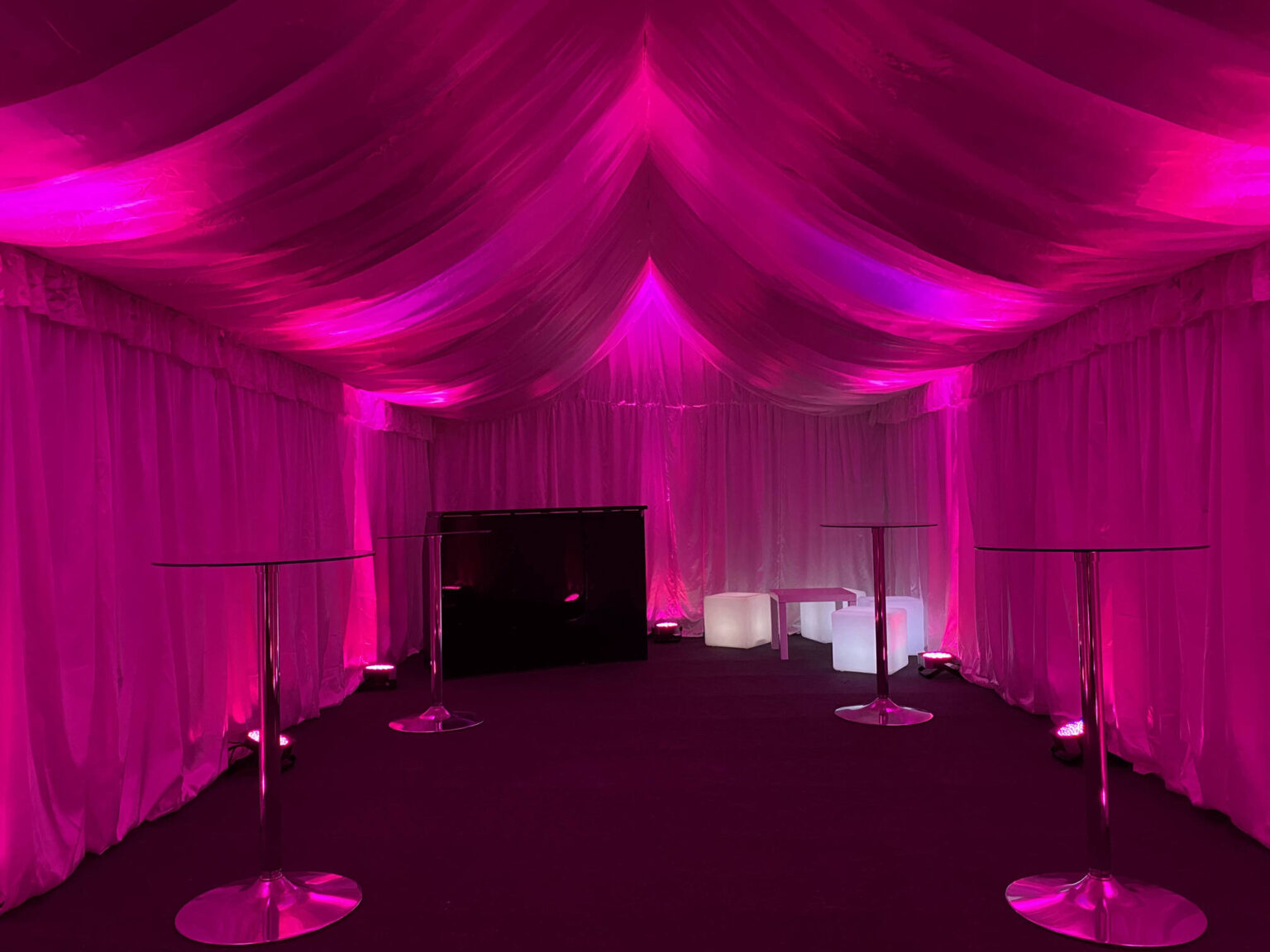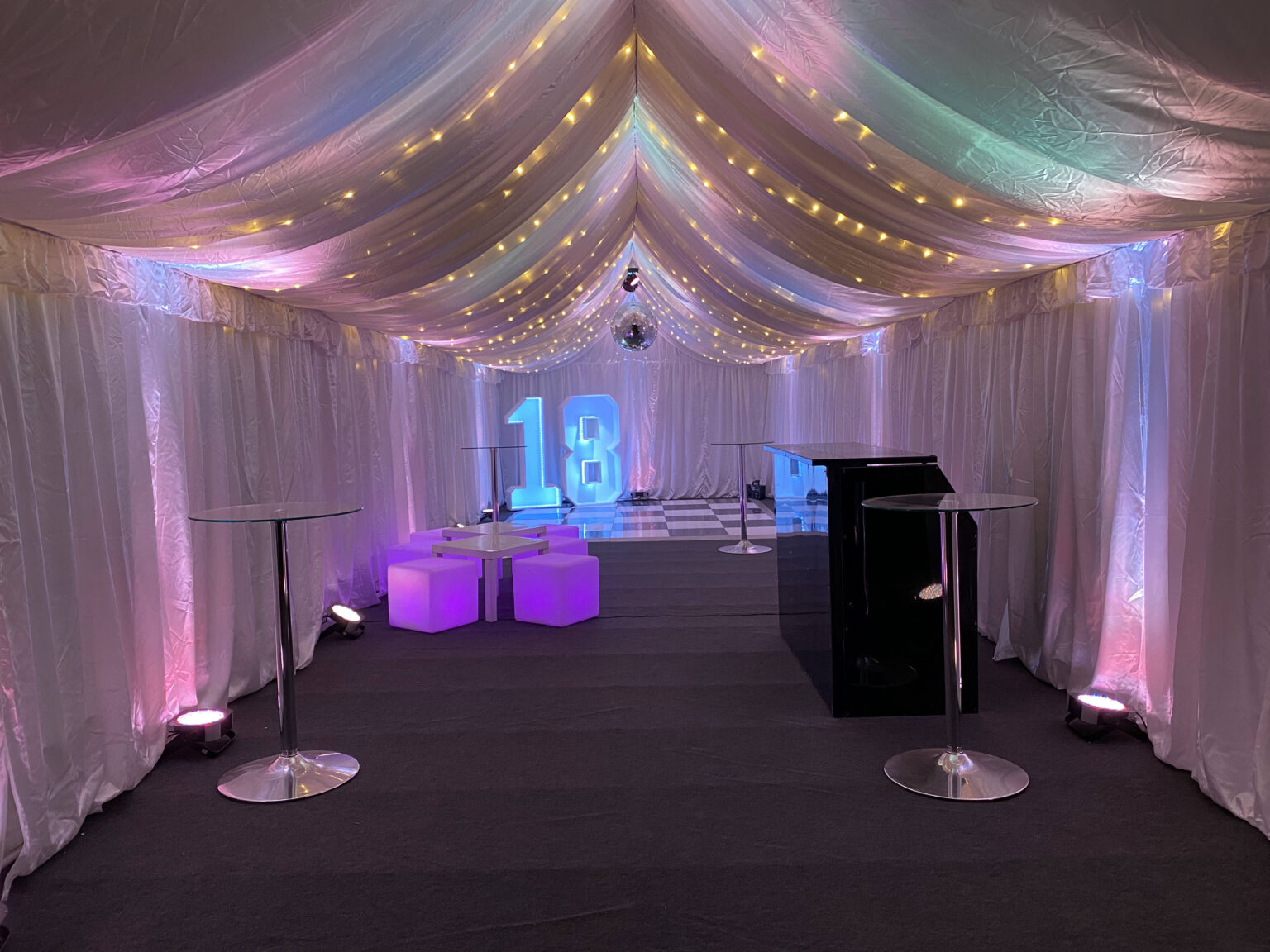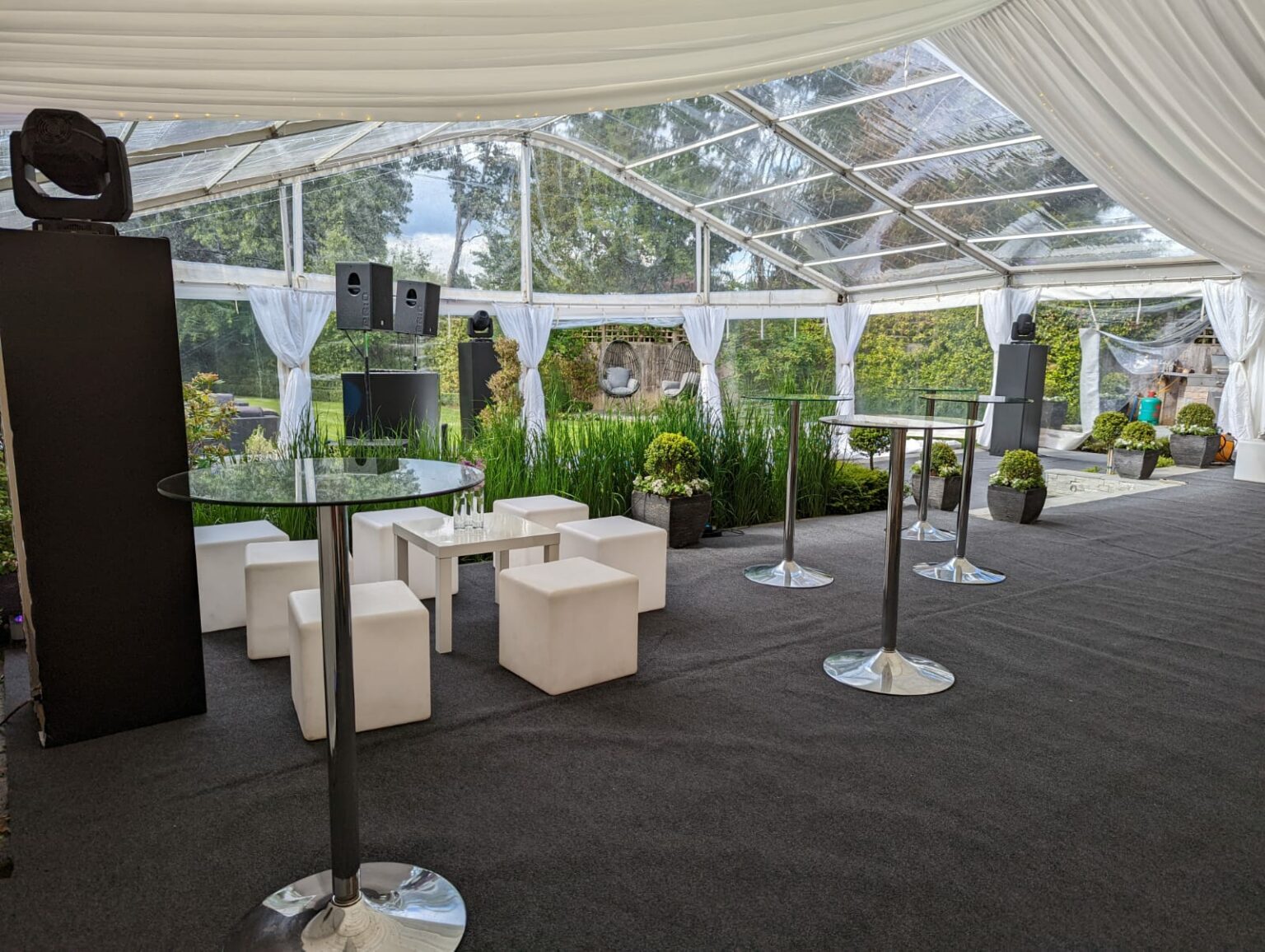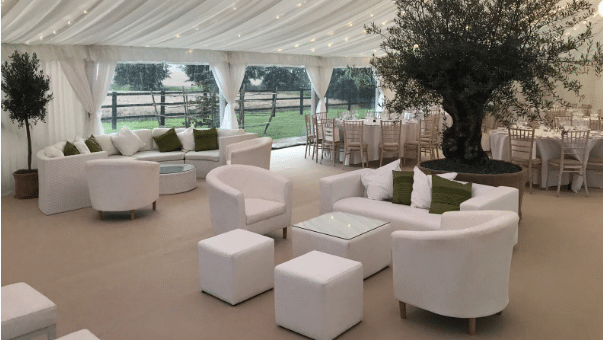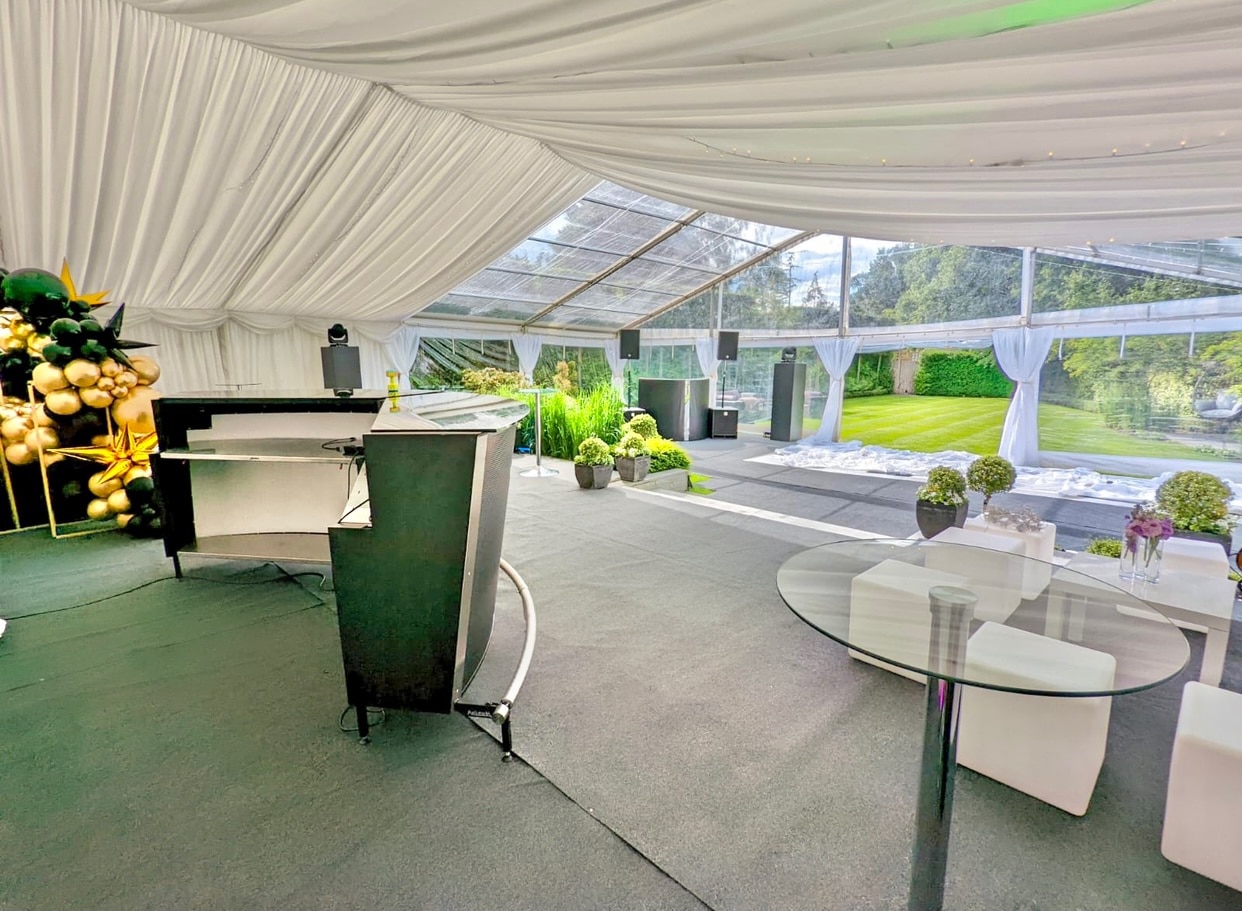 Get your friends dancing all night celebrating something special with you!
A dance floor really sets the scene for your party and lets everybody know you're expecting dancing during the evening.
The recommended size is 4m x 4m which is large enough for 20 dancers.
Recommended for Birthday Parties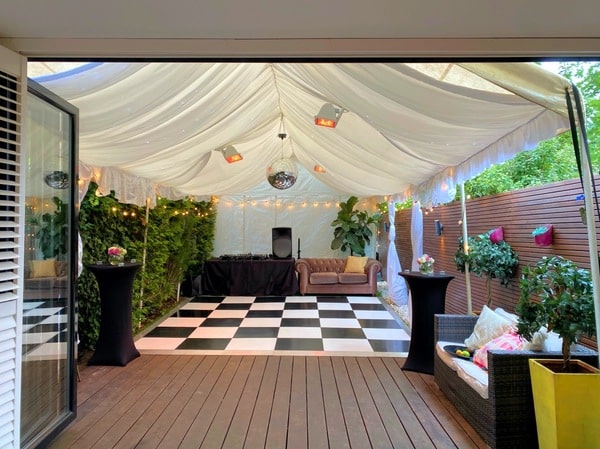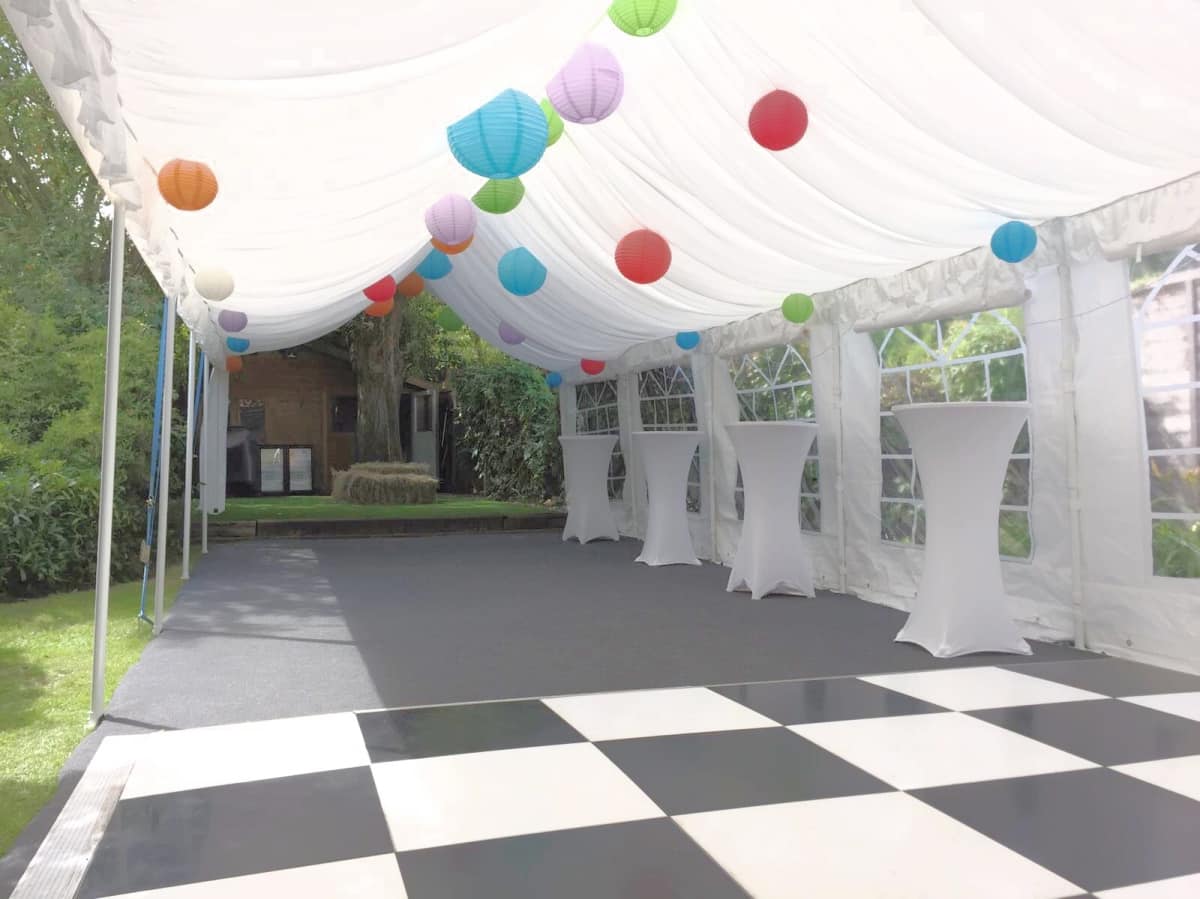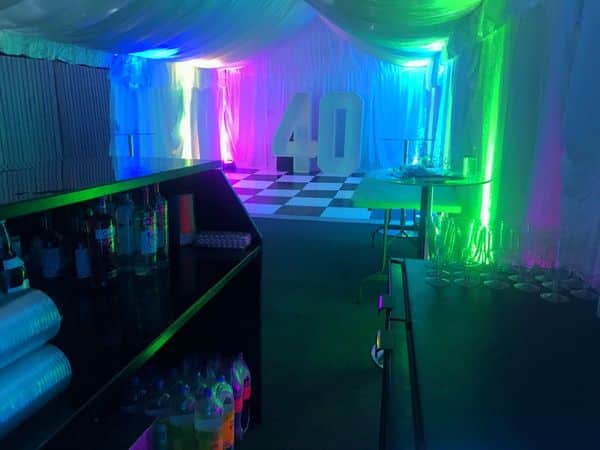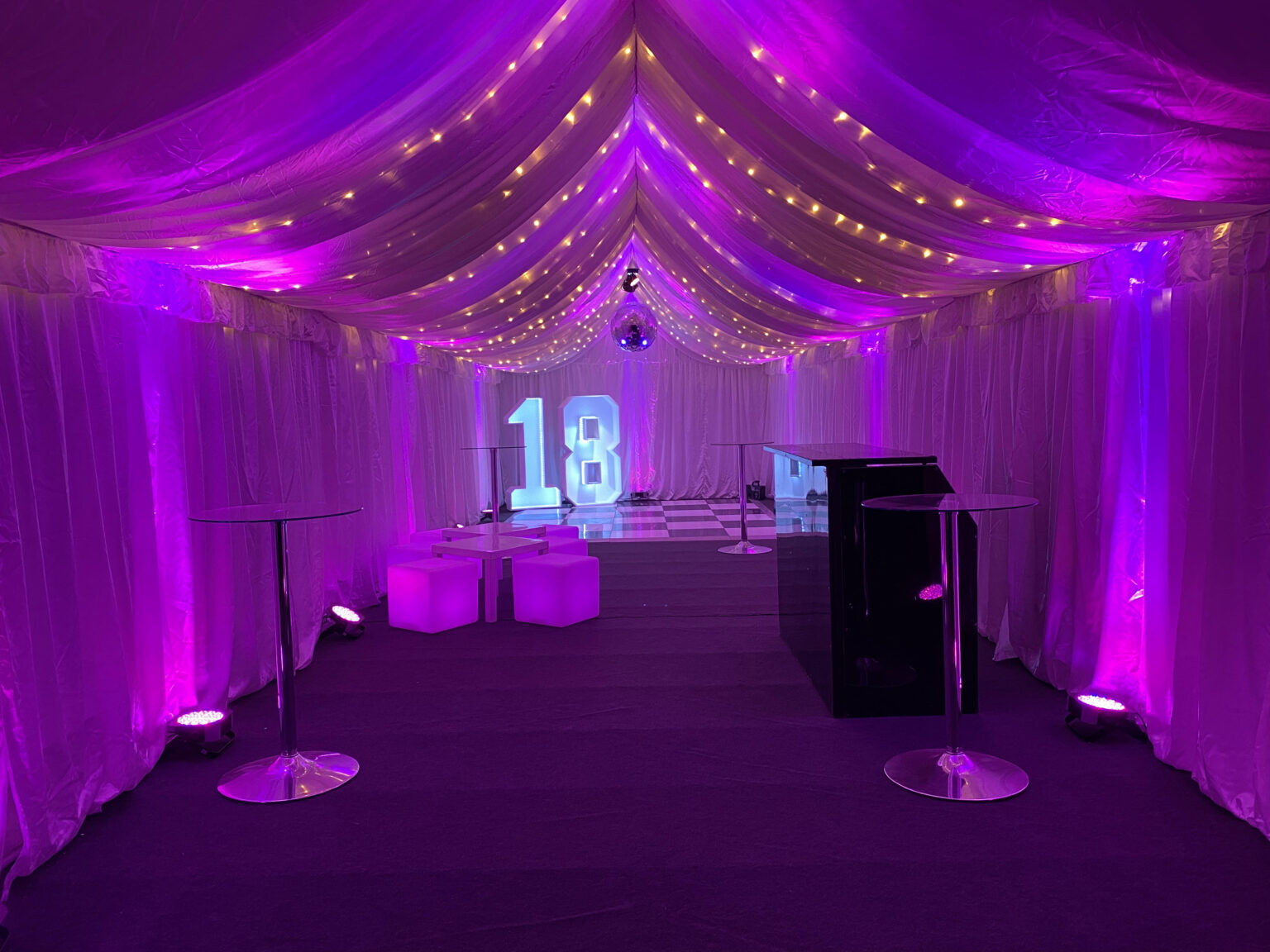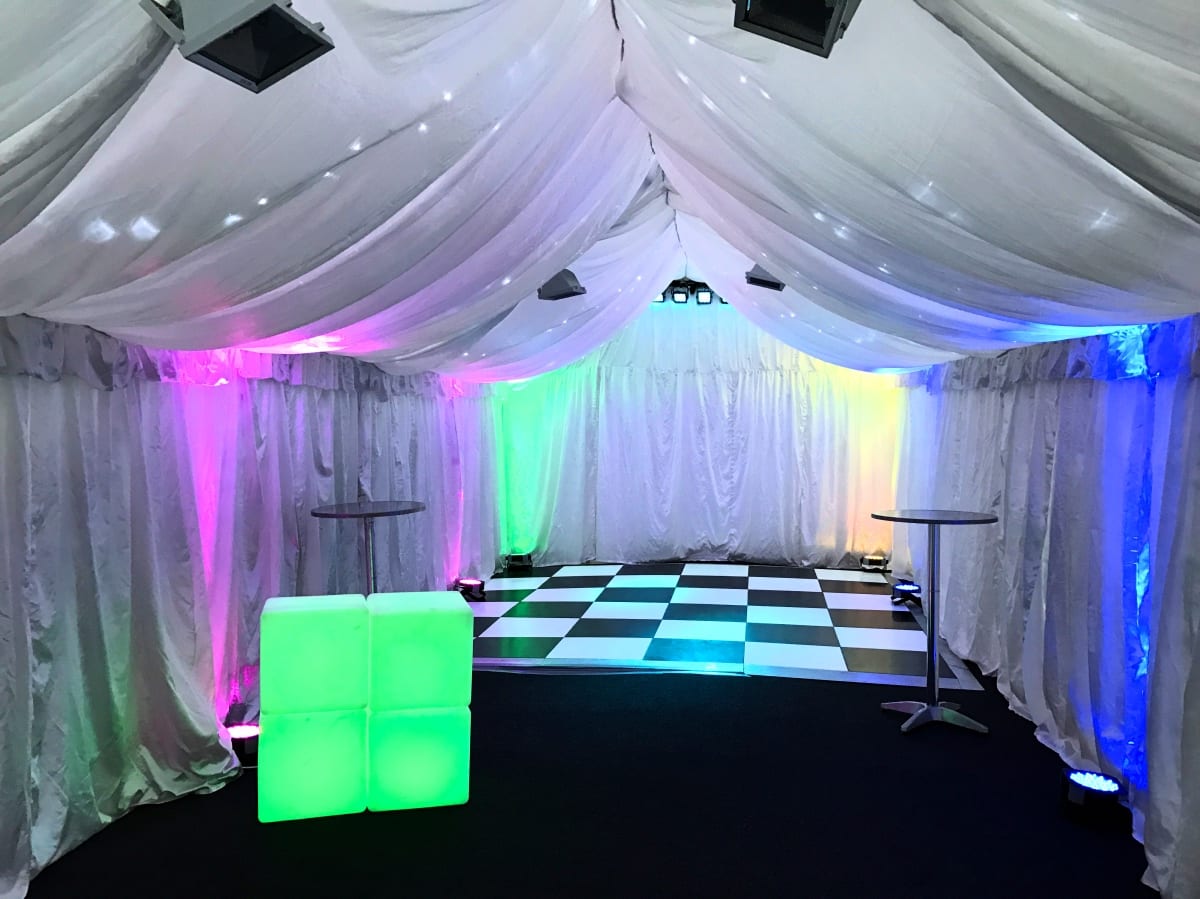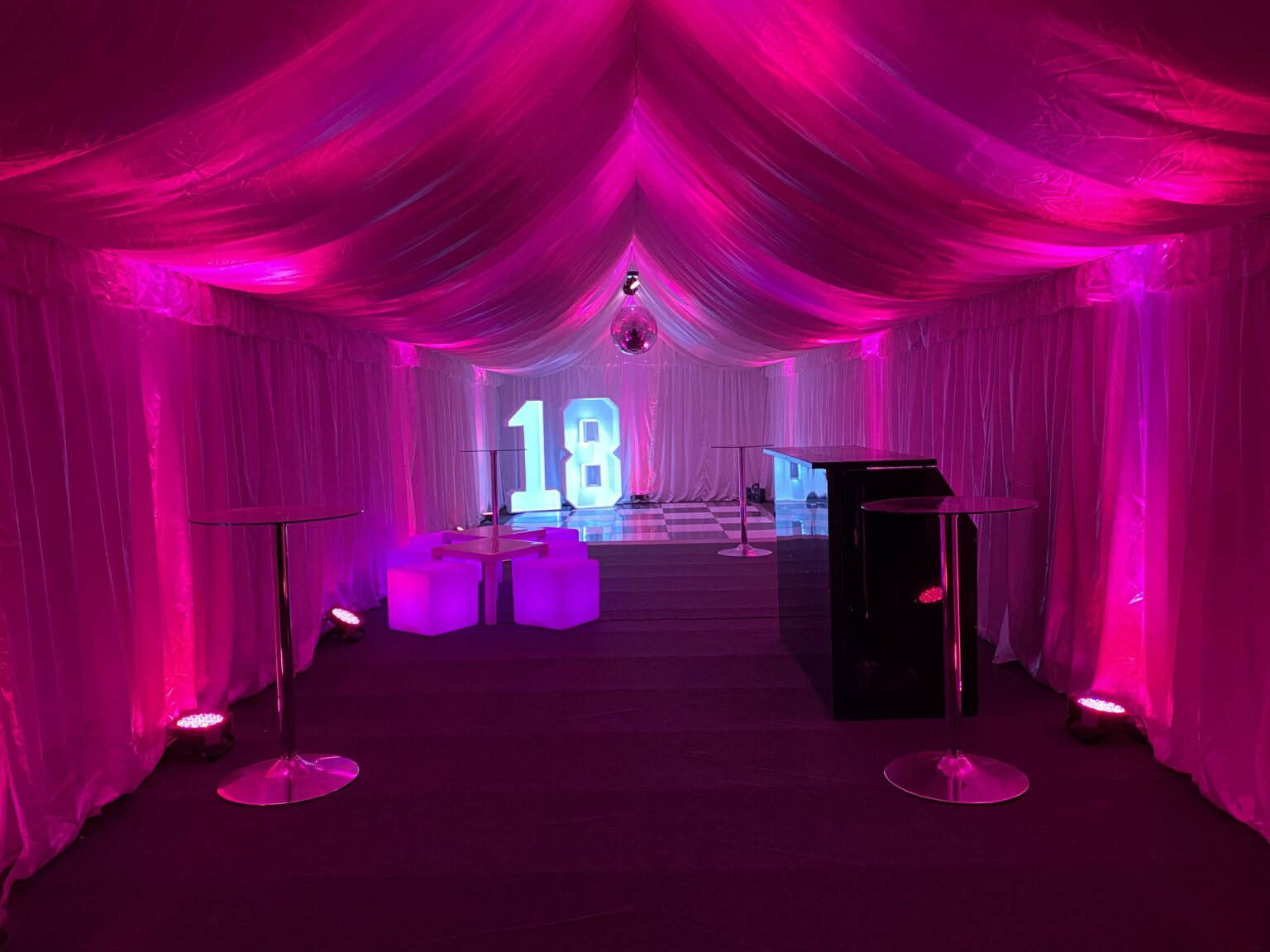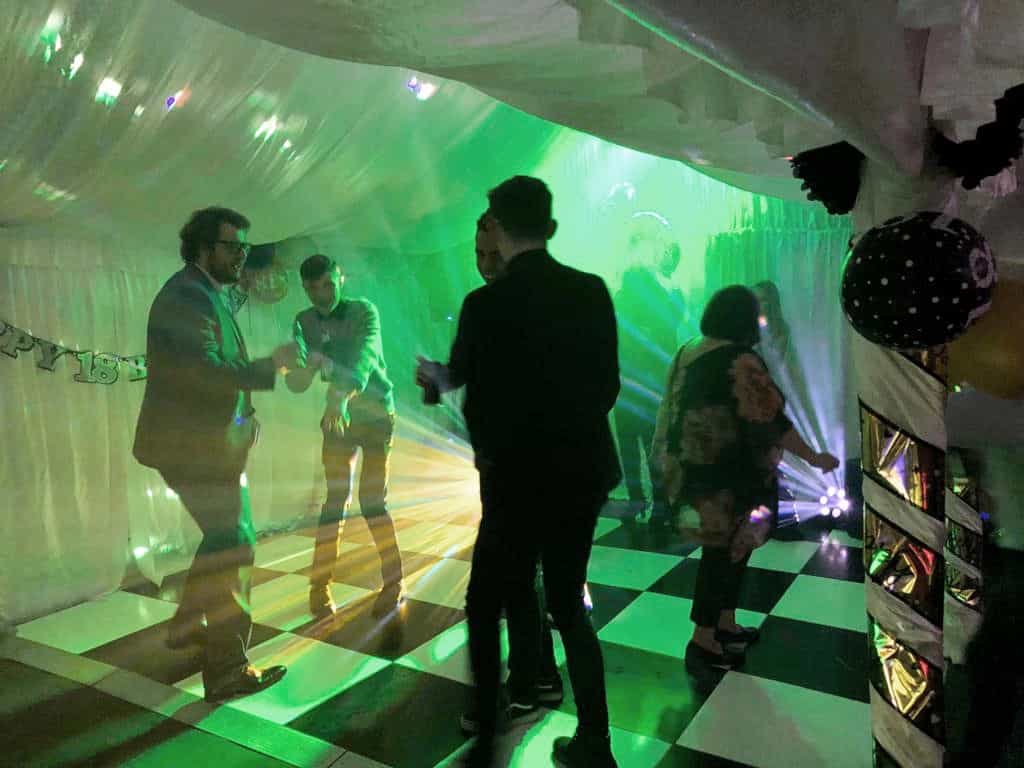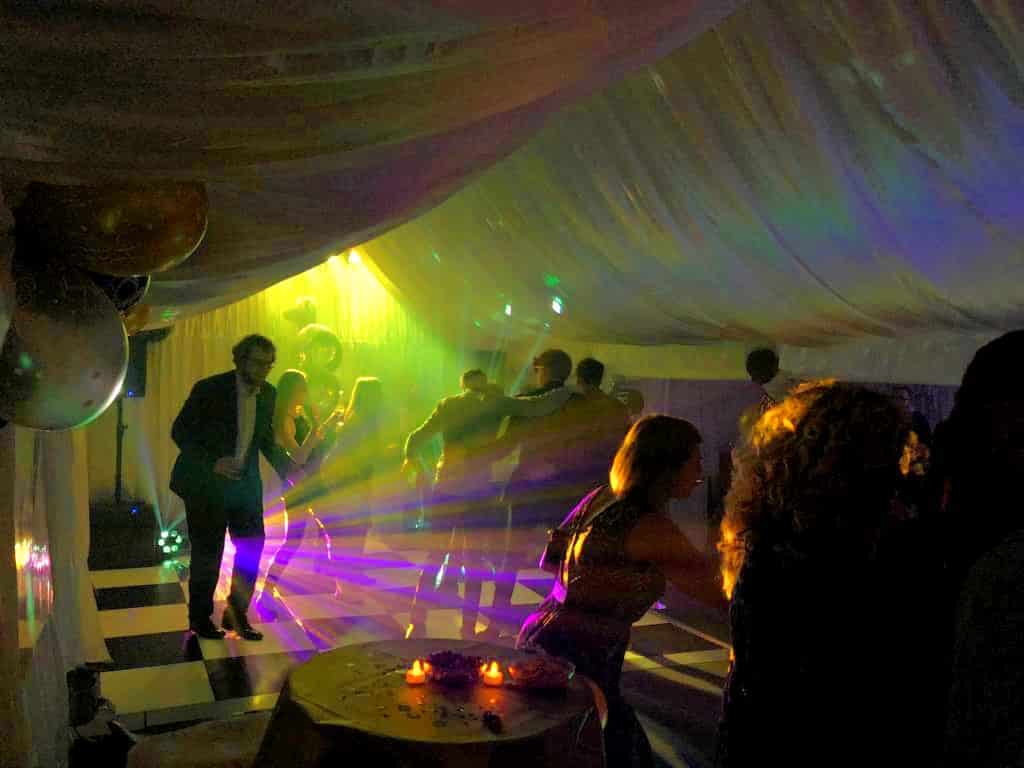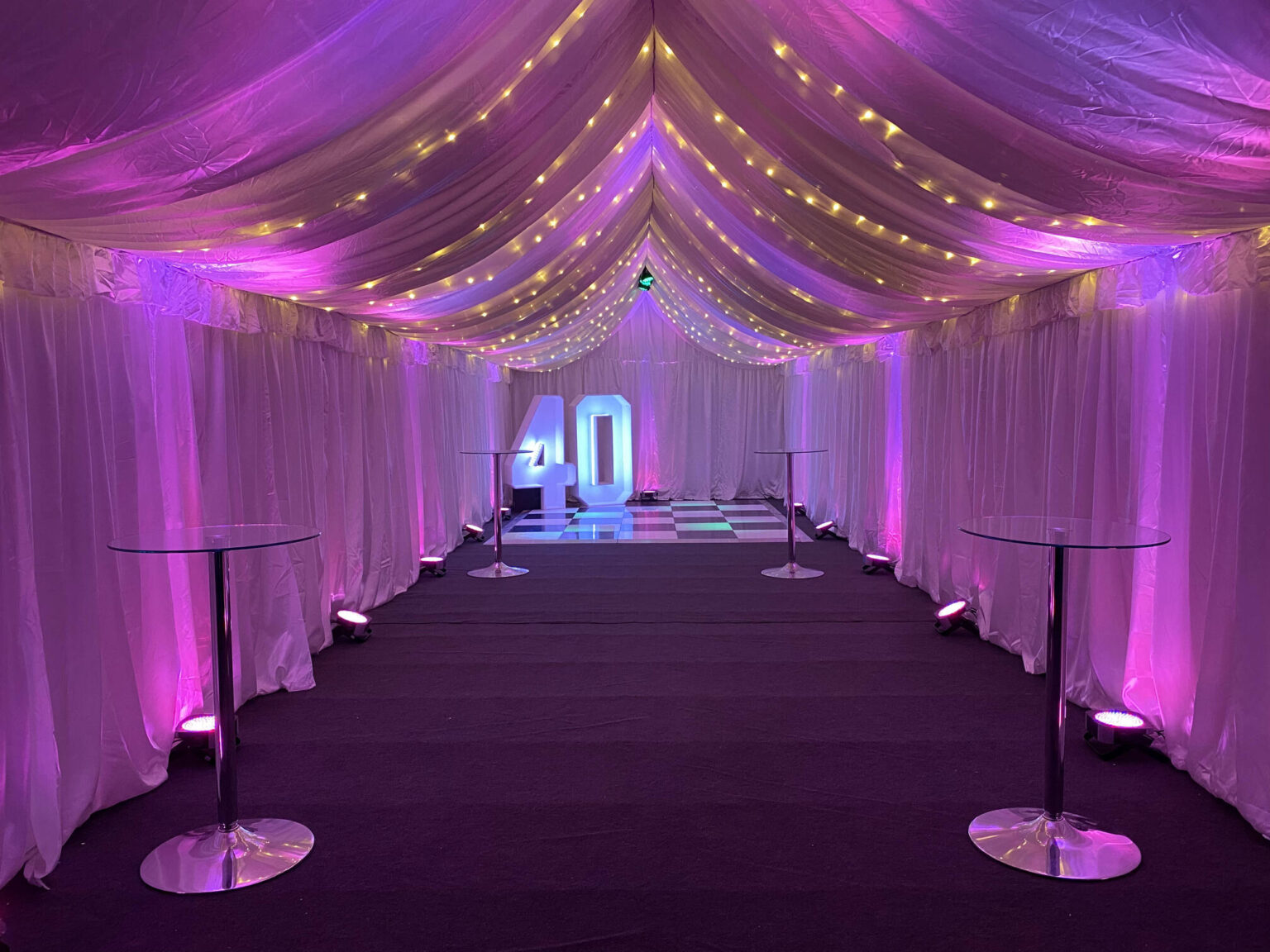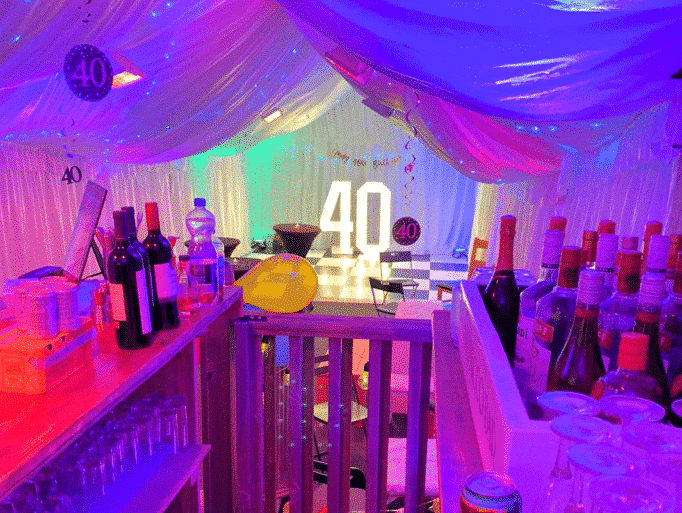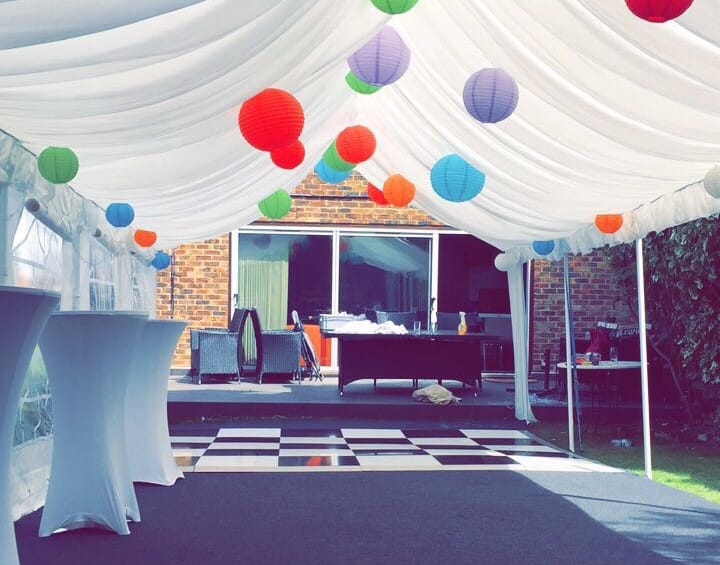 There's no party without a proper bar & fridge set up is there?!
Nobody likes a warm beer, makes sure you've got a decent fridge to keep drinks chilled. This also takes pressure off your kitchen area too.
A 5ft gloss black bar unit is a cool place to keep everything from bottle openers to glasses in too.
Ideal either in the corner of the marquee or placed in a room in the house.
We have available:
– 5ft Gloss Black Bar
– 5ft Wooden Bar
– 6ft Curved LED Bar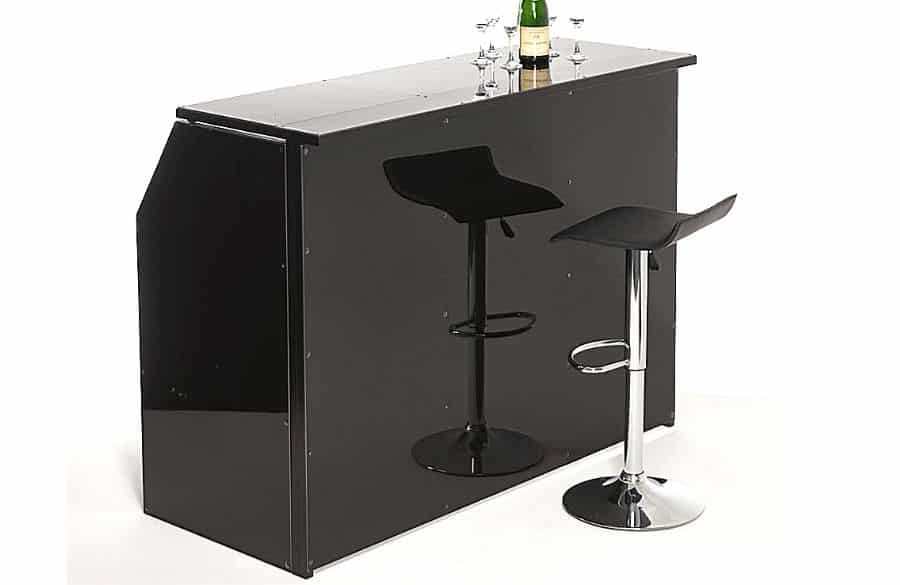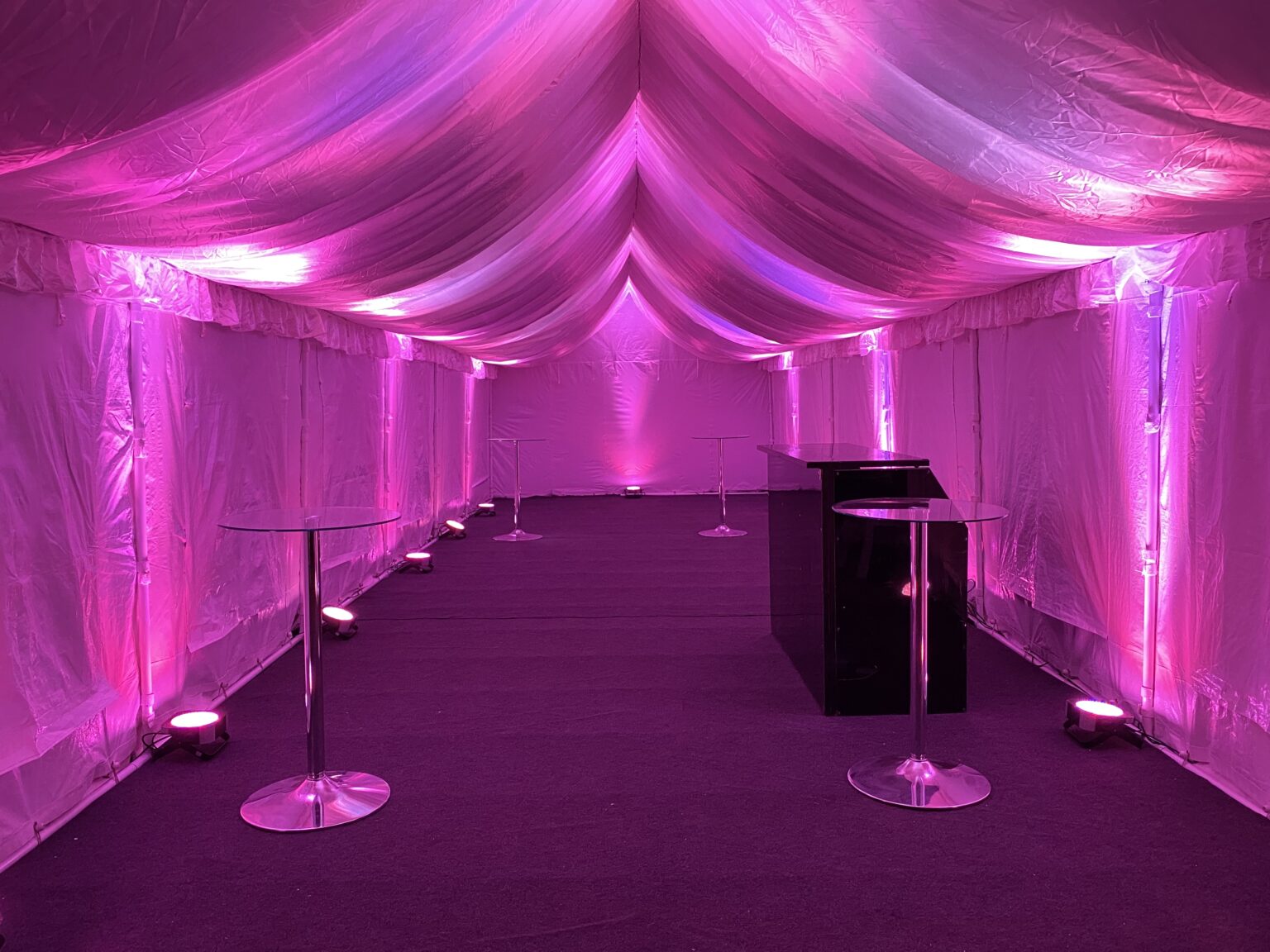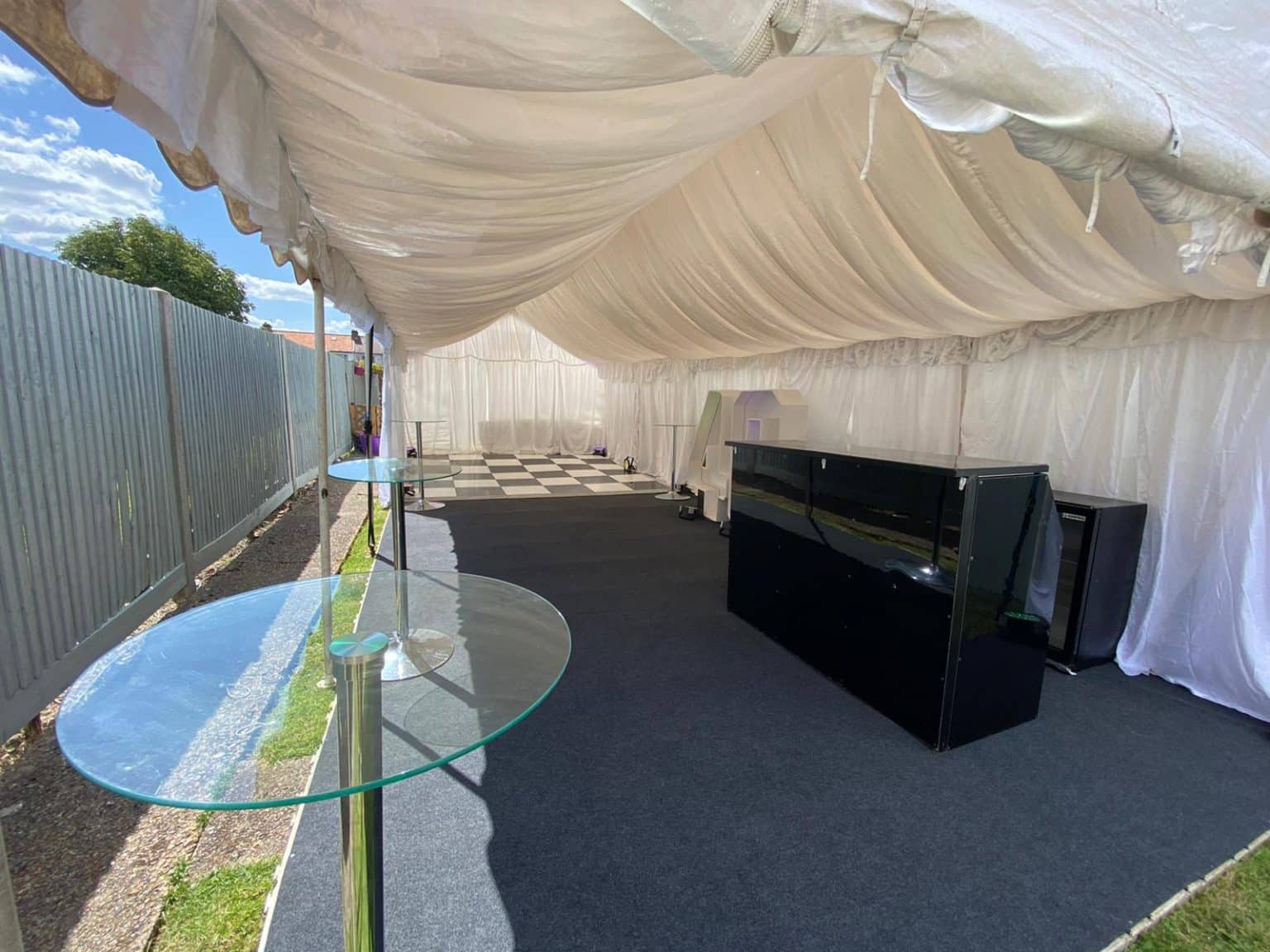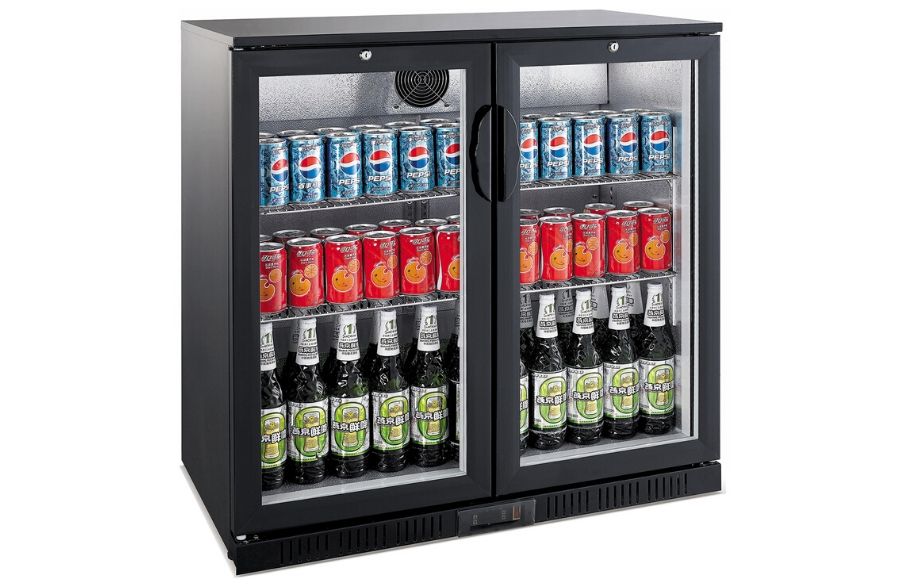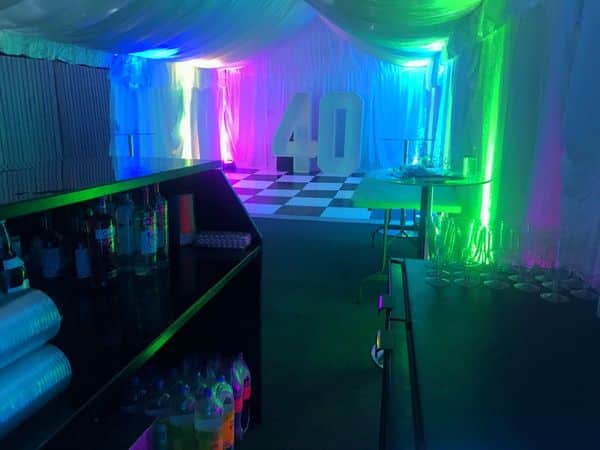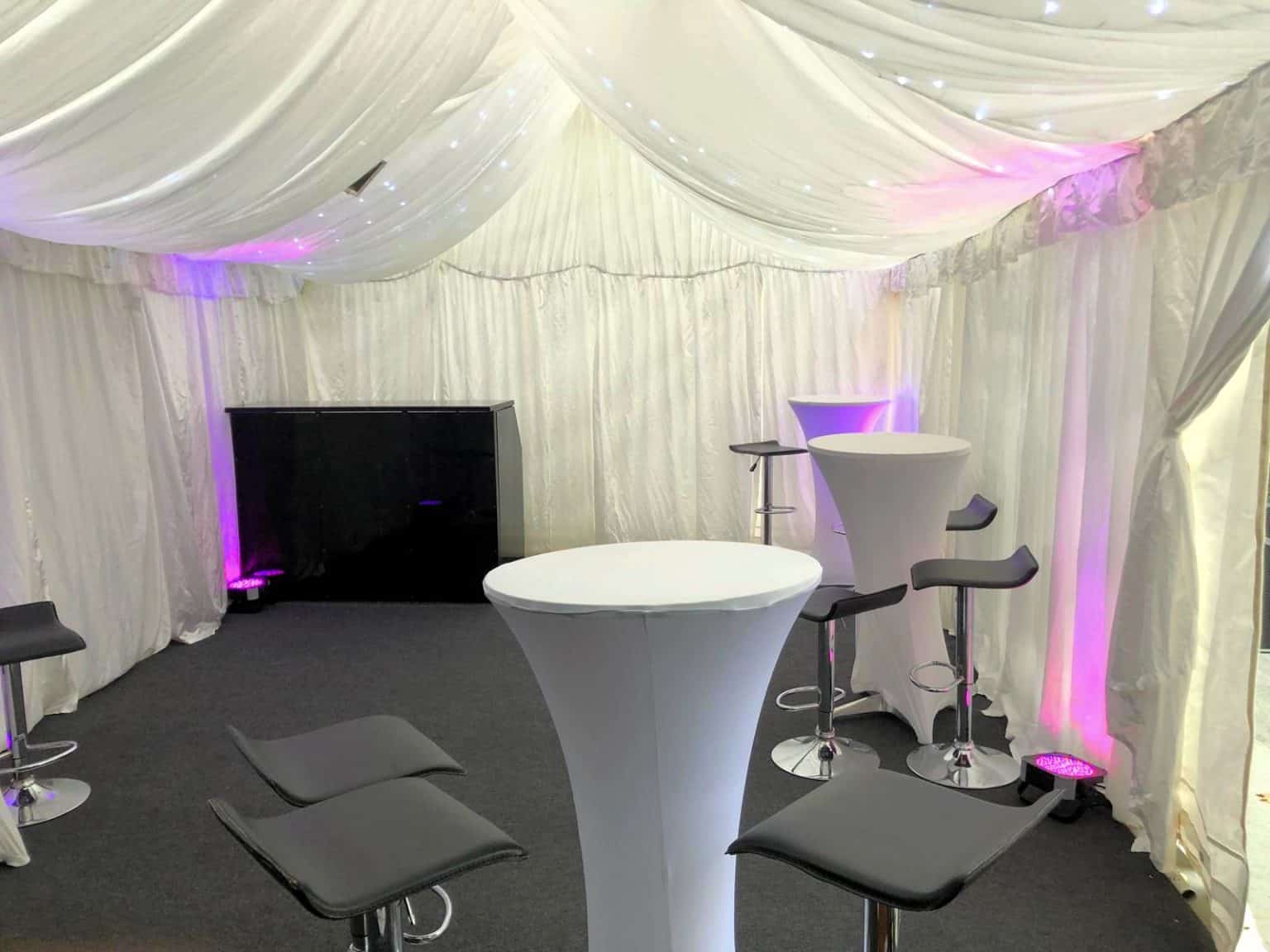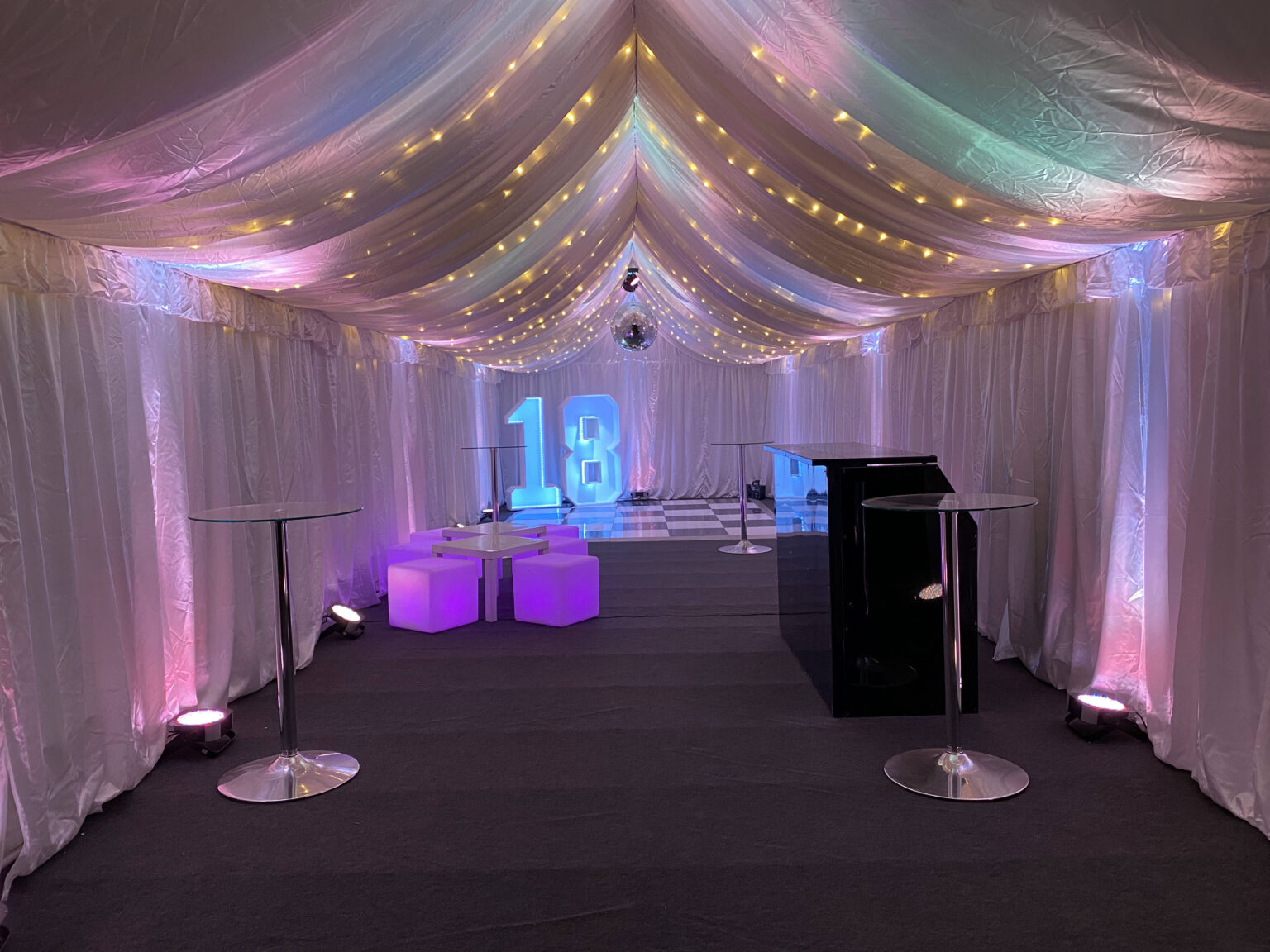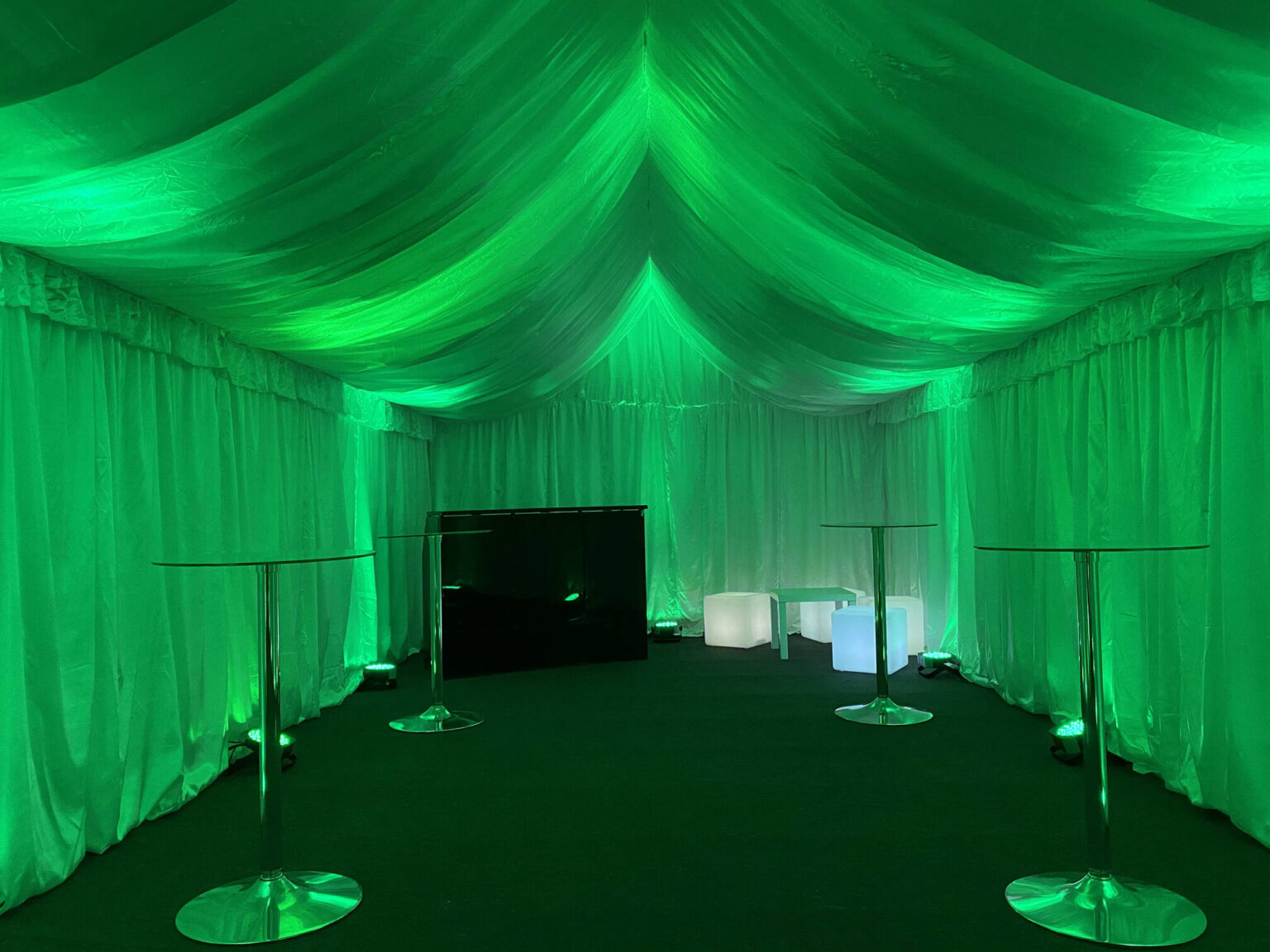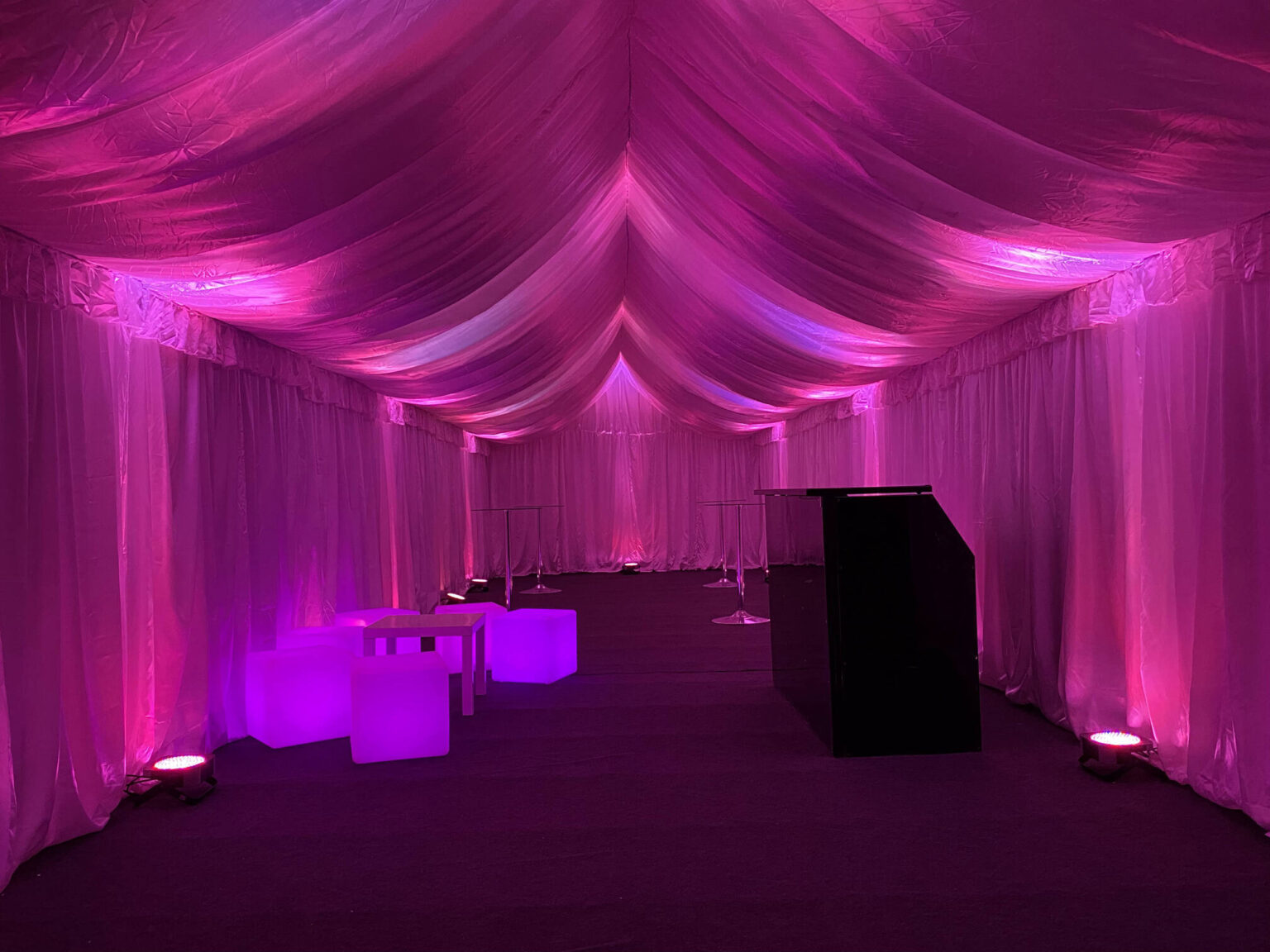 Available in quarter round or half round dependant on guest numbers. Any event with over 80 guests, the half round option would be the better size.
The LED bar can be selected in any colour you wish and makes the bar the focal point of your event. Suggested it only goes in 6m wide marquees as it is quite large.
A commercial drinks fridge can be added which fits inside the curved bar.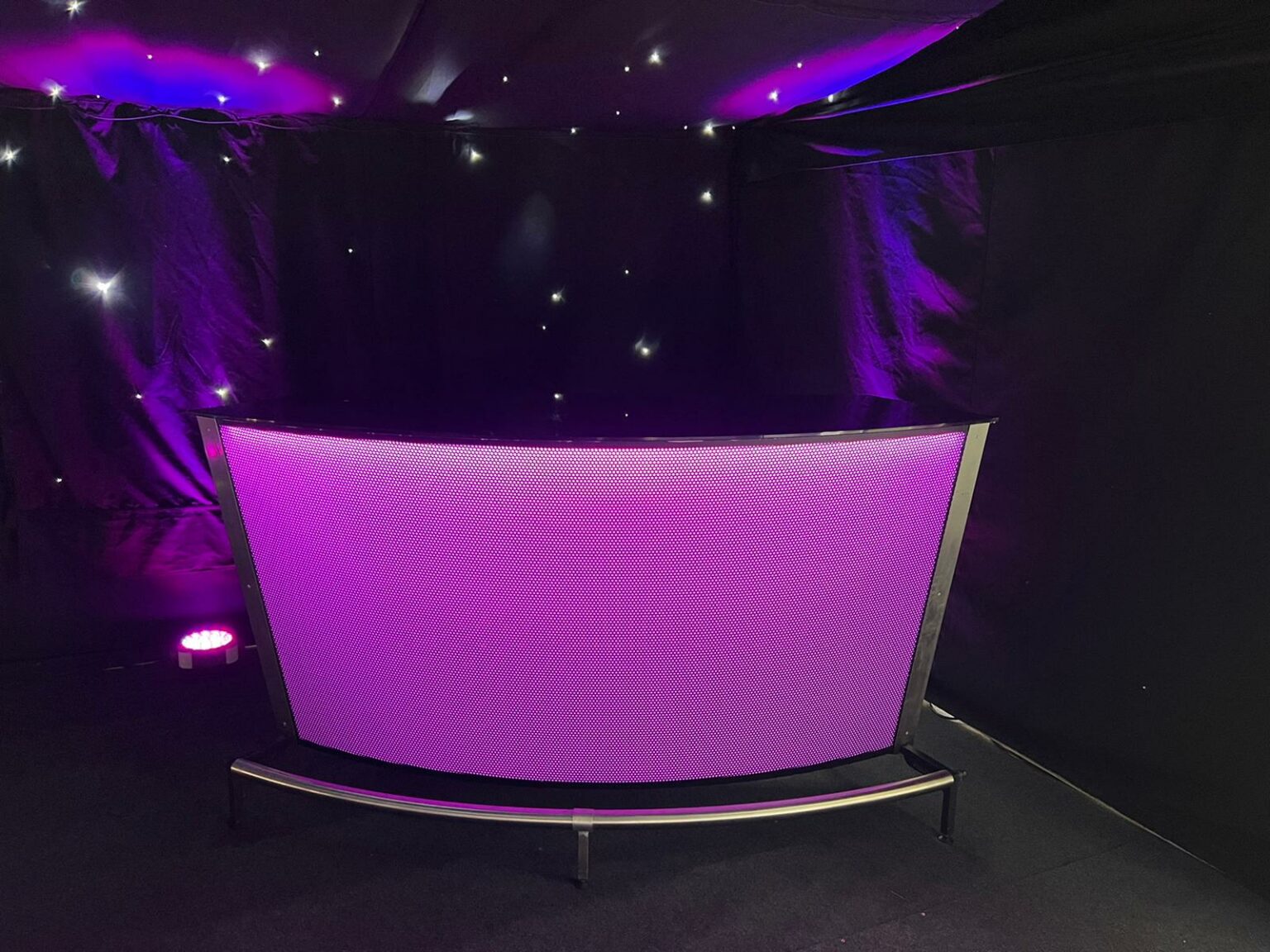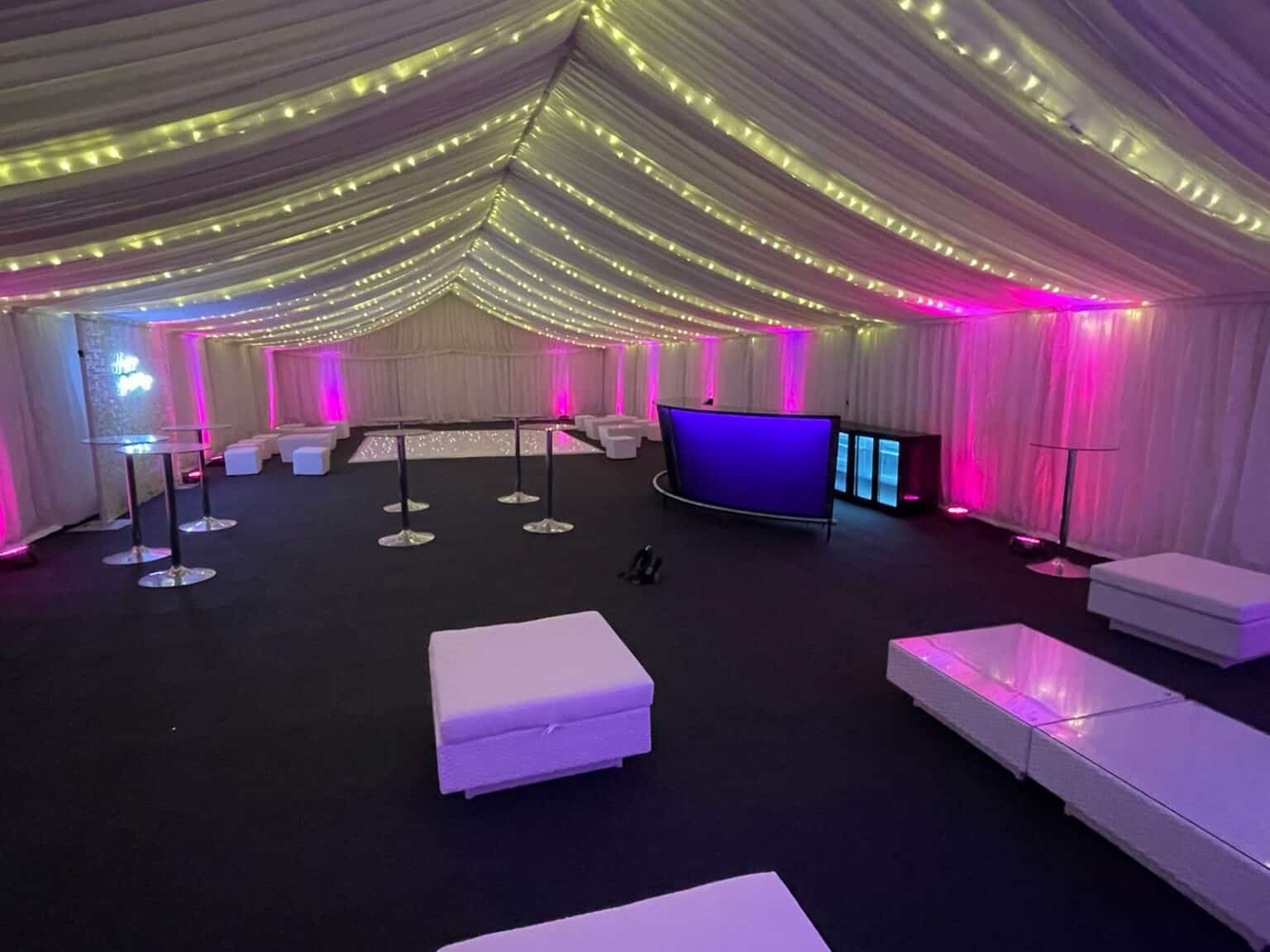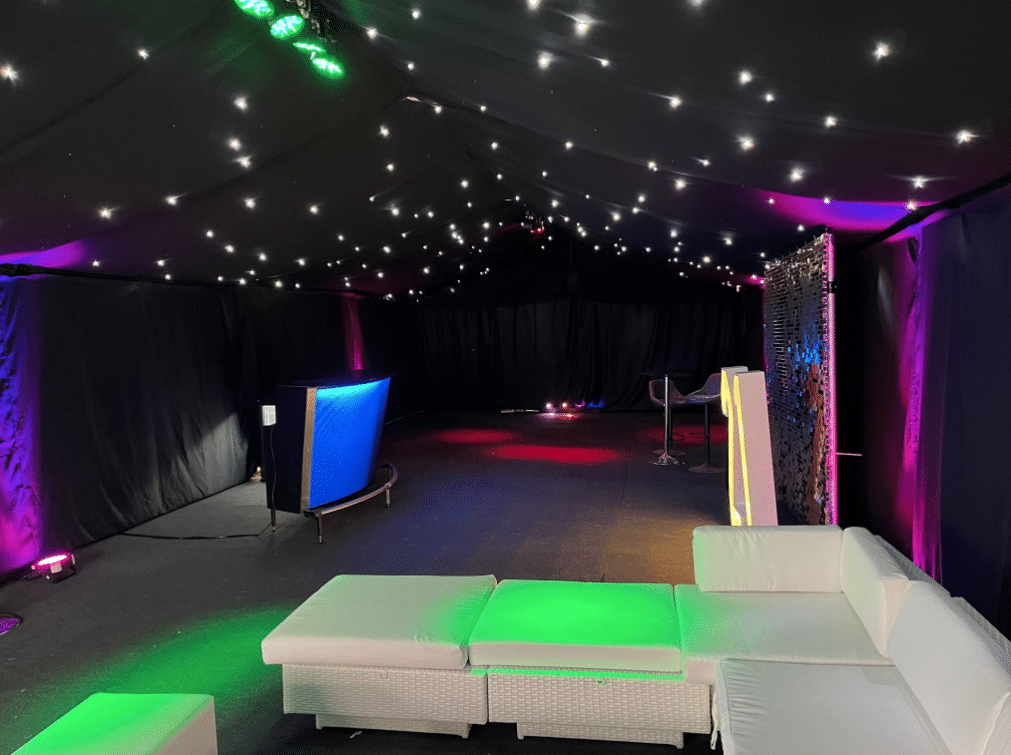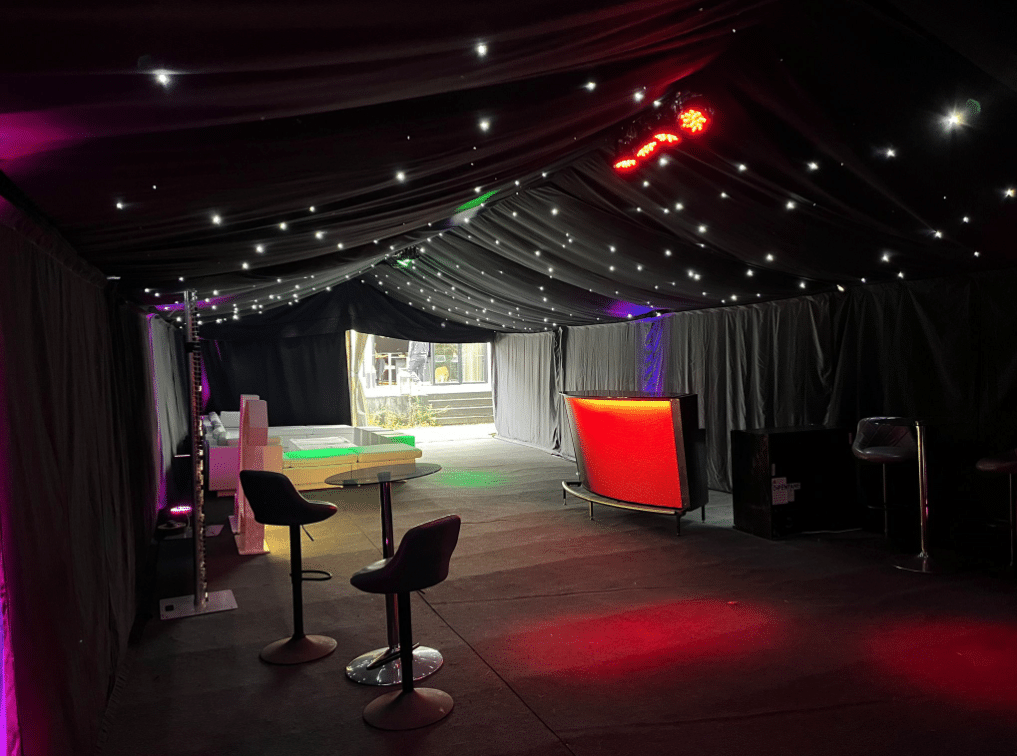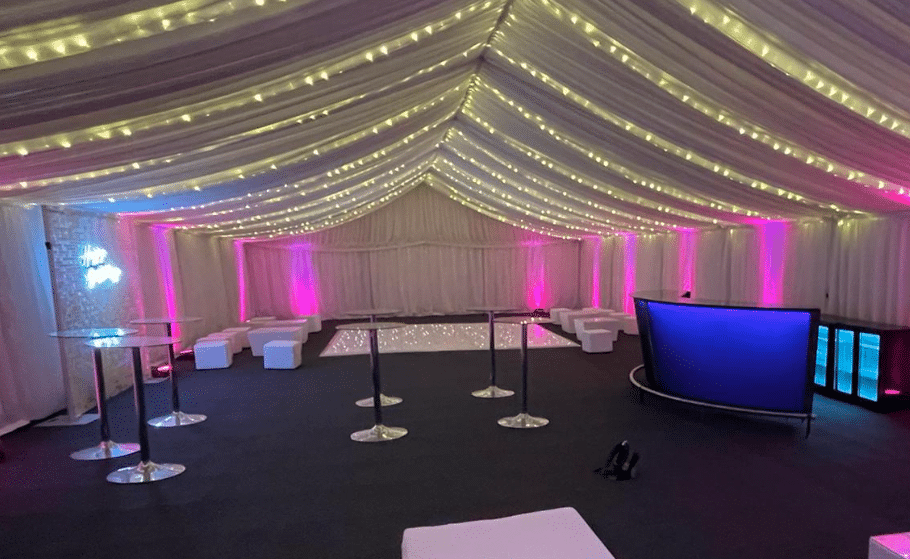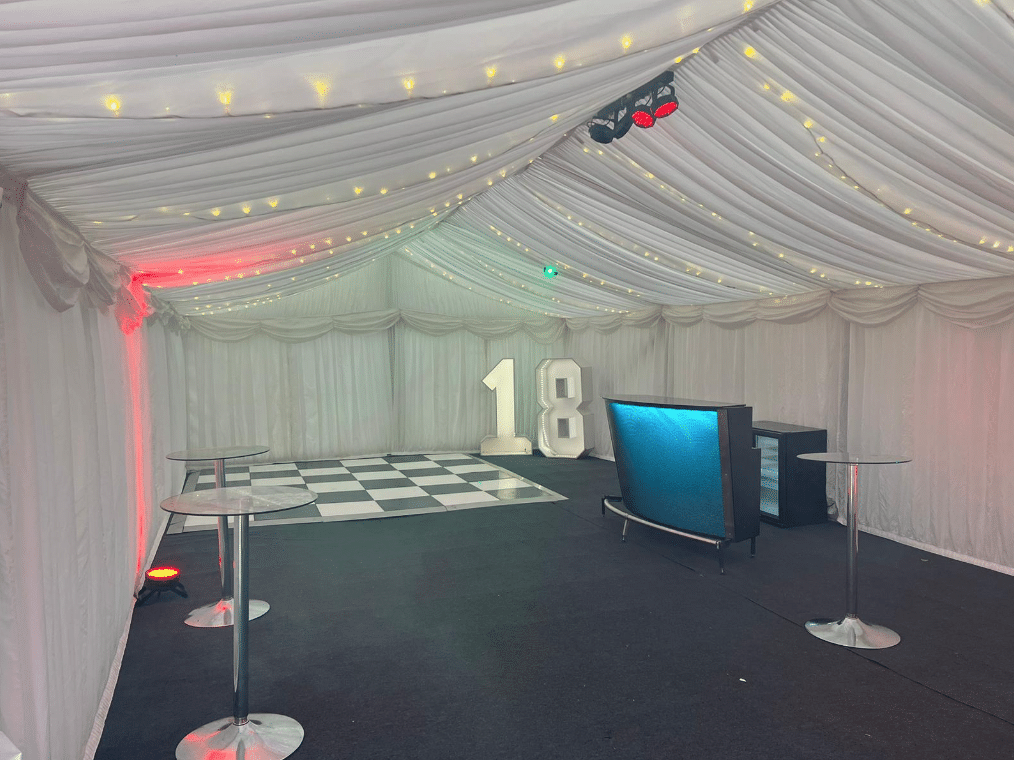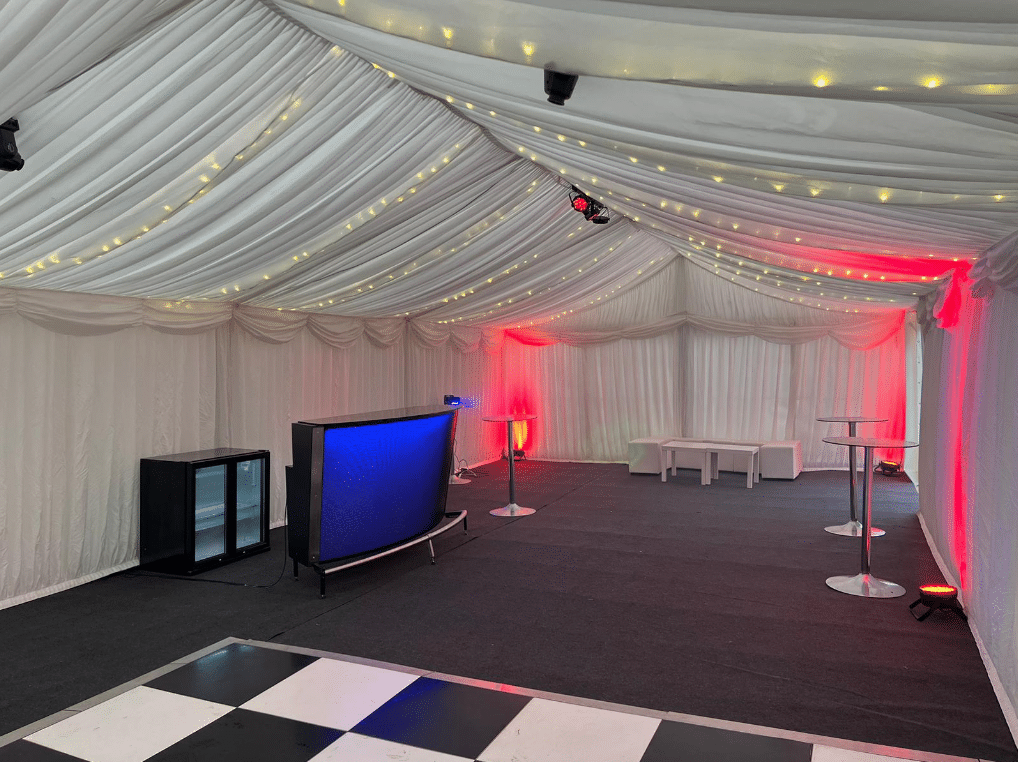 Our custom made LED AgeNumbers are something that offers a more unique version to the started white spot bulbs that most LED Age numbers look like.
Tee LED colour can be selected in any colour you wish and are in a white wooden body finish.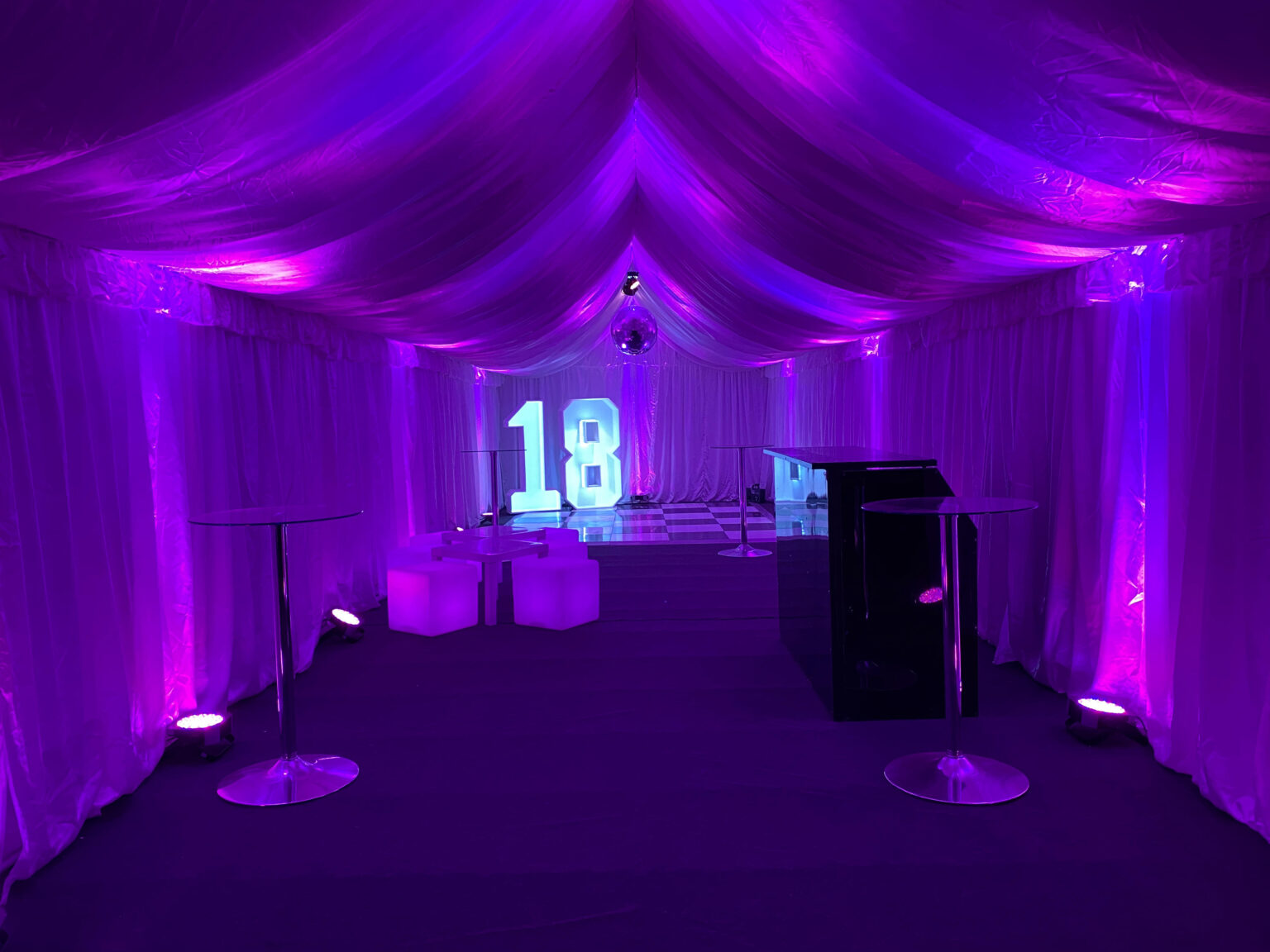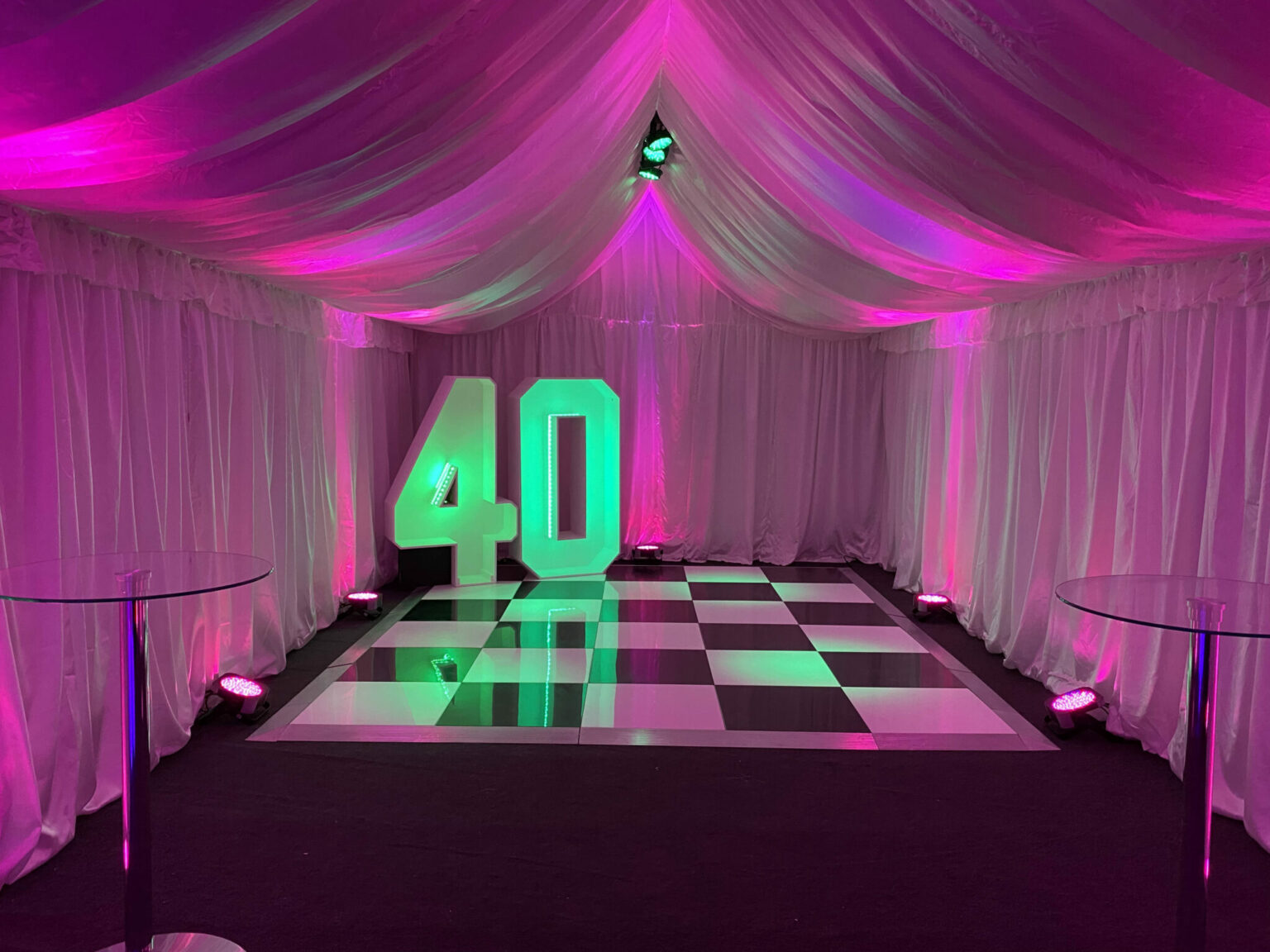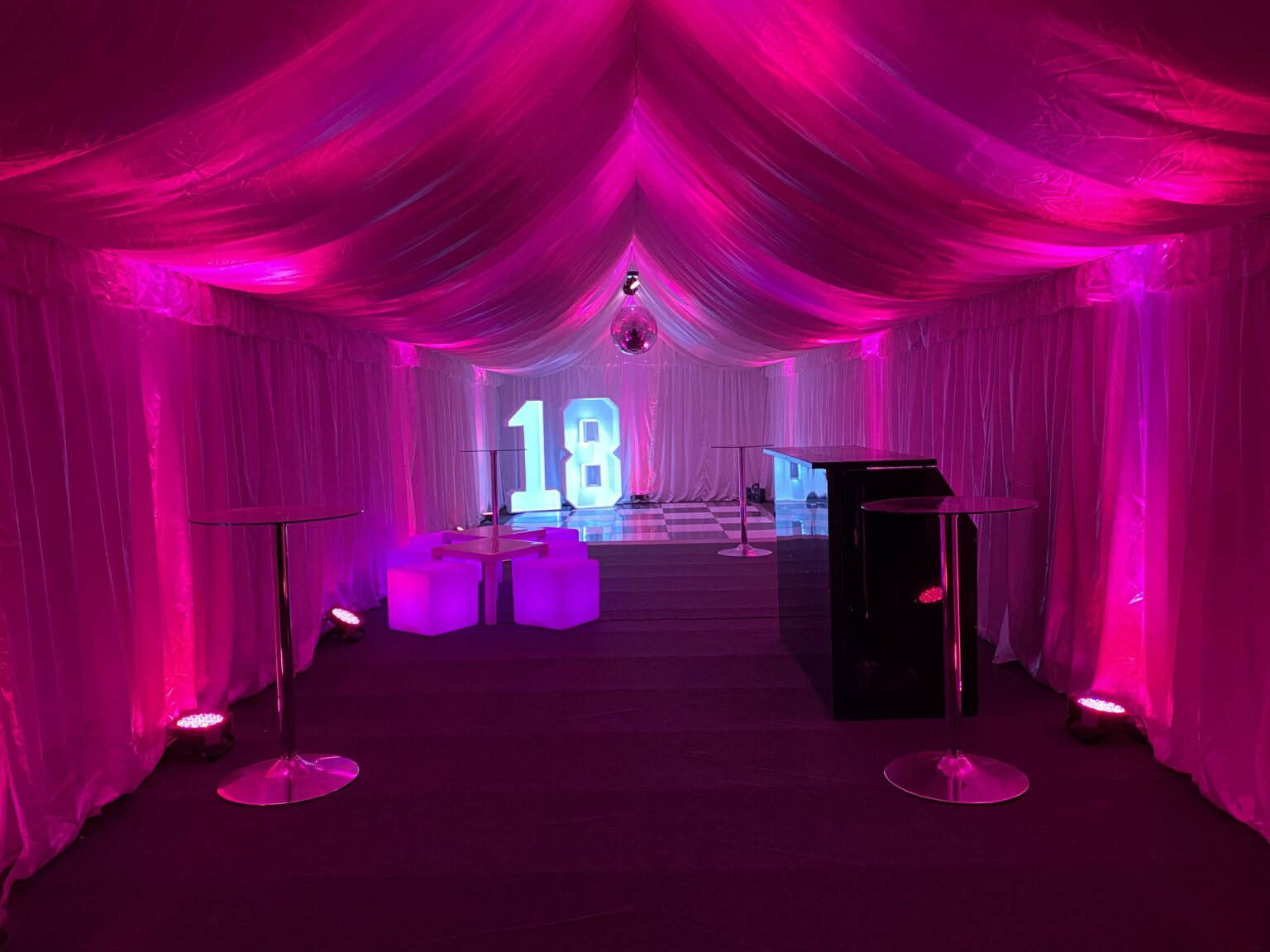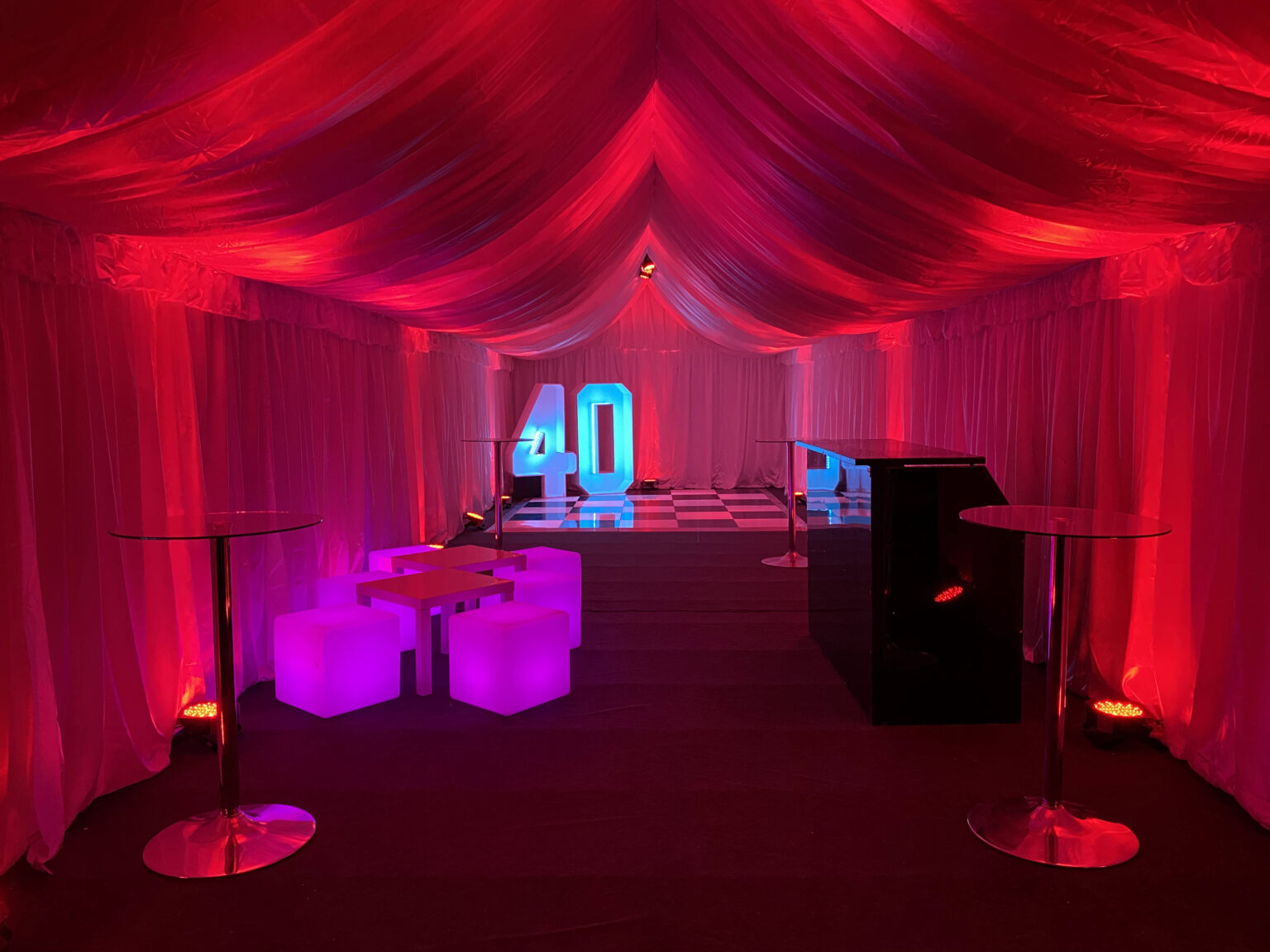 Perfect for house parties! Our 1000w Speaker system comes with an aux lead for ease of use and is certainly loud enough for a marquee full for 60 guests. For more power, 2 speakers can be added for a real nightclub experience.