DESIGN & PLAN YOUR PERFECT PARTY
GET YOUR QUOTE BELOW & BOOK ONLINE!
GET YOUR ONLINE QUOTE IN 3 EASY STEPS.
Get your quote and book online!
Min hire value may apply | £750.  For Christmas Marquees please see below
Book Your Christmas Marquee Online!
25
Christmas Marquee Slots Remaining!
LIMITED AVAILABILITY FOR CHRISTMAS
UP TO 20% OFF WITH FREE HEATING!
FOR ALL MARCH & APRIL 2023 EVENT DATES
IF BOOKED WITHIN 7 DAYS OF YOUR QUOTATION
SPECIAL OFFER FOR ALL AUTUMN & WINTER EVENTS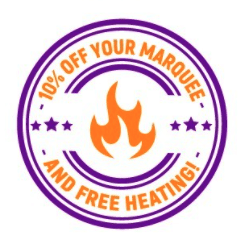 Abacus Marquee & Event Hire
Abacus Marquee & Event Hire ..is our big brother! If your event has more than 50-60 guests then Abacus Marquee & Event Hire are your best choice. Abacus specialise in more sophisticated & larger events such as weddings, birthday parties & family events. Abacus can provide a more extensive range or interior options to make your event a complete success! To View Abacus Marquee Hire's Website Click Here! LARGE MARQUEE HIRE | FURNITURE HIRE | LININGS | DANCE FLOORS | SOUNDS & AV HIRE | BARS, FRIDGES & BAR STAFF | DJ'S & SPEAKER HIRE| CHILLOUT FURNITURE HIRE | CATERING & DINNERWARE HIRE | EVENT TOILETS