What's best, a DJ or a playlist?
They've both got their places and it's all about budget.
It's always a big question…do I need a Dj for my party?  You can bring in a speaker and set your own playlist up from Spotify etc and obviously that's going be a bit more cost effective than a DJ, but it does have its drawbacks.
In comparison to a DJ, where a DJ earns their money is they can read the dance floor
If it's really, really busy and really, really alive with a certain genre of music, unlike the speaker and the playlist, which might go to another song that's completely different, they'll keep with that vibe.
They'll get people dancing, they'll get people moving and keep people on the dance floor.
That's the main drawback thing with a playlist – you've got different types of songs at different orders.  It might suddenly go off at a tangent, a different direction.
All of a sudden, the dance floor's now gone empty because we've lost the vibe.
You also don't get that six seconds of silence as the next song's transitioning with a DJ because they've got the skills on actually merging all the songs together.
So we do really, really recommend a DJ for your party.  We understand there is a significant price difference between the two, but we're happy to help you make the right decision.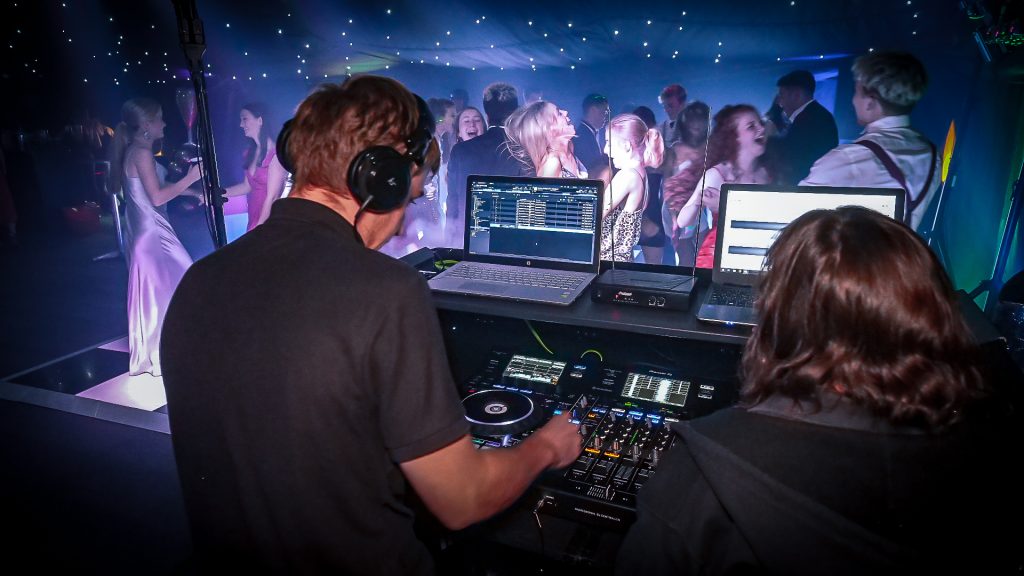 DJ's "read the dance floor" – their sole responsibility is to keep people dancing and enjoying themselves all evening.  If your budget allows one, get one!
Some DJ's starting prices start from around £250 however a club experienced DJ who has experience in home based events as well as laying live in clubs will be around £350-£400 for 4/5 hour set.  They will spend time with you during the planning stages of the event and ask for a 10-20 song playlist form you so they know what you're in to.
You're paying for their experience – you're paying for their ability to get people up and dancing all evening.  A DJ can be the main difference between an average party and something that somebody will never forget.  
Just because there is an alternative that's quite easy doesn't mean it's the best option for your event.  However I know that can eat into the budget and a well thought out playlist/speaker combo can be the next best thing.
If you're planning 18th birthday arty which is more of a nightclub vibe – I'd probably would recommend a DJ because typically what happens with playlists on 18th birthday parties is someone fancies themselves as a DJ, unplugs the phone & starts playing what they think should be playing – it tends to kill the dance floor vibe all too often.
If you are having a speaker/playlist option try and hide the phone or make it apparent that nobody touches the playlist!
A DJ is recommended for any sort of evening parties where you really want that sort of dance-y atmosphere.
If you're unsure whether you need a DJ for your party I'm here anytime if you'd like to chat about your music options – they both have their places and I'd love to see how we can make your night a night to remember!