What Lighting Options do I have in a Marquee?
Let's discuss what What Lighting Options do I have in a Marquee.  Marquee lighting is what will take an average looking venue to putting your guests in total amazement at what your marquee looks like!
We want to make your marquee look incredible and its marquee lighting which does just that.  The moment your guests and your friends and your family walk in, we want to make them go, "Wow, this looks insane. This looks amazing."
There's a few lights and lighting options that will do just that, and it tends to be lights
that will give you that amazing impact to show you what they can do, and a few options are actually in this marquee behind me. (see video).  
If you are reading this text I'd suggest to you to watch the above video to really show you what a difference each type of lighting makes within your marquee.
LED Uplighting
LED uplighters sit on the floor and they shine light upwards within the structure.
They can either be static to one particular colour, or they can change colour in time with the music.
The second option works really, really well if you're having a dance floor at one end and you want a bit more of a lively atmosphere.  They're perfect for birthday parties!
Having these lights change colour  in time with the music is incredible, and it gives you that nightclub experience you're looking for.
If you're wanting a more classy finish having the uplighters set to a white works really well too.
If you're having LED uplighters we would also suggest adding side & end linings as the uplighters reflect the lighting really well.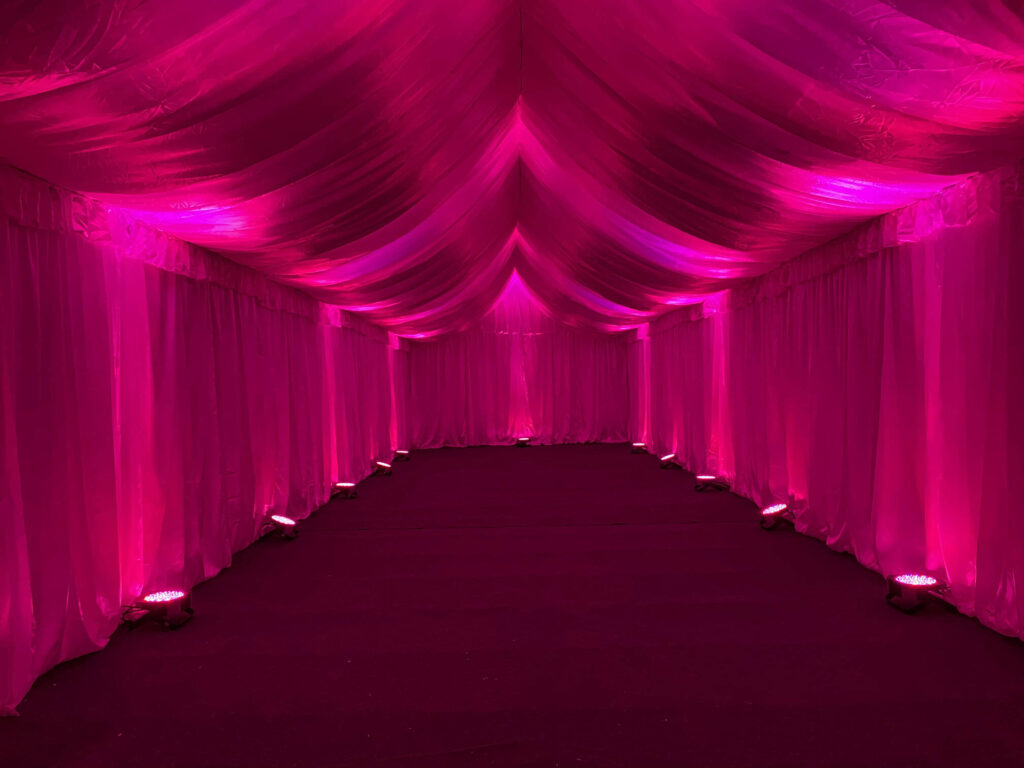 The only lights in this image are LED Uplighters – which you can choose any colour you wish.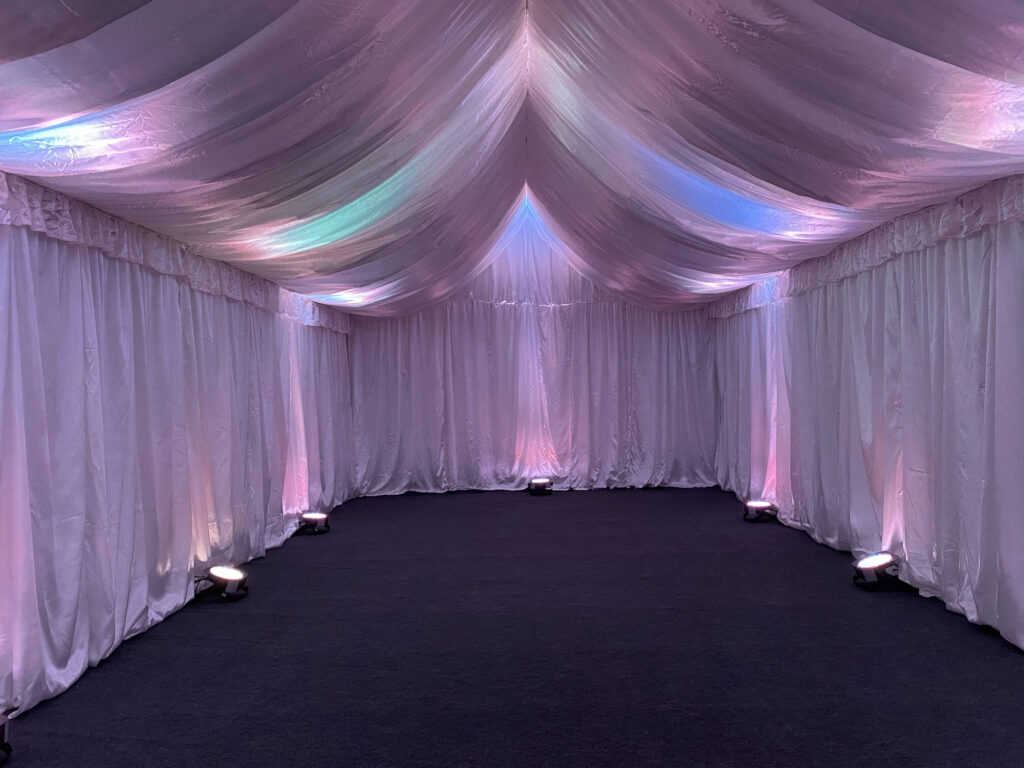 Even set to white- they give a classy finish.
LED Fairy Lighting
We've got things up in the ceiling, such as LED fairy lights, and they just go well with everything. I can't make any other recommendation than fairy lights.!
They look insane, and particularly when it's at night, they look really, really, really special.
If you event is in the daytime I would suggest fairy lighting over LED uplighters as these look better in daylight.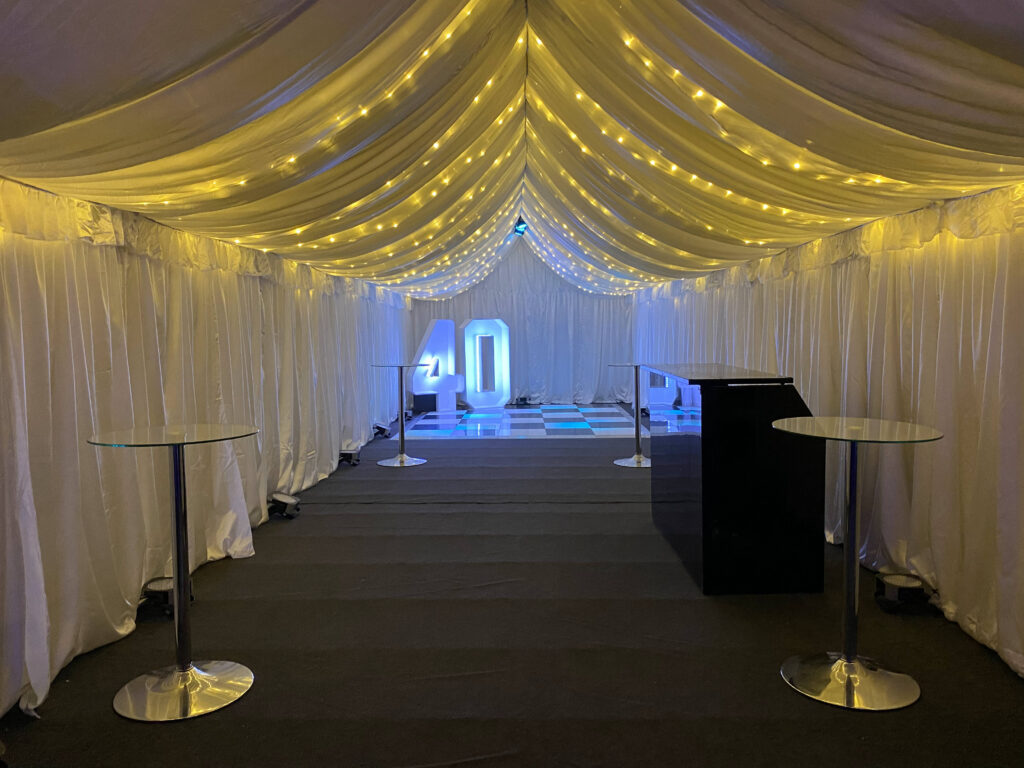 Combining LED Uplighting & LED Fairy Lights
This is a very popular choice and it goes down a treat!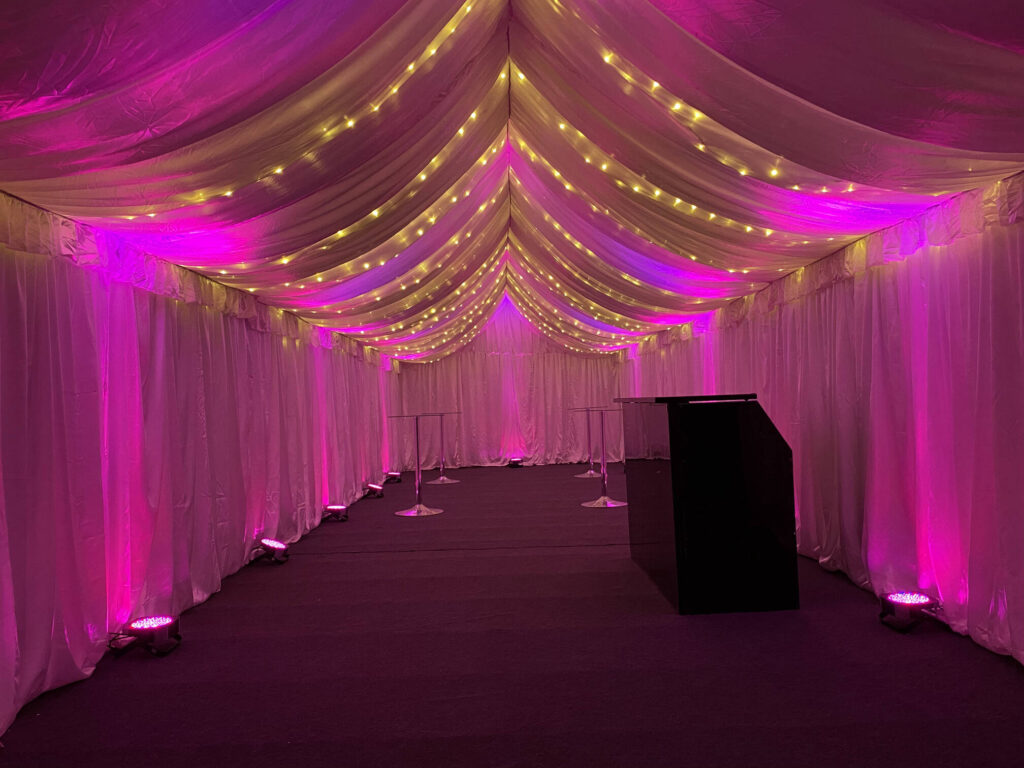 LED Downbars
To complete the full nightclub experience LED down bars are a great addition to your marquee.
They will also change colour in time with the music, and you combine that with something like a smoke machine to give you that sort of nightclub edge – we tend to place these LED Downbars over the dance floor.
Here's the LED Downbar at the top & LED uplighters both on sound to light mode – which changes colour in time with the music
"THE WORKS" Full Nightclub Package
Our "THE WORKS" Nightclub package includes:
LED Uplighting
LED Fairy Lighting
LED Downbar (over dance floor)
Light up LED Numbers
Smoke Machine
For the full nightclub experience like this video below:
Chandeliers
If you wanted a bit more of a sophisticated setting, and they work quite well for weddings  and Asian weddings or family parties.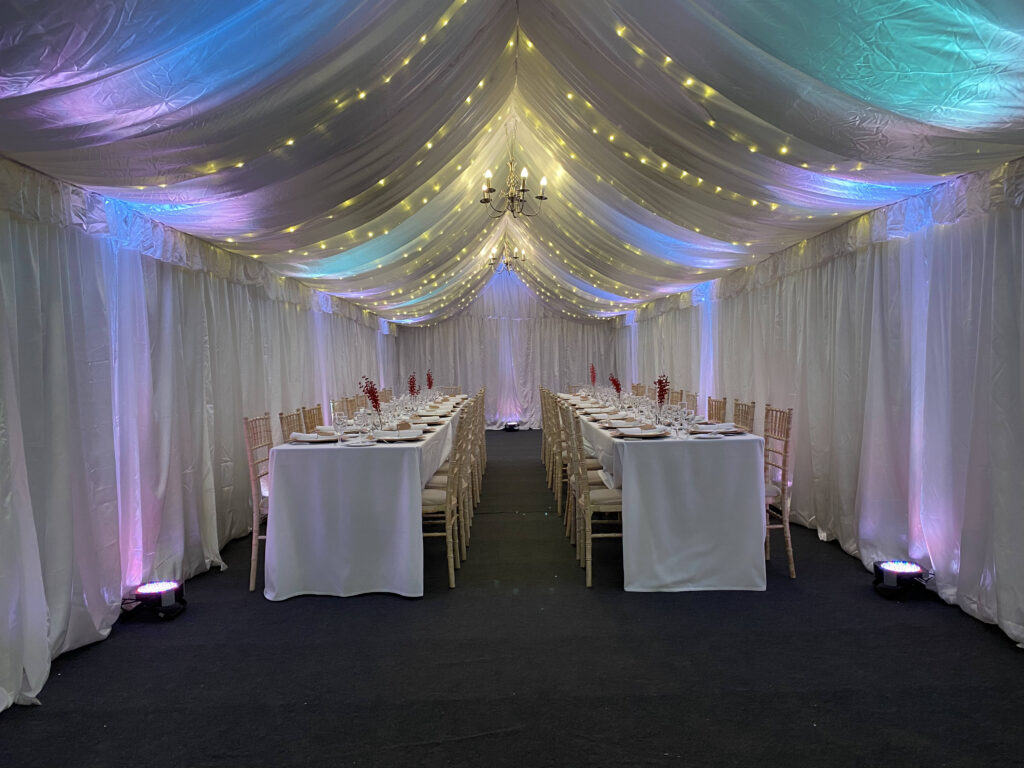 Lights make such a difference to the marquee, as I'm sure some of these photos are showing you now (see video)
They just make the biggest impact ever.  So let me know what you guys think on what type of light you think you would need, but have a chat with us more importantly so we get the look & style of your marquee just perfect!
The number is above.  It's 01462 262012, and we can talk lights.  Or if you're ready for an online quote – get a quote right here!