Choosing the Right Furniture inside Your Event

 
If you're having a seated event you've got a couple of choices.  You can either go down the route of having longer trestle tables and having people seated in rows or you could have guests seated on with round tables.
Ultimately, it depends on the formality of your event.  If you're planning a wedding and you want something a bit more formal larger round tables may be better suited to your event or longer trestle tables in rows would also work.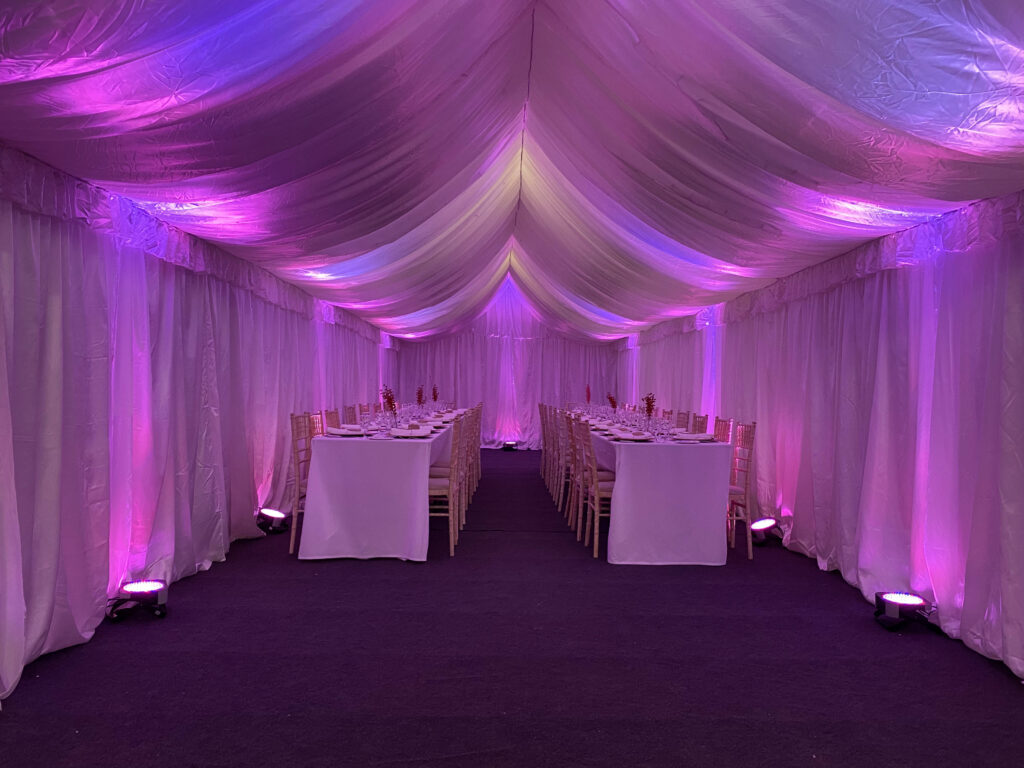 Trestle tables with limewash chiavari chairs suit all seated events and are the UK's most popular chair for events.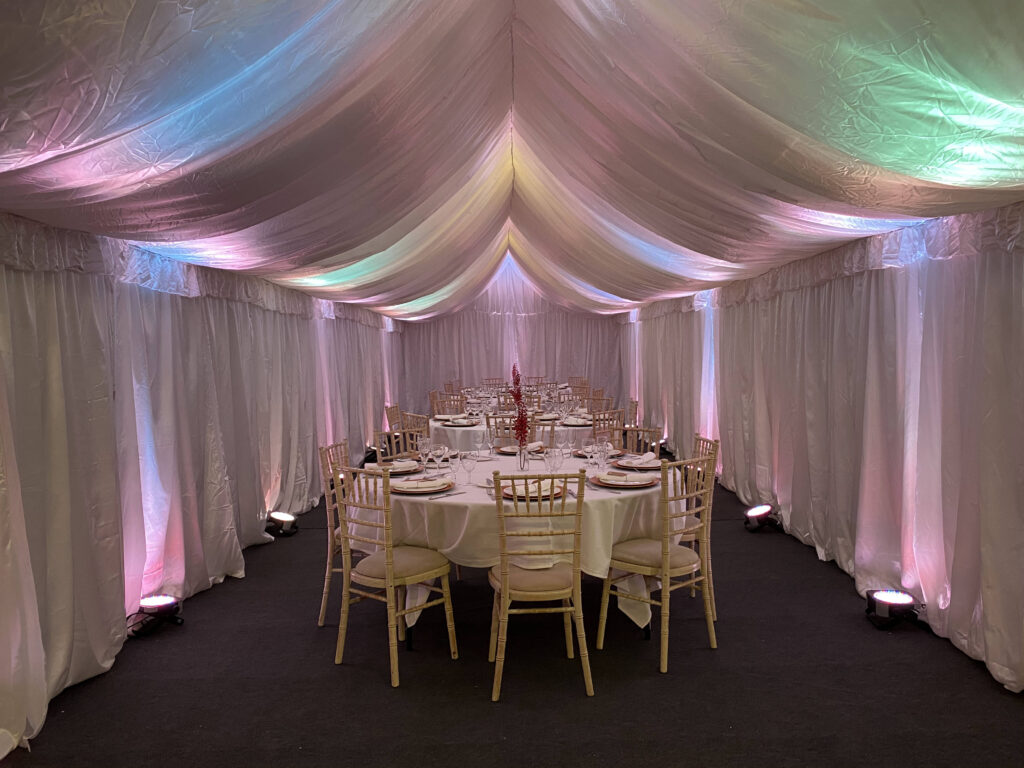 Trestle tables provide more space than round tables – but the look & feel is different.  It all depends on what you prefer.
For more Informal Parties
If you're planning an evening party but you think you've got some guests that might be quite appreciative of have a sit down every now and again smaller 4ft foot round tables that seat four or five guests per table work really well.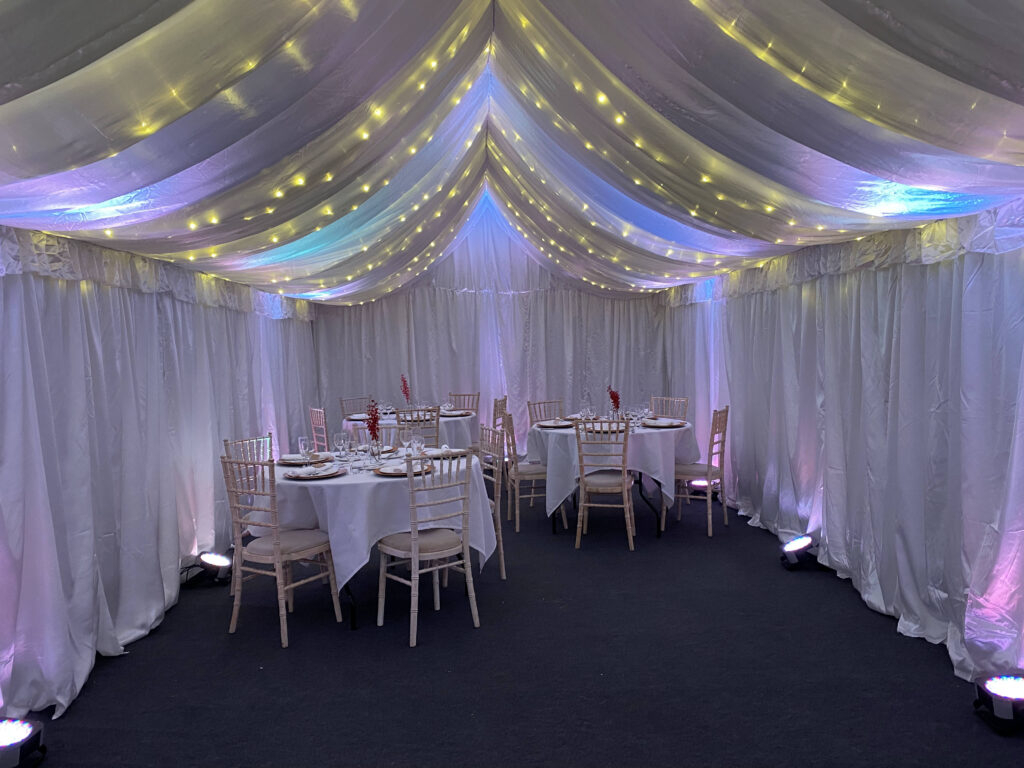 4ft tables that seat 4/5 guests each are better suited for more informal events.
But one thing to consider with marquees that are only three or four meters wide having big round tables can be quite difficult because they do tend to take up quite a lot of the width up.
You can see a little more about this with my video here about best advice for seated events.
If you have 3 or 4 large round tables in the marquee it can be quite difficult to navigate to the far tables because they take up most of the width of a narrow marquee – especially if there are people sat in the middle tables.
You've got to work your way around when there are already people sat here – it's quite difficult to do that.   So we'd always recommend on smaller marquees 3m or 4m wide structures to have trestle tables because they take up valuable rest estate.
You get more people in a marquee using trestle tables, and the best layouts are either making like one big 11 and you've got two rows of trestle tables or a big L shape and then gives you some standing space as well within the marquee.
You've got other choices on the chairs too.  We've got some choices here, rolling on this video so that you know, what's available.  (See video above)
Chairs can make a huge impact to the look and feel of an event.  Traditional lime wash chiavari chairs go with everything and are always a big recommendation!
These types of chairs are also available in white, black, gold, silver and also a clear plastic version for a more contemporary finish.  The colour of the seat pad can also be chosen too.
Rustic Style Events
If you're looking for a more rustic feel – cross back chairs with rustic oak tables are the perfect fit for that rustic finish.  Benches are also available for seating but bear in mind they don't offer much support – so if your guests will be seated for a while a chair would be a better option.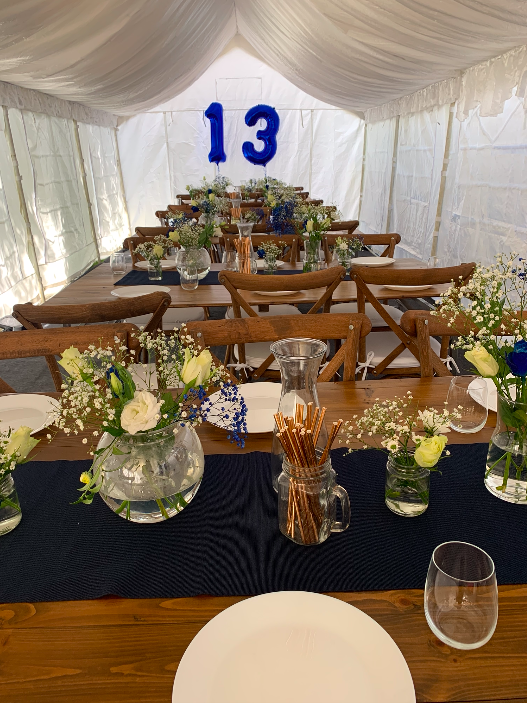 Rustic Oak tables & crossback chairs give a great rustic finish.
But if you've got a chair or a particular table set up in mind, let us know.  We know lots of external companies that do just chairs and table hire and they've to specific chairs to your tastes.
There's so many options for chairs and tables they are very similar to marquee lighting – the furniture within the marquee makes all the difference to the impact, the look and the feel that you want to achieve.
Furniture for Evening Parties
LED Cube Seats
And if you're also looking for some chill-out furniture say for a garden party or an evening party items such as LED cubes are really, really cool and go down a storm.
LED Cubes serve as a great chillout area that can be installed inside a marquee, in your house or outside as they're waterproof!
They light up, you can choose any colour you want or they'll change colour in time with the music.  They're amazing for evening time events and can also be placed outside too as they're waterproof.
Glass/Chrome Poseur Tables
And they'll make a really, really cool chill-out area. And having those combined with a couple of sofas is a bit more of a contemporary version instead of proper chairs and tables that more formal event might require.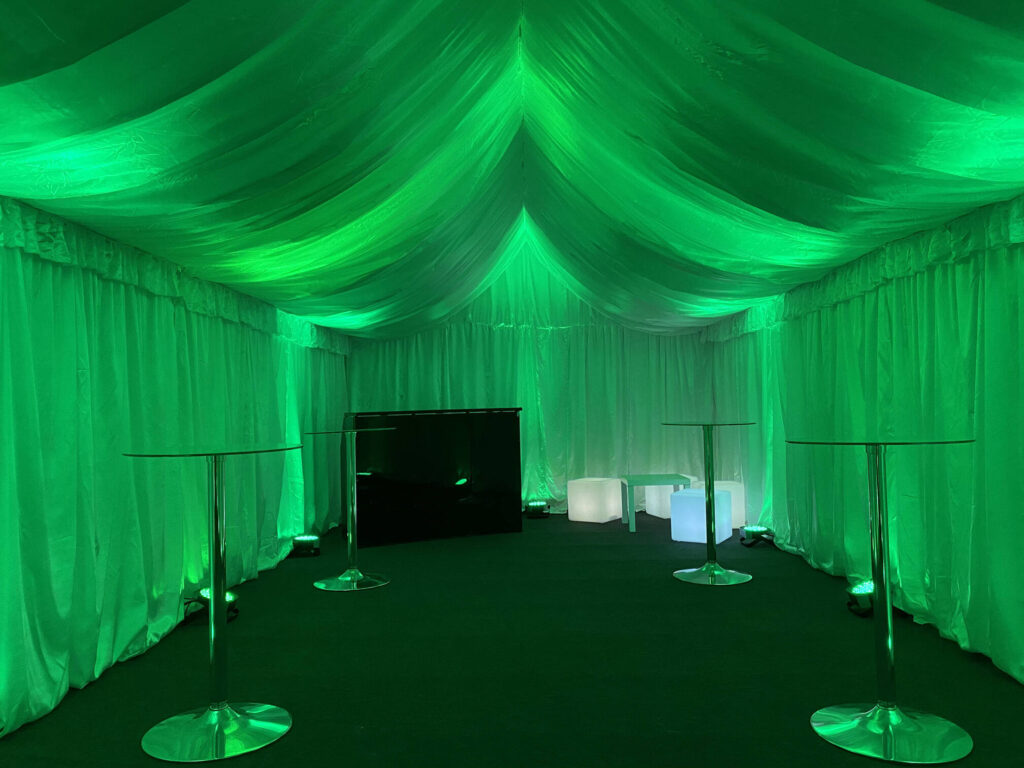 Poseur tables are pretty much a must too for informal events.  They are 4ft tall and can be scattered around the marquee, in your house or outside and guests will find them really useful when eating & drinking.  Our poseur tables are in a stylish glass & chrome finish.