Does my Marquee Need Lining?
Let's discuss whether your event requires marquee lining.  The marquee lining is the drape material that tends to hang in the ceiling and encapsulates around the side of the marquee.
Essentially what that does is it transforms the look going from quite a large big tent to suddenly a really amazing looking venue in your garden.  It's in our top 3 list of recommendations here at Party in your Garden.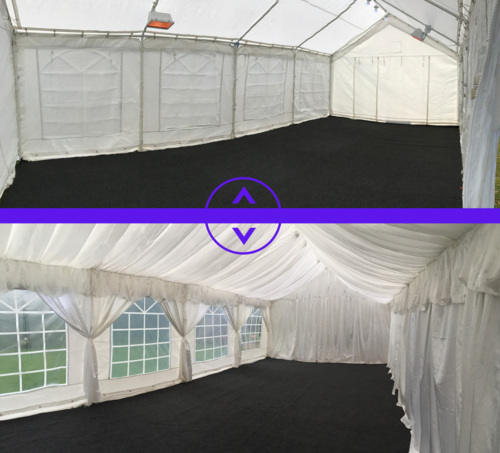 The dramatic difference to what lining does to a marquee takes it from a big tent into a beautiful looking venue
What we've decided to do as a company and check if others have done the same, is lining in the roof comes as standard with all your events unless you ask us otherwise.  We've decided to do that because it does make such a big impact to the look and feel of the marquee.
Without marquee roof lining you do then tend to see the roof beams of the marquee up ahead and the canvas itself – which never looks aesthetically pleasing.
And as you can see in these photos here you can see the dramatic difference it does tend to make.
A marquee with just roof lining is suitable for birthday parties etc.  Day time based garden parties can then make use of the clear windows to allow natural daylight to flood in.
What we have also given you though is the option of either just roof lining or to have full lining, Full lining including lining around the sides, and the end of the marquee to fully finish it off.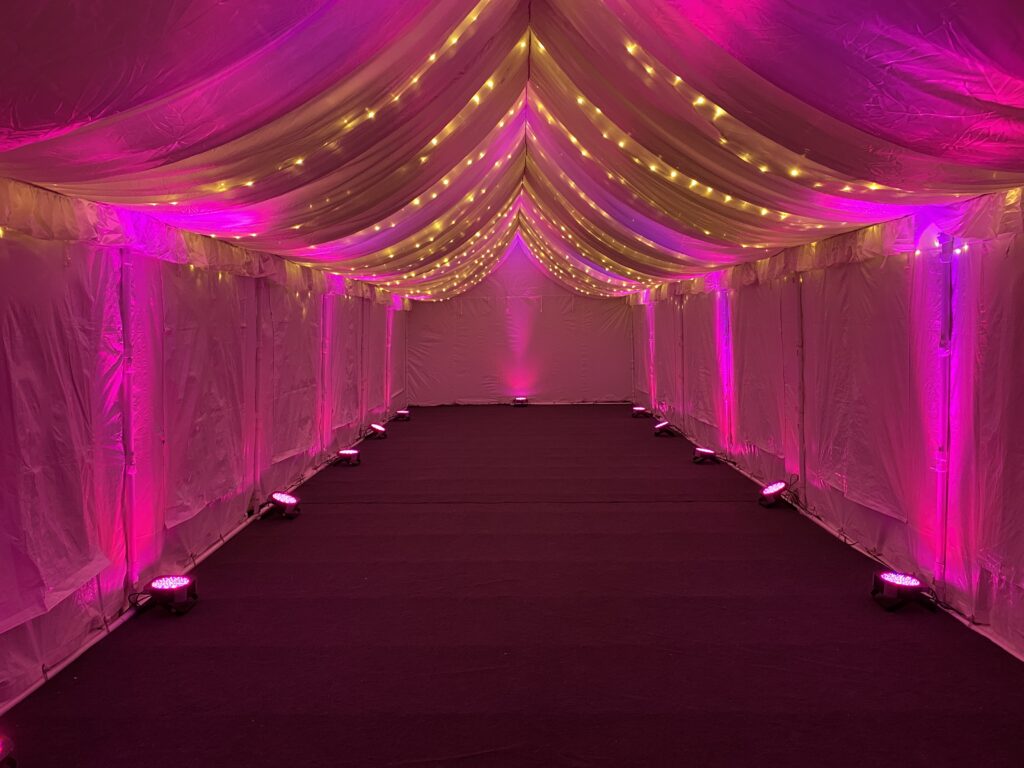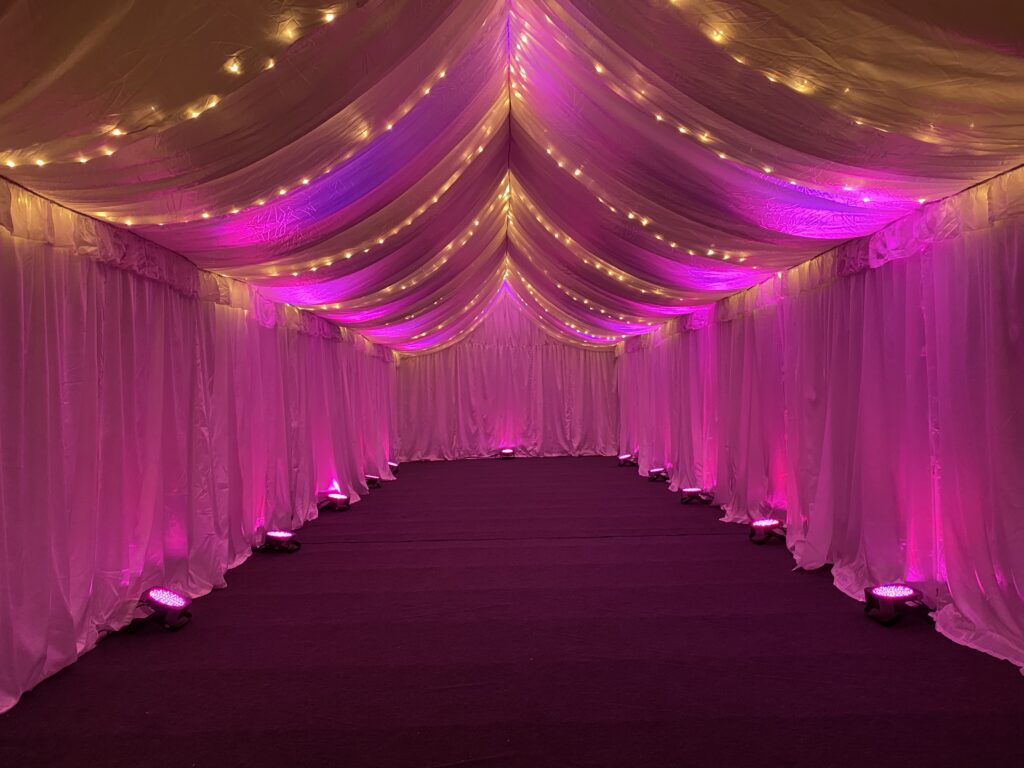 The difference between roof lining (left) and full lining (right) which has end & side wall linings added.
The reason why we've done that is sometimes clients for events such as birthday parties might not want the marquee to look sort of too "wedding-y".  So what we've decided to do is give an option of either having just roof lining or full lining. 
You do also get some options with the side linings as well.  You can either have them fully lined or they can also open up and allow some natural daylight to come through.  The side lining hides the legs of the marquee structure – so it still looks really nice and pretty, and allows the natural daylight to come through the side windows.  
So have a look if you are gathering quotes whether your marquee will include lining or not, it's definitely in our top three items to consider.
First of all because it does make such a big impact to the structure as well.  Also during winter time, it actually insulates the structure as well as you've got a second skin to the marquee keeping the heat generated by the heaters inside the marquee – it's a little like putting a dolly hast on in wintertime.
Lights like LED uplighters also reflect off the lining really well, far better than just the canvass of the marquee too.
So, all in all lining is definitely a recommendation in your marquee.
But any questions you know where we are – give us a call on 01462 262001 or email us at team@party-in-your-garden.co.uk