Can You Attach a Marquee to your House?
Our most popular question our clients ask is "Mark – Can I attach a marquee to a house?"
Most of our clients look at marquees in their garden as the ideal solution for simply providing the additional extra space needed for a party at home.
"Clearspan" marquees mean they are freestanding – thus can be installed up against a set of doors allowing you to walk from your house into the marquee seamlessly, as if its just an extension to your home giving you that much needed space for a party.
They can be installed over most doors including french doors, sliding doors and bi fold doors.  Most domestic gazebo's are not tall enough to reach over doors.  Commercial marquees from most hire companies have enough height to reach over the tallest of bi fold doors.
If you are attaching a marquee over doors it is best to leave this to companies who do this week in and week out.  To create an air tight seal which is a must during the cold winter periods you need custom kit which isn't available to buy online.  Otherwise you'll have gaps between the marquee and the house, bringing in the cold making the whole thing pointless.
Most houses don't have the space for 30-50 guests so having an extra room in your garden garden works perfectly.  By having it butted up to the back of your house so it is connected is perfect – so guests don't have to walk outside first to enter the marquee.
This is particularly important if you're having a winter based event!

Can You Attach a Marquee to your House?  A marquee butted right up to the house leaving a seamless join between the two.
It's a really good idea because it allows you to walk from your living room or your kitchen
straight into the marquee as if it's just an instant extension to your home. What works quite well is the marquee space is your more lively end of a party with the music & dance floor in there which then gives your house to be the chill out area where people can have a conversation at normal volume.
If you are worried about sort of the size of the door, if you've got big bi-fold doors, or doors that open outwards, it's very, very possible for you just to simply walk from the house straight into the marquee with no gaps at all.
But one bit of advice that would be from me, would be when you are gathering quotes and doing your research have a look on marquee companies websites and see if they have a specific webpages about attaching marquees to the back of you house – you need to know the marquee hire company you're planning on using has the experience to install marquees up against a house.  It's a little more complex than just installing on in the middle of a grass field!
Can You Attach a Marquee to your House?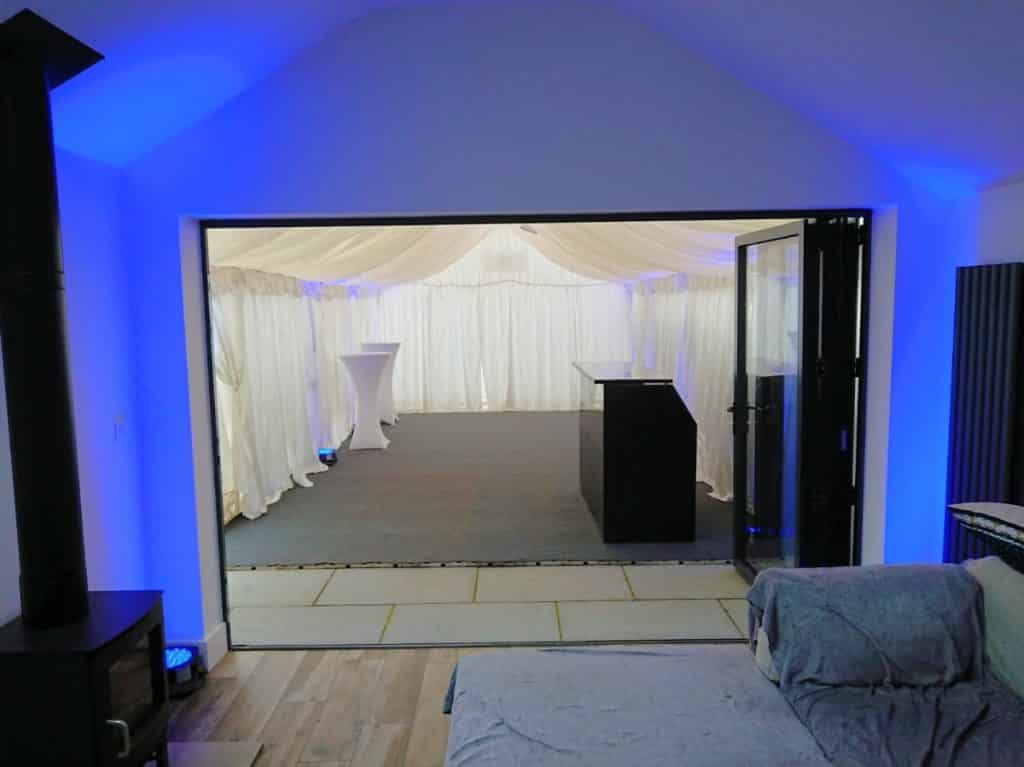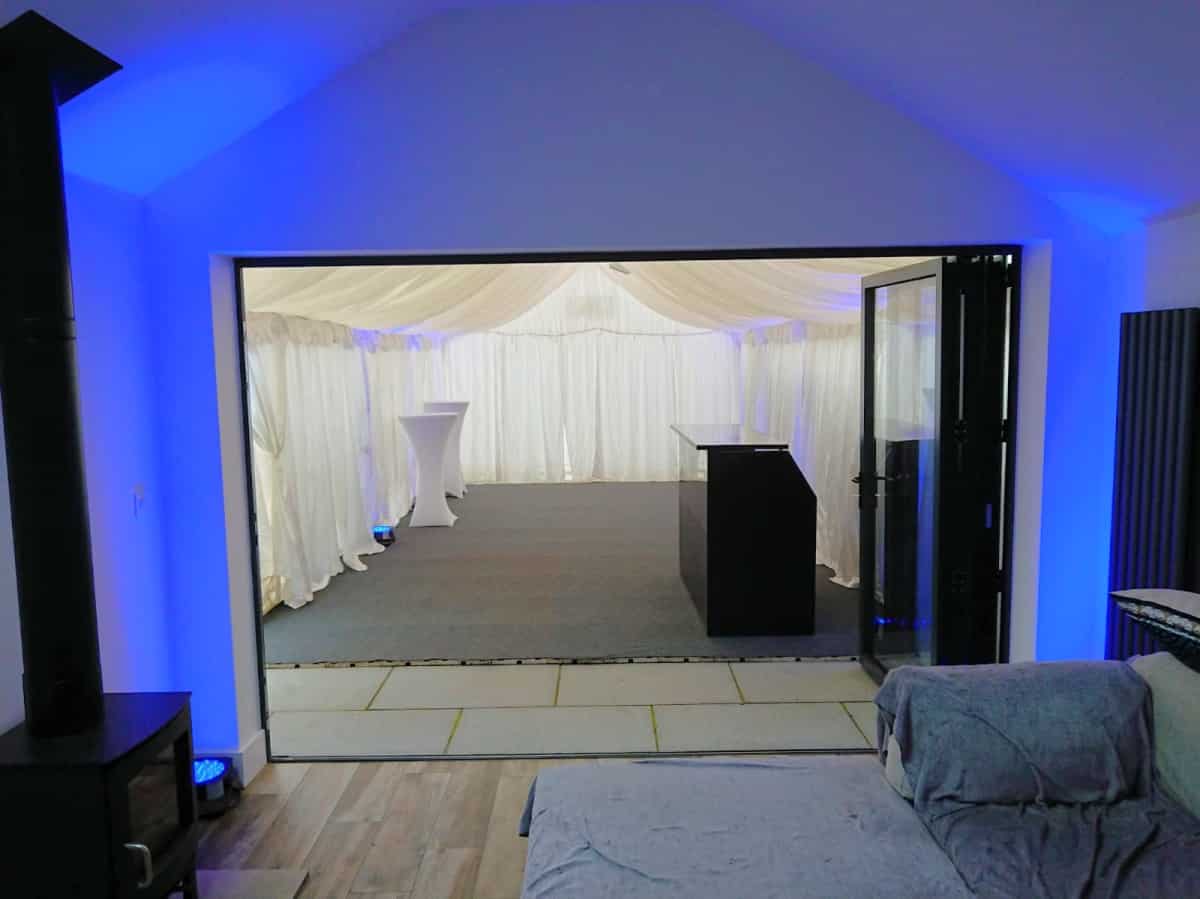 Marquees can be attached over more than one set of doors too.
When researching, see if the customer testimonials mentions past customers who had the marquee up against their house – just to make sure that whoever you use has the experience and the knowhow to make sure that there's going be no gaps/draughts where the marquee links with the house because obviously that will impact things if the weather is not quite so good on the night of your party.
So have a look at any photos they've sent, make sure they include past installs they've made which show the marquee linking to the house seamlessly. 
If they haven't provided good enough evidence ask them to see if they've got any previous work with previous house set ups that you've had that's always a big recommendation.
Can You Attach a Marquee to your House – Do You Drill into my House?
Some people do ask when we say the word attached, do we drill into the house just to make sure the marquee's right up against it?
We do not drill into the house.  So don't worry.  You're not going have a load of holes around the back of your house!   What we do is install the marquee up to the house and use weights to lean the marquee up against the house providing that seamless join between the house & marquee.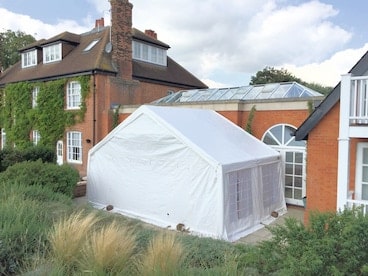 When attaching a marquee to the back of your house – no drilling is required.  Heavy weights which help lean the marquee into the house keeps it in place.
Worried if you Can You Attach a Marquee to your House?
We have an upload your own photos section on the website.  So if you do have any worries you're not too sure if it's going to work the best advice is take a couple of photos standing out in the garden and facing the doors that you want the marquee attached to, upload those to us and we'll give you the best plan of action for your event.
But any questions, you know where we are, the phone number is everywhere. Give us an email on team@party-in-your-garden.co.uk
View the video about this article right here.
My best advice is upload some photos onto our websites and our team will be in touch to see what the best plan is for you.