Lots of my customers have asked is a marquee warm enough in winter?  People can't get their heads around it being nearly freezing outside but a warm 25 degrees inside!  It's all about who you use to install the marquee and the equipment they use.
When getting quotes – see if any of their testimonials include how effective their heating was!  Also if the testimonial has a date (we're any of their events in the winter?)
We hire more marquees in December than in July….crazy right?!  What winter?
We're super popular for "attaching" a marquee to the back of your house instantly giving you more space for a party.  We're really popular for birthday parties…and people have birthday parties in the winter too!
Attaching a marquee to the back of the house allows everybody to walk from the house into their new party venue seamlessly as if it was just another room in your house.  Perfect.  But it's 5 degrees outside Mark, so is everybody going to be jumping up doing star jumps in a wooly hat?
No, your guests will be warm and cosy…
To make sure your guests are nice and toasty there are a few things you need to make sure your marquee has equipped with it.  These include a hard flooring system, carpet, roof lining and heating systems.   
It's all set up by our trained team and all you have to do is switch the power on a couple of minutes before the event starts and you're good to go!  The heaters are infrared – which means they heat the person, not the air, which means you don't have to wait several hours for it to warm up.
To ensure a marquee is warm enough in winter – we add a flooring system & lining.  The flooring insulates the ground and by adding lining (which are the drapes in the ceiling & walls) this helps to insulate the marquee – both of these combines to keep the heat generated by our powerful heaters inside making your guests warm and cosy – you can leave your coat in the hallway!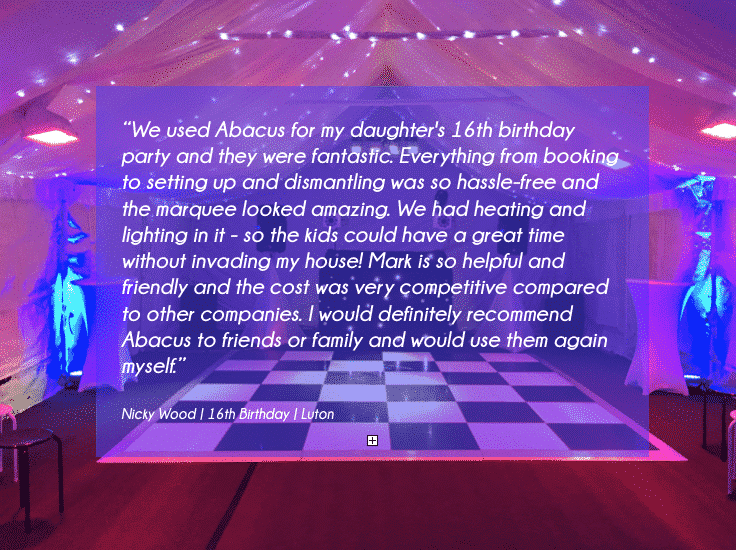 We're really popular around Christmas time as a small marquee can provide extra space to have the family over.  If you don't have enough room to get all your family in your dining room – creating a cool, festive marquee is a far more cost effective solution than going out on Christmas Day somewhere (I've only done that once and hated it – it doesn't feel like a proper Christmas!).
Every year my (crazy) family have a marquee attached to our dining room and we love it.  It gives us plenty of room to fit 14 of us in – we even leave ours up for a New Year's Eve bash too!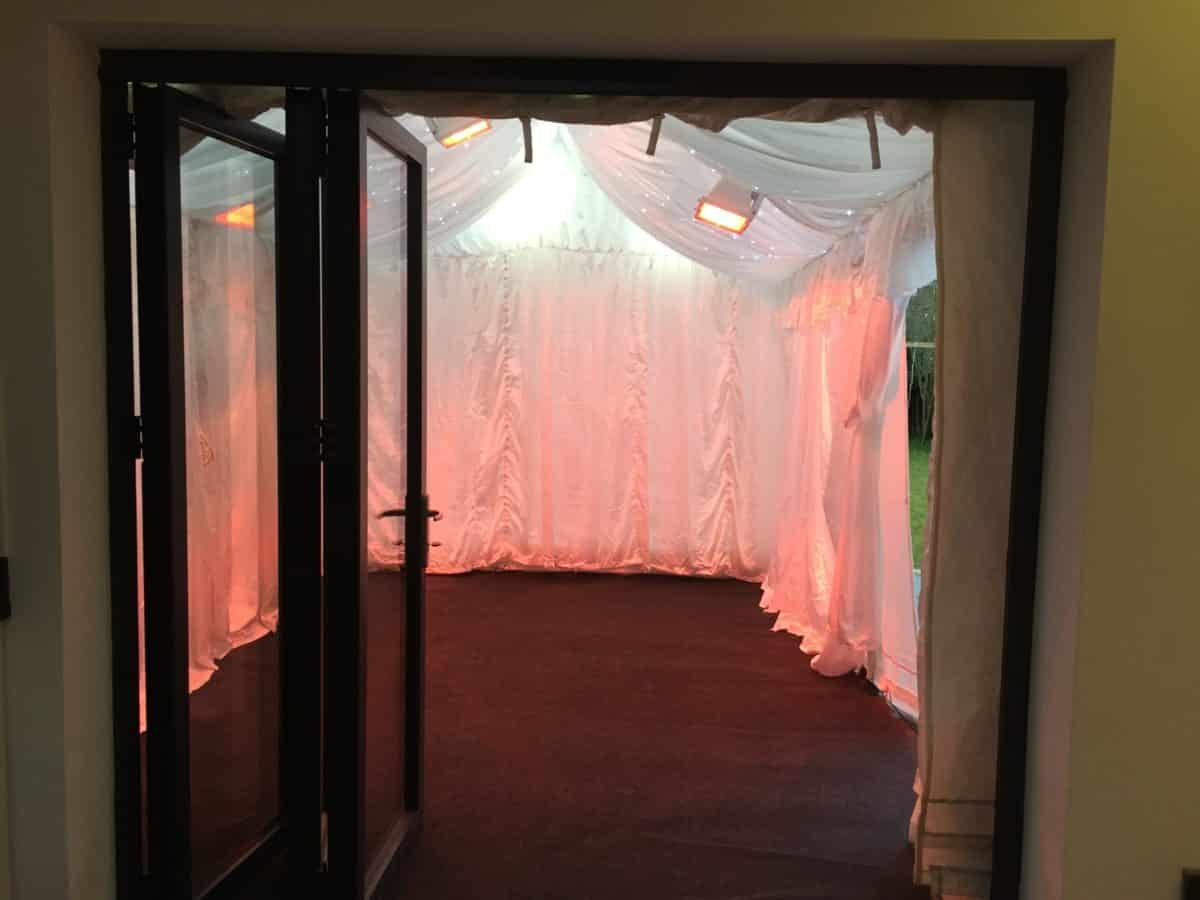 We're also the only company to GUARANTEE you will be warm enough for any winter event…giving your complete peace of mind that no matter how cold it is outside we will ensure you will be warm enough to help you celebrate something special in style!
Check out a winter birthday marquee in action here…guests wearing one layer of clothing and perfectly comfortable.  Click here to see video.