The reason why you're here is because you have a small party coming up and are wondering after looking at hire prices is it cheaper to BUY a small marquee rather than HIRING it?
Short answer?
Yes.
No typo it is!  However you're comparing buying something that is essentially a supermarket plastic bag, on very thin plastic/metal framework comparing to hiring a commercial grade structure with a trained & experienced team to set it all up.
This is aimed primarily more at the small garden marquee hire market who are looking to give their house some more space for a party they're planning.  Most likely to extend their home by "attaching" the marquee over a set of doors in their garden.  If this is you great, there's another blog post about attaching a marquee to your house here!
Attaching a marquee to your house is a little more complicated than you think.  Ensuring its a watertight and airtight seal isn't easy and thats where your money going to hiring one that's designed to be attached over a set of doors (the ones you buy on Amazon etc aren't tall enough to reach over open doors!)
I've made an impartial pro's & cons chart below to give you an honest opinion of both options you have.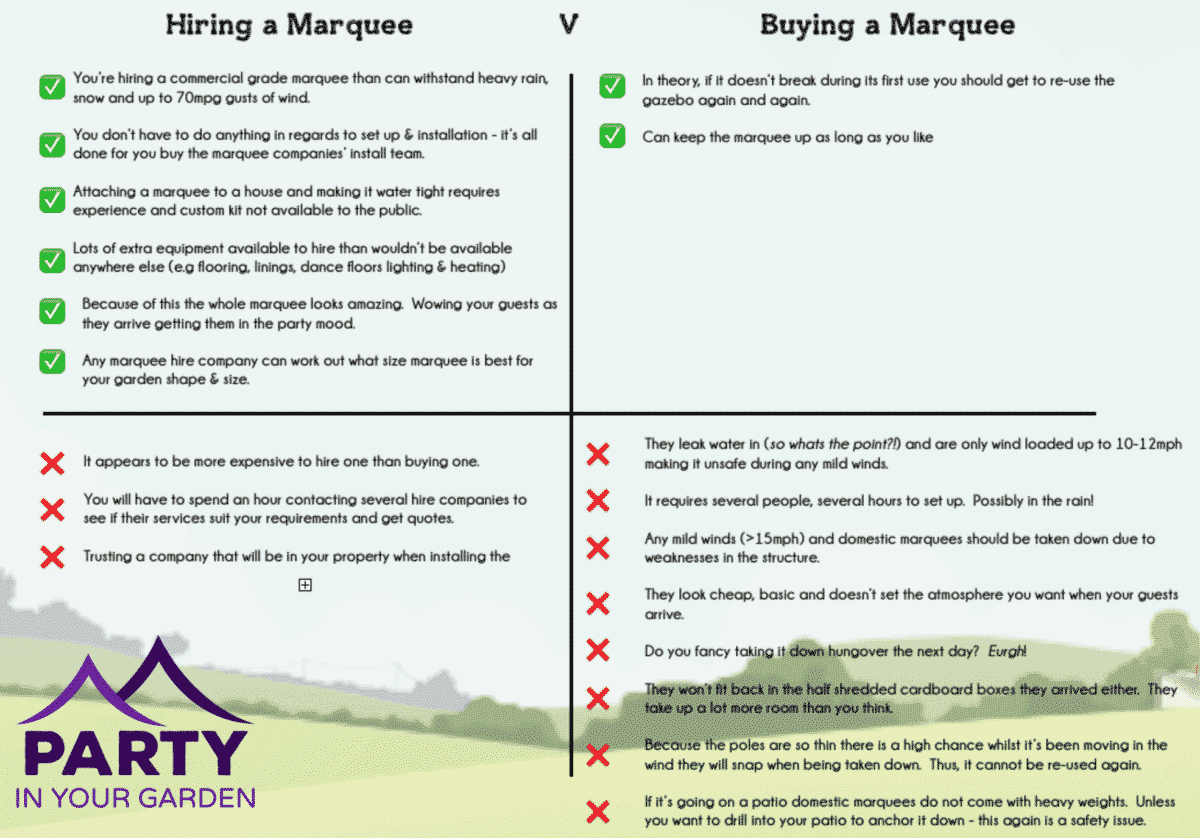 How long will a domestic marquee last?
I have lots of conversations with people in the same boat as you.  They're sitting on the fence because they have 3 summer parties coming up so it makes sense to buy a gazebo online and use it three times.  I get you.  That does make sense!
However due to the thinness of the metal poles you find on domestic structures you will be lucky to take your new tent down without breaking anything before it goes back up again.  You'll struggle to order singular spare parts for it as well as usually they come all boxed up straight from China.  I'm telling you this first hand as this is how I got into hiring commercial marquees in the first place!
So, let's compare the two.  Let's say you need a 3m x 6m Marquee.  IF you wanted to hire a commercial grade marquee after paying for a trained installation team, who arrive in a taxed, fuelled and insured van then yes buying a 3m x 6m gazebo will be cheaper!   
Talking by rough ballpark figures – a domestic gazebo will probably cost around £200-£300.  Hiring a commercial quality marquee of the same size after installation costs will be around £400-£450. 
However
Bear in mind that the hired will come with a decent floor system, a carpet and probably some heating and lighting – your new eBay purchase will not!
But it's the value a marquee hire company brings to the table that makes hiring so much more worthwhile. 
The value in hiring a marquee
When you hire a marquee – you're also getting with that an experienced team (in our case award-winning too!) making sure your structure is set up completely safe and ready to use.  Remember you could be having 20-100 people that you know under this big metal thing – it's got to be watertight and secure in case it gets windy. I don't think your auntie would appreciate your Amazon gazebo falling apart on her!
Domestic gazebo's are also only shower proof due to the thinness of the material.  So if you get any form of typical UK rain coming during your event you're still going to need umbrella's….so what's the point?
That also mean it's not very good at keeping the warmth in.  So the summer nights with no cloud cover, or if your birthday party happens to fall in mid-January you may night to ask your guests to bring their bobble hat.

If you're a numbers person then to work out how many people you can fit in an area is below.
One person takes approx 0.5m2 of area standing.  Your available space is 3m x 6m which is 18m2.  Therefore you could fit 36 guests maximum standing.  (We say our 3m x 6m Marquees holds 30 to be safe)
Chairs & Tables take up more room than you think after allocating space for guests to pull their chairs back to sit down.  Round tables are only really advices in marquees wider than 6m otherwise it's hard for guests to walk past the first table. 
Trestle tables are ideal for 3m and 4m wide marquees.  You can get more people sat down on trestle tables than round tables in a given space too.
My best advice is look at the chart and find what size marquee would suit your capacity, then go to the next size up.  The increase in hire cost is minimal – having extra space is a far better problem to have than not having enough!
Also, you may have 50 guests coming but you're attaching the marquee to your house and using your living room too.  So you may only need a marquee for say 30 people!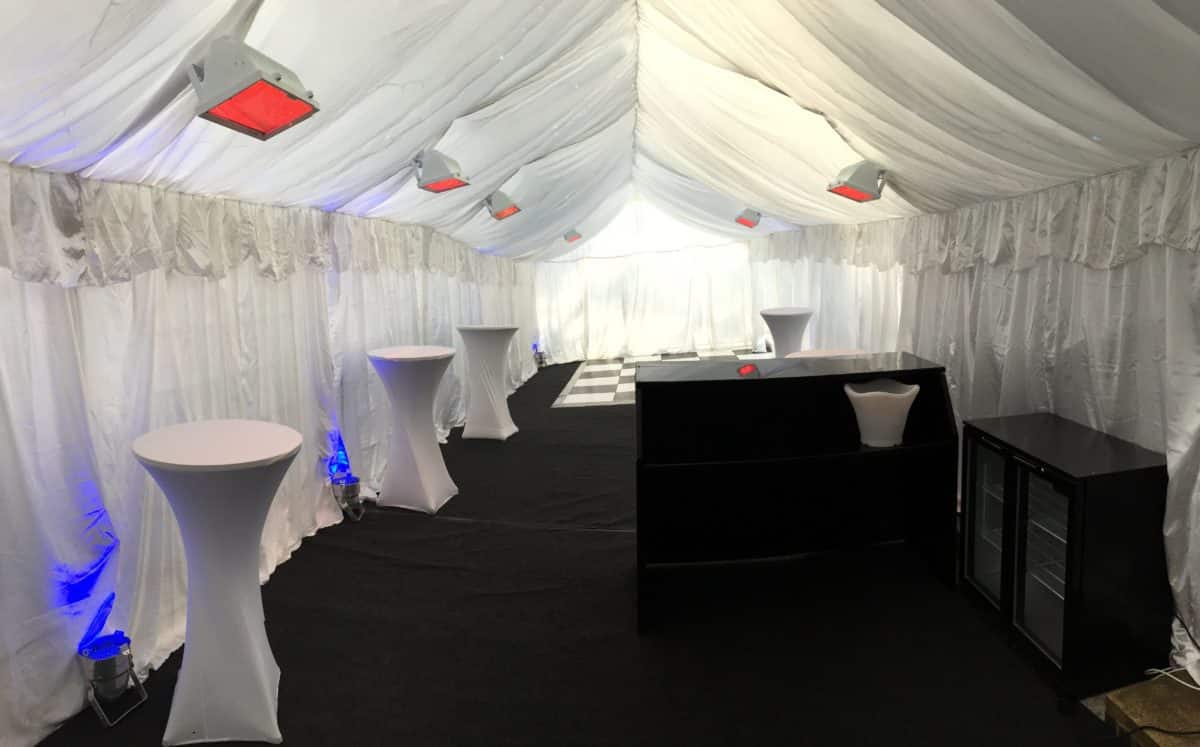 UNSURE WHAT WILL FIT INTO YOUR GARDEN?
Upload images of your garden here for Mark to work out what marquee can fit inside your available space!